Meet Matty Gregg, pictured below (center left) at Raleigh Fire Station 2 yesterday. He's running across America for the Firefighter Cancer Support Network.
For seven months and nearly 4,500 miles, he's been spreading the word about firefighter cancer and the national support group. 
The Firefighter Cancer Support Network is active in 35 states and growing. They work on a number of fronts: investing in research and development, teaching firefighters how to reduce cancer risks, and running a mentor program that pairs their own member-survivors with newly diagnosed firefighters.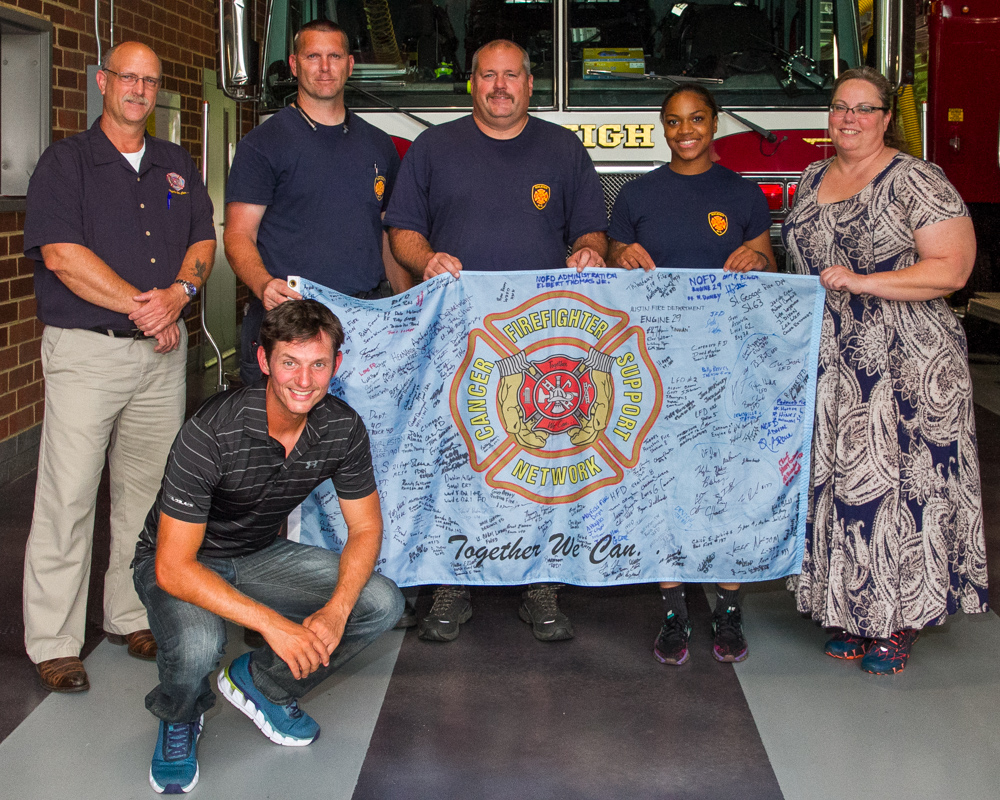 Gregg, 40, is a former Senior Engineer from Apple in Cupertino, CA. He'd been planning  this run for two-years. His first mile was around the track at Apple HQ. He turned in his keys, and kept going.
He's wanted to run cross-country since he was seven. And he's taking a more circuitous route, than the standard San Francisco > New York path. His route has zigged and zagged, so he can experience more cities and communities along the way. 
Pictured above right is Pheobe Brimer, the latest and longest-serving of his support team. She drives the RV along their route, one of two vehicles. In a rear compartment (pictured below) are some of the 29 pairs of running shoes he's gone through. So far.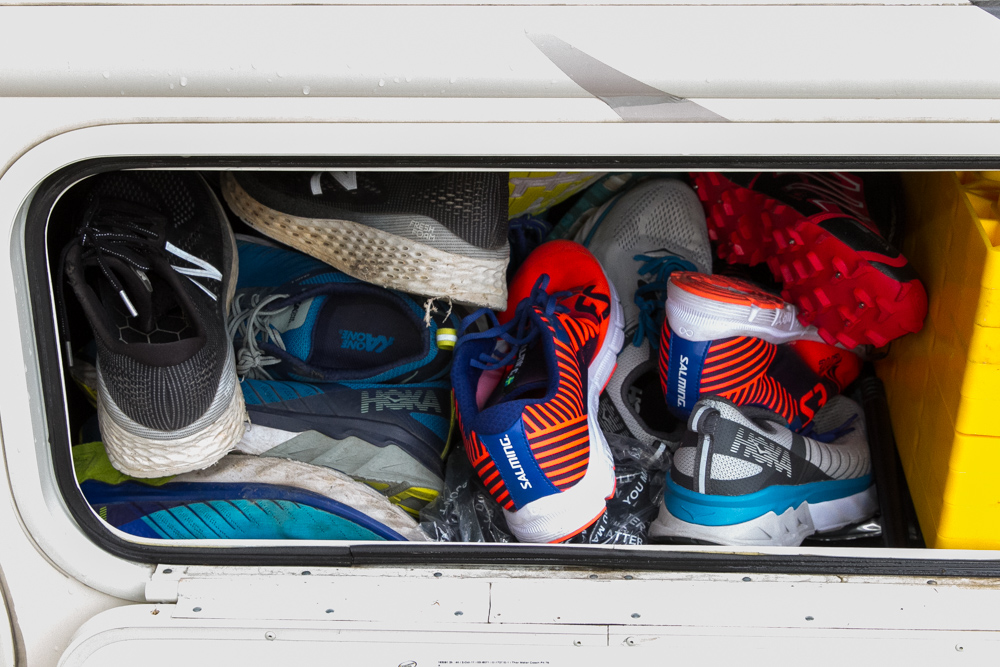 Since you asked, he's averaged 26 to 27 miles per day. (That's five hours of motion, not counting a lunch break.) His max? 38 miles, somewhere in the Arizona desert. He's also been solo for a few stretches, for a few days.
He drove two vehicles using a tow bar: leaving one at the finish, then driving back to the start, they driving from the finish back to the start, then towing the second vehicle to the next leg.
Shown is a flag of the Firefighters Cancer Support Network that's getting signed by firefighters along the way. Here's an action shot of Engine 2 on "A" platoon, doing their part.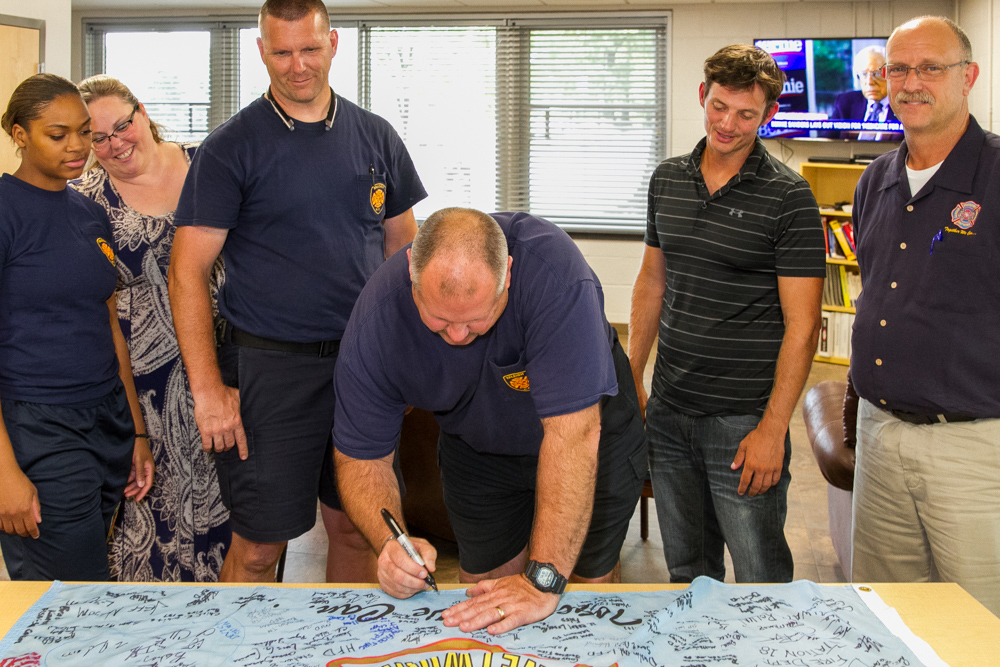 Meet Keith Kirton
Raleigh Fire Department Senior Firefighter Keith Kirton (above right) is the organization's director in North Carolina. And a cancer survivor. He survived kidney cancer in 2014-15 and is now a mentor for those diagnosed with kidney cancer.
He became a representative with Firefighter Cancer Support Network in June 2015. They helped him and his family when he was diagnosed with cancer. 
"The risk of cancer in firefighters is 250 percent greater than people not in our line of work," he notes.
"Researchers found that more than two-thirds of firefighters, 68 percent, develop cancer, compared to about 22 percent for the general population."
He adds that the biggest thing that's grabbed his attention—and everyone he's spoken with—are the risks for male firefighters, who have 2.02 times the risk for testicular cancer, and 1.28 times the risk for prostate cancer, and that's even higher in black male firefighters.
"You can find all the information you need on our web site," he says. "You can also call the national office and request a class be taught at your fire or EMS department free of charge."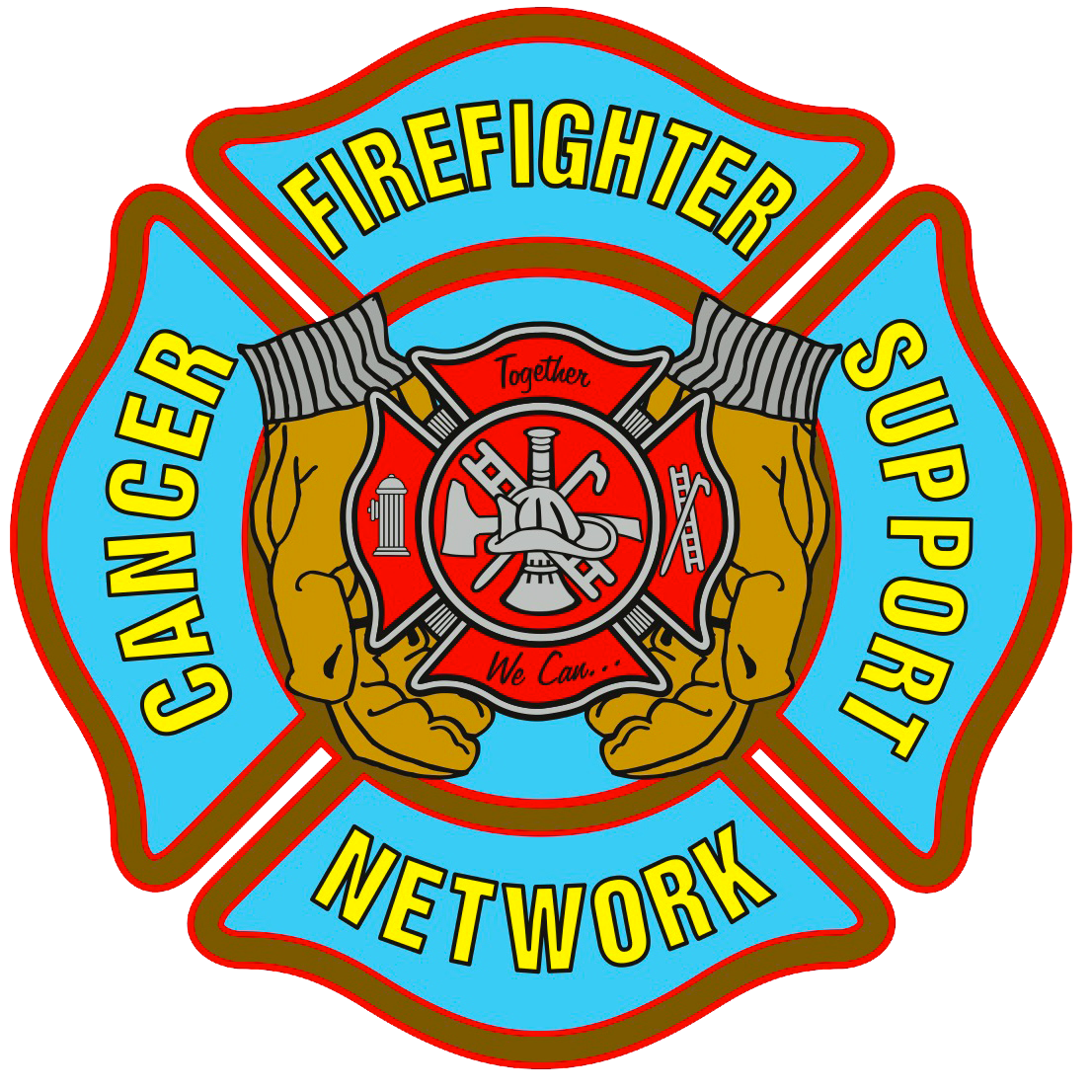 Heading North
Where's Matty headed next?
He's going north, and will be running from Raleigh to Wake Forest to Henderson to Petersburg to Richmond.
Firefighters have a higher risk for cancer, and Matty Gregg wants the world to hear that, and support the Firefighter Cancer Support Network.
To donate to the Firefighter Cancer Support Network, visit https://www.classy.org/fundraiser/1633587 [link expired]
To learn more about the Firefighter Cancer Support Network, visit https://firefightercancersupport.org 
To learn more about Matty, visit http://www.mattygregg.com/
And here's a news story from March, about Matty.