Here's the run card for New Hope Fire Department's major woods fire last week, on Wednesday, May 29.
Some 50 acres were involved, and threatened some residential structures. The resources included 60 firefighters, 34+ pieces of apparatus, and a complete EMS box alarm with 16+ EMS personnel. 
The first units were dispatched at 5:02 p.m., with a fast-moving outside fire found in the area of an electric power transmission line easement, between Mitchell Mill and Old Milburnie roads. 
Command was located the Old Milburnie side, with New Hope Car 1 as Incident Commander, Rolesville Car 2 as Accountability, and Eastern Wake EMS District 6 as Medical Branch command.
Rolesville 203 was Operations Command, near the center of the fire. Wake Forest Car 6 and Battalion 3 were Aviation Branch, providing drone support starting about 60-70 minutes into the incident. 
Within 90 minutes into the incident, staging was moved to nearby New Hope Station 2. Medical monitoring and rehab was also established at that location. The New Hope FD Ladies Auxiliary also provided food and drinks to the weary firefighters. 
See photos from Legeros, of the support operations at the fire. He arrived about 45 minutes the incident started.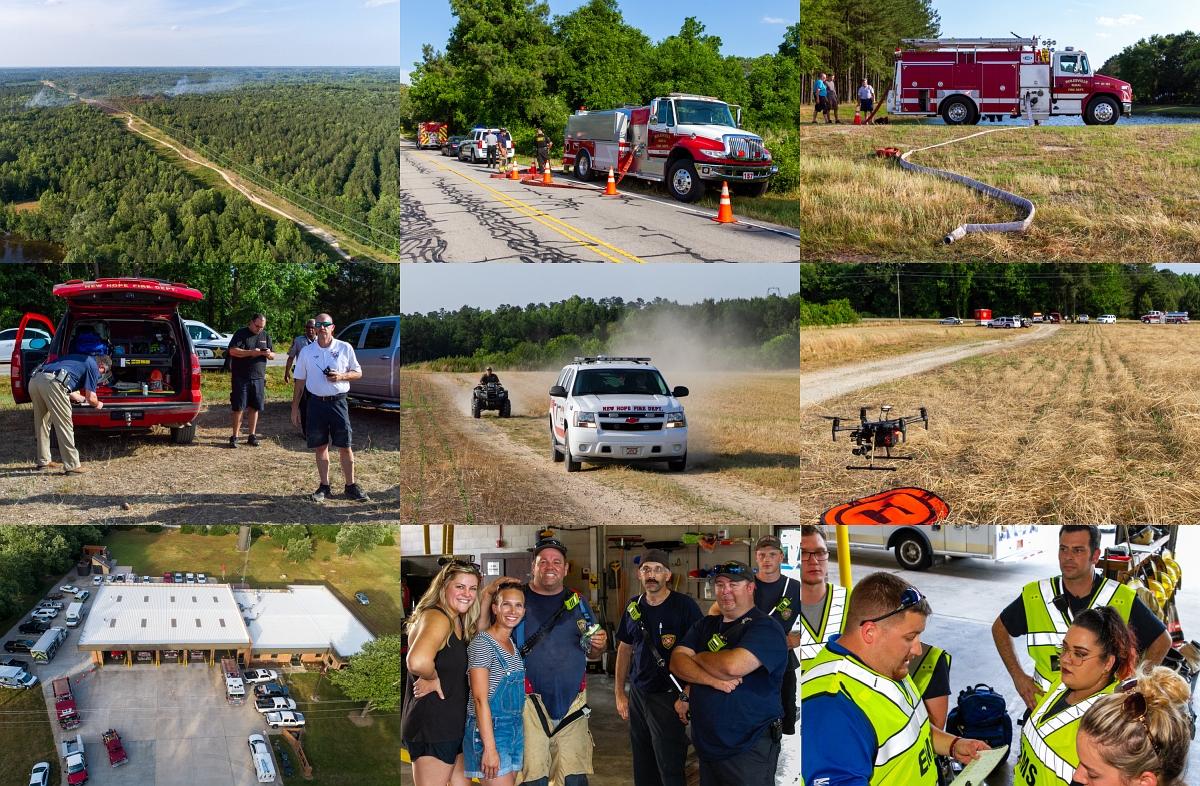 Run Card
New Hope FD
Engine 4 – Structural protection in Greenbrook subdivision
Engine 1 – Moved to Station 2, for staging/coverage
Tanker 9
Brush 7
ATV 31
Car 20 – Personnel transport
Car 1 – Incident commander 
Eastern Wake FD
Brush 6
Brush 7
ATV 
Hopkins FD
Tanker 227 – Water supply, Mitchel Mill side
Raleigh FD
Engine 28
Engine 22 – Staging/coverage
Mini 2
Mini 3
Rolesville FD
Engine 151
Pumper 152 – Water supply/Mitchell Mill
Tanker 157 – Water supply/Mitchell Mill
Brush 154
Brush 159
ATV 15
Car 2 – Accountability
203 – Operations Command
Wendell FD
Engine 115 – Staging/coverage
Tanker 117 – Water supply, Old Milburnie Road
Brush 115 – Staging/coverage
Wake Forest
Engine 1 – Staging, coverage
Tanker 2 – Water supply, Mitchell Mill Road
Brush 2
Battalion 3 – Aviation Branch (drone)
Car 6 – Aviation Branch (drone)
Zebulon FD
Tanker 98 – Water Supply, Mitchell Mill Road
Brush 99 – Staging
North Carolina Forestry
1190
1191
1195
11×95 (plow)
Wake County EMS + Eastern Wake EMS
EMS 10
EMS 16
EMS 38
EMS 61
EMS 66
EMS 67
EMS 68
Medic 92 – Rehab Group Supervisor, at NHFD Station 2
District 3 – Northside Medical Group Supervisor
District 9 – Medical Branch Director, with command
Chief 102 – Checked in with command
Logistics – Staging/rehab
Truck 1 – Staging/rehab