One-hundred years and two weeks ago, the 34th annual convention of the North Carolina State Firefighter's Association opened in Gastonia (pop. 12,871 in 1920). The three-day event was preceded by a reception for delegates and visiting tournament teams on Monday, August 22. The convention formally opened at 11:00 a.m. the following day, at the Gaston County Courthouse. On Wednesday, August 24, another business session was held, followed by a picnic and luncheon on South Street and Franklin Avenue, as well as baseball at Loray Park. The next day, and the last day of the event, tournament contests were held on Broad Street and Second Avenue, starting at 9:00 a.m.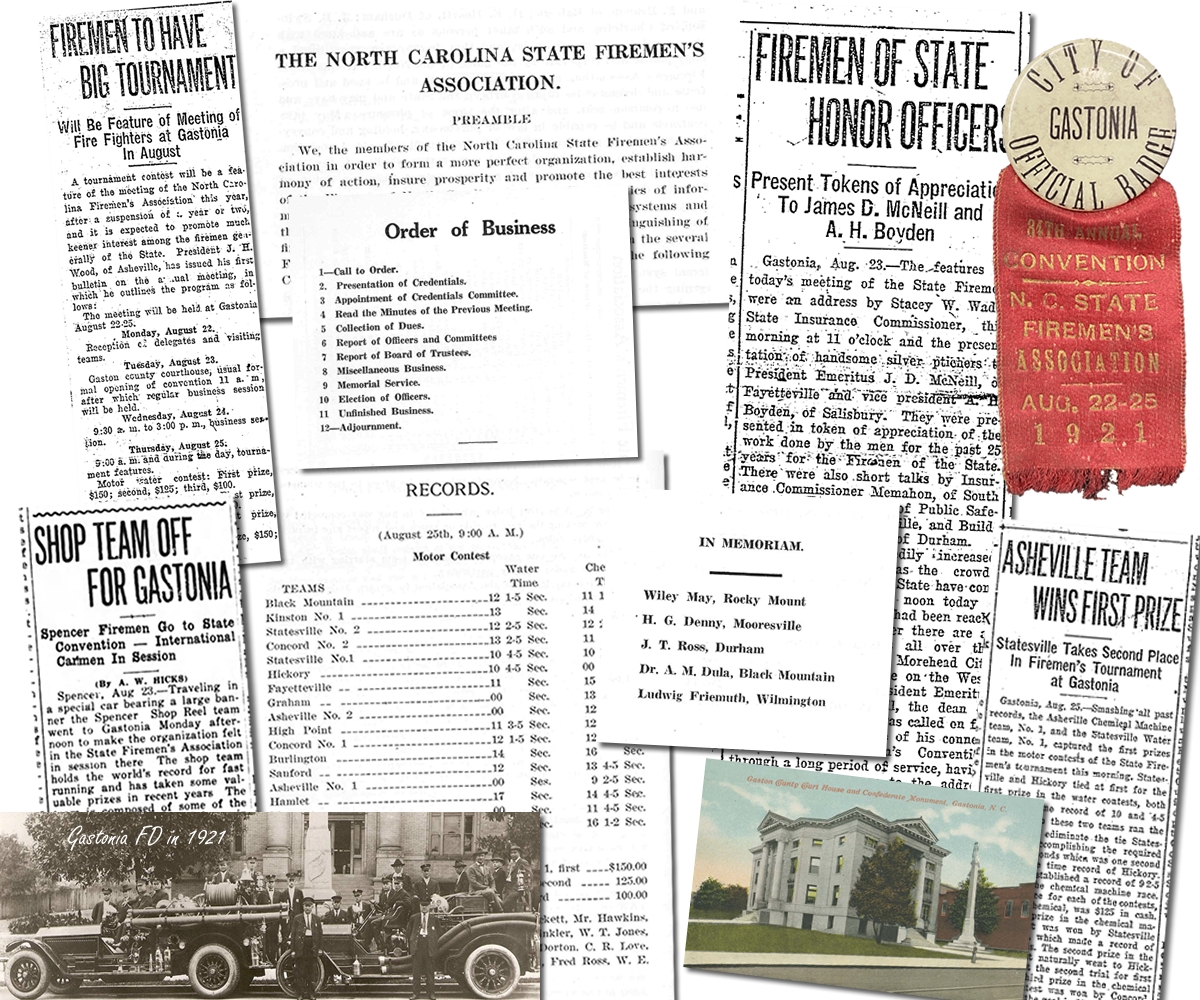 Here are some highlights of the three-day event:
CALLED TO ORDER
Tuesday, August 23 – Morning Session
11:00 a.m. – Convention Hall
The convention was called to order by President James H. Wood of Asheville. As the minister who was scheduled to appear had not arrived, the President asked someone "on the floor" to offer a "prayer for our guidance during our deliberations." The invocation was given by Chief W. P. Neister of Spencer Shops.
The Address of Welcome was given by Mayor R. G. Cherry of Gastonia. "It is indeed inspiring to come into the presence of a convention which is made up of a body of men like these fellows who have red hot American blood flowing through their veins," he said, to start.
The response was given by Chief Fleming of Louisburg. "After listening to that magnificent address of welcome from Mayor Cherry, I want to say that we most sincerely appreciate it. I remember the hearty invitation extended to us by Mayor Cherry of Gastonia at Fayetteville last year, and we are here in response to it. I am here to tell you from 32 years of experience, there is nothing worth a darn without a cherry in it" he said, to start.
State Insurance Commissioner Stacey W. Wade then addressed the attendees. He noted, notably, "I am not here as an advisor (I am young in the cause), but to mingle with you and get first hand knowledge of the topics discussed, and receive inspiration from you practical men who are  accustomed to meet emergencies with the weapon of common sense and practical appliances."
Among his remarks were these statistics for 1920, that the state's fire loss last year was over 300 hundred lives and eight million dollars worth of property. He also made requests of his audience, from contacting his office "wherever there is any evidence of incendiarism or foul play" to urging upon them "the importance of seeing that new buildings are properly wired." On the latter, electricity was still "collecting an excessive toll as a cause of fires." And North Carolina was one of the few states to employ an electrical inspector, and member departments were encouraged to take advantage of his services.
Commissioner Wade's remarks were followed by the roll call and appointment of the Credentials Committee. After brief remarks from former President James D. McNeill of Fayetteville, who served from 1894 to 1919, the session was adjourned until 2:00 p.m.. Also, anyone who had not turned in their credentials were asked to meet with Secretary Miller in Room 302 at the hotel for that purpose. (By noon, a total registration of 413 had been reached, representing at least 43 municipalities.)
PRESIDENT'S REPORT
Tuesday, August 23 – Afternoon Session
After the adoption and filing of the report from the Credentials Committee, the officers' reports were started. The President's report mentioned a communication on July 5 about "the wisdom of establishing a life insurance feature" for the memberships, which numbered some two-thousand men. During the year, he noted, only one member had died, but the Association was "not in a position to aid his loved ones left behind." He urged members to "think of this matter and take some action at this meeting."
He mentioned another matter needing attention this year, a change to the laws "governing the use of our Firemen's Relief Fund." He also called out those who still owed their "per capita tax" (dues). Though 1,512 members and 124 chiefs, assistant chiefs, and others were paid, which was an increase of 51 percent over last year. But another 179 members and 21 chiefs, assistant chiefs, and others had not paid, and should "do so without further delay."
During the year, the Executive Committee and the President have tried to give the members "an economical administration." The "purchase of new stationary and the calling meetings" were held to a minimum, with only one meeting, in fact, held. The President also kept expenses down by refraining from visiting most of the member departments. He also addressed the rates charged by the railroad, his attempt to secure cheaper rates for members and their guests, and that, post-war, the railroads were "struggling against heavy odds to re-establish themselves."
SECRETARY'S REPORT
Tuesday, August 23 – Afternoon Session
The Secretary's report noted the current membership consisted of 121 organizations in 86 cities and towns. He then summarized the expenses for 1920, with $2,336.01 "warrants" issued on the General Fund and $587.00 issued from the Relief Fund. He then listed the amount of per capita tax collected, and those departments that had not paid them. He also noted that two towns, Edenton and Warrenton, had "ceased to have white companies in their departments."
The total membership of the association was 1,836. The relief fund received from the state totaled over $29,500, which included $669 collected and held for towns not yet members of the Association. Those thirteen towns would receive a "detailed letter" from the Secretary, requesting that they become members.
The Secretary also made some "recommendations, or, rather, suggestions." First, that the minutes to date be bound, so they be preserved. Second, that the Act creating the Association, the By-Laws, Constitution, Tournament Rules, etc., be printed in pamphlet form and distributed to every member department, and removed from the printed minutes each year, to save money. Third, that the Disabled Firemen's Fund, which now amounts to $5,000, could be used to pay disability claims to all departments during the next fiscal year.
TREASURER AND STATISTICIAN REPORTS
Tuesday, August 23 – Afternoon Session
The Treasurer gave a report on receipts and disbursements for the past year. The General Fund had a balance of $2,691.30. The Relief Fund had a balance of $5,456.02.
The Statistician gave a report summarizing the state's property losses by fire during the prior year, though noting that over 30 towns, out of 86 member departments, failed to make the required fire reports to the Insurance Commissioner's office. In closing, he gave two recommendations. First, that members and member departments be more interested in "making reports of all fires." Second, "take it upon yourself to teach your neighbor the importance of fire prevention."
HONORS FOR MCNEILL AND BOYDEN
Tuesday, August 23 – Afternoon Session
Following a brief address by South Carolina Insurance Commissioner John J. McMahon, a pair of "handsome silver pitchers" were presented to J. D. McNeill of Fayetteville and A. H. Boyden of Salisbury, as tokens of appreciation for each of their many years of service to the state's firemen. The inscriptions read:
"To James D. McNeill, President of the North Carolina State Firemen's Association, 1894 to 1920, President Emeritus for Life, with love and appreciation from the members of the Association."
"To Archibald Henderson Boyden, Vice-President of the North Carolina State Firemen's Association, 1903 to 1920, Vice President Emeritus for Life, with love and appreciation from the members of the Association."
REDUCING FIRE LOSS IN DURHAM
Tuesday, August 23 – Afternoon Session
During an open call for questions and discussion suggestions for the next day, Mr. Sterling of Durham was called upon to speak, to show "what one man is doing in fire inspection and prevention." His remarks:
"Mr. President and gentlemen of the Convention: I will just tell you one or two things we are doing in Durham to try to reduce the fires. About one and a half years ago we started a campaign to get rid of bad roofs and flues. I have an assistant who spends about half of his time seeing after this end of the work. He goes out and inspects roofs and flues and makes his report to me. If he finds the inside of the flue bursted, he condemns them, after which he sends a notice to the property owner, giving them about six days to make the repairs."
"Very often the property owner doesn't pay any attention to this [and] I then have another notice sent out that gives him four days. That always gets him. In that manner we have reduced the fires in Durham. I figured that in about two years we will have practically eliminated all these rises in Durham. I think this is a matter that should be taken up by other cities–if not  by Insurance Companies, by men connected with the Fire Departments. I feel sure that it would help reduce the fires."
NEW BUSINESS
Wednesday, August 24
Morehead City was selected as the place for the next year's convention. (The only other city that extended an invitation was Burlington, which received no votes.)
By unanimous vote, the current officers were re-elected for the new fiscal year:
President – James H. Wood, Asheville
First V.P. – John L. Foister, Chapel Hill
Second V.P. – Charles D. Farmer, Raleigh
Third V.P. – E. E. Bain, Greensboro
Secretary – John L. Miller, Concord
Treasurer – Charles Schnibben, Wilmington
Statistician – R. E. Curries, Black Mountain
REQUEST OF THE PRESIDENT
President Wood: "There is one thing in behalf of the small towns and especially of the mill towns that I want to ask [State Insurance Commissioner] Wade to take under consideration, and that is, the methods pursued by mill owners and others of having insurance written through brokers or personal pools [and] for which the local [fire] departments get no credit, and consequently do not receive the one-half of one percent [contribution to the relief fund], which they are entitled to under the law of the State."
Mr. Wade: "I have been looking into these matters and hope to find a way to correct this."
ANNOUNCEMENT
Wednesday, August 24 – Morning Session
The International Firemen's Convention will be held in Atlanta, October 11 to 14, 1921. Captain Cody from the Atlanta Fire Department extended an invitation to everyone. The NCSFA Executive Officers met in Atlanta last spring and "had a very nice time" and Cody felt that "this will be the largest and best of all conventions." Also, low rates would be given by the railroads. And approximately a half-million dollars of the "latest fire apparatus" would be shown.
PRESENTATION
Wednesday, August 24
"The Obligation of the City to its Citizens" by T. Alfred Flemming, Supervisor Conservation Department of the National Board of Fire Underwriters.
The lengthy address included a "tentative plan of organization" to help municipalities create or manage their fire departments.
1. The Need
2. The Organization
3. Organization of Committee
4. Sub-Committees
5. Suggestions for Schools
6. Suggestions for Protection of Factories
7. Suggestions for Protection of Homes
Read presentation starting on page 44 of the conference proceedings, https://legeros.com/history/ncsfa/proceedings
IN MEMORIAM
Listed in the printed proceedings were these deceased members, since the last convention:
Wiley May, Rocky Mount
H. G. Denny, Mooresville
J. T. Ross, Durham
Dr. A. M. Dula, Black Mountain
Ludwig Friemuth, Wilmington
INSURANCE FEATURE
Reported the Twin-City Daily Sentinel of Winston-Salem on August 25, 1921, "The most important matter of business disposed of in addition to election of officers and selection of a meeting place [for next year] was the virtual establishment of a life insurance feature in connection with the association. A committee was authorized and empowered to confer with the state insurance commissioner in regard to the matter, formulate rules and regulations, and establish such an insurance company, but referring their action to the firemen for approval before final action is taking."
This "insurance feature" became the The Firemen's Fraternal Insurance Fund of North Carolina. It was formally created the following year as an "in-house" life insurance policy for members. Over the subsequent decades, some changes were made to the fund.
In 1962, applicants could be no older than 45 years of age. Previously, they could be no older than 55 years of age. In 1975, the Association entered into contract with Boston Mutual Life Insurance Company to take over the fund program for members under 65 years of age. This action was needed, as the fund had become unsustainable, and would have been bankrupt in ten to twelve years time.
MUCH FOOD CONSUMED
Reported the Charlotte Observer on August 26, 1921, "As guests of the city of Gastonia, several hundred visiting firemen enjoyed a barbecue on the old Gray place at 6:30 o'clock Wednesday afternoon. The rate at which Brunswick stew, meat, rolls, and sour pickles disappeared was something to behold. A camera man started out to film the operations, but after viewing the display of eats [he] weakened and fell in line."
They added that "the quantities of food consumed were of large proportions. Four sheep and one and a half cows, weight 25 pounds, in all, a number of chickens, [two-thousand] rolls, two barrels of sour pickles, and 120 gallons of Brunswick stew all disappeared at the hands of the firemen and other visitors. The cooking was supervised by G. Long and sons.
TOURNAMENT
Thursday, August 25.
The tournament started at 9:00 a.m. on Broad Street and Second Avenue. The total number of visitors for the games was expected to reach 2,500, and a large grandstand was erected to accommodate the large crowd.  
There were two contests of motorized apparatus, for fastest water (from line laid to hydrant) and fastest chemicals (from activation of chemical tank on apparatus). Seventeen teams participated:
Asheville No. 1
Asheville No. 2
Black Mountain
Burlington
Concord No. 1
Concord No. 2
Fayetteville
Graham
Hamlet
Hickory
High Point
Kinston No. 1
Kinston No. 2
Morganton
Sanford
Statesville No. 1
Statesville No. 2
Winners for Fastest Water were Statesville No. 1 (first); Hickory (second); Fayetteville (third). Winners for Fastest Chemicals were Asheville No. 1 (first); Statesville No. 1 (second); Concord (third).
Second event were a pair of hand reel contests. Eight teams participated:
Burlington
Chapel Hill
Charlotte
Concord
East Spencer
Hamlet
Spencer (Shop)
Winston-Salem
Winners of the Ten-Yard Reel Race were Spencer (first), Chapel Hill (second), Winston-Salem (third). Winners of the Grab Reel Race were Chapel Hill (first), East Spencer (second), Hamlet (third).
Prizes for all contests were $150 (first), $125 (second), $100 (third). 
MEMBER DEPARTMENTS IN 2021
Albemarle, Andrews, Asheville, Ayden, Beaufort, Belhaven, Benson, Biltmore [Village], Black Mountain, Brevard, Burlington, Canton, Carthage, Chapel Hill, Charlotte, Clinton, Concord, Dunn, Enfield, Farmville, Fayetteville, Fremont, Gastonia, Goldsboro, Graham, Greensboro, Greenville, Hamlet, Henderson, Hendersonville, Hickory, High Point, Kannapolis, King's Mountain, Kinston, LaGrange, Laurinburg, Lenoir, Lexington, Lincolnton, Louisburg, Lumberton, Marion, Maxton, Monroe, Mooresville, Morehead City, Morganton, Murphy, Mount Airy, Mount Olive, New Bern, Newton, North Wilkesboro, Oteen [Veterans Hospital in Asheville], Oxford, Raleigh, Red Springs, Reidsville, Roanoke Rapids, Rockingham, Rocky Mount, Roxboro, Salisbury, Sanford, Selma, Shelby, Southern Pines, Southport, Spencer [Shops], Statesville, Tarboro, Thomasville, Wadesboro, Warrenton, Washington, Waynesville, Wilmington, Wilson, and Winston-Salem.
OTHER DISPATCHES
Reported the Salisbury Evening Post on August 23, 1921, "Travelling in a special [rail] car bearing a large banner, the Spencer Shop Reel Team went to Gastonia Monday afternoon to make the organization felt in the State Firemen's Association in session there. [They] hold the world's record for fast running and [have] taken some valuable prizes in recent years."
Reported the Charlotte Observer on August 23, 1921, "For the past few weeks, every mail, if not every gale, has brought news of large numbers coming and applications for reservations. Gastonia is in gala attire for the convention of the firemen. The city has been turned over to the visitors. Everything has been done for their entertainment and many private homes have been opened."
Reported the News & Observer of Raleigh on August 25, 1921, "General A. H. Boyden, of Salisbury, is always present at the State Reunion of Confederate Veterans and the annual meeting of the North Carolina State Firemen's Association. He had to make quick time between Gastonia, where the firemen are in session this week, and Durham, where the veterans are meeting, but he is managing to take in both meetings."
Reported the News & Observer of Raleigh on August 25, 1921, "the city is thronged tonight with visitors who have come to witness the races to be held Thursday. Approximately fifteen teams have entered the tournament."
Reported the Charlotte Observer on August 26, 1921, "One slight accident to a Charlotte fireman this afternoon marred an otherwise successful day. Walter Savage fell and was run over by the reel cart during one of the races, and suffered injuries to his arm and body. He is in a local hospital." There were only two accidents of a serious nature, the other a "painful cut" inflicted on Spurgeon Sluder of Asheville, when a chemical hose nozzle fell on his head.
In the month before the convention, the Charlotte Observer remarked on July 26, 1921, that the "holding of the tournament in Gastonia is the next best thing to holding it in Charlotte, and as it is but a short ride, either by steam, electricity, or gasoline to the scene of activities, Gastonia may count on a helpful contingent from this city to whoop it up for the firemen."
THE OTHER STATE FIREMEN'S CONVENTION
The North Carolina Volunteer Fire Association, comprised of black firefighters and fire companies, also held their annual meeting in August. Their three-day event was held in Oxford, on August 16, 17, and 18.
On the morning of the first day, President Plummer of Washington delivered the opening address at the Mary Potter School, followed by a welcome from Mayor T. G. Stern. The response was made by Dr. J. W. Grimes of Washington, and followed by a short speech titled "Welcome the Firemen to our City and Homes" from Dr. G. C. Shaw. Planned for the afternoon was a program "interspersed with instrumental and vocal music."
The second day opened with a street parade at 10:30 a.m., and also featured a "hook and ladder" race that morning on Hillsboro Street. The third day featured the remainder of the tournament games, including hose and reel races.
Also on each day of the convention, the Oxford "all-star colored baseball team" held a game at the "colored ballpark in South Oxford."
SOURCES
Proceedings
"Proceedings of the Thirty-Fourth Annual Convention and Tournament of the North Carolina State Firemen's Association Held at Gastonia, August 23-25, 1921" – The Times Book and Job Presses, Concord, N.C. – 1922
Newspapers
Charlotte Observer – July 26, 1921 – "The Firemen in Gastonia"
—— August 21, 1921 – "Spectacular Stunts at Firemen's Convention"
—— August 23, 1921 – "Firemen Flock to Annual Meet"
—— August 25, 1921 – "State Firemen Meet Next Year on East Shore"
—— August 26, 1921 – "State Firemen Hang Up Record"
Morning Star (Wilmington) – August 22, 1921 – "Fire Laddies to Have Very Busy Convention"
News & Observer (Raleigh) – August 14, 1921 – "Firemen's Convention Next Week in Gastonia"
—— August 17, 1921 – "Colored Firemen of State Meet at Oxford"
—— August 22, 1921 – "State Firemen to Hold Convention"
—— August 23, 1921 – "Firemen Gather For Convention"
—— August 24, 1921 – "Firemen of State Honor Officers"
—— August 25, 1921 – "Another Veteran Always Present"
—— August 25, 1921 – "Morehead Lands Next Convention"
—— August 26, 1921 – "Asheville Team Wins First Prize"
—— July 24, 1921 – "Firemen to Have Big Tournament"
Oxford Public Ledger – August 16, 1921 – "Colored Volunteer Firemen of North Carolina Gather in Oxford"
Salisbury Evening Post – August 23, 1921 – "Shop Team Off For Gastonia"
Twin City Daily Sentinel (Winston-Salem) – August 25, 1921 – "Firemen Meet in 1922 at Morehead"
Other
Legeros records