We've been solving a history mystery this month over in the private SPAAMFAA group on Facebook, in a posting about the origins of Salem's surviving circa 1850's hand engine. Here's a photo from Old Salem Museum and Gardens, where the engine sits in storage. See more photos.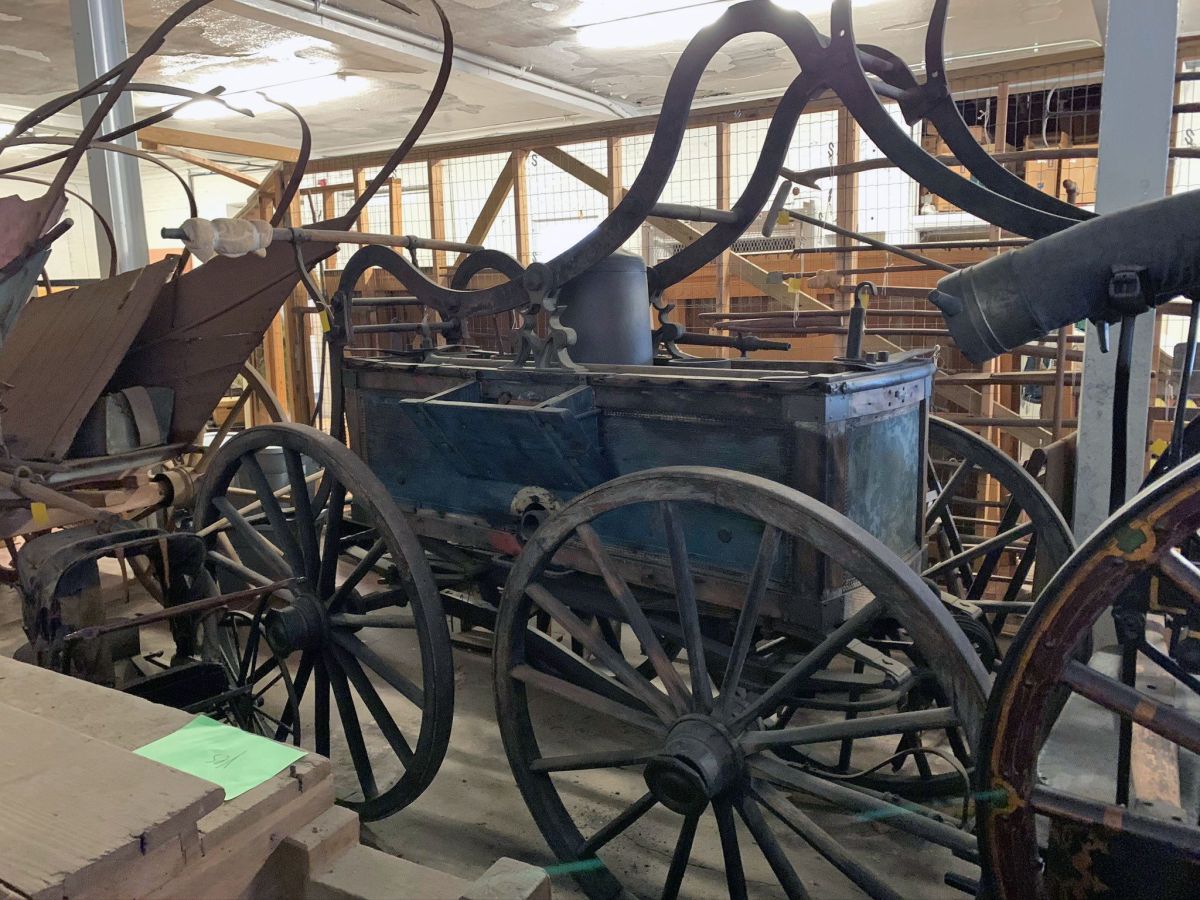 Original Documentation
We entered the fray with this knowledge, from an 1893 anniversary history of SFD: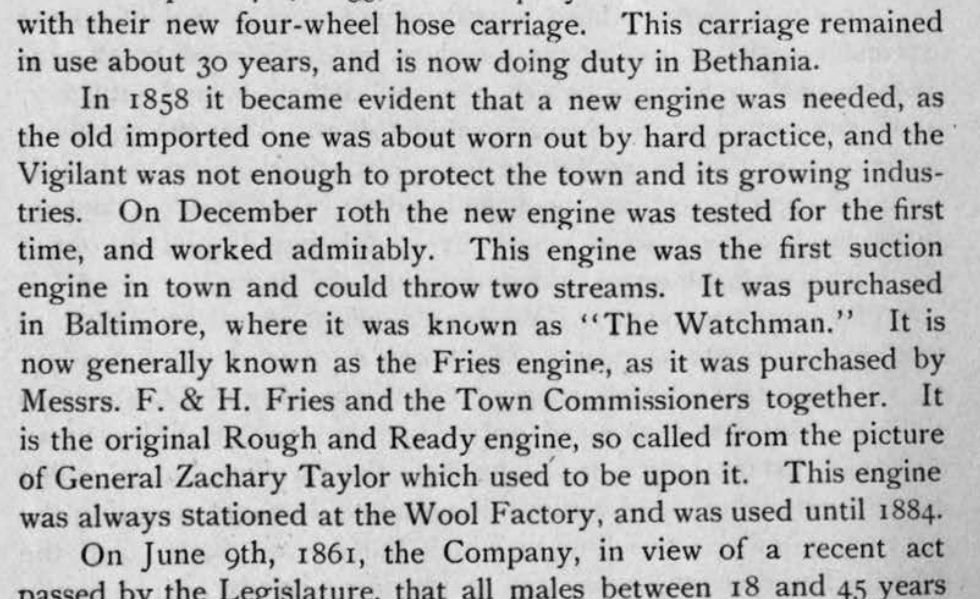 Our Findings
The origin of the engine:
Originally served Watchman Fire Company in Baltimore, MD.
Watchman FC was organized in 1840 and housed on Light Street and later E. Montgomery Street. The latter building survives to today. 
This hand engine was very likely (but not definitively) by Rodgers & Sons of Baltimore. 
Characteristic details, noted by Josiah Wagener, include use of leaf springs (surprisingly rare on Philadelphia style engines), the use of wavy carved trim (almost unique to Rodgers engines), the slightly curved end boards on the tub, and the spring loaded hooks to secure the brakes from rocking during transport (common on Rodgers engines and rare among other manufacturers). 
In March 1849, the assets of Watchman FC included three suction engines, one hose carriage, and 500 feet of hose.
The Watchmen Fire Company was disbanded in January 1860, following the creation of the Fire Department of Baltimore City in 1859.
At the time they disbanded, their assets consisted of one large suction engine and two hose reels.  
It's delivery and use:
It arrived in Salem by December 10, 1858, the date that it was tested for the first time.
It was the town's first suction engine–it could draw water from wells, ponds, or other sources–and could supply two hose streams. The town's earlier hand engines relied on water supplied by bucket brigade.
It was known as the Fries Engine, as it was purchased by Messers. F. & H. Fries and the town commissioners together.
It had a picture of General Zachary Taylor on it, for a time. (Maybe when purchased?)
Historical perspective:
1785 – First fire engines delivered, two hand engines from Europe, one hand-carried and one with wheels. They have survived to present day, see photos.
1832 – Newer hand engine delivered from Philadelphia, 200 GPM capacity, built by Merrick & Agnew. Also equipped with two-inch hose, first fire hose for town.
1855 – Four-wheel hose carriage added, used for about 30 years.
1858 – Newer hand engine purchased, from Baltimore's Watchman Fire Company.
1859 – Larger 1785 hand engine retired.
1884 – Button hand engine purchased. The earlier engine, bought in 1858, was retired. Reported the People's Press on May 8, 1884, the new engine was "out on trail" the past Saturday. It "throws two streams of water" and "of the latest improved pattern." Some 30 men can operating the engine at one time, "ranging alongside the engine." And "it pulls heavy."
1886 – Hand engine exchanged for Button steam engine.
Related
From the Weekly Raleigh Register on May 25, 1859.