Whoops, this planned posting didn't get posted during Christmas week!
Raleigh-Durham International Airport has received their second Striker!
This 2017 Oshkosh Global Striker 6×6, 1250/3000/420/450# was delivered on Sunday, December 14, 2017. Click to enlarge: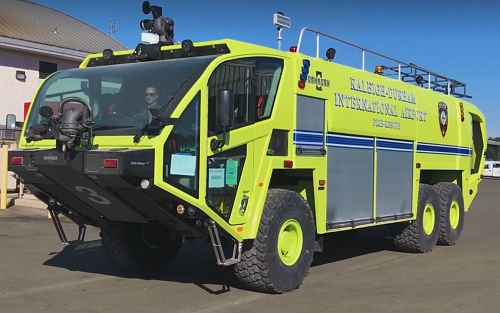 Pictures are screen grabs from this nifty short video from RDU, featuring Captain Will Patterson:
Specifications include:
Oshkosh Global Striker 6×6
Water: 3000 gallons
Foam: 420 gallons, 3% AFFF
Dry Chemical: 450 pounds of Purple K (Nitrogen Propellant)
Bumper/Primary Turret: 1250 GPM (high flow)/ 625 GPM (low flow), dry chemical capable, low attack capable
Roof/Secondary Turret: 1250 GPM (high flow)/ 625 GPM (low flow)
Engine:  Deutz TCD 16.0L V8, 670 HP, 1950 ft. lbs. of torque at 1400 RPM, US Tier 3
Transmission: Allison Gen 4 Model 4800 EVS automatic
Suspension: Oshkosh TAK-4 independent system
Read complete specs (PDF).
Current Crash Trucks
The new truck will join a 2016 Oshkosh Striker, 3000/420/450#/460# with 50-foot snozzle, that was delivered in April 2016, and placed in service in September. Read blog post.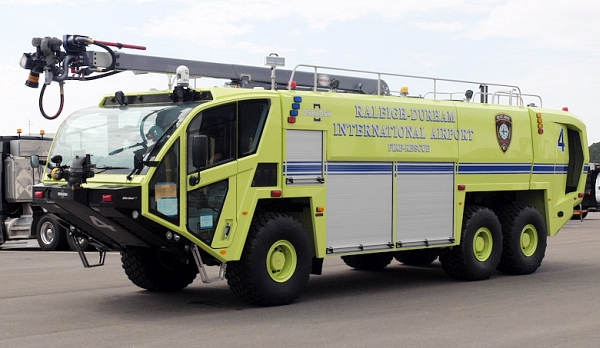 Mike Legeros photo
The new CFR 3 will replace a 2000 Oshkosh TI-1500, 1500/210/450#. That truck was one of three white 2000 Oshkosh TI crash trucks delivered that year, a TI-3000 and two TI-1500s. CFR 4 was replaced last year with the 2016 Striker and subsequently sold.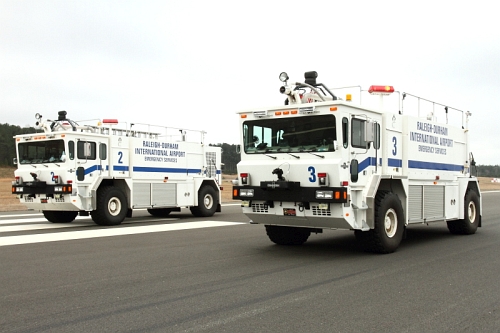 Mike Legeros photo
The two Strikers are the airport's first new yellow trucks since the 1990s. Read more about the airport's fleet of fire apparatus, past 'n' present.