The Wake Forest Fire Department has purchased a replacement for Squad 5, which is housed at Station 5, the former Falls Fire Department station. Squad 5 currently operates a 1994 E-One Century top-mounted pumper-tanker, 1000/1000, and also carries rescue equipment.
The new Squad 5 is a 1997 International 4900/Clay Fire Equipment, four-wheel drive, rear-mounted rescue pumper, 1250/500, that last served Weaverville Fire Department in Buncombe County, NC.


Lee Wilson photo (left), Weaverville Fire Department (right)
The truck's original owner, however, was North Buncombe Volunteer Fire Department. They disbanded in 1999, and protection of their district was assumed by Weaverville Fire Department. (By that time, and perhaps since the beginning of NBVFD in 1976, the two departments shared quarters.)
The truck was then operated by WFD, as Squad 8 and later Engine 8-2. The truck was also later refurbished by Carolina EVS in Canton, NC. Which might be why the water tank is now 500 gallons, versus the 750 gallons cited in earlier specs. 
We're told that this was a common design and set-up on the north side of Buncombe County for a few years, and Weaverville, French Broad, Jupiter, and Barnardsville had nearly identical trucks.
 Click to enlarge: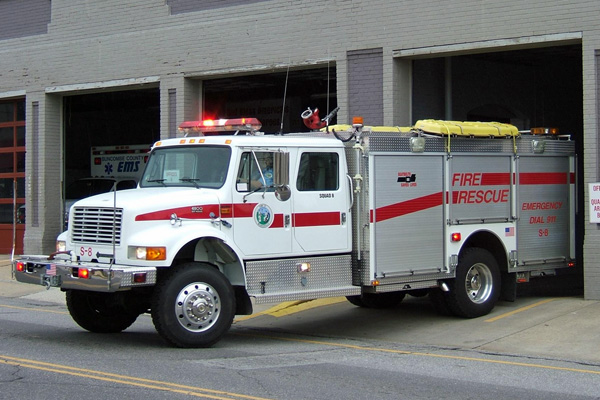 Weaverville Fire Department photo
The truck was sold on GovDeals, with an auction ending February 10 for $37,065. Specs from this listing: Conventional cab, 7.6L L6 DIESEL. Clay fire apparatus; Hale 1250 gpm pump; Hannah booster reel; 4500 watt PTO generator; 100 foot electric cord reel; (2) 100 foot hydraulic hose reels (with hose); (2) 12,000 lb Warn winches (front and rear); Federal Q siren; Directional traffic arrow stick; Full lighting package; Engine IHC DTC-530 250HP; Transmission Allison MT-643 Automatic. And with 31,596 miles on the odometer. Click to enlarge: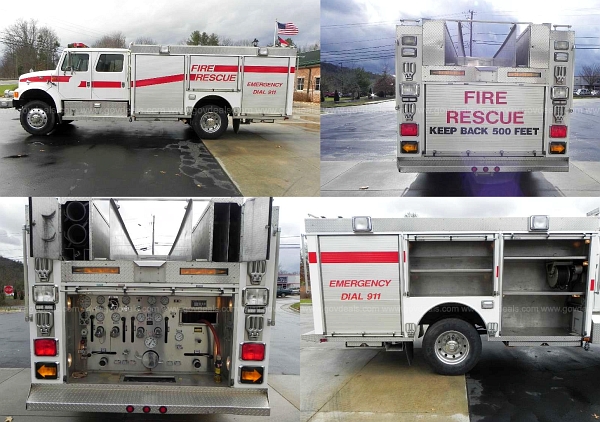 The truck arrived in Wake Forest about a month ago, and isn't in service just yet. It's been repainted red and lettered for WFFD. Lee Wilson took this picture below, at the annual fish fry on Friday. See more photos from Lee.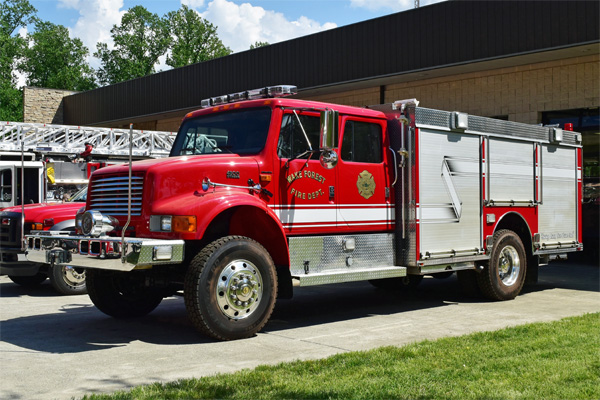 Lee Wilson photo
This joins a couple other pieces of used fire apparatus at Wake Forest. In 2015, they also added a reserve ladder (1990 E-One Protector, 1500/300/75-foot, ex-Consolidated Fire Company in Johnson County, KS, purchased from Company Two Fire in SoutH Carolina) and a reserve engine (1995 Pierce Dash pumper 1500/500, ex-Raleigh). Search Lee's Flickr site for "Wake Forest" for pics of those trucks.
Clay Fire Equipment was based in Mobile, AL, says Google. They specialized in rear-mounted pumpers, we're told.
Thanks to the gang on Facebook for these and other details: Micah, Andrew, Martin, Richard, Barry, and others.