January 23
This meeting is a must-listen for anyone interested in the nuts 'n' bolts of the county fire service, as members received the long-cooking recommendations for a county-wide standard of fire service response, for all departments serving unincorporated areas, e.g. all except Raleigh and RDU.
Was two years in the making by the commission's Administrative Subcommittee, as a Long Range Planning initiative. And fully data-driven, to arrive at objectives for response performance for structure fires, EMS calls, technical rescue, and haz-mat. The fire commission members received the report, the recommendations, and will smoke things over until the next meeting(s), for discussion and decision.
Also at the meeting, two other inputs were presented. First, the results of the community engagement survey. Total 1,384 responses from those living in those unincorporated areas. Second, a neat study from NCSU that presents ideas for optimized fire station locations for protecting those unincorporated areas, and notably looking forward ten years. (The study was received as "another tool in the toolbox" as needed for the commission to use in any long-range planning.)
One important note, noted in the meeting, the NCSU study has some points to be tweaked, to reflect such recent developments as Wendell Station 3 now operating and the merger of Eastern Wake with Knightdale.
Listen to the audio file on the county site.
Read the studies and accompanying materials here, which we've organized with pre-pended labels: https://legeros.com/blog/docs/wcfc/2021-01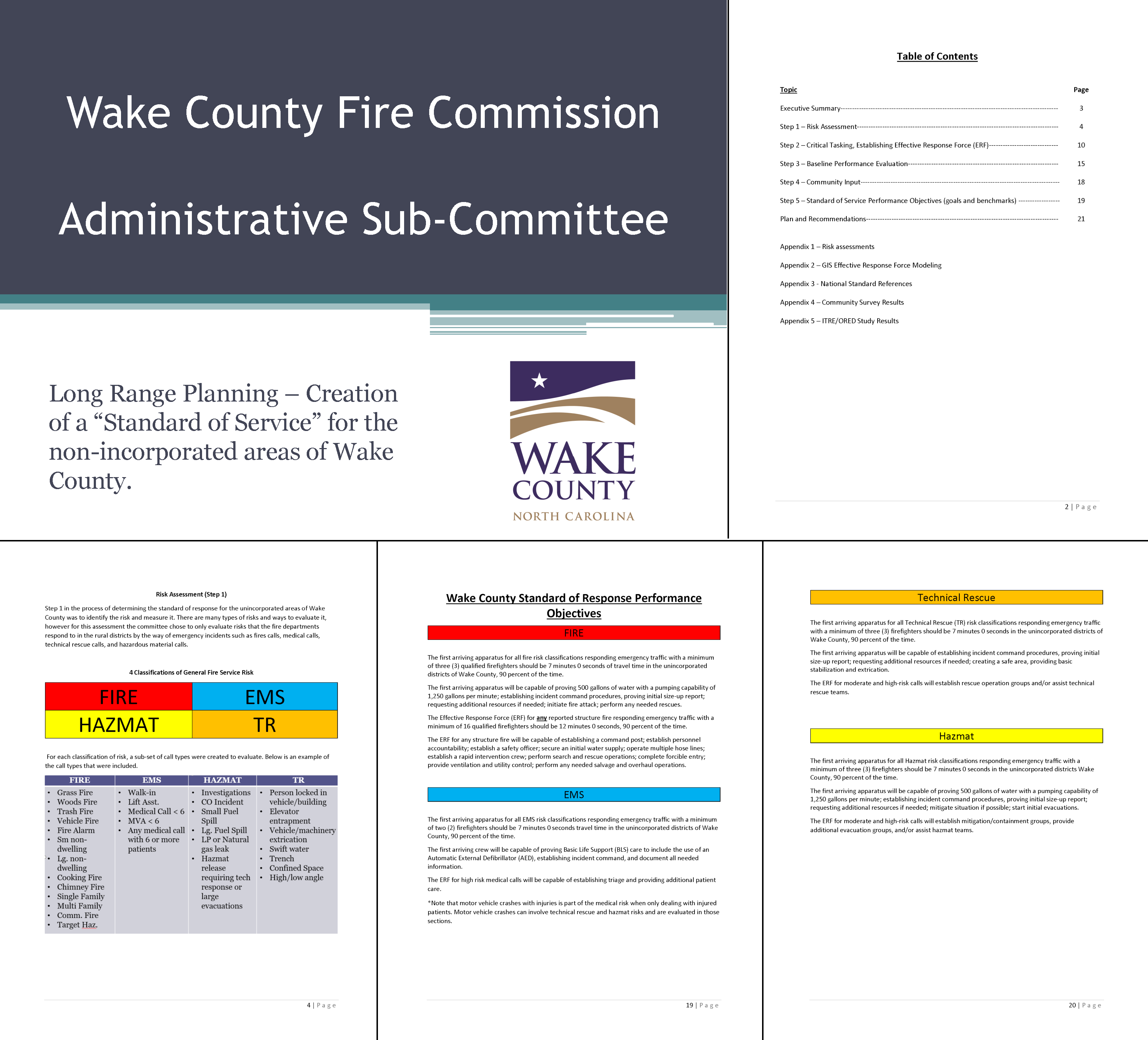 January 19
The Wake County Fire Commission will hold a virtual version of its regular scheduled meeting on Thursday, January 21, 2021. The meeting starts at 7:00 p.m. 
The agenda and meeting documents are below. Information on submitting public comments and access for viewing/listening are posted on the Wake County Public Meetings Calendar. 
Agenda
Meeting Called to Order: Chairman Keith McGee

Invocation
Pledge of allegiance
Roll of Members Present

Items of Business

Annual Election of Chair and Vice Chair – Director Alford
Adoption of Minutes for November 19, 2020 Meeting
Approval of Agenda

Public Comments:

Comments emailed in from the public, as directed on the public advertisement on the County Meeting Calendar prior to noon on January 21, 2021. Any comments received will be emailed to the Fire Commission prior to the meeting. Depending on the number of comments received, the comments may be read by Director Alford at this time.

Regular Agenda

Introduction of County Commissioner Representatives on Fire Commission
FY20 Fund Balance Presentation – John Stephenson
ITRE/ORED Study – Darrell Alford
Community Engagement Survey – Darrell Alford
Administrative Committee Long Range Plan Presentation – Tim Herman

Information Agenda

Fire Tax Financial Report – Michael Gammon
Standing Committee Updates
Administrative
Apparatus
Budget
Communications
Equipment
Facility
Health & Wellness
Training
Volunteer Recruitment & Retention Committee
Chair Report
Fire Services Report

Other Business
Adjournment – Next Meeting – March 18, 2021