In February 2018, the town of Zebulon received the results of a fire facilities and fleet study (pdf) conducted by Brooks Innovative Solutions, from Greensboro. 
It examined the fire department's current infrastructure, historic and projected call volume and service now, and property and population development past 'n' present.
And both in the municipal and rural fire protection districts–the latter of which is provided through contract protection with the county.
What did they find?
Here's the short version…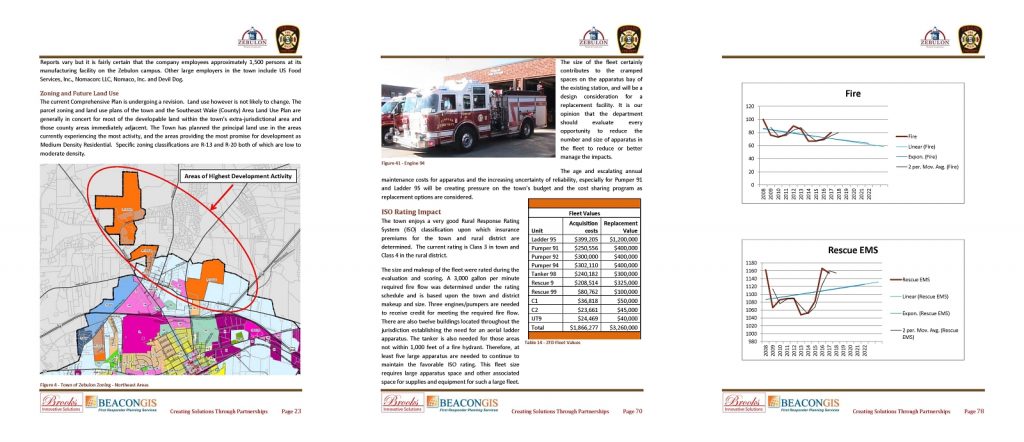 Facility
One fire station, built in 1974. Expanded in 1980s with additional bay space and larger training room. Expanded again in 1990s to add office and equipment space and increase bay space. Renovated in 2000s to add sleeping quarters and other interior changes.
Based on current and projected demand and growth, second fire station isn't needed. BUT the current fire station needs to be replaced and relocated.
Building is undersized and does not provide critical infrastructure for either fire department public. Station square feet, for example, is less than 50% the size of a comparable prototype station. See study for details of deficiencies.
New station location is also needed, to better serve the district(s). Suggested spot is around US 64/264 and Arendell Avenue. Recommend develop plans for relocation. Seek participation with both county Fire Services and county EMS.
The replacement station should be 13,500 to 18,000 square feet and include features of the Wake County Prototype Headquarters Station. Site should large enough to include some "drill yard" capabilities, e.g. 2.5 to 3.5 acres. Suggested estimated budget ~$350,000 for planning and design, and $3.5 to $4.5 million for land and construction.
Develop long-term plan for additional fire stations, looking 15 to 20 years forward. And, alas, the Green Pace Road property, purchased some years ago as a potential Station 2 site, be repurposed for other use than emergency response. It's location isn't ideal. (Though at the time of site selection, there were plans for development in that area.)
Fleet
Current fleet includes three pumpers, one aerial platform, one medium rescue, one brush truck, one tanker, two command/support vehicles, and one utility vehicle. (No apparatus are designated as reserve, but units can be moved around to cover as needed.)
Fleet is aging, with several pieces well past the age of using as reserve or retired. Ladder 95 is 31 years old. Pumpers are 21, 11, and nine years old. Average fleet age is 14 years.
Immediately replace Ladder 95, a 102-foot platform, and with a 75- or 85-foot platform on a lighter and much shorter chassis.
Replace Pumper 91 the following year.
Consider configuring either Ladder 95 or Pumper 91 replacements as a rescue ladder or rescue pumper. This would help reduce fleet size, result in more efficient unit usage, relieve some floor space requirement, etc.
Develop a fleet capital plan, and begin programming replacements for Pumper 94 and Pumper 92. And use a vehicle score card system (as used in study) or similar process to help manage fleet replacement and capital program.
Bits & Pieces
Town was planning for growth and expanded services in mid- to late-2000s, including land purchased for a second fire station. Then economy shifted and developed slowed to nearly a stop. Took eight years before demand for services returned to 2017 levels.
Growth is projected to escalate significantly over the next decade or more. One study suggests that the town's population could triple by 2030.
Department has ISO ratings of 3 (town) and 4 (rural district). They protect 10,000 people in area covering 29 (!) square miles. Four miles in town and 25 in rural district.
Town and rural districts are "intertwined and inextricable." The fire department has served both so effectively and for so long that the "combined jurisdiction is seen as the entire community."
From a ten-year study, total responses are 68% in town and 31% out of town. For 2016-2017, calls outside their jurisdiction (mutual aid and service agreements) comprised just 84 responses.
 Rescue and EMS remain the largest percentage of all call types, and growth is forecast as nearly flat. Fire incidents are the third largest percentage of all call types. Though they have the highest risk for major loss, the gross number of these calls has been declining for the last decade. This is expected to continue.
Read the study (pdf)