This is the first in a series of blog postings about Wake County EMS, and their celebration this year of their 40th anniversary. More coming soon, including a new ambulance revealed this week with retro green-over-white markings!
Update: See second posting. See third posting.
Meet Russell Capps
Let's begin with a three-minute video featuring original Wake County EMS Director Russell Capps talking about the origins of the organization.
Capps talks about the first ambulances from Swab Wagon Company, the first members, and the original EMS stations:
Placed In Service
Wake County EMS was placed in service on August 15, 1976. They responded to nineteen calls that day, with four 1976 Dodge/Swab ambulances and a Dodge station wagon Supervisor's vehicle housed at two stations: 201 W. McDowell Street (Station 1) and the Wake County Home at 513 E. Whitaker Mill Road (Station 2).
The staff consisted of Capps, Chief Supervisor Jesse Glenn (formerly a Raleigh firefighter, who rode rescue), Secretary Pauline Wood, Billing Officer Callie Johnson, and twenty-four Emergency Medical Technicians across three shifts. They'd been hired by mid-July and field-trained for another month.
On August 13, 1976, the new personnel of Wake County EMS were sworn-in at a ceremony at the county courthouse. Two days later, they began running calls.
As today, their service was fee-based. They charged patients $35 to transport from any point in the county to any hospital. The phone number for their service (as well as fire and police) was 829-1911.
They served Raleigh and northwestern Wake County, with the remainder of the county covered by volunteer rescue squads in Apex, Cary, Fuquay-Varina, Garner, Knightdale, Wake Forest, Wendell, and Zebulon.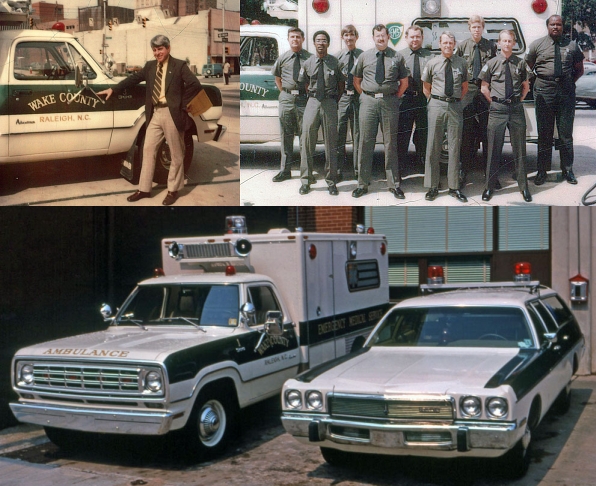 Later Directors, Later Career For Capps
Capps was the first Director followed by Gerald Brown (1980-2000), Joseph Zalkin (2000-2002 as interim), Barry Britt (2002-2004), Chris Colangelo (2004-2005 as interim), Skip Kirkwood (2005-2008, though he continued as EMS Chief until 2013), Brent Myers (2008-2015), Chris Colangelo again (2015 as interim), and the newly installed Jose Cabanas (2016).
He was also the county Director of Emergency Preparedness and the Fire Marshal, a position he'd held since 1971.
After leaving the county, his career continued as a Natural Hazards Planner with the state from 1987 to 1993 and as a member of the North Carolina General Assembly from 1994 to 2006.
Wait, you ask, who have served as Wake County Medical Directors? They've included Douglas Hammer, Jack Larson, Jeff Top, Ben Graves, Donald Vaugh, Brent Myers, Jeff Williams, and Jose Cabanas. Doctors, that is.
Short History of Local Ambulance Service
The first emergency ambulance providers in Raleigh (and Wake County) were funeral homes. In 1953, the Raleigh Fire Department formed a rescue squad, and also provided emergency ambulance service as needed. In 1962, the first county rescue squad was formed in Wendell.
By the 1960s, funeral homes were the primary providers in Raleigh. But in 1965, six of seven funeral homes in Raleigh ceased this service. Ambulance Service of Raleigh (later renamed Beacon) began operation that year.
In 1968, Beacon began receiving a county subsidy for providing emergency ambulance service in the city, and in county areas where funeral homes weren't serving.
Ambulance service in Raleigh was also provided by Overby Funeral Home and, as needed, the Raleigh (Fire Department) Emergency Rescue Squad.
In 1976, the primary provider for Raleigh residents was Beacon. They were backed up by the fire department's two rescue trucks. Each Beacon ambulance and Raleigh rescue unit was staffed with at least one EMT, as required by a new state law for ambulance personnel.
That year, County Commissioners discussed options for improving ambulance service, including creating a city-county ambulance service, creating a county-operated service or renewing their contract with Beacon. On April 20, 1976, they voted to create a county-financed ambulance service for Raleigh and northwestern Wake County.
The rest, as they say, history.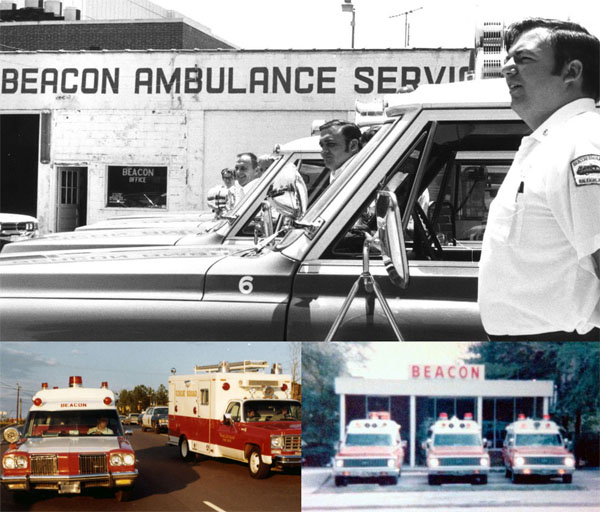 More History at Your Finger Tips
Learn more about Wake County EMS history on a pair of web sites developed by Chief of Community Outreach Jeff Hammerstein and local emergency services historian Mike Legeros (that's me!):
Note: A version of this article originally appeared last year in the Wake County EMS employee newsletter The East Wing.