The Raleigh Fire Department's largest recruit class ever graduated last night, on Wednesday, December 29, 2022. The ceremony was conducted at the Raleigh Convention Center, with retiring Division Chief of Professional Development David Whitley giving the keynote address.
Three awards were given out, recognizing Joseph Harris as Valedictorian, Chase Johnson as Lt. Herman "Greg" Ellis, Extra Effort Award Recipient, and Adam Peterson as Asst. Chief W. Keith Tessinear, Leadership & Integrity Award Recipient.
The ceremony opened with a presentation of colors by the Raleigh Fire Department Honor Guard. Assistant Chief of Professional Development Ian Toms presided over the ceremonies. Fire Chief Herbert Griffin administered the oath of office.
The forty-nine members of Academy 48 received their station assignments this week.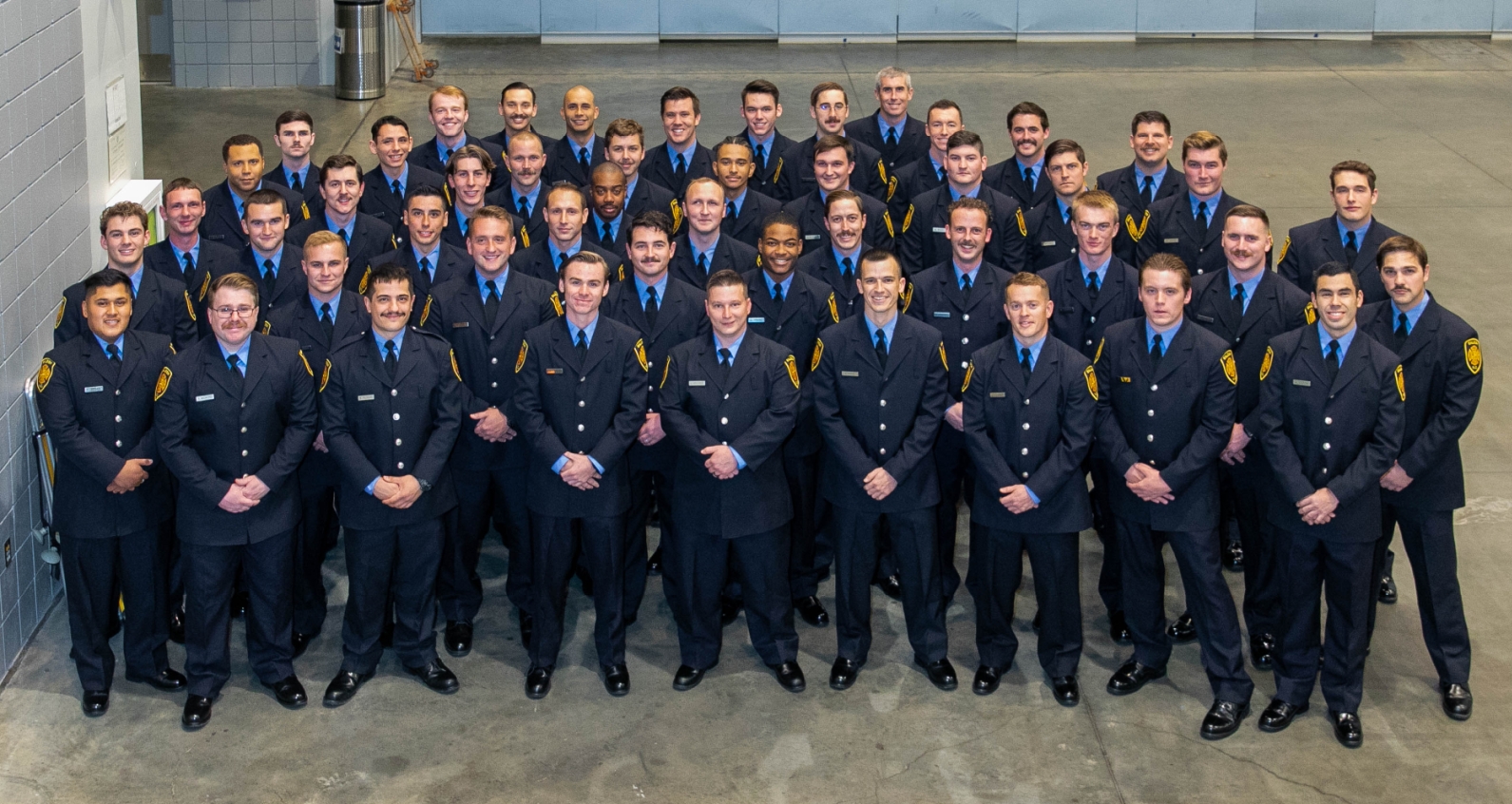 Congrats to the city's newest firefighters, listed below with their home towns. Pictures forthcoming on Mike's photo site.
Brian Barry – Floral Park, NY
Joe Block – Murphy, NC
Julian Boehlert – Raleigh, NC
Clay Brooks – Fremont, NC
Zack Clarke – Wake Forest, NC
Gage Coincon – Monroe, NY
Noah Cooper – Raleigh, NC
Gregory Crusie – Beacon, NY
Ryan Drew – Denver, NC
Nestor Escobar – Caracas, Venezuela
Francis Fogarty – North Merrick, NY
Devon Gaffney – Coeur d'Alene, ID
Adrik Garcia – West Hartford, CT
Peter Giambattista – Raleigh, NC
Brice Godwin – Kenly, NC
William Greczyn – Chapel Hill, NC
Brandon Grider – Seymour, IN
Jacob Groover – Raleigh, NC
Joseph Harris – Durham, NC
Joshua Hawkins – Manassas, VA
Kyle Heath – Los Angeles, CA
Wilbert Hernandez – Durham, NC
Jonathan Hoke – Newark Valley, NY
Andy Hollar – Charlotte, NC
Ryan Hynes – Riverhead, NY
Chase Johnson – Roanoke Rapids, NC
Aaron Kasnick – Las Vegas, NV
Matthew Kocot – Asheville, NC
Ryan Lalley – Raleigh, NC
Nicholas Lemire – Providence, RI
Daniel Londono – Bogota, Colombia
Hugh Long – Jesup, GA
Daniel Lowther – Flowood, MS
Kyler Maclntire – Norwood, NY
James Mitchell – Steelville, MO
Blake Moore – Kinston, NC
Matthew North – Wales, UK
Adam Peterson – Detroit, MI
Joshua Reeves – Rolesville, NC
Jordan Richardson – Oxford, NC
Blaise Richichi – Durham, NC
Jesse Rodahaver – Kent Island, MD
Teddy Ross – Brooklyn, NY
Michael St. John – Chesapeake, VA
Garrett Stephens – Clayton, NC
Bradley Tart – Apex, NC
Gregory Trival – Ramsey, NJ
Jarrod Watson – Englewood, FL
Daniel Young – Wake Forest, NC
Editor's notes:
Cooper is the son of former Raleigh Fire Captain and current Cary Fire Chief Mike Cooper
Giambattista is the son of former Raleigh First Class Firefighter Peter Giambattista
Groover is the son-in-law of retired Raleigh Fire Captain David Barefoot
Hernandez is the twin brother of Raleigh firefighter William Hernandez
Reeves is son of retired Raleigh Fire Captain James Reeves
Tart is the nephew of retired Raleigh Captain Dennis Tart, and cousin of firefighter Ethan Tart.