Morning history. Random find. The first "rural truck" in Wake County history. Built by members of the Apex Fire Department in 1952, to expand service to "rural residents," e.g. those that lived outside of the town limits. News & Observer photos from May (top) and August (bottom) 1952, scanned from film prints. 
Reported the paper on August 4, 1952, the need for the truck was apparent as most of their fire calls "were to points outside of town." But many couldn't be answered, because town officials ruled that the town's one and only fire truck had to stay within one mile of the town limits.
The department bought a used Chevrolet truck from the state for $200. They stripped and reconditioned the thing, and built a fire engine for about $5,000. Was equipped with a 550-gallon tanker, suction hoses, and "chemical fire-fighting equipment." As shown it was still incomplete. Pending were "more hand rails for the firemen to grip during rush calls to fight fires" as well as a canvas cover for the one-and-a-half inch hose.
By the time of the article, it had already been credited with saving a tobacco barn from "complete destruction." The barn "on the old Jackson Brown place about four miles from here" caught fire on a recent Sunday.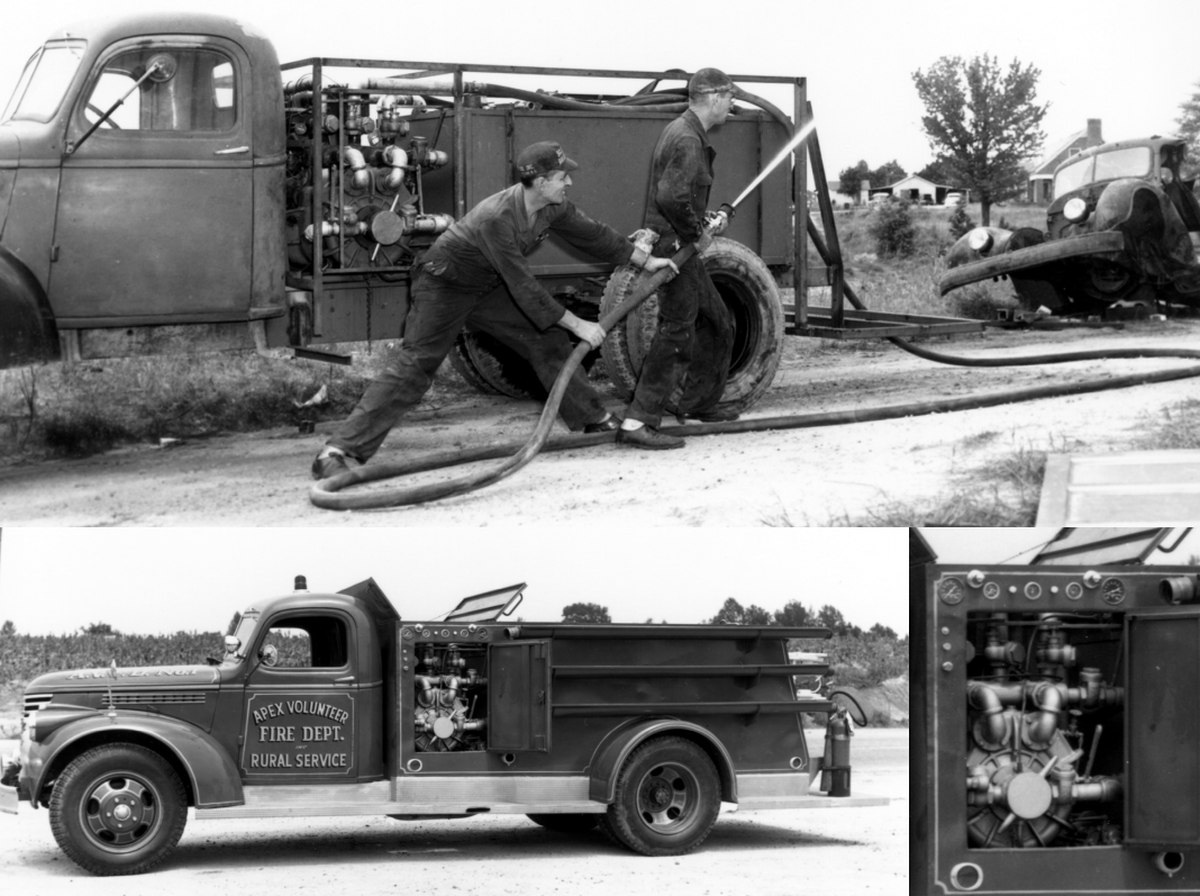 Photos courtesy News & Observer
Most of the truck building was done in the "Apex Motor Lines shop of Fire Chief Carter S. Schuab, with Fire Chief A. B. Lloyd of Raleigh and a former Raleigh fire chief, Ralph Butts [then an Apex funeral home director], assisting with the plans for installation of the [pump] and other necessary equipment." They also received help from Fayetteville [!] Fire Department.
Plans were being considered to divide the department into two companies, one for local calls and the other for out-of-town. At that time, Apex was the only town in the county offering "special fire protection to rural residents in its vicinity." But it wasn't long before other town fire departments started their own efforts, starting with Zebulon's rural program in 1953.[1]
County officials had "at various times in the past years considered offering fire protection outside the incorporated towns of the county," but those ideas never "advanced" to any "favorable action."
Read more about all that in these research notes on Wake County fire service governance.
[1] Rural service in North Carolina started in the 1940s, including in Guilford County. Here's a blog post about that.
The first rural (e.g., "outside town") departments around the state included:
1940 – Seagate (New Hanover County)
1942 – Bessemer (Greensboro)
1943 – Wilkinson Boulevard (Charlotte)
1944 – Oak Grove (Greensboro)
1945, by – North Asheboro (Asheboro)
1946 – Guilford College (Greensboro)
1948 – Pleasant Garden (Marion/McDowell County)
1949 – Newell (Charlotte)
1949 – Pinoca (Charlotte)
1949 – Sedge Garden (Winston-Salem)