This is a blog version of a Facebook posting from January 24, 2022.
Terrible news in Baltimore today, January 24, 2022. Three firefighters dead and fourth in critical condition after the partial collapse at a three-story row house, about 6:00 a.m. Killed were Lt. Paul Butrim, Firefighter/Paramedic Kelsey Sadler, and EMT/Firefighter Kenny Lacayo. Hospitalized and in critical but stable condition is EMT/Firefighter John McMaster. See news reports, social media postings, etc.
What's the historical perspective? Here's a partial answer. The Maryland Fire-Rescue Services Memorial records 166 members of BCFD that have died in the line of duty since 1866. Between that year and 1994, via data compiled from William Murray's book "The Unheralded Heroes of Baltimore's Big Blazes," there were twelve multi-firefighter fatality incidents..
Below are details and data, plus citations for sources. Readers, check my work. Will update and correct as needed. Also need to look forward, from 1994 to present.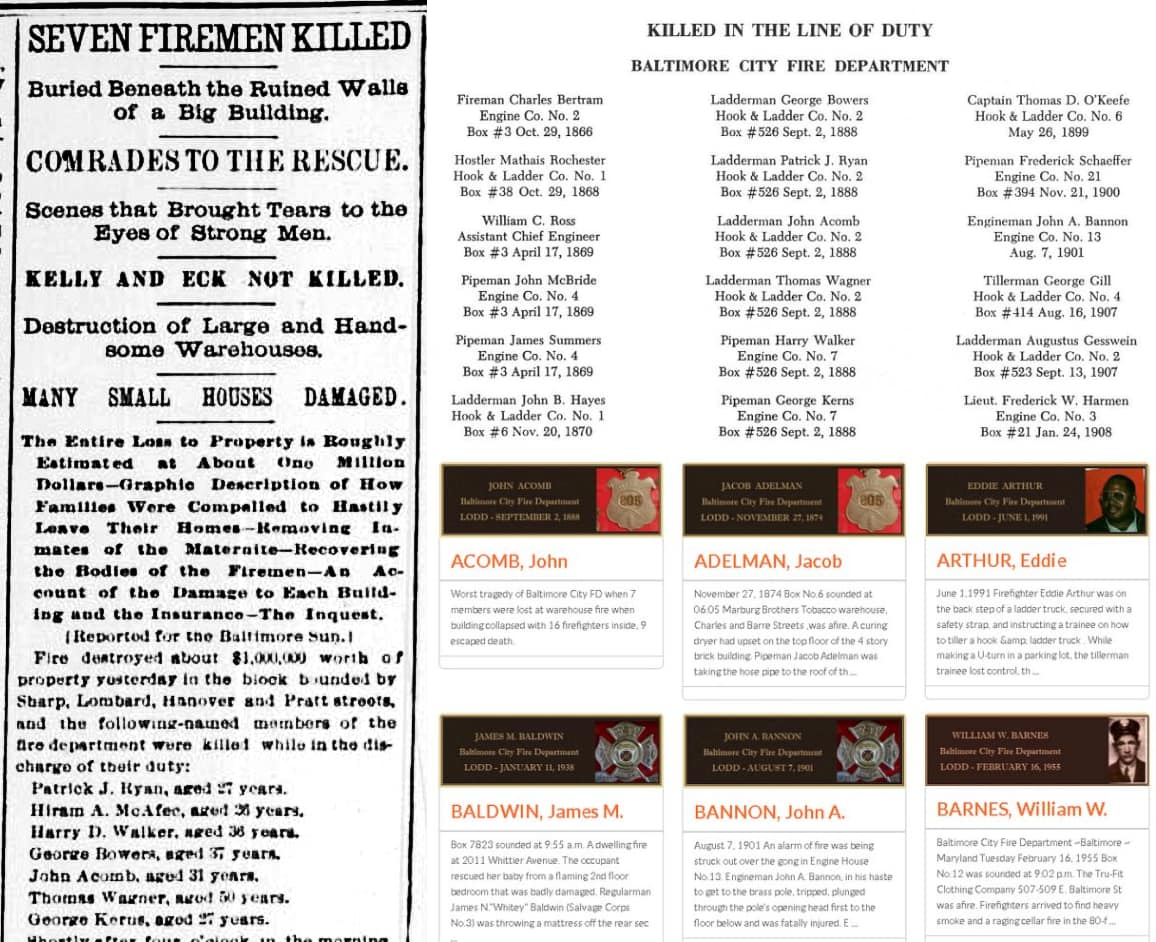 Incidents
1888, Sep 02 – Box #526 – 7 killed
Sharp Street warehouse fire. Five-story brick double building at 107-109 S. Sharp Street. Alarm time 4:24 a.m. Heavy fire on arrival on the lower floor, front and back. Second and third alarms sounded. While crews were atop a four-story warehouse at 105 S. Sharp Street, to attack the fire through a hole in the wall, the roof of 107 fell onto the roof of 105, and collapsed the entire building, killing seven firefighters.
1955, Feb 16 – Box #012 – 6 killed
Tru-Fit Clothing store at 507 E. Baltimore Street, nine alarms. Six firefighters were killed when the roof and wall collapsed on them during the fire.
1949, Nov 09 – Box #8864- 4 killed
Collision of Engine 46 and Truck 22 at Park Heights and Rogers Avenue, responding to a 3:10 p.m. alarm from Box #8664, reporting a grass fire at Glen and Kay avenues. Four others were injured.
1869, Apr 17 – Box #003 – 3 killed
Chimney collapse at a three-story brick building, that pulled the front wall of the structure down with it, and landing on the men of Engine 1 and Engine 4 in the cellar.
1886, Nov 17 – Box #526 – 3 killed
Burrough Brothers Chemical Work at 92 Camden Street, multi-alarm fire. The Hayes aerial ladder collapsed. It was fully extended with seven pipemen, three hose pipes, and heavy hose. The aerial flipped on its side, and those on the ladder were thrown against the adjacent building. Two died on scene, and third four days later.
1912, Feb 07 – Box #415 – 2 killed
Five-alarm shoe store fire fought over two days on January 7, 1912. Two members of Engine 3 each contracted pneumonia from their exposure during the bitter cold incident. Each died at home, a month later.
1919, Apr 24 – Box #072 – 2 killed
Three alarms at St. Mary's Industrial School for Boy's on Wilken's Avenue Extended. The fire burned for hours and crews later entered the gutted main administration building to extinguish any remaining flames. The second floor balcony collapsed and killed two firemen.
1937, Oct 13 – Box #528 – 2 killed
Five-alarm fire in a three-story brick building. Some fifteen firefighters were working in an alley when a wall collapsed.
1950, Feb 04 – Box #4121 – 2 killed
Manufacturers Clothing Outlet at 121 W. Baltimore Street. Six alarms at a five-story brick double-building. Two members from Engine 15 had gone into the store with a hose pipe, and down a rear stairway, when there was an explosion. Their bodies were found later, several feet inside the structure.
1952, Jun 03 – Box #1039 – 2 killed
Collision of Hose 3 and Truck 9, while responding to a mattress fire. Neither could see nor hear the other, due to a monument that stood in the middle of the street.
1953, Apr 18 – Box #023 – 2 killed (one BCFD member, one salvage corps member)
Collision of Engine 34 and Salvage Corps Wagon 2 at Baltimore and Caroline streets. The BCFD member died at the scene, and the Salvage Corps member was ejected, struck the pavement, and remained unconscious for four years until his death on July 6, 1957.
1956, Jan 11 – Box #288 – 2 killed
Collision of Engine 24 and a tractor-trailer truck at Patterson Park Avenue and Monument Street, while responding to an alarm for a cellar fire. The engine skidded on the rain-soaked street, overturned, and killed two members aboard.
Sources
Baltimore Sun – Fatal firetruck crash recalls earlier tragedy – December 15, 2007
https://www.baltimoresun.com/news/bs-xpm-2007-12-15-0712150049-story.html
Dying to Tell Their Stories – The last two firefighters found after the deadly 1888 Sharp Street fire – November 30, 2017
https://www.dyingtotelltheirstories.com/home/2017/11/30/the-last-two-firefighters-found-after-the-deadly-sharp-street-fire-of-1888
Maryland Fire-Rescue Memorial – Baltimore City FD Directory
https://www.mdfirerescuehero.org/lodd-directory/baltimore-city
NFFF – Baltimore City Fire Department – Line of Duty Deaths
https://www.firehero.org/department/baltimore-city-fire-department/
NFFF – Memorial Monday – Baltimore Warehouse Fire (MD)- September 27, 2021
https://www.firehero.org/2021/09/27/memorial-monday-baltimore-warehouse/
William A. Murray – The Unheralded Heroes of Baltimore's Big Blazes – 1995 reprinted edition
Source data via page scans + OCR at https://drive.google.com/drive/folders/1qgtMQD_oZmDCA2uds67l1_wGofmZnctJ?usp=sharing
Plus sundry historical newspaper archives, via State Library of North Carolina access.