On March 5, 1945, the Charlotte Fire Department assisted with the "greatest mass transfer of polio patients in history". 
Led by Fire Chief W. Hendrix Palmer, the fire department helped the Charlotte Variety Club move 88 patients from the emergency polio hospital in Hickory to the new polio unit at Charlotte Memorial Hospital.
Travelling the 75-mile distance was a caravan consisting of fifteen ambulances, 74 automobiles, and "a number of trucks." The vehicles traveled at 30 miles an hour and were escorted by members of CFD, police from Charlotte and Hickory, and the State Highway Patrol.
In Hickory, Chief Palmer carried the "first little polio patient" to the caravan and placed her on the ambulance. He also led the procession.
The mass transfer was sponsored by the Charlotte Variety Club, a "motion picture and showmen's organization," with Chief Palmer, Charlotte Police Chief Walter Anderson, and Mecklenberg County Police Chief Henry C. Severs assisting.
The story was recounted by North Carolina State Firemen's Association Statistician Albert Brinson, in his annual report to members, which was included in a booklet with other business reports, but no conference proceedings, as the 1945 convention was "cancelled due to war conditions." However, he cited 1944 as the year, instead of 1945. 
The story was also covered in local newspapers and by wire services, such as a UP stories printed in the Rocky Mount Telegram on August 5 and August 6, 1945. See below. They added a few details, including Rock Hill Variety Club as the named sponsor, and noting that ten Charlotte firemen would help with moving the children. They were "especially trained to assist in any emergencies."
The UP stories adds that forty-eight nurses would be assisting, and that the "mile-long" caravan would include two trucks, ten state highway patrolmen, four Charlotte motorcycle officers, and four county police units. They also noted the distance as 60 miles. 
The patients ranged from 10 months to 29 years in age.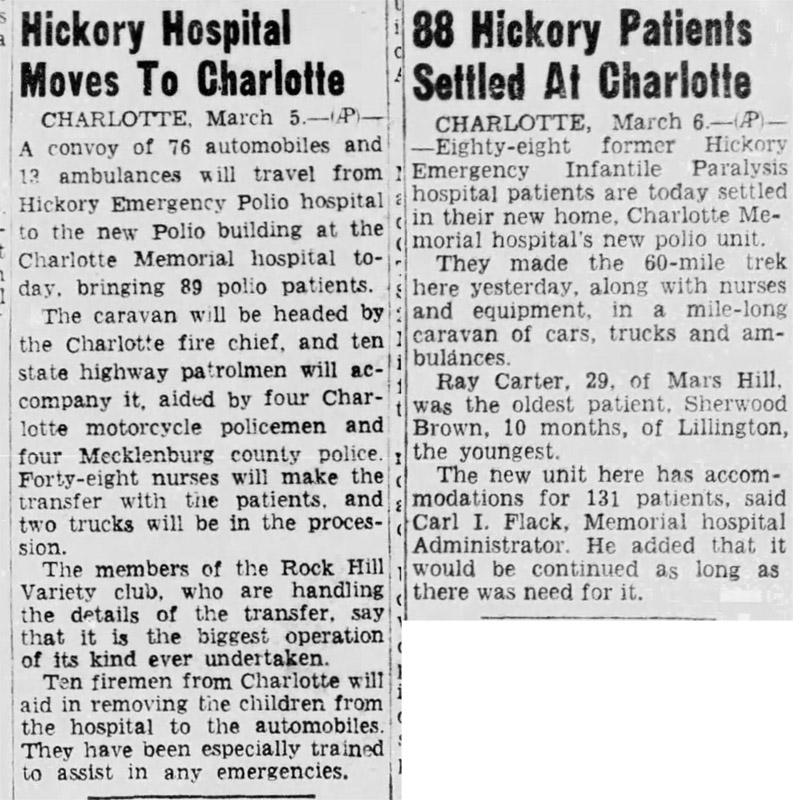 Rocky Mount Telegram, August 5, 6, 1945