Found footage alert. Here's 39 minutes of raw video from Meserve Hall at Shaw University, which went to four alarms in January 1991. Converted from VHS and posted to the Raleigh Fire Museum YouTube channel. Original videographer(s) TBD. Might've been two cameras operating, as the footage isn't strictly sequential. 
Incident description below, from my Raleigh fire history timelines. Keyboard commanders note the aerial placement issues. The top of the building was tough to reach. Good discussion topic, though. How to get closer when fence + lawn presents. 
Watch footage or see embed below.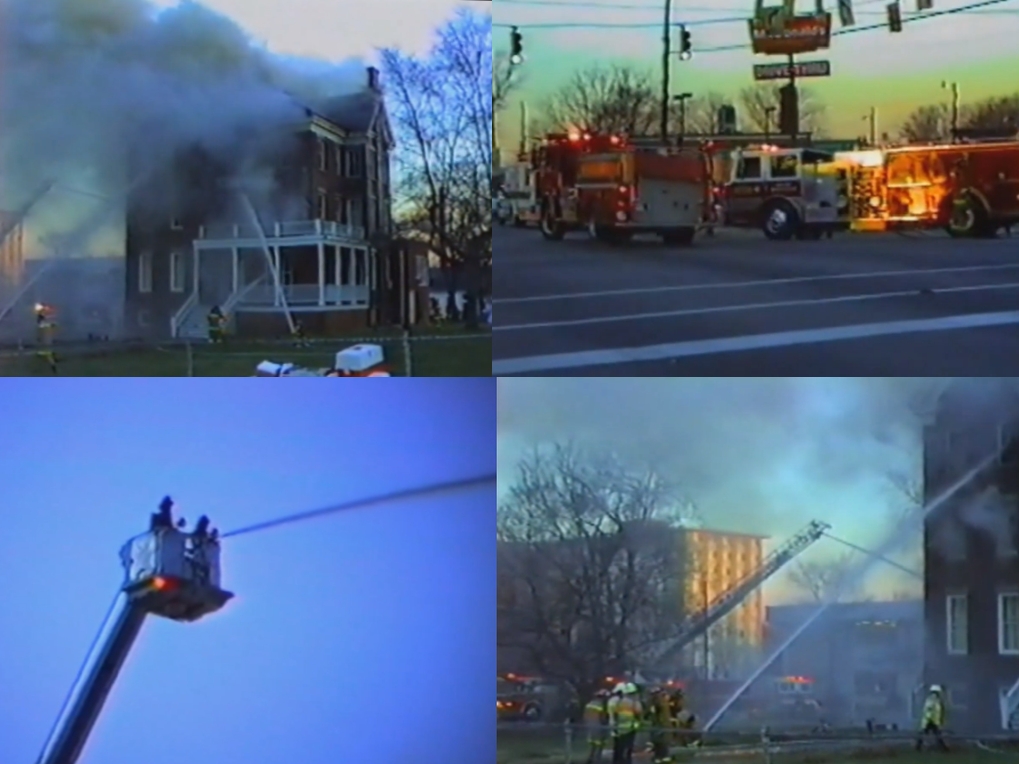 Incident Description
January 23, 199. Dispatched about 4:15 p.m. Fire guts the top two floors of the brick, Queen Anne-style building. The structure is 96 years-old. Began on third floor and raced through brick dorm and office building. Extensive damage. One student jumped from second floor window, was transported. Hundreds of spectators watched as flames shot out of the the roof of the Queen Anne-style building's gabled ends. Built in 1896, building was one of oldest on campus. Building had recently be remodeled. Female students lived on top two floors, with admin offices on first floor. All 18 residents accounted for. Aerial apparatus deployed. Controlled at 20:30 hours. First alarm: E3, E1, T1, C52. Second: E2, E13, T8, SR1, R7, R6. Third: E5, E11, T11. Fourth, relief: E4, E16, T16, E8, E10, E17, E7. Plus C1, C2, C3, C4, C70, C71. Overnight: E9 (9 p.m.), E18 (11:30 p.m.), E6 (2 a.m.), E12 (4 a.m.), E15 (6 a.m.)