This is a re-posting of a Legeros Blog Archives posting from January 6, 2010, that's no longer available on the old site, due to technical problems.
One of the interesting civil defense programs of the 1950s was the Ground Observer Corps. They had their roots in World War II, when 1.5 million civilians watched for enemy aircraft on the nation's coasts. Enrolled by the Army Air Forces, they manned 14,000 observation posts. Our country had limited radar capabilities at the time, and these volunteers literally watched the skies. As the threat from German and Japanese air forces declined, the program was disestablished in 1944.
In February 1950, an Air Force Commander proposed formation of the Ground Observer Corps. These civilian volunteers would number 160,000 and staff 8,000 observation posts in the gaps between proposed radar network sites. Recruitment was easy, as the Korean War was perceived as a precursor to a possible Russian attack. In 1951, the first  national drill of the system was conducted. Some 210,000 volunteers at 8,000 observation posts and 26 filter centers. The latter were regional communication centers, that "filtered" the reports from the observation posts.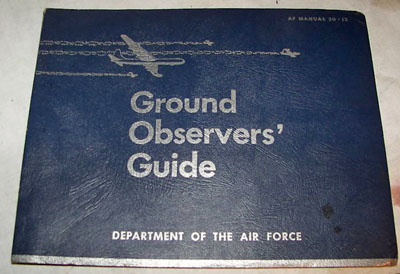 This and other drills did not impress officials with their ability to spot, report, and transmit sightings of aircraft. A revised observer plan, called Operation SKYWATCH, was initiated in 1952. Eventually, the volunteers exceeded 800,000, and staffed in alternating shifts at 16,000 observation posts and 73 filter centers.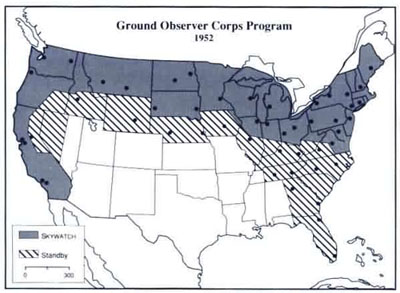 The filter centers serving North Carolina were located in Durham, Charlotte, Knoxville, and Richard. Observation posts reported aircraft sighting to the filter centers, which processed the sightings and reported them to an Air Defense Direction Center.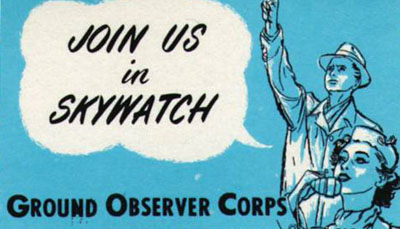 Observation posts were needed every eight miles to provide complete coverage. In North Carolina, this translated to 342 posts. Each post covered an eight-mile "grid system" and required 168 trained volunteers. North Carolina's observers started round-the-clock duty on February 1, 1956.
Locally, a civilian defense observation tower was installed atop the Apex fire station. The tower was built in early 1957, after a December 1956 presentation to the fire department on the subject of civil defense and a ground observation corp. The town's Home Demonstration club offered their services to help provide observers, and the town cooperated as well.  Here's a picture of the tower: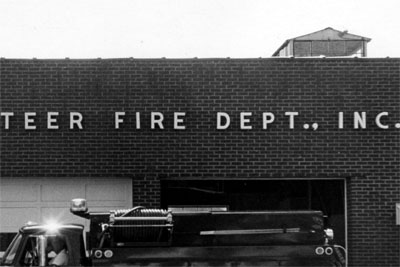 Courtesy Apex Fire Department 
By the late 1950s, short-range radar was deployed that negated the need for humans watching for low-flying aircraft. Dozens of these radar units were deployed in-between the long-range radar sites. Subsequently, the Ground Observer Corps were disbanded on January 31, 1959.
Sources:
Comments:
January 16, 2010 – bigredlancer
I was a member of the GOC in Akron, Ohio about 1955. Our Observation Post was on the roof of the YMCA…
May 3, 2012 – roamingwolf77@yahoo.com
My great grandfather was a life member of the GOC. I was wondering if there are records of it somewhere, and I just got a copy of his honorary life member paper. I know some people got hour awards and silver wings. I was wondering what he received. He died before I was born, so I am trying to find out more about his life. I know he was in WWI. Keith Hobson
May 3, 2012 – Legeros
Thanks for your note, Keith. I don't have any more information about the GOC, than what I posted above, and that was a couple years ago. Good luck in your research!
July 1, 2013 – clarkm1c@mchsi.com
I served in the GOC in Capps, Florida, in the mid to late 1950's. Our group went to Jacksonville, FL to receive service awards. We worked from a very small building near the entrance gate to Tungston Plantation.
November 19, 2013 – taylor_louis@hotmail.com
I'm very interested in the history of the Ground Observer Corps as it relates to UFO sightings. If anyone in the GOC had any sightings back in the 1950s I'd be interested in hearing about them.