Raleigh received a pair of new mini-pumpers in February, a pair of 2017 Ford F-550/Knapheide/UPF/Foam Pro 250/250/10 units. Shown on left. They replaced a pair of 1986 Chevy brush trucks, which were retired. Shown on right. 
Along with a 2005 Ford F-550/Reading/Slagle, the city's three mini-pumpers are assigned to and cross-staffed by Squad 7, Squad 14, and Engine 28. They're used for grass fires, woods fires, parking deck vehicle fires, storm and inclement weather response, and pulling boat trailers for water rescues. See more photos of the new trucks.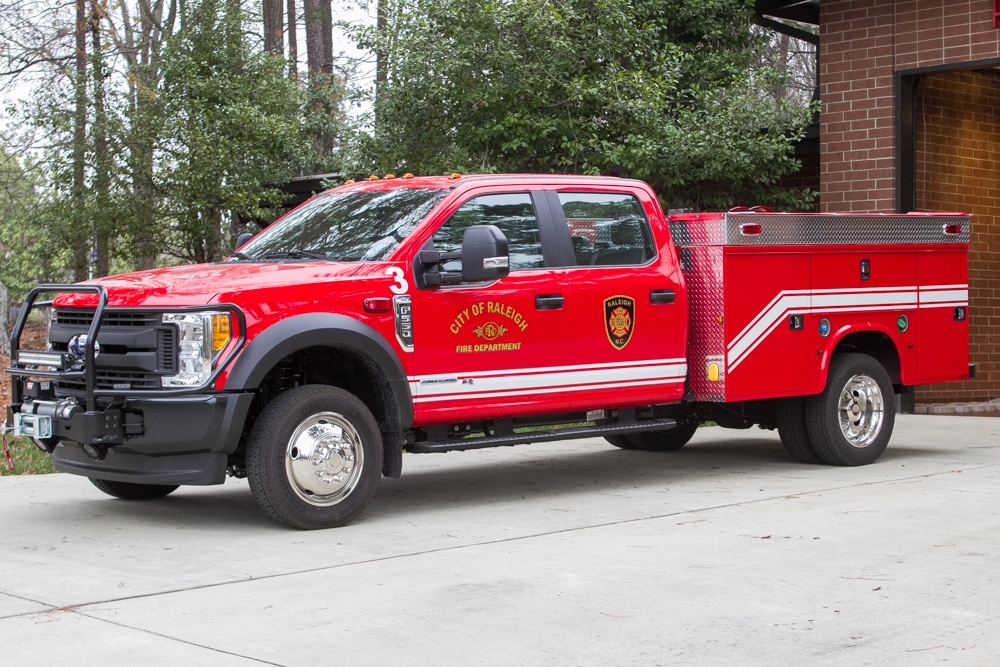 Mike Legeros (left) and Lee Wilson (right) photos.
Historical Notes
Mini 1
Former Mini 16, Mini 17, Mini 4, Mini 9, Mini 3
1986 Chevrolet Custom Deluxe 30, 350/200
VIN 1GCHK34M5GJ175991
Retired February 22, 2018
City Council authorized as donation to Durham Highway FD on June 5, 2018.
Mini 3
Former Mini 3, Mini 23, Mini 24, Mini 4, Mini 9, Mini 17
1986 Chevrolet Custom Deluxe 30, 350/200
VIN 1GCHK34MOGS143864
Retired February 22, 2018
Skid system and warning lights removed, and then auctioned on GovDeals. Listed with 23,934 miles. Closed June 19, 2018. High bid $20,081.25.
Modifications
In 2012, the skid systems on both trucks were modified. Changes included removing one of two reels, relocating the remaining reel, and adding a storage cabinet with a single SCBA.  were removed. Here's a picture of Mini 3 before the mods.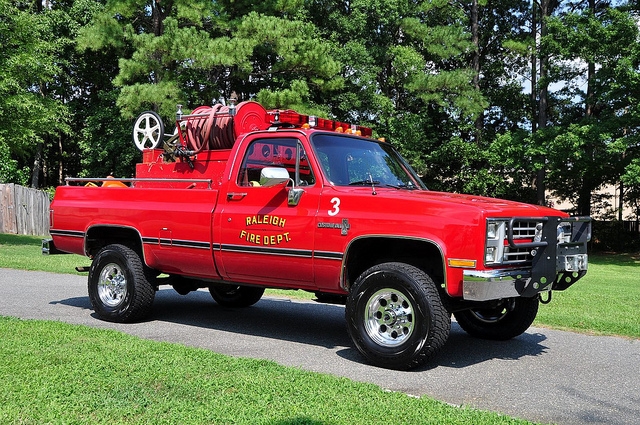 Lee Wilson photo