Edit: Master list updated October 2, 2022
This is a re-posting of a Legeros Blog Archives posting from December 21, 2013, that's no longer available on the old site, due to technical problems.
Articulating platforms, to be specific. Snorkel is a brand name. Let's extend the discussion from this thread, as well as the topic itself, which replays on this blog every twelve to eighteen months.
Here are some photos, with credits listed at the bottom of the posting.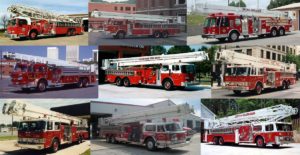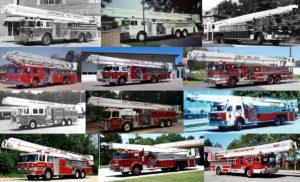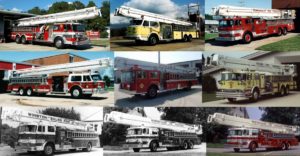 Here's the data.  
 
Department
Unit
Make/Model
Height
Pump
Notes
Asheboro
 
1966 Ward LaFrance / Hi-Ranger
85
Yes
1000 GPM, no tank. Spec #80-119. Source Andrew Messer via FB: https://tinyurl.com/vbr95ah
Asheville
Ladder 1
1977 ALF 900 Series / Snorkel
85
No
 
Central Alexander  
Tower 1
1985 E-One Custom/Snorkel
85
Yes
Ex-Southard, NJ [?].
Charlotte
Platform 1
1969 ALF AeroChief
80
Yes
[ need specs ]

Retired after damaged in accident at Pierce plant, while being refurbished. Boom was left raised overnight and collapsed into cab. 

Charlotte
Ladder 1
1984 Duplex D-350/Grumman/Snorkel
85
Yes
1000/300. 
Charlotte
Ladder 16
1986 Pierce Arrow/Snorkel
85
Yes
1 of 2. 1000/200.
Charlotte
Ladder 18
1986 Pierce Arrow/Snorkel
85
Yes
2 of 2. 1000/200.
One of the two later served Cainoy Rural FD in SC. With 300 tank and 1985 model year cited. Source: Lee Wilson on FB.
Chocowinity
 
See Washington
 
 
 
Durham
Snorkel 1
1971 Ward LaFrance /Hi-Ranger
 85
Yes
1500 GPM, no tank
Fayetteville
 
1980 Oshkosh/Pierce
85
Yes
Alt. Pierce/Hendrickson. 1250 GPM. Source: Lee Wilson via FB. 
Franklin
  
See Greensboro
 
 
 
Gamewell
 
See Lenoir
 
 
 
Goldsboro
Snorkel 1
1979 Hendrickson/Pierce/Snorkel
85
Yes
1000 GPM, no tank. Source Jay Thomson on FB, via Wayne Greer info.
Greensboro
 
1972 ALF 1000 Series AeroChief
80
No
Reg 13-1-2785. Also cited as JW9543. Source FB post, https://tinyurl.com/vo7llkz 

Later served Franklin, NC.

Greenville
Snorkel 1
1970 Ward LaFrance / Hi-Ranger
85
Yes
1250 GPM. No tank. Specs from FB conversations.
Henderson
Snorkel 1
1977 Hendrickson/Pierce/Snorkel
 
Yes
 
Henderson/Vance County
  
See above
 
 
 
High Point
 
1976 Pierce/Oshkosh/Snorkel
75
Yes
 
Lenoir
Snorkel 1
1972 Pierce/Oshkosh/Snorkel
 
Yes
Later served Gamewell FD. Now
privately owned.
Lexington
 
1989 Duplex D-500/Gumman/Snorkel
85
Yes
Alt year 1988. 1500/300. #18076. Source: Dave Organ via FB post. Last seen in Amarillo, TX,
with the Snorkel remounted on a 6×6 for a tree-trimming business
North Wilkesboro
  Unit 2105
1988 Duplex D-450T / Grumman / Snorkel
85
Yes
1500, 300. #17964. Source: Dave Organ, via FB: https://tinyurl.com/txg2cyz
Ocean Isle Beach
 
1971 ALF AeroChief
90
Yes
Ex-Metro Dade, FL. Sold to Panama
Fire Apparatus in 1986. Refurbed,
painted red, sold to OIBFD. Later
sold to Iberia Parish Fire District #1
in Louisiana.
Raleigh
Truck 1
1988 Pierce Arrow/Snorkel
85
No
E-4266, shop #011005. Source: MJL
Rocky Mount
 
1979 Oshkosh/Pierce[?]/Snorkel
85
Yes
1250 GMP pump. Source: RMFD history book. Alt. year 1979
Sanford
 
1968 ALF AeroChief
80
Yes
 
Southern Shores
 
2002? ALF/______
 
 
 
Spring Lake
 
1968 Young Crusader
85
Yes
1000/200. Ex-Henrietta, NY.
Stantonsville/Moyton
 
1978 Pierce/Oshkosh
85
Yes
Acquired 2007. Alt. citation 1979. Ex-Gladwyne Fire Co., Montgomery County, PA 
Statesville
 
1973 ALF Century / Snorkel
85
Yes
1250/250
Thomasville
Snorkel 1
1967 Pierce/FWD/Snorkel
75
Yes
1967 FWD LF5-3229 6X4/Pierce Snorkel. FWD Serial # Q-4272, Sales Order # 72518, TCMI Low Profile Canopy Cab # 18847, Waukesha 145GZ 300 HP Gas/5 Speed Manual. Sold to Lillian FD (Lillian, AL.); Sold to Boldo FD (Boldo, AL.) on GovDeals 08/2015. Source: Nick Lilick via FB, https://tinyurl.com/sd2e82b
Vance County
 
See Henderson
 
 
 
Washington
 
1979 ALF/Snorkel
 
Yes
Later served Chocowinity, NC.
Western Carteret FD
 
1970 Young/Snorkel
75
No
Two-axle. From Long Island, NY
Wilson
 
1978 Hendrickson/Pierce/Snorkel
85
Yes
1250 GPM, no tank. Info from Jay Thomson on FB, via Wayne Greer info. Alt year 1977.
Winston-Salem
Snorkel Unit 1
Aerial 3
1963 FWD/Baker/Pittman
75
Yes
1000/0. Two-axle. Baker body from Micah Bodford, via FB. Alt described as having a Pierce body. 
Winston-Salem
Aerial 1
1968 Oshkosh/Pierce/Snorkel
85 
Yes
Three-axle
Plus Bronto Sky-Lifts
Jamesville – 2002 E-One 2000/300/100. Former Tallahassee, FL, Truck 4.
Linwood Rural – 2001 E-One Cyclone II / 2000/300/118′ Bronto Skylift SO # 123664, Former Penn Township Fire Co. of Hanover, PA, Truck 49.  
Military Ocean Terminal at Sunny Point – 2002 E-One/Bronto SkyLift, 2000/280/20 and a Williams ATP foam proportioner. 
Pembroke (L21) – 2007 E-One Cyclone II/Bronto SkyLift, 2000/300/100-foot, #131966
Photo Credits
Asheboro – Lee Wilson
Asheville – Wayne Greer via Jay Thomson collection
Central Alexander – Andrew Messer
Charlotte – eBay sale listing, Lee Wilson, Jeff Harkey x2
Chocowinity – CFD
Durham – Lee Wilson
Fayetteville – Richard Adleman collection
Goldsboro – Wayne Greer via Jay Thomson collection
Greensboro – Richard Adleman photo [?]
Greenville – eBay sale listing
Henderson – Lee Wilson
Lenoir – Andrew Messer
Lexington – ?
North Wilksonboro – ?
Ocean Isle Beach, before serving OIB – ?
Raleigh – Lee Wilson
Sanford – Lee Wilson
Spring Lake – Lee Wilson
Stantonsburg – Lee Wilson
Statesville – Lee Wilson
Thomasville – Lee WIlson
Washington – Lee Wilson
Western Carteret – WCFD
Wilson – Wayne Greer via Jay Thomson collection
Winston-Salem – Richard Adleman collection x 2, Scott Mattson collection
Comments
December 21, 2013 – Josh Clay
I think Charlotte may have also had an 80's Grumman snorkel. Anyone else remember that one?
December 21, 2013 – Lt. Lemon
Photo showing Asheboro's Snorkel operating on a commercial fire in March 2013. Thought it might be of interest. http://courier-tribune.com/sites/courier-tribune.com/files/article/150171_web_Lightly-Used-Appliances-Fire-2.jpg
December 23, 2013 – Legeros
Thanks Josh. Someone else was saying that very thing. Here's Ladder 1, the third Snorkel from that area: https://www.legeros.com/ralwake/photos/weblog/images/2013-12-21-cfd.jpg Maybe someone has a color pic, posed.
December 23, 2013 – BFD1151
Couple of updates: The Lenoir snorkel later went to Gamewell VFD and is now privately owned in Lenoir. Lexington's snorkel was a 1988 Duplex D500/Grumman. It was last seen in Amarillo,TX with the snorkel itself removed and remounted on a 6×6 by a tree trimming business Ocean Isle Beach had a 1971 ALF 90′ Aero Chief snorkel from Metro Dade,FL. It later went to Iberia Parrish Fire Dist #1 in Louisiana. The 1964 FWD snorkel in Winston-salem had a Baker body served as Aerial 3 for many years. Winston' 1968 snorkel was an Oshkosh chassis and Pierce body. It was Aerial 1 downtown.
December 24, 2013 – TRNewman
The Henderson truck went to Vance County when the County hired its own Chief and split away from its leadership by contract with the City of Henderson.The truck when purchased was purchased on a 50/50 agreement between the City of Henderson and the County of Vance. The City housed the truck and provided the manpower to operate it, the County occurred most of the maintenance expense. When the City received their new ladder truck the truck was used for fires outside the city limits and for training and service when the new city truck was down for maintenance and was mainly stored at the city utilities garage. When the County received the truck they kept it for a while and then sold it to a dealer I believe in South Carolina and now have no idea where the truck.
December 8, 2014 – joseph webb
STANTONSBURG MOYTON VOL FIRE DEPT 1979 PIERCE 85 FT SNORKEL PURCHASED FROM GLADWYNE FIRE CO MONTGOMERY CO. PENNSYLVANIA IN 2007. I WAS A MEMBER ON THAT DEPARTMENT THEN HOPE I COULD HELP SOME…GREAT PICS BY THE WAY.