The Apex Fire Department placed a new Rescue 4 in service at Station 4 on Saturday, May 13.  The 2017 E-One Typhoon walk-around heavy-rescue, job #140490 , was delivered on April 21.
Features include top-mounted coffin compartments, a rear staircase, and a lighting tower. (Believe it also has a cascade system, for filling air bottles.) Lee Wilson has been following the progress of the truck, and has posted pictures. See his Flickr album.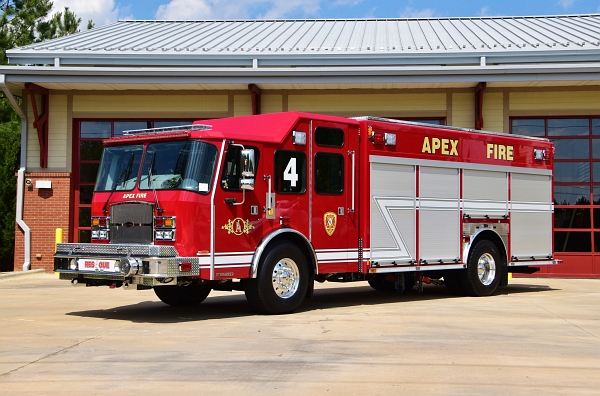 Lee Wilson photo
It replaces a 1995 HME/Rescue Master walk-in rescue, a demo truck that was added in late 1995 or early 1996. Upon that truck's delivery, which included new rescue tools, the Apex Fire Department assumed the role of rescue services from Apex Rescue Squad. (The latter becoming the EMS-only organization, Apex EMS.) 
Earlier Rescue Trucks
The prior rescue rig was a 1985 Ford L/4 Guys walk-in rescue, and used primarily as a service company. It was equipped with four SCBA mounts in the walk-in compartment, a mounted generator, and fireground support gear. After the delivery of the 1995 KME, it was used as a dive truck for a period of time. It's shown in the montage below, and now serves Salisbury FD as Squad 4.
Apex FD also had a later, second rescue, a 1992 International/3D walk-around rescue added in 2004. It originally served Forsyth Rescue Squad, and the North Carolina Canine Emergency Response Team (NCCERT). Click to enlarge: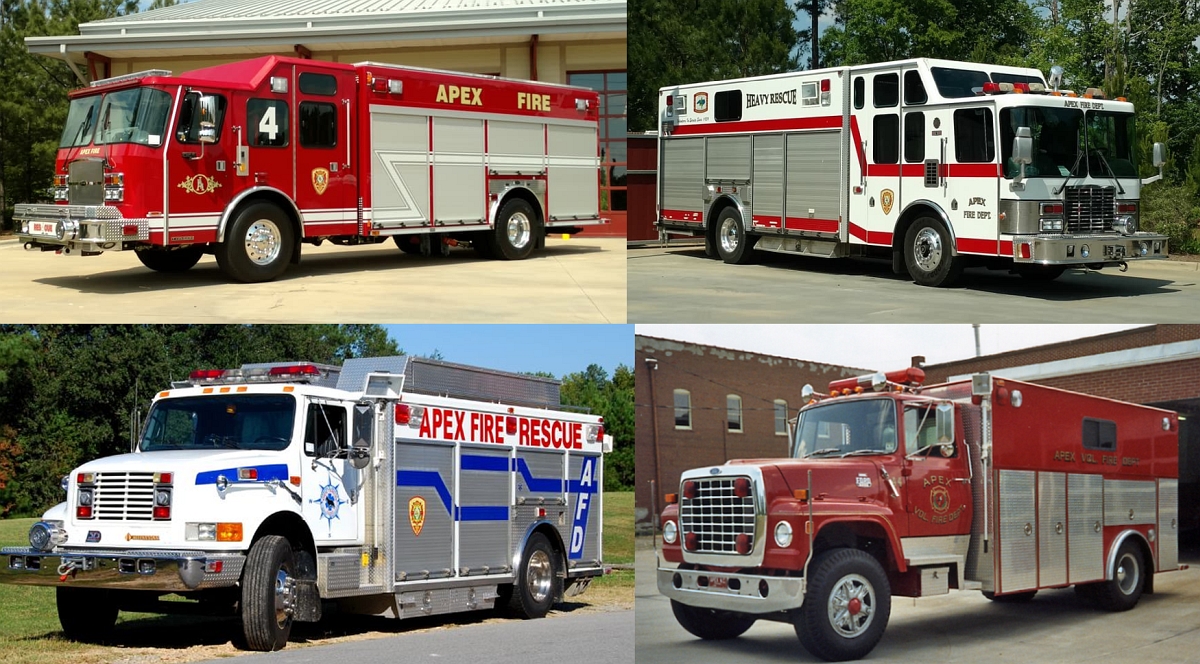 Left to right, top to bottom: Lee Wilson photos, Apex Fire Department photo (lower right)
The 1992 International/3D entered the fleet in 2004, as part of a partnership with AFD and NCCERT. The canine response team relocated from Winston-Salem to Apex that year, after Forsyth Rescue Squad closed shop in 2003.
NC USAR Task Force 4
NCCERT was also a core component of NC USAR Task Force 4, along with Troutman Fire Department. The partnership added AFD to the task force, and provided a home for  NCCERT's vehicles and equipment. (The canine team was renting a warehouse on Perry Street.)
The town via the fire department agreed to house and maintain the equipment, which included the 1992 rescue truck and two cargo trailers with trench and collapse rescue equipment, a water rescue truck and various boat and jet ski trailers, a converted modular ambulance-turned-communications unit, and more. Click to enlarge:

NCCERT and Apex Fire Departments photos
In 2006, the town purchased the 1992 rescue truck from NCCERT, along with the two rescue trailers and their equipment, a flatbed trailer, and a panel van that was used as a dive response unit. Also that year, Morrisville Fire Department joined NC USAR Task Force 4.
Read this history of Task Force 4, which originated as the state's first independent USAR team, North Carolina Task Force 1, and which was originally named North Carolina Strike Force 1. 
Racing Transporter Turned Rescue Truck
In 2010 or 2011, a former racing transporter was purchased for use by NC USAR Task Force 4. 
The 1995 Freightliner and three-axle extended cargo trailer replaced the rescue trailers for transporting trench and collapse rescue equipment. It cost about $42,000, and the monies were donated by the Apex Community Auxiliary, a group that supports Apex EMS. Click to enlarge:
In 2013, NC USAR Task Force 4 was dissolved, along with three other teams, after the state streamlined the number of state-sponsored USAR teams.
The Apex Fire Department has remained a state-recognized swift water rescue resource, however. They response several times a year to local lakes and waterways and flood-impacted areas.