The Raleigh Fire Department placed their third tiller in service today. Ladder 8 at Station 26 has received a 2010 Pierce Arrow XT tractor-drawn aerial ladder, 1500/300/100-foot. 
Formerly Ladder 4 at Station 1, it has replaced a 2006 Pierce Arrow XT rear-mounted aerial ladder, 1500/300/105-foot. 
This is the city's third tiller, joining Ladder 4 (2017 Pierce) and Ladder 9 (2015 Pierce). All three are equipped with 1500 GPM pumps, 300 gallon tanks, and 100-foot ladders.
Raleigh's the first city in the Carolinas to operate three tillers. In North Carolina, tractor-drawn aerials include:
Cornelius-Lemley (Mecklenburg County) – Seagrave
High Point – Pierce
Raleigh – Pierce x 3
Wilmington – Pierce
Winston-Salem – KME (in production)
Thinking there's one or two others. Readers?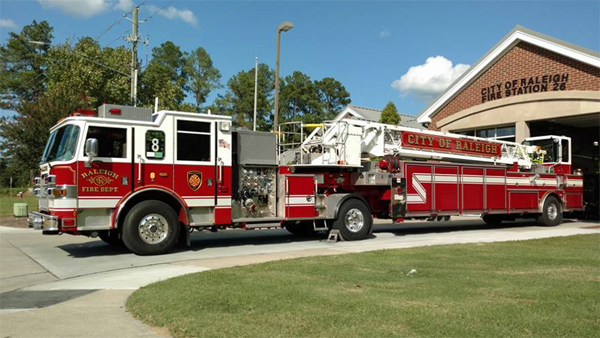 Lee Wilson photo