This week, the City of Raleigh Fire Department received a very special delivery: a motorized scooter that's travelling across five states to help raise awareness of cancer dangers.
On Wednesday afternoon, Fayetteville firefighters delivered a motorized scooter to the Raleigh Fire Department training center on Keeter Center Drive. On Thursday morning, Raleigh firefighters departed for the City of Wilson, where the scooter will continue its journey. It's been transported across five states and will be eventually be delivered to Battalion Chief David "Chico" Creasy, a fire marshal with the Richmond Fire Department.
The brotherhood of the fire service has organized around this mission, called "Chico's Army," to raise awareness of the occupational exposures to cancer-causing agents that firefighters face almost daily in the line of duty. Nearly one in four families has a member stricken with cancer. Chief Creasy has devoted himself to teaching others about the toxic hazards firefighters face since he was diagnosed with a rare form of cancer two years ago.
The mission stems from a friendship and bond between Roger Myers Sr., of Grand Lakes Florida and the father of a Richmond firefighter, and "Chico" Creasy that developed as they each battled cancer. Myers expressed that if he lost his battle, he wanted his friend to have anything he could provide to help him continue his battle. Myers away passed on December 12, 2016. His son has carried out his wishes by organizing the largest bucket brigade ever. 
The scooter and an auto lift department from Fire Station #53 in Lake County, Florida, and are being delivered station to station, department to department, state to state, to its destination at Fire Station #3 in Chesterfield County, VA. 
For more information about the mission, and other efforts to help Chief Creasy, visit the Team Chico Facebook page. For a local contact about Raleigh's participation in the project, see this press release.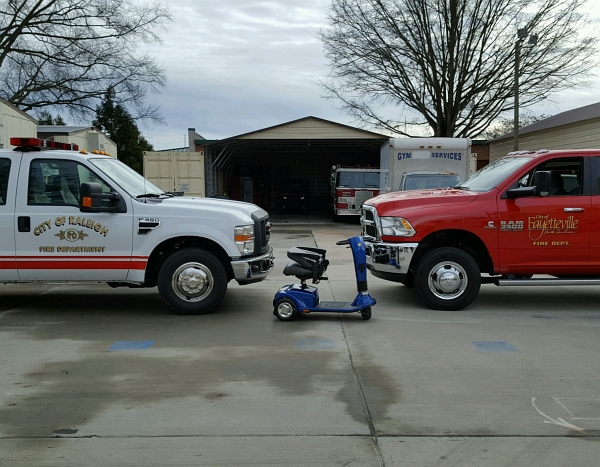 Raleigh Fire Department photo