December 28, 2017
Construction is moving right along. Completion expected in March. 
See more photos on the Mike's new SmugMug site.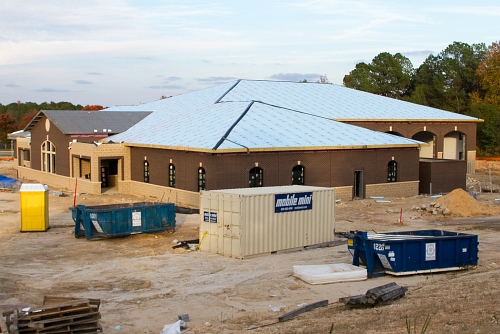 March 4, 2017
After a couple months of site preparation, construction has started on new Fire Station 12. Watch this space for more updates, and more photos over the coming weeks and months.
Or scroll down, to read the history of this long-planned project.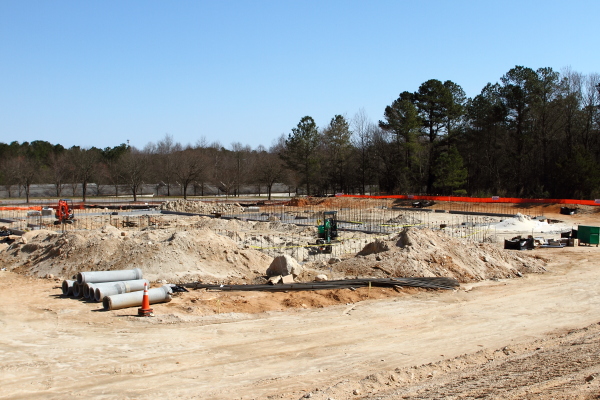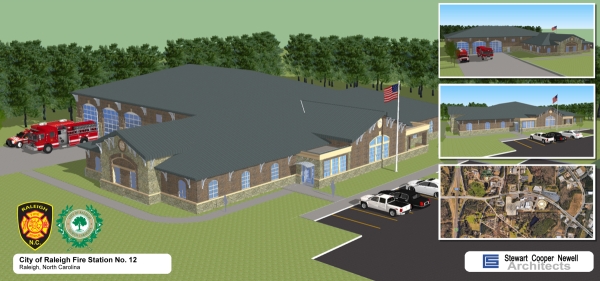 August 4, 2016
If you've been paying attention to your City Council Minutes, you've seen in this week's update that the construction bid for Fire Station 12 was awarded in June. What's the status on the project, and background therein? Let's take a look…
The relocation of Station 12 on the east side of the city has been cooking for several years. It'll be moved one mile east from its present location at 3409 Poole Road. The new site is the corner of Poole Road and Bus Way, and opposite the city bus depot, which moved there in recent years. New address is 807 Bus Way. Construction starts in September.
Station 12 was opened on October 9, 1974, and on the same day as Station 14 on Lake Boone Trail. They also have identical though opposite designs. And, as it happens, a project to replace Station 14 is also underway, and will utilize a near-identical floor plan. (Couple tweaks, here and there.) There's a public meeting on that project next week. More on that in a subsequent posting.
(Trivia: Stations 12, 14, and 15–which opened in November of that year–were all three dedicated on the same day, on June 22, 1975. Read more about the fire station and its history.)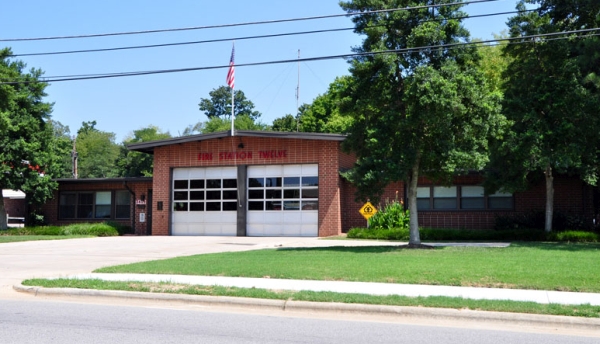 New Station 12 will have some 17,000 square-feet of interior space, including three drive-through, double-length apparatus bays. It will feature living and work space for two companies, a Battalion Chief, and a Division Chief. Public art will also be placed at the site, a first for city fire stations.
Here's a rendering from the architects (left) and a floor plan as sketched by Yours Truly (right). Click to enlarge: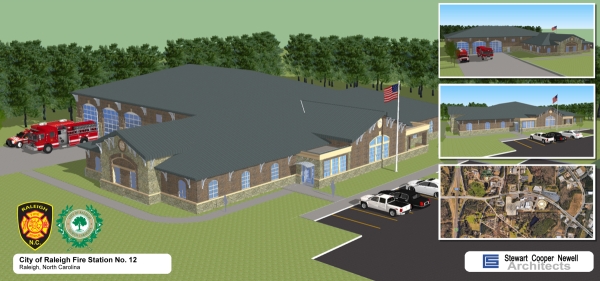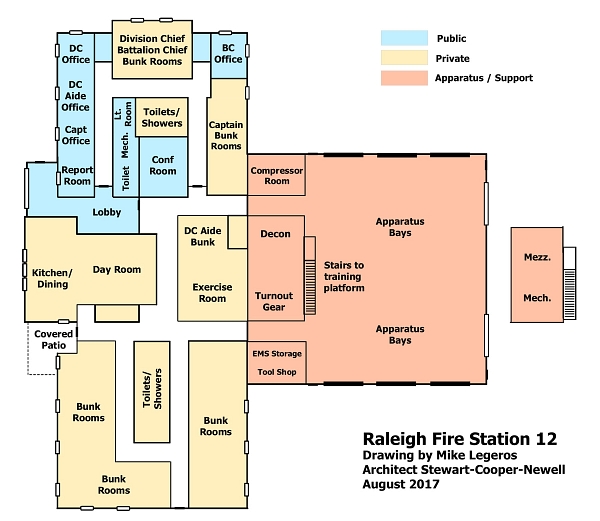 Here's a chart comparing the old and new facilities:
 
Current Station 12
Future Station 12
Lot size
0.63 acres
3.4 acres
Land value
$198,450
$652,866
Project cost
$197,000
$5.2M, not including land
Architect
McGee, Scovil, and Rairden
Stewert-Cooper-Newell
Builder
Ray Sparrow Construction
Pro Construction, Inc.
Square footage
4,189
17,506 plus 603 mezz.
Companies/units
Engine
Battalion Chief
Engine
Ladder
Battalion Chief
Division Chief
Here's a map of the new location: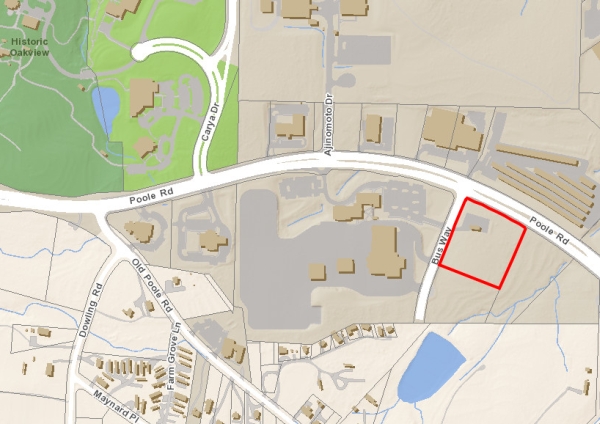 Project Timeline
Here's a partial timeline for the project thus far:
2008, Dec 2 – City Council approved purchasing land.
2008, Dec 19 – Lots purchased at 4306 Poole Road, 803 Office Way, and 807 Office Way. Parcels are later combined for current address of 807 Bus Way
2012, Dec 4 – City Council approved designer for Station 12, Station 14, and site evaluations for other fire stations. The architect is Stewart-Cooper-Newell.
2012, July 1 – Approved CIP budget includes $75,000 for preliminary design work
2013, Feb 5 – City Council approved design plan, for contract not to exceed $450,000 for Station 12.
2013, July 1 – Approved CIP budget includes $1.5M for project.
2014, July 1 – Approved CIP budget includes $3.7M for project.
2016, June 16 – City Council awarded construction bid, $5.2M. The builder is Pro Construction, and the bid amount is $5,272,500.
As noted at the beginning of the story, construction starts in September. Why did things take so long, you ask? The project took longer than expected for reasons including site planning and DOT negotiations for a depressed median for emergency vehicle egress, the recombination of land parcels, design development in general, and permitting processes. Two base budget adjustments were also needed to address such things as construction escalation, impact of rock at the site, etc.
Project Background
Since opened in 1974, Station 12 has housed a number of units alongside Engine 12, including a rescue unit, a service ladder truck, and a foam unit. The latter was first a pick-up truck with a high-expansion foam generator, and then Foam 12 used an older pumper with foam concentrate canisters stored in its hose bed.
In 2004, a Battalion Chief was moved to Station 12. A small office was constructed in the rear of the apparatus bay, further limiting the amount of available space for vehicles. Click to enlarge: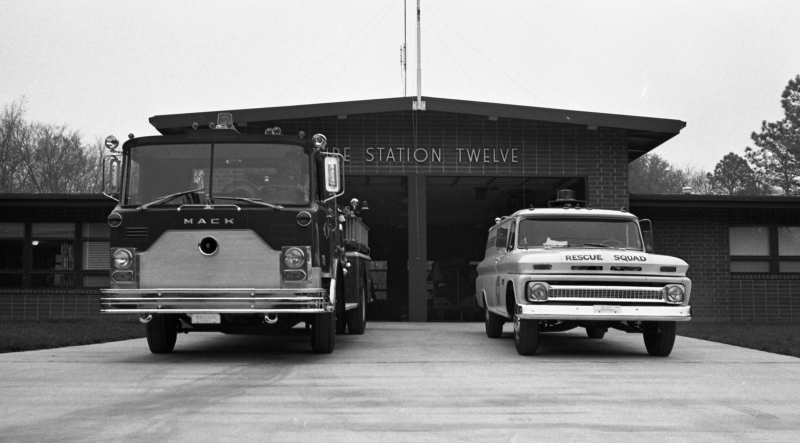 Raleigh Public Affairs photo, 1976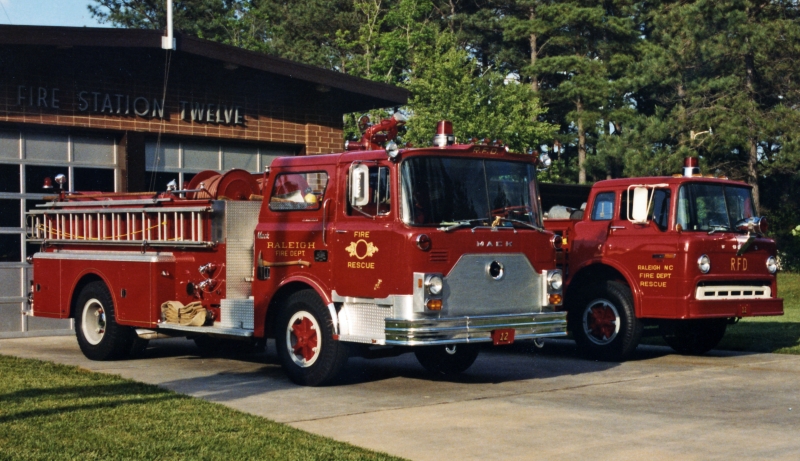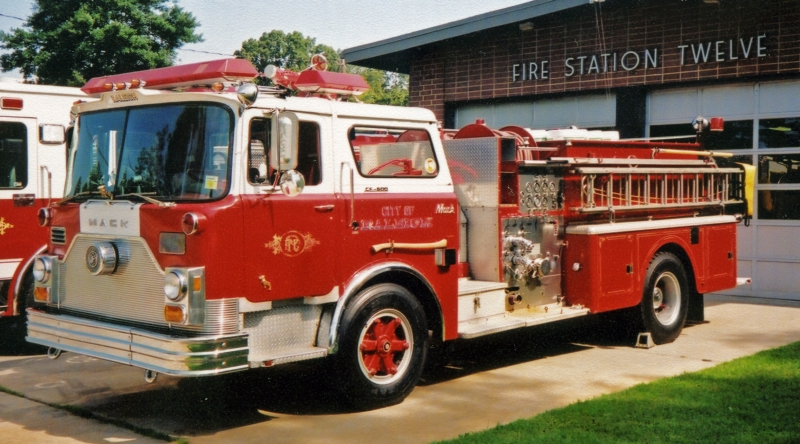 Early 1980s (left); Lee Wilson photo, early 2000s (right)
For present operational needs, the station is too small. In particular, it cannot also house a ladder truck that s needed in that response area. The building has a limited heated area and an inadequate parcel size for expansion. Typically, 15,000 square feet of conditioned area is required for an engine, ladder, and battalion headquarters.
The new facility, with some 17,000 square feet of interior space on 3.4 acres, will be better equipped for current needs and future growth, as well as contingency operations. It's also been designed to be expanded with a fourth apparatus bay, if needed later. (The facility was originally designed with four bays, and was trimmed to three to stay within budget.)
Improved Response, Expanded Facilities
Moving Station 12 will enhance response coverage to the eastern limits of the city, along and west of the Neuse River. The facility also includes quarters for the Division Chief (Car 20), presently housed in the basement of Station 8 on Western Boulevard. After completion, Ladder 8 will likely be moved there from Station 26.
Special features of the new Station 12 will include indoor fill lines in the bays, for refilling apparatus water tanks; indoor and outdoor training equipment (with a 603 square-foot mezzanine level in the apparatus bay), including a confined space area and rappelling anchors; and an SCBA cascade system for refilling air bottles. (Cascade systems are housed at each of the Battalion headquarters.)
Old Station 12
What's planned for the old station, once vacated? That's being evaluated. Proposals have ranged from use by the platoon Deputy Fire Marshal (Car 420) and/or the fire department's EMS program (notably as a decon facility) and/or housing Rescue 1 (currently at Station 15).
In particular, the EMS program would benefit from a new decontamination facility. Presently, any personnel or equipment exposed to blood, body lice, bed bugs, or other contagions are decontaminated at the training center, using facilities already taxed by recruit classes and regular training activities.
(The above project background originally appeared in a special facilities edition of the Raleigh Fire Department newsletter, published in 2014. Read that issue in PDF format.)