This is a blog version of a Facebook posting originally posted November 4, 2023.
Time for a history mystery. When did the role of the state fire marshal merge into the position of the commissioner of insurance? Have seen some conflicting references. Let's dig a bit.
The position of state fire marshal was created in 1914[1], with the hiring of Raleigh Fire Chief Sherwood Brockwell as Deputy Insurance Commissioner and Fire Marshal. He the held the role for 39 years, until his death at age 67 in 1953.[2]
Reported the News & Observer a month after his passing, Insurance Commissioner Waldo Cheek planned to take his time naming a new state fire marshal. In the meantime, three deputy fire marshals–Everett B. Jones, Kenneth Dixon, and Kern E. Church –would split the duties. Then what happened?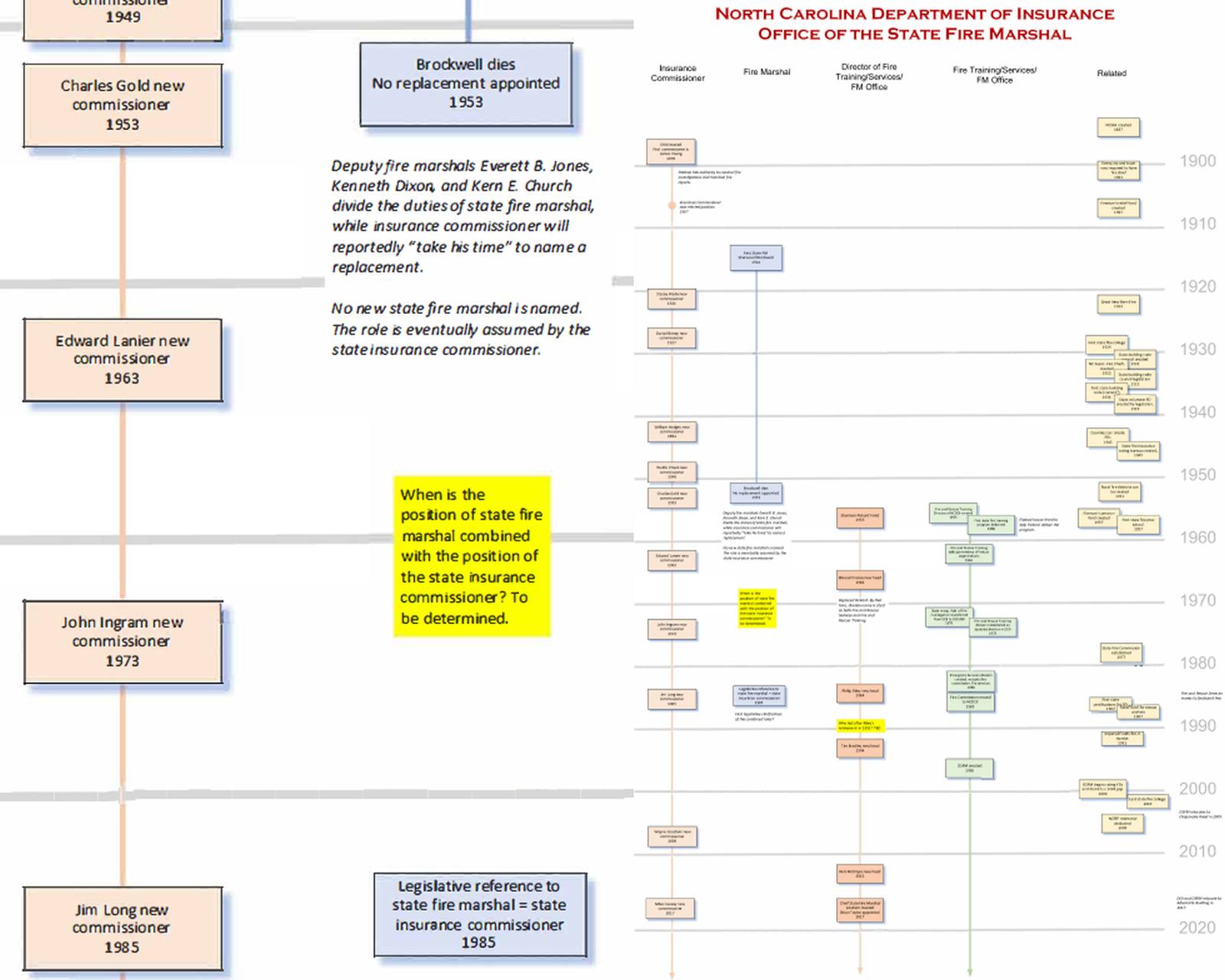 No new state fire marshal was ever appointed, it appears. And somewhere between the mid-1950s and mid-1980s, the role of state fire marshal was folded into the position of the commissioner of insurance.
When know what happened in 1953, after Brockwell's death. And we haven't yet found a citation prior to 1985.
That's when Section 66 of Chapter 666 [!] of SB 738, An Act to Improve the Regulation of Insurance by Making Technical Improvements and Other Needed Changes, included this language: "As used in this Article and elsewhere in the General Statutes, 'State Fire Marshal' means the Commissioner of Insurance of the State of North Carolina."
Thus, we know the state fire marshal position was merged into the commissioner's position by 1985. But how much earlier? Good question.
Still searching for citations, in legislation or other historical records. Maybe it was indeed codified in law. Maybe it was an unofficial evolution.
Meanwhile, will keep looking.
History Chart
(new learning aid, work in progress)
JPG – https://legeros.com/history/charts/content/nc-osfm-history.jpg
PDF – https://legeros.com/history/charts/content/nc-osfm-history.pdf
Research Notes
Read Mike's research notes on the history of OSFM at https://legeros.com/history/osfm/
Footnotes
[1] Was the position of state fire marshal created by legislative act? Doesn't appear so. Searching the session laws from 1913 forward, via the interface at https://ncleg.gov/Documents/1/12431, the first appearance of the phrase "state fire marshal" doesn't appear until decades later.
[2] Read his obituary at https://www.legeros.com/blog-archives/content/2009-05-24-brockwell-obituary.pdf