August 5, 2017
After a visit to the Asheboro public library, and the local history room, I've updated this posting with more information. See the Courier-Tribune citations below.
March 24, 2016
Did you know that the North Carolina Zoo had a fire truck? And that the truck originally served in Wake County?
As the story goes, the Six Forks Fire Department donated their 1961 International/_____ pumper, which was their original Engine 2. They'd had the truck for a decade-plus, and perhaps was delivered new. (Or maybe built new? The body looks it could be shop-built.)
Construction on the zoo started in 1974. By that time, SFFD was operating at their fourth fire station on Lynn Road. Here's a Blog Archives posting, with a profile of SFFD in 1971, when they still lived on Six Forks Road.
The truck became the zoo's first fire truck, after the park was opened in 1974. Who staffed the thing? How was it used? How often did it respond to call? To be determined times three. The park also has a hydrant system and the hydrants look like they've been there from the get-to. (We visited a few weeks ago.)
Click to enlarge: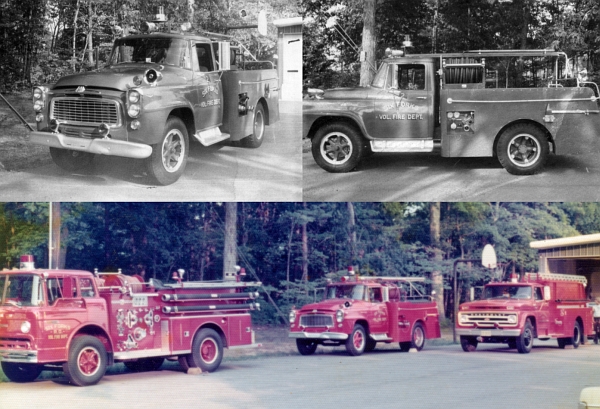 From Mike Legeros Collection, originally provided by David Ritchie
Background
The idea for a "zoo truck" started in 1973, as recounted in this High Point Enterprise story on December 13, 1977:
Zoo Receives Christmas Present
ASHEBORO – It's big, red and has four wheels and a siren, and it's a Christmas present to the North Carolina State Zoological Park from firemen across the state. It's a fire truck equipped and refurbished at a cost of $6,000. Zoological Park Director Bill Hoff said that he and park officials were very happy to get the truck as a gift.
The idea to give the truck to the zoo originated in 1973 when the Wake County Firemen's Association set up a zoological committee to raise $30,000 to buy a new fire truck for the zoo. The Wake County firemen got the ball rolling by donating $500 and then asked the other fire districts across the state to contribute. 
More details are found in a Courier-Tribune story dated December 12, 1977, and titled "Zoo Gets A Fire Engine For Christmas."
They include:
Scheduled to be presented to zoo Director Bill Hoof, during a special ceremonies presided over by Gov. James Hunt at the state capital building, at 3:30 p.m. that day. 
Zoo representative would be driving the truck from Raleigh to Asheboro along Highway 49, later that day. The zoo had already obtained a license plate and registration foe the truck.
Apparatus is equipped with "many modern firefighting attachments geared to putting out brush and woods fires." Said the director, the new vehicle "would come in handy in case of forest fires or brush fires."
Some areas of the zoo are not served by fire hydrants, and the truck's "self-contained water system" was designed to fight "just such fights as might occur at the zoo."
Donated by a group called N.C. Firemen's Zoological Committee, comprised of fire officials, firemen, and citizens, all from across the state. 
Project started in 1973, when the Wake County Firemen's Association (WCFA) created the committee, hoping to raise $30,000 to buy a new fire truck for the zoo.
The WCFA started things rolling with a $500 donation. They then sent letters to all paid and volunteer fire departments in the state, asking for contributions. 
Unable to raise enough funds to purchase a new fire truck, the plans were changed to completely refurbish and requip a fire truck used in Wake County.
About $6,000 was raised and spent. 
The truck and project were endorsed by both the North Carolina State Firemen's Association and the North Carolina Fire Chiefs Association.
Questions
Wait, buying a fire truck for $30,000? Does that mean that the Six Forks truck was a temporary unit, and a $30,000 rig was subsequently purchased? Don't think so. Sounds more like $6,000 was raised, to rehab and outfit the Six Forks truck. [Legeros: Correct, as the subsequent news story confirms.]
How long did the zoo operate its own fire apparatus? As least as late as 1985. Found this document from October 1985, which notes that the responsibilities of security officers included operating the zoo's fire truck.
Today, the zoo is protected by the East Side Fire Department. They were organized in 1968. When did they assume fire protection of the park? To be determined. Perhaps readers can assist with more information, or even some pictures. Surely some shots are sitting out there, somewhere. And even if your name isn't Shirley.