Two alarms were struck on Tuesday, April 23, 2019, at 4715 N. New Hope Road. That's a two-story, wood frame, garden-style apartment building with 10,708 square-feet, and built 1972. Dispatched 12:01 p.m. for Raleigh plus nearby New Hope Engine 1 as auto-aid.
New Hope Engine 1 first-arriving, with smoke showing. Raleigh Engine 19 and Battalion 1 arrived right behind Engine 1, and Battalion 1 upgraded to working fire. Engine 19 brought a supply line to Engine 1, with Engine 21 boosting from the hydrant.
With heavy brown smoke venting from the gables, and fire quickly spreading through the common attic space, command request a second alarm. It was dispatched at 12:11 p.m. Staging was designed on New Hope Road.
Crews from three engines made interior attacks, while roof venting was started using Ladder 2 for access. Also deployed was Ladder 1, positioned in the A/D corner of the building, and supplied by Engine 9. Searches were negative. Fire was controlled within about 30 minutes.
Dispatched 12:01 p.m. Controlled 12:38 p.m. Cause determined as accidental. No injuries. Twelve apartments rendered uninhabitable. 
Run Card
12:01 p.m. – First alarm – E19, E21, E15, E11, L2, L1, R1, B1, B5, New Hope E1, C1.
12:08 p.m. – Working fire – C20, C402, A1, B2.
12:11 p.m. – Second alarm – E22, E28, E9, L8, L4. Plus C1, C2, C4, C14 (Safety Officer).
Plus E27, special called for hot spots during overhaul.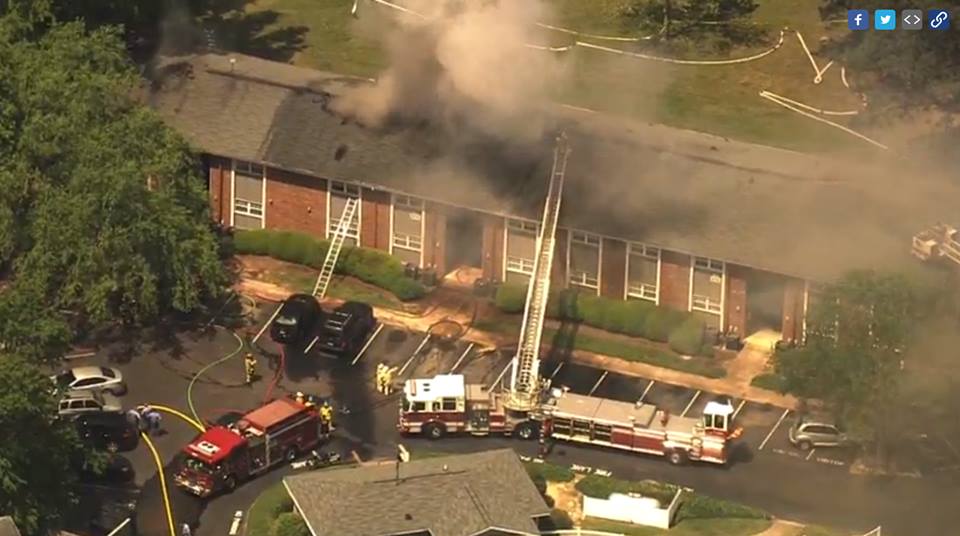 WRAL photo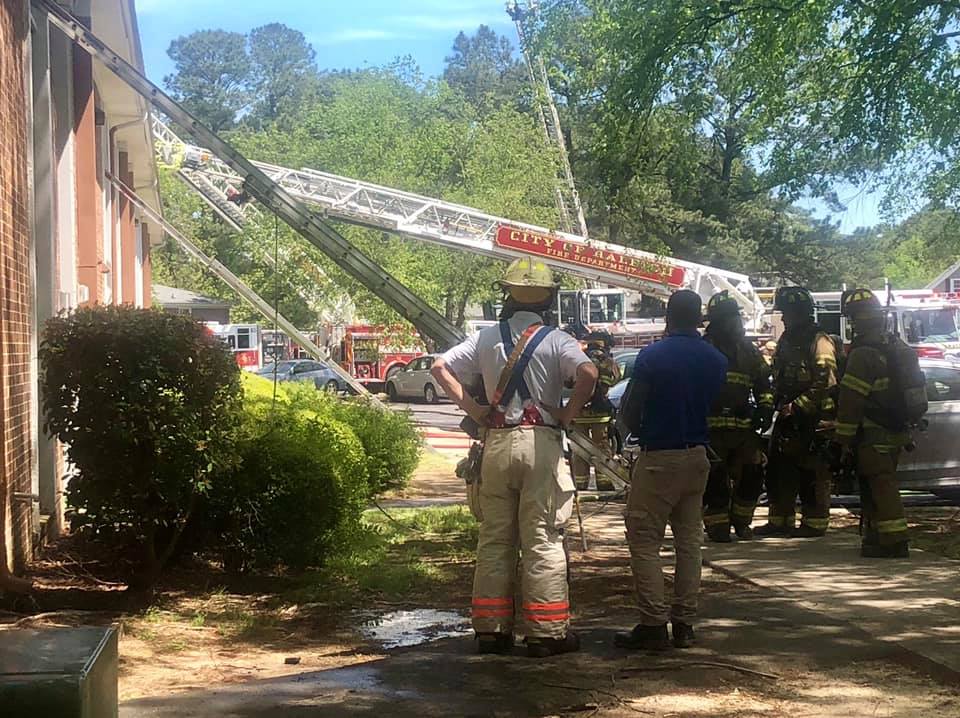 @KellyEKennedyTV photo via Twitter