For your Friday enjoyment, here's a vintage brochure from Murphy Body Works in Wilson, NC. Advertised is a low-profile, light-duty rescue truck that they built for Zebulon Rescue Squad.
The chassis was a 1975-76 GMC Sierra and it replaced a 1954 GMC panel van and ex-Raleigh Rescue Squad vehicle. It served until 1995, when replaced with a slightly larger unit. Read more ZRS history at www.legeros.com/history/ems.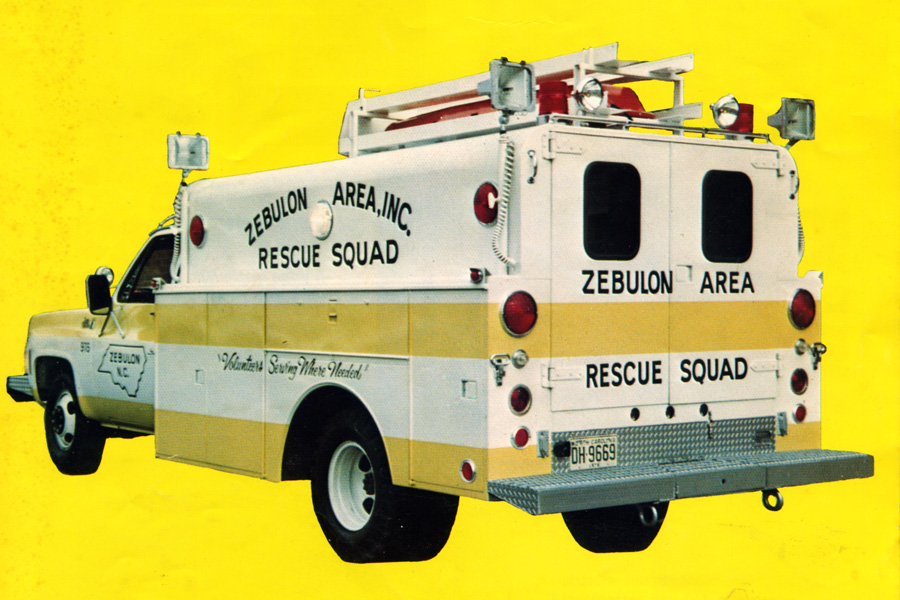 Murphy built a couple other rescue trucks in our area, notably two ambulance-body units for the Raleigh Fire Department, built on 1974 and 1974 Chevrolet Silverado chassis. They also built a similar unit for the Wake New Hope Fire Department, on a 1974 Chevrolet chassis.
Readers can add other memories about Murphy rescue trucks and ambulances in/around our area. Click to enlarge:
The features as noted in the brochure included:
20-inch deep compartments for storage of tools.
Alternating flashing lights [on] each side a rear.
Large inside storage space for rain gear, hand lines and other equipment.
8000 pound front-mounted electric winch, and 110-volt waterproof outlet for electric tools.
Storage for power system on slide tray for quick removal. o Storage compartment for Hurst tool.
Fold-down step for access to top of body.
3500 watt generator on slide-out tray to power four Quartz lights with 110 volts of power
Rear step bumper with hinged cover to accommodate ball hitch for pulling trailer. Also safety chain hooks at rear.
Extending 500 watt Quartz light stanchion, one on each corner, with separate switch in both compartment.