From your Monday enjoyment, vintage photos of haz-mat equipment from Raleigh and Cary.
This News & Observer photo of Raleigh's haz-mat gear on October 24, 1984, as part of a demonstration of the city's new haz-mat team. Comprised of personnel from Engine 2 and other fire stations, Haz-Mat 1 was placed in service on June 29, 1984. 
They operated a 1977 Chevrolet panel van, and were organized after a chemical fire in Charlotte in September 1982 forced the evacuation of several neighborhoods. That month, the Fire Marshal began compiling a list of haz-mat storage areas in the city. The following summer, the development of a haz-mat response program started.
Today, the Raleigh Fire Department has numerous haz-mat resources and personnel, including two tractor-drawn haz-mat units at Station 2 (HM1) and Station 27 (HM2), a recon unit at Station 8 (HM3), a decon unit at Station 22 (HM4), and a spill control unit and foam trailer at Station 2 (HM5).1 Click to enlarge: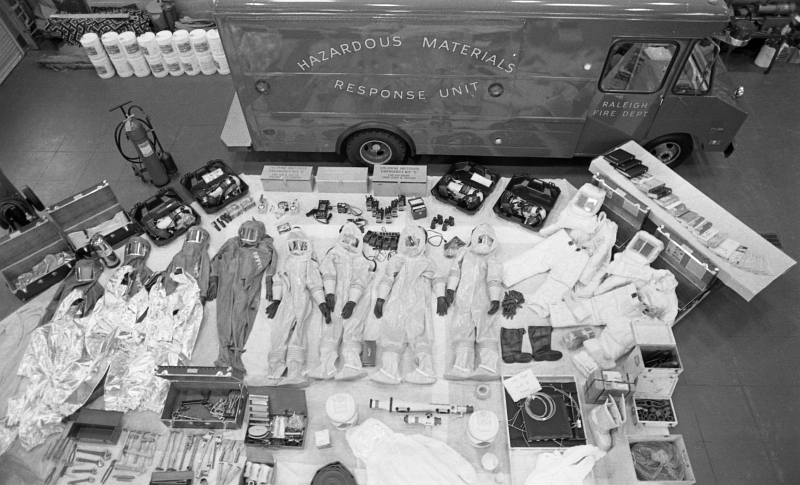 Photo from the The News & Oberver – Raleigh, N.C., used with permission.
The Cary Fire Department also operated a haz-mat team for a few years. The short-lived squad was formed in 1986, and operated until about 1990. They transported their equipment in this 1986 Dodge step van. Alas, Mr. Blogger has recorded the backstory of their formation. Will make some inquiries. 
They were the second of three teams operating in Wake County, beginning in the 1980s. The Wendell Fire Department also organized a haz-mat team during the decade. Click to enlarge: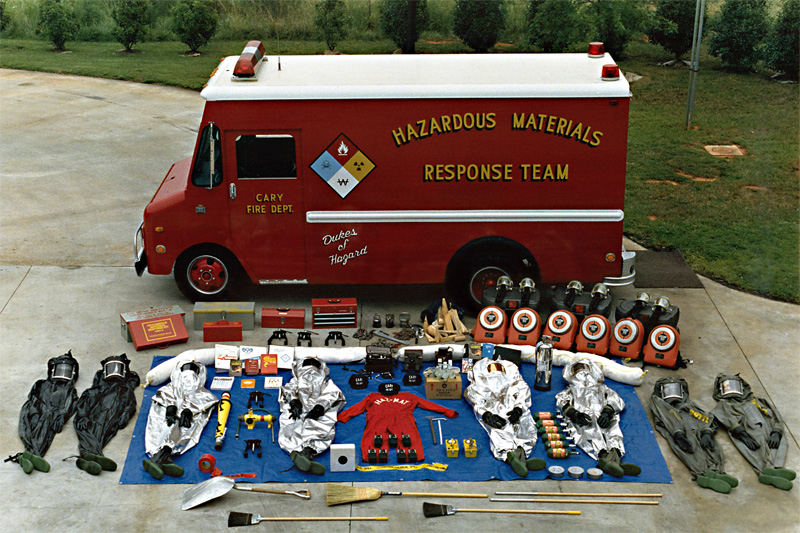 Courtesy Cary Fire Department
Here are closer views of their equipment. Click to enlarge:
1The Raleigh Fire Department also operates North Carolina Haz-Mat Regional Response Team 4, and some of their assets are state-provided, notably Haz-Mat 2 at Station 27.