This is the second in a series of blog postings about Wake County EMS, and their celebration this year of their 40th anniversary. Read the first posting.
Update: See third posting.
Wake County EMS last week unveiled a special "retro ambulance," with green over white colors and vintage graphics to commemorate their 40th anniversary. The ambulance was unveiled on Thursday morning, in a special ceremony at Station 1.
Among the speakers were original Director Russell Capps. He was also the county Director of Emergency Preparedness and the Fire Marshal in 1976, when he was told to create a new ambulance service for Raleigh. And to have the thing in service in ninety days.
"We didn't quite make that," Capps said on Thursday, as recounted in this News & Observer story[*] about the event, which was attended by Wake County EMS members both old and new. And photographed by Lee Wilson. See those pictures. But we'll come back to that history. Let's look at the new ambulance.
[*] Link now broken, http://www.newsobserver.com/news/local/counties/wake-county/article61069492.html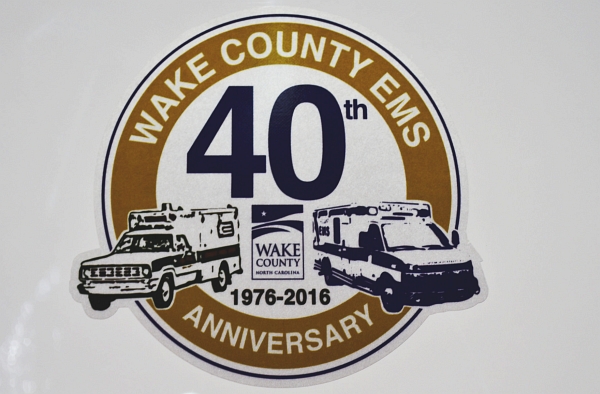 Lee Wilson photo
About The Ambulance
The 2016 Chevrolet/Trauma Hawk ambulance was built by American Emergency Vehicles, which is located in Ashe County. The ambulance cost about $230,000, which includes supplies, equipment, computers, and radios. It'll be placed in service in about two months.
The truck is one of seven that's being delivered over the next few weeks. They're part of the county's regular purchase cycle to replacing aging units. How many ambulances are purchased each year? An average of eight. What's new and improved in these newest ambulances, over those in recent years? Let's look closely…
Says Chief of Community Outreach Jeff Hammerstein, they reflect advancements in safety and efficient lighting. "Cabinets are designed to better contain equipment in the event of a crash, yet still offer easy access. The seat to the patient's right is enlarged, with easier access for treatment actions. Lighting is all LED, which provides bright, even lighting at cooler temperatures, longer bulb life, and much less power draw on the system."
Other improvements? "Fixtures like radio heads and switch panels are better integrated into padded consoles, which increases safety during regular use and/or in the event of a crash," he adds. "Plus remote locking systems that allow crews to easily secure the entire vehicle."
The commemorative design will remain for the life of the truck. They were applied at the same cost as other units, and feature the same reflective rear chevrons and side striping as required for safety. The truck will have a service life of four year, during which it will answer an expected 8,000 EMS calls.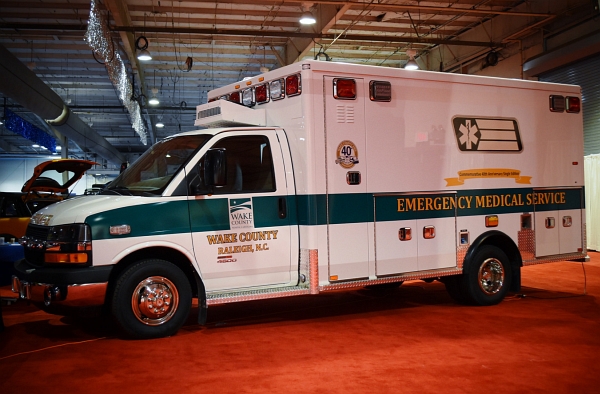 Lee Wilson photo
About Their Colors, About The Fleet
Wake County EMS adopted their current blue over white design in 2001. Additional blue and yellow checkered Battenberg markings were added in 200_, for the new Advanced Practice Paramedic units and later for command staff vehicles. The county also has some white ambulances in their fleet, acquired from Six Forks EMS, and blue ambulances, acquired from Garner Rescue & EMS.
Wake County EMS has thirty ambulances in their fleet, plus an additional eight spares. The larger Wake County EMS system has many more, as operated by Apex EMS, Cary EMS, and Eastern Wake EMS.
The county ambulances are typically operated by two people, either two paramedics or a paramedic and an Emergency Medical Technician (EMT).
Twenty-two ambulances are twenty-four hour trucks, while eight are twelve-hour units which operated during peak load times. The spare ambulances are used as temporary replacements, during repair periods, and for special events, when additional ambulances are needed.
Wake County EMS also operates six District Chief units, five Advance Practice Paramedic (APP) units, and a Major Operations Support Unit. Special equipment and teams includes a medical ambulance bus (Evac 1), two electric carts, bike teams, venue (foot) teams, and a USAR support team.


Mike Legeros photos
Celebrating Their Anniversary
Save the date for August 4, 2016, at Fletcher Hall at the Duke Energy Center for Performing Arts. A special anniversary program is planned for that night.
Wake County EMS is also planning numerous small events and activities, from special displays to parade appearances by the retro ambulance.
Notes Chief Hammerstein, this truck is dedicated to the community it serves, the people who ran calls in its likeness in the early days, the men and women taking care of their community today, and finally the men and women that we will need to come work with us as our growth skyrockets. He adds, "federal numbers project EMS to grow by 24% in the next ten years."
Learn More History
Read the first article in this blog series: A Brief History of Wake County EMS.
After that, visit these two web sites: