Contents
Introduction
Durham's Auxiliary Trucks
Wilmington's Auxiliary Trucks
Sources
Introduction
How many cities in North Carolina operated "auxiliary trucks" in the 1940s and later? Show are trucks from Wilmington, Raleigh, and Durham. 
The top photo, from a photocopy, appears in Wilmington Fire Department 1897-1985. More  on their auxiliary trucks below. The middle photo is Raleigh's 1948 Ford "squad truck," which replaced a 1944 Dodge destroyed in an accident the year before. The unit was still in service past 1963.
The bottom photo is Durham's 1941 Ford, that later served Garner in Wake County, and then Harrell in Sampson County. More on Durham's auxiliary trucks below.
Greensboro also operated one, reported a 1951 fire protection report. It was an International truck with a 350-gallon front-mount pump. It was also equipped with a 1,250-watt generator and floodlight, a foam generator with 200 pounds of powder, a foam aspirator with five gallons of liquid, and other "minor equipment."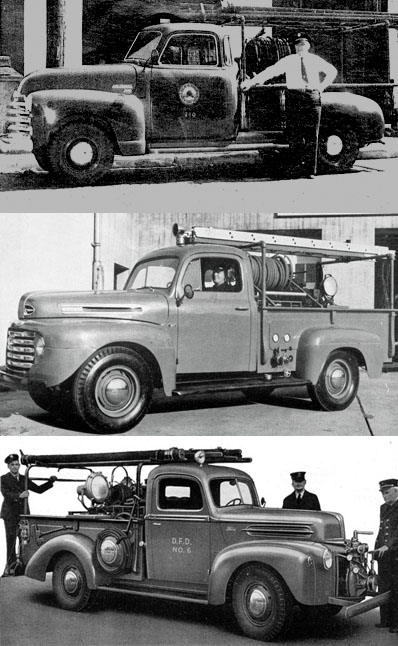 Durham's Auxiliary Trucks
Below is a 1942 excerpt from Fire Engineering, about a pair of "auxiliary trucks" (my words) added in Durham during the war years. These were a pair of one-ton trucks that were placed in service to handle "small fires in residential areas." Such as car fires, chimney fires, and grass fires. Run cards were updated for "straight fire alarms." Instead of two "big pumpers" and a ladder truck, they'd dispatch one pumper, one ladder truck, and one "small truck."
The change was made after they analyzed their runs for 1941. They found that "ninety-eight percent of fires in Durham could've been handled adequately with the ladder truck, one small truck, and ten men." Sound familiar, anyone? Such as the midi-pumper concept of a few decades later? (The war also likely inspired the program. Material restrictions prevented many fire departments from adding or replacing apparatus. This placed a premium on existing trucks. Using "auxiliary trucks" such as this, departments saved wear and tear on the larger and often older rigs.)
Here's what they carried:
900 feet of 2 1/2-inch hose
two 2 1/2-inch controlling nozzles
one set of reverse couplings
one hydrant wrench
three hose spanners
three hose straps
one crowbar
two hand lanterns
one hose clamp
one tarpaulin

two axes
two soda and acid extinguishers
one 24-foot extension ladder
one 12-foot roof ladder
two brooms
one 65-foot hand line
one light plant including generator, 200 foot cord, floodlight with 500 watt bulb
one hand operated spotlight
one pike pole
120-gallon booster tank equipped with 250 feet of 3/4-inch hose with the following type nozzles:
one 1/4- inch straight tip, one garden hose tip, one spray nozzle
one 20-foot length of 3/4-inch suction hose with strainer.
The Durham Fire Department might've been the first in the state to implement this concept. Greensboro, Raleigh, and Wilmington also operated "squad trucks."  
As for Durham's trucks, one was sold to Garner in 1952 as their first fire truck. Then the thing was sold to Harrells Fire Department in Sampson County. Here are pictures of mine from 2004, of the truck at the Harrells fire station. (What sort of modifications might've been made to the truck, while it served in Garner and/or Harrells? Don't know.)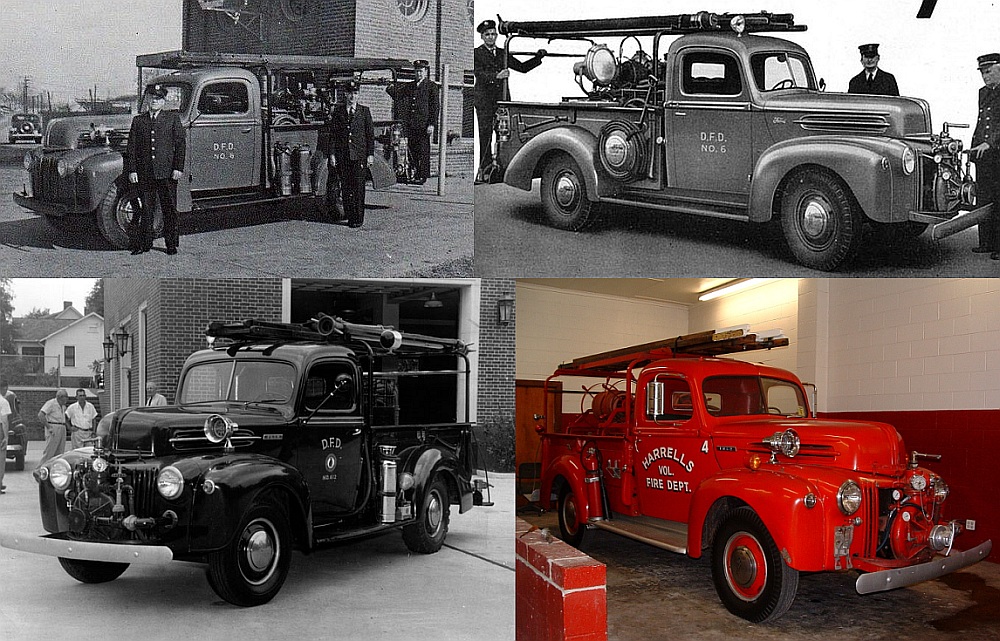 Now, notice the top two photos. Upper left is 1942, upper right is 1945. Same truck, but with front pump added? Or two different trucks? To be determined!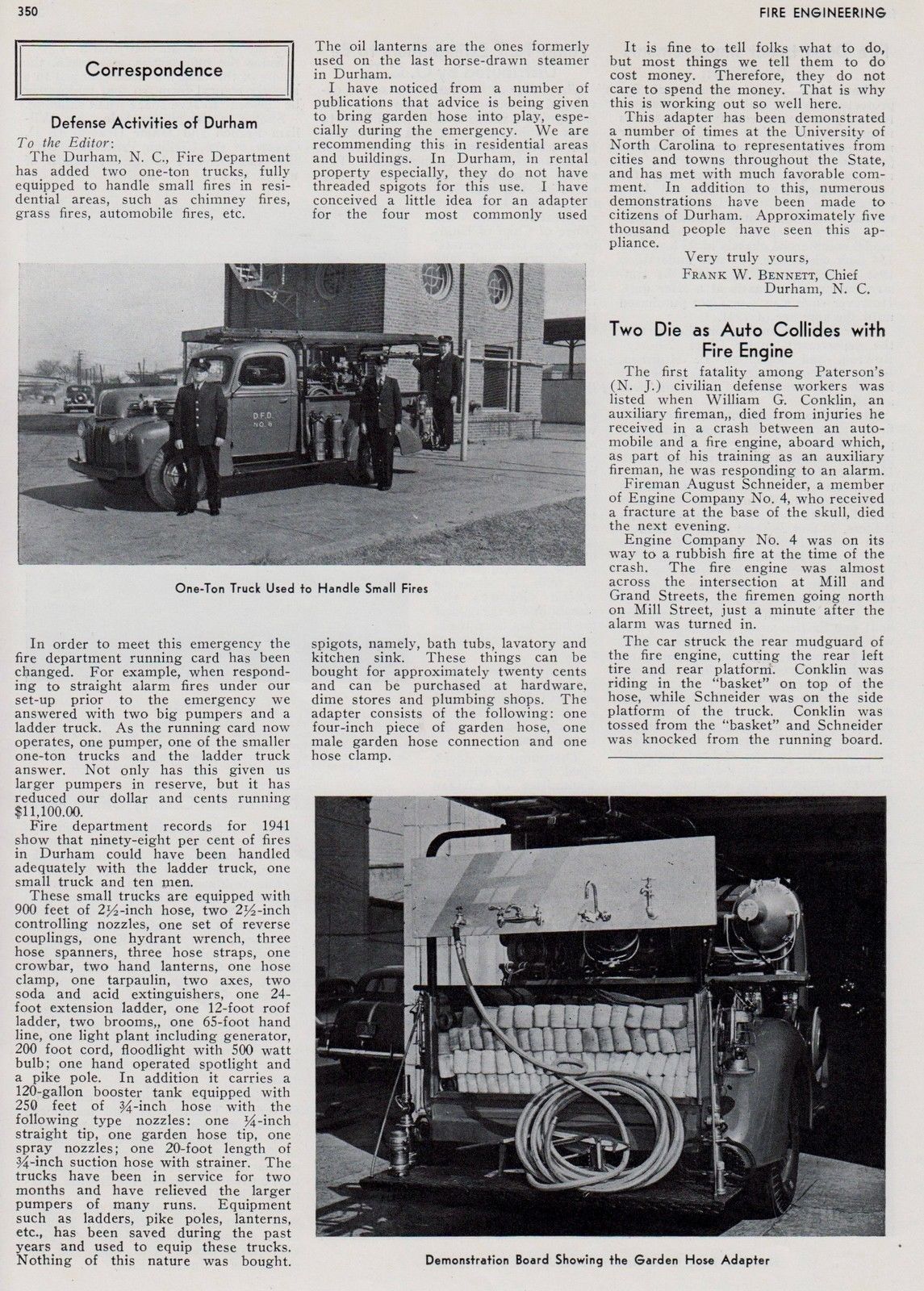 Durham's trucks were also shown in this advertisement from The American City in April 1945.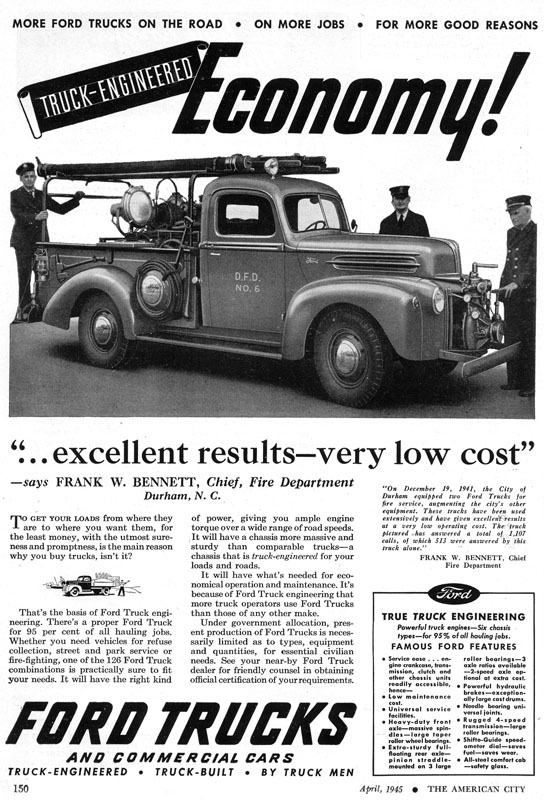 Wilmington's Auxiliary Trucks
Reported the Wilmington  Morning Start on June 10, 1945, a pair of "auxiliary booster trucks" were built at the fire department garage under the supervision of Fire Chief Luddie Croom.
They were constructed from a pair of International one-ton pick-up trucks purchased as "auxiliary equipment in connection with wartime civilian defense." Each carried 165 gallons of water, 200 feet of 3/4-inch booster hose with a "Panama booster pump," portable five-gallon "Indian pumps," a 24-foot extension ladder, a 12-foot ladder, and axes.
The trucks were used to "extinguish grass fires, wash gasoline off the street, and furnish additional water to trucks answering alarms outside the city limits." 
After building the two smaller trucks, three additional shop-built fire engines were constructed using Dodge trucks purchased at the "Army Discarded Equipment in Fayetteville." Here's the complete story: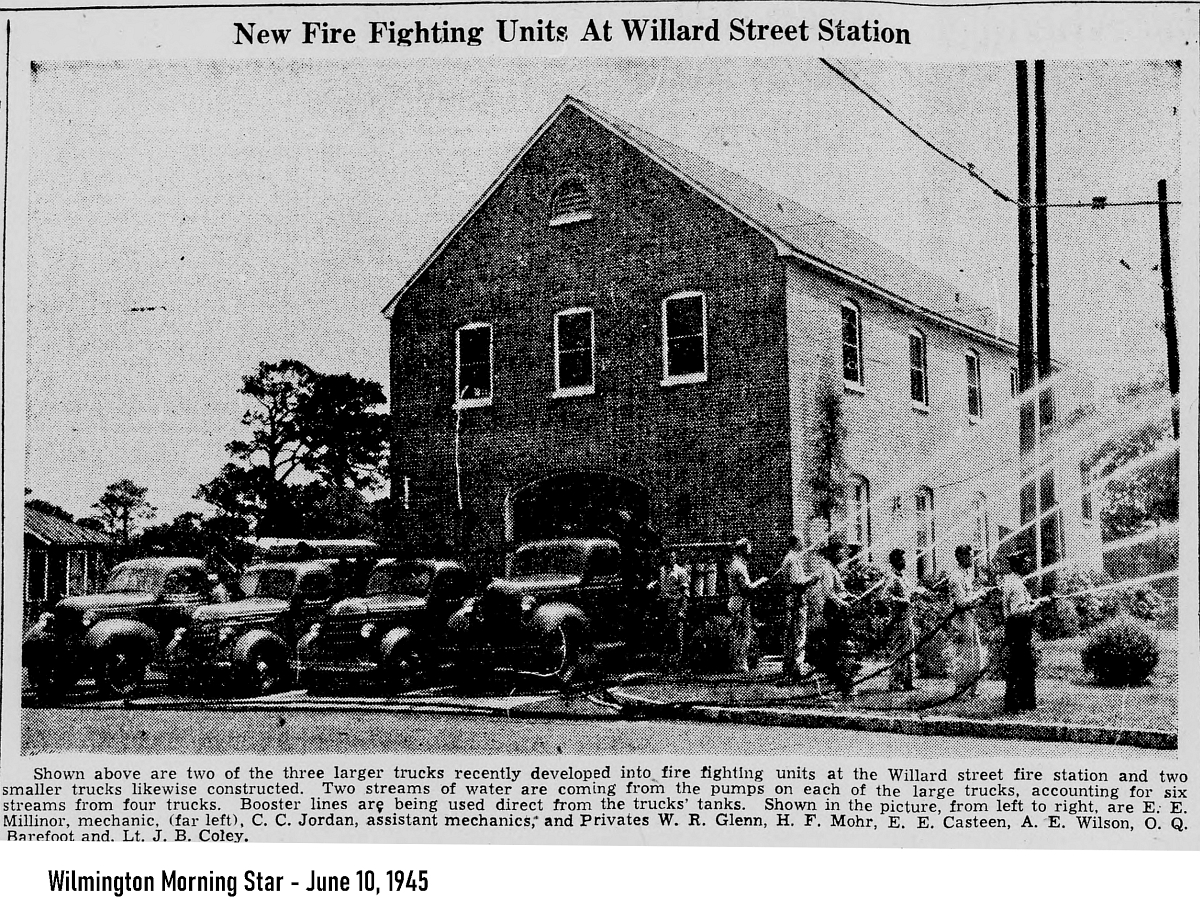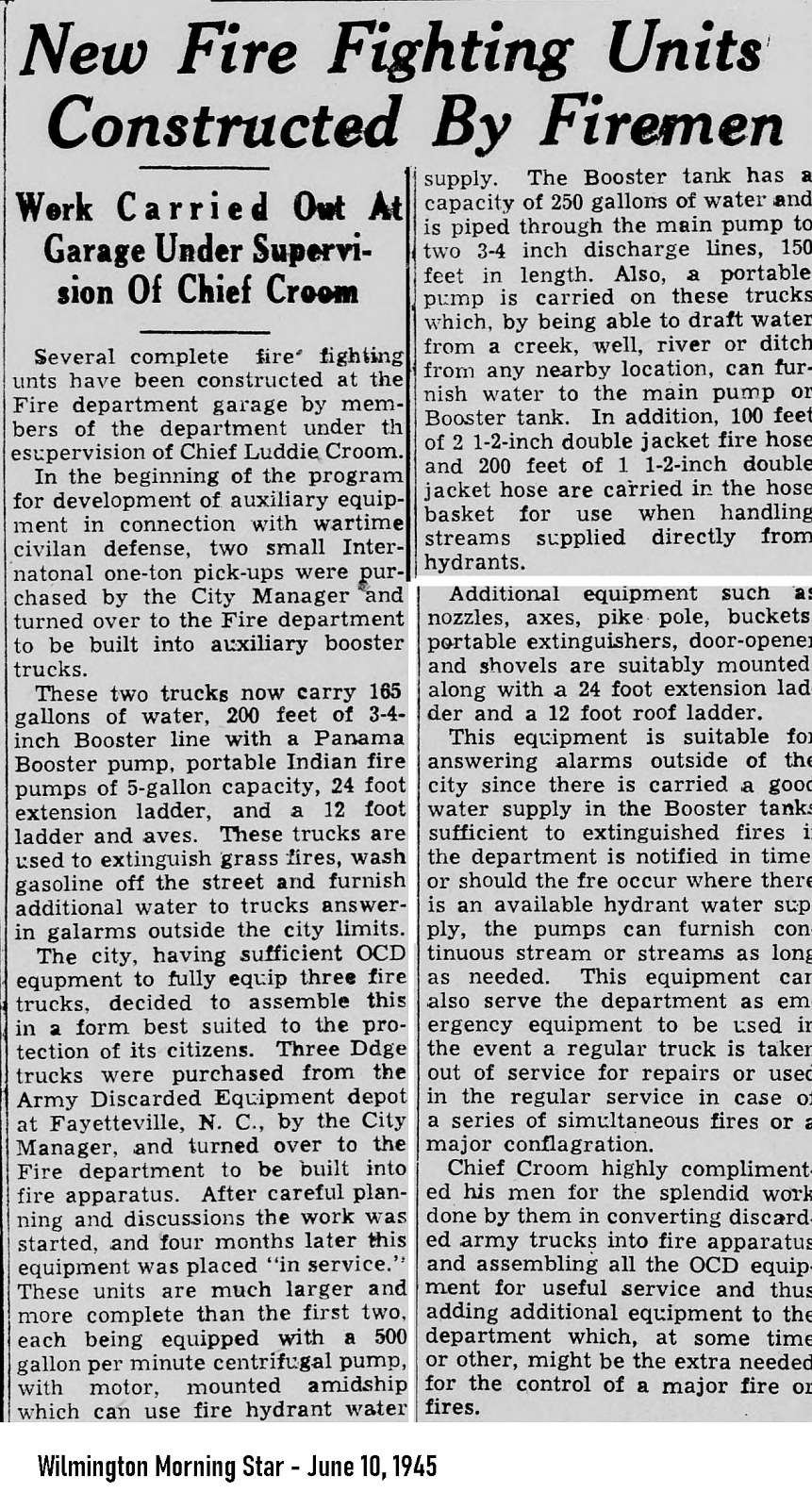 Sources
Much of this content appeared in earlier postings, on the prior Legeros Fire blog site: