This is a blog archives posting from January 2014. The page is corrupted on the old site, so we're re-posting here.
January 2014
Last week's North Raleigh News (and Midtown Raleigh News) featured an informative article by Colin Campbell about the "ghost roads" of Falls Lake. He writes about barricaded sections of Possum Track, Choplin, and Old Bayleaf roads as "slowly crumbling reminders of the rural farms and communities lost to the lake waters."
The best-preserved of the old roads, the author notes, is Old N.C. 98. That section of old road is planned to become Raleigh's Forest Ridge Park. It's a 586-acre peninsula owned by the Army Corps of Engineers and managed by the state.
Those old roads sound like the perfect weekend (or holiday) exploration activity. Might have more to come. Read the story of the roads.
October 2011
What did the roads look like north of Raleigh before the construction of Falls Lake in the early 1980s? Here's an annotated Google map, based on observations from the 1981 aerial map available from Wake County IMAPS.
Readers can surely add more details and remembrances. See this US Army Corps of Engineers web site for [Falls Lake Master Plan documents].
Project wide– across all counties affected– sixty-four roads crossed project lands. Of those, twenty were raised or relocated, eighteen were abandoned, and one was modified below the dam site, notes a note in the master plan document.
In particular, when was Six Forks Road and Highway 98 re-routed? Was that in the 1970s, years before construction on the lake started? Janet Steddum's book The Battle for Falls Lake probably has more details a well. Click once or twice to enlarge: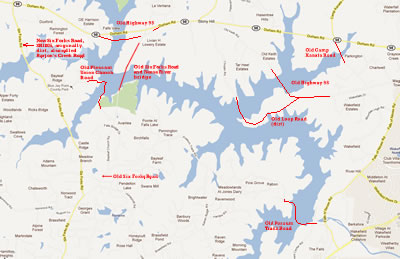 Reader Comments
A.C. Rich – Mike… this brings back some memories for me and really indicates just how the development reshaped the old roads. Here's some additions to your list…
The current Six Forks Road from Hwy 98 to Bay Leaf was SR1005 and was often called Barton's Creek Road and was dirt.
The current Pleasant Union Church Road extended across the current Six Forks Rd. into what is now Blue Jay Point and connected with what is now Bay Leaf Church Road (previously Six Forks Rd) at what is now Mizelle Lane. (whew….)
The current Choplin Road was called Loop Road and followed the path you indicate. It too was dirt.
The current Camp Kanata Road. extended across Hwy 98 to old Hwy 98 (the separated section of Camp Kanata Road is now know as Tharrington Road) – all were dirt.
Possum Track Rd. extended to Falls of Neuse Rd and came out beside the recently closed Pedal and Paddle (at bridge where Fonville's Store used to be located years ago. yep.. dirt road too. Heck… every road in Bay Leaf/Stony Hill/Falls area was dirt except for Falls of Neuse Rd, Stony Hill Rd, Purnell Road, old Six Forks Rd., Hwy 98, New Light Road, and Hwy 50.
Here is a really neat link to N.C. road maps in 1968, including Wake County. The maps reflect the roads as they actually were up until the very late 70's
http://dotw-xfer01.dot.state.nc.us/imgdot/DOTCountyMaps/historic/1968_county_maps.pdf
A.C. Rich – Here is the link to the NCDOT State mapping resources… really cool stuff. http://www.ncdot.org/travel/statemapping/default.html#Wake
Legeros – Thanks for the additions, A.C.! I have updated the map above. Great find on the 1968 county maps, as well.
Rob Mitchell – AC, I seem to remember a restaurant on one of these roads that was closed when the lake was created.
Rescue Ranger – You can also see Falls lake after being graded but prior to stopping the water on iMAPS by selecting aerial and changing the date to 1981.
A.C. Rich – Mike – If you are touring some of these old areas, and are in some of the deeper ravines around the lake (or river as we called it for years); please ignore any coiled copper tubing, larger containers, mason jars, and/or any vats you may see… just keep moving along and all will be OK! Welcome to the Harricanes! (not misspelled)
Galax, Va – Mike, are there any followers of your blog who remember the multiple drowning incident that occurred at falls lake, while it was in the final stages of construction and prior to its being opened for public use?
Legeros – Here are photos of old Highway 98, explored last week
Owen – Back in the early 60's we used to go to The Falls of the Neuse and poke around. There was nothing there but woods and a small waterfall. Not sure I like what has happened.