Change log. May 10. Evening. New map, updated with response districts instead of municipal and ETJ areas as base map. May 10. Morning. Slight edits. Noting that existing Cary P25 radio system being used. Annotating map, noting that shaded areas are municipal and ETJ boundaries. Etc.
Introduction
On Tuesday, May 7, the fire departments of Cary, Apex, and Morrisville began operating as a unified system, with all three departments now dispatched by the Town of Cary, with their unit numbers changed (as needed) to a single system, and their resources operationally consolidated.
Cary + Apex + Morrisville, or… CAM.
They're now a three-department "fire system" with 17 stations, 15 engines (one as quint), 8 ladders (three as quints), 5 rescues, and 4 battalion chiefs.  
Even better, they're all dispatched as closest-unit response. For those monitoring Cary Communications[1], those are the new units and dispatch assignments that you've been hearing. Such as Engine 34, Ladder 33, Rescue 21, Battalion 4, etc.
What happened? A couple things, including a change to 911 call processing for the towns of Apex and Morrisville. They changed from the Raleigh/Wake communications center to the Town of Cary. And thus the dispatching of AFD and MFD was also changed from "Raleigh" to Cary.
Here's the skinny on the changes. Big thanks to each department's Chief of Department, for their help collecting and clarifying this information. Will edit/update as needed.
[1] How to listen? Already listening to CFD? It's using the same system, freqs., talkgroups (plus some borrowed from Wake County), etc. Otherwise, you'll need a trunking scanner that can receive P25. And possibly closer physical proximity, at least as Mr. Blogger has experienced. His Whistler WS1065 mobile scanner doesn't get squat, once he's a few miles outside of Cary. At home, he uses the live scanner feed on his computer. Just remember to refresh/restart, every X hours. 
The System
Town of Cary now processing 911 calls for Town of Apex, Town of Morrisville.
Town of Cary now dispatching Apex FD, Morrisville FD, and Morrisville PD.
Apex PD continuing to use their own communications center.
See this interlocal agreement (PDF, 82 pages) presented to the Apex Town Council in January 2019, for background.
See also this short WTVD news story from Tuesday, about the change.
 
CFD, AFD, MFD now operating as a unified "fire system." They have operationally consolidated their resources, and are cooking joint operational guidelines.
AFD, MFD units have been renumbered. Some CFD units, mostly support units, have also been renumbered.
CFD, AFD, MFD resources now dispatched as a single fire system, and using closest unit dispatch in additional to jurisdictional dispatch.
 
Each department still maintains its own identify, its own budget, its own municipal reporting structure, etc.
CFD, AFD, MFD have been conducting training together for nearly two years.
Dispatching
Cary ECC (emergency communications center) first dispatches the closest CFD, AFD, MFD resource with the needed capability, regardless of jurisdiction. And using AVL (automatic vehicle locator) technology, in all units.
Cary ECC next adds the CFD, AFD, MFD unit with jurisdiction responsibility.
This provides fastest resource, by dispatching the closest unit.
 
Example from morning of May 8. Morrisville R21 was dispatched to Evans Road for EMS call, because they were the closest physical unit. Cary E1 was then added because of jurisdiction responsibility.
 
This will be done for all call types, regardless of unit recommended. Listen for an assortment of CFD, AFD, MFD units, based on capability of units and location of incident.
For incidents with a Battalion Chief on the response, the closest BC will be dispatched regardless of jurisdiction.
 
Note that Cary ECC does not dispatch any EMS resources. They perform EMD, dispatch first responder fire units, and then request EMS dispatch from Raleigh/Wake ECC.
Unit Numbers
Cary – 1 to 19
Morrisville – 20 to 29
Apex – 30 to 49
Used for all units and radios, with exception of sequential Battalion Chief designations. MFD B1 now B4. AFD B1 now B5.
With renumbering for AFD and MFD easy-peasy to understand. Just add a "3" or a "2" to the existing unit number.
Here's a chart…
 
Cary
1 to 19
Morrisville
20 to 29
Apex
30 to 49
Engines
Ladders
Rescue
etc.

E1 – E19
L1 – L19
R1 – R19
Same for boats, brush, etc.
 
No change to most unit numbers

E21 – E29 (plus P23)
L21 – L29
R21 – R29
Same for boats, brush, etc.
 
Example: Ladder 1 now Ladder 21

E31 – E49
L31 – L49
R31 – R49
Same for tanker, brush, boats, USAR, etc.
 
Example: Ladder 4 now Ladder 34

Battalion Chiefs
Fire Marshals
Other
 

Admin Officers: Apex Car 1-10
Stations
No change to physical station numbers. AFD and MFD station numbers have been renumbered in CAD, however. References may be occasionally heard to Station 21, Station 33, etc.
Map
About this map. The shaded areas are showing corporate and ETJ limits, versus fire response districts.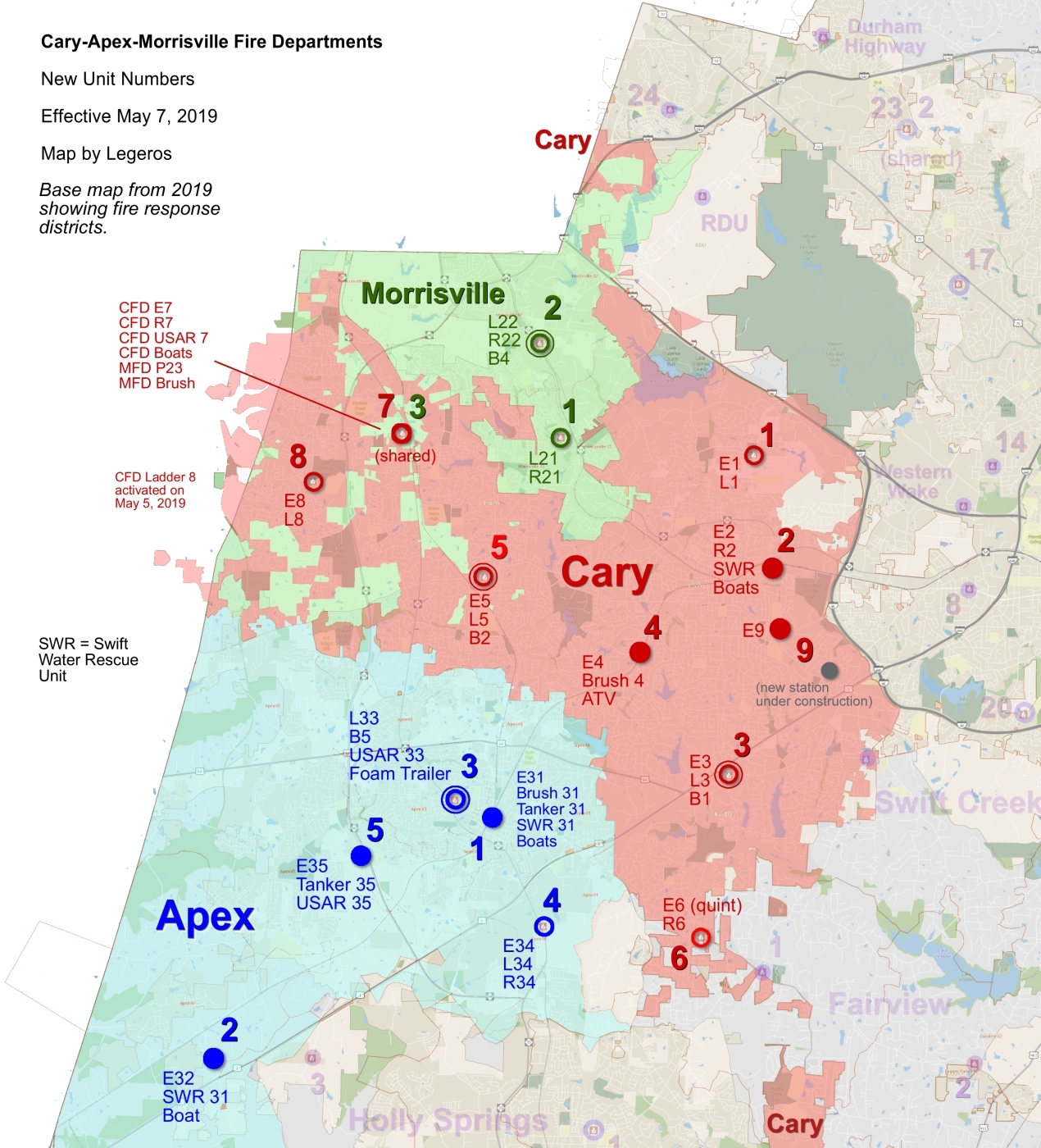 Banner Graphic