From a reader (thanks Paul!) comes this stunning creation for sale on Craigslist in San Francisco: 1992 Amertek CF4000L ARFF crash truck with custom all-American body wrap decals (with powder-coated wheels), and a custom external roll cage. Whoa, wow, and holy cow!
Specs are listed below. $50,000 and its yours. Seller also entertaining trades, for "Hummer H1, Mercedes G500/550, armored vehicles or a small family limousine." Click to enlarge: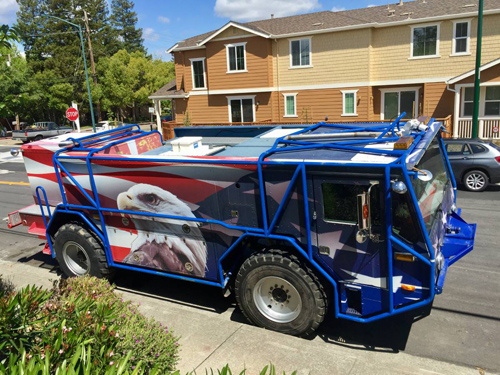 From the seller's listing:
1992 AMERTEK CF4000L ARFF Diesel 4X4 unique Off Road Fire Truck 
Amertek Chassis
Very unique Aircraft Rescue and Firefighting truck
Less than 9K miles
Detroit 6V92TA 400 HP Diesel Engine
Allison Automatic Transmission 
Hale Pump
4 Wheel Drive
Seats 4 (2 SCBA Seats)
1000 Gallon Fiberglass Water Tank 
150 Gallon Foam Tank 
2 Hose Reels (Water and Foam)
2 water cannons (Roof and front bumper mounted)
Custom rear water sprayer
110V Power inverter
Custom external roll cage
Custom exhaust
Custom all American body wrap with powder-coated wheels
CA registered and street legal 
Length: 28′ 1″ 
Height: 9′ 3″ 
Width: 9′ 6″ 
GVWR: 34,650 #
Wheelbase: 102″
See the listing.