July 1, 2018
Durham Fire Department, Expanded, In Service!
Cool things happened at 7:00 a.m. today. The city of Durham Fire Department activated two new stations (Page Road, Seaton Road), and a mess of new units and companies. Some are housed at temporary quarters, as Station 17 on Leesville Road is still a couple weeks away from opening.
Notable new companies and units:
Engines 17 (at Sta 8, temp), 18 (Seaton Road), 19 (Old Page Road)
Ladder 17 (at Sta 13, temp)
Quint 19
Battalion 4 (at Sta 9, temp)
Division Chief (at Sta 1)
Tankers 8, 11, 17 (at Sta 4, temp), 18, 19
But wait Batman, you say you heard some of these unit numbers before today? That's correct. Durham County Fire-Rescue switched to the city numbering at 9:00 a.m. on Tuesday, June 26. To help work out CAD issues, etc.
About the tankers, they're each staffed with a dedicated driver. No floating! These tenders aren't chicken (see what I did there?) and will be dispatched for vehicle fires on the interstate, large vehicle fires, into rural areas as needed, and even into the city, for areas with weaker water systems.
Congrats to DFD and an exciting expansion.
June 26, 2018
The consolidation is official!
This Durham County BOCC consent agenda was passed at last night's meeting.
See supporting documents, which includes a list of rolling stock to be transferred:
Apparatus ordered in FY18 (as part of a combined City/County spec)
– One Sutphen Tanker on order in FY17 (November 2018 est. delivery)
– Two Sutphen Engines (August 2018 est. delivery)
A-83, 2001 Freightliner Mobile Air Support Truck
B-100, 2009 Chevrolet Tahoe
Battalion 81, 2017 Dodge Durango
Brush 417, 1988 Chevrolet Brush Truck
Brush 83, 2004 Ford Brush Truck
DC802, 2007 Ford F150 Super Crew 
DC803, 2007 Ford Expedition
E-411, 2008 Sutphen 75' tower, HS4405 – Front line
E-421, Sutphen 1000 gallon Custom HS3772
E-81, 2002 Chevrolet E-One Reserve Engine
E-83, 1993 Chevrolet E-One Quint 75' Stick
E-83, 2002 Chevrolet E-One Engine
R-414, 1991 Sutphen Rescue HS2548
R-81, 2006 Spartan Heavy Rescue
T-415, 1987 Sutphen Deluge HS2100
T-82, 2006 Freightliner US Tanker, 3000 gallon Tanker
T-83, 2005 Freightliner US Tanker, 3000 gallon Tanker
Meeting agenda excerpt:
6. Consent Agenda (15 min) 
Interlocal Agreement With the City of Durham for the Provision of Consolidated Fire, Rescue and First Responder Services in the Southern Part of the County 18-0848
The Board is requested to authorize the County Manager to enter into an Interlocal Agreement (ILA) with the City of Durham for the provision of consolidated fire, rescue and first responder services. The Board is also requested to approve two (2) separate lease agreements that are contained within the ILA. One is for the lease of Durham County Fire Rescue (DCFR) Station 81 and the other is for DCFR Station 83. These two (2) stations will be used by the consolidated DCFR and Durham Fire Department (DFD) until two (2) new DFD stations are built and occupied. The ILA consolidates the DCFR and the DFD, an accredited CFAI department in an effort to provide the same or higher level of fire, rescue and first responder services than are currently being provided by DCFR. The consolidated DFD will function under a single operational plan and point of coordination in the delivery of fire, rescue and first responder services to the residents and businesses in the DCFR Fire Service District, as well as the City of Durham.
The proposed ILA will achieve the following goals: 1. provide the same or higher level fire service for the District, 2. mitigate future capital costs for the District, and 3. protect and provide career advancement opportunities for DCFR employees. The ILA is drafted to achieve all of the stated goals using tax revenue collected for the Durham County Fire and Rescue Service District. A copy of the "Fire Consolidation White Paper" presented during the Joint City/County Committee meeting in October 2017 has been attached for additional background information. The ILA transfers 53 DCFR employees, front line and training fire and support apparatus to DFD. The Agreement includes a cost share for the construction of two (2) new facilities and the purchase of new fire-fighting apparatus to serve the population in southern Durham County and to maintain and improve on Insurance Services Office (ISO) ratings in an effort to achieve the lowest insurance rates for residents and businesses in the DCFR Fire Service District (including the Research Triangle Park). The proposed ILA has been reviewed and approved by the County Attorney's Office.
Alignment with Strategic Plan: The agreement aligns the County's Strategic Plan Goal 3: Safe Community and Strategic Goal 5: Accountable, Efficient and Visionary Government.
Resource Persons: Jodi Miller, General Manager and Jim Groves, EM/FM Director.
County Manager's Recommendation: The Manager recommends that the Board consider the proposed ILA with the City of Durham and authorize the Manager to sign and execute the ILA for the provision of consolidated fire, rescue, and first responder services in the DCFR Fire Service District, as well as sign and execute the leases with the City of Durham for DCFR Station 81 and DCFR Station 83.
June 20, 2018
Durham Fire Department Operational Plans
 
What's planned on the Durham city side, after the consolidation takes effect on July 1?
Some of their operational plans include:
Division Chief activated, at Sta 1
Fourth Battalion activated, at Sta 17. Battalion Chiefs at 5, 14, 17, 18
Fifth ladder company added, at Sta 17. Ladders at 2, 3, 6, 12, 17
Third quint company added, at Sta 19. Quints at 7, 11, 19
Tankers added at five stations: 8, 11, 17, 18, 19
Brush trucks added at Sta 15, Sta 18
USAR team relocated from Sta 16 to Sta 9
Second water rescue team added at Sta 8
Third haz-mat station added with support unit at Sta 16. Former Rescue 82 will serve as the support unit, a 1991 Sutphen/Saulsbury walk-in heavy rescue, originally Bethesda's. 
Plus, of course:
Station 17 activated, at new facility at 5503 Leesville Road.
Station 18 activated, in temporary facility at 1409 Seaton Road, old Durham County Station 83.
Station 19 activated, in temporary facility at 4716 Old Page Road, old Durham County Station 81.
Plus the planned reactivation of Rescue 1 next year at Station 1. They'll be assigned the former Rescue 81, a 2006 Spartan Diamond/EVI walk-around heavy rescue that was Parkwood's, and originally served Orange Rescue Squad. 
February 13, 2018
Durham City/County Fire Merger – The Plans, The People, The Background
Durham County Fire Marshal Jim Groves is concerned about the future, and the sustainability of the fire service as it currently exists in Durham County. Specifically the southern part, now protected by the county's fledgling fire department: Durham County Fire-Rescue (DCFR).
DCFR was organized in 2013, after the Bethesda Fire Department requested that Durham County take over their operations. The county received their equipment, facilities, and personnel. Two years later, the Parkwood Fire Department requested the same thing, and DCFR expanded from two to five fire stations.
With 53 firefighters and five fire stations, Groves is proud of his department and the level of service they're providing. They staff three engines, two tankers, a ladder company, and a battalion chief daily. They also have additional apparatus including included two rescues, two brush trucks, and a mobile air unit.
"I'm extremely proud of our firefighters and their dedication to providing fire, rescue, and EMS services to the residents, workers, and visitors in Durham County. Individually and collectively they reduced the District's ISO rating last year, and they continue to meet and exceed our quarterly response metrics, which is no small task".
But he's concerned about the future.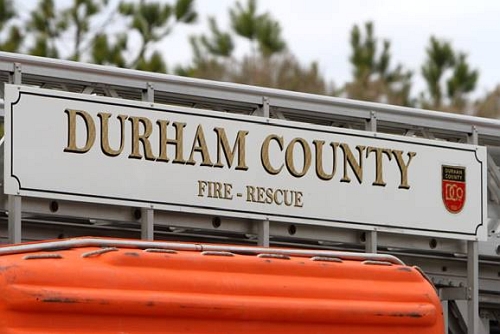 Inherited Infrastructure
DCFR inherited their infrastructure from Bethesda and Parkwood. Theirs was a legacy of community fire protection, whose organizations were created and expanded in response to the immediate needs of rural and suburban populations. They were grass-roots groups that started small, and grew in relative proportion to their needs and available resources.
Decades later, and now combined into a single system, the former Bethesda and Parkwood fire stations need upgrades and even relocation.
"These stations were located based on what was needed at the time," says Groves, "but station planning and building did not keep up with growth, and residential and business density. Today, and from a strategic perspective, they're poorly located."
DCFR Station 82 on South Miami Boulevard is too close to Durham city Station 13, for example. Others are now within the city limits, or overlap with city stations planned to open this year or in later years.
And some of the fire stations are also too small. They weren't designed for 24/7 operations, and expanded or replacement facilities are needed for long-term operation.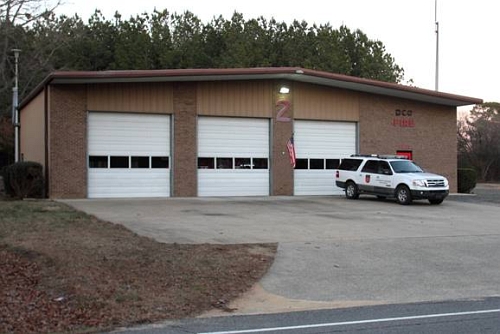 Station 84 on Leesville Road, former Bethesda Station 2.
Growth = More City, Less County
As he looks ahead, Groves sees continued growth, both in southeastern Durham County and in the Research Triangle Park (RTP). More residential, more mixed use, more business, and more industrial. As those unincorporated areas outside of the RTP become more robust, the property owners will likely request voluntary annexation by the city in order to use city infrastructure.
And with each annexation by the city, the DCFR fire district will shrink. "If our fire districts shrink, so will our revenues," says Groves. "And that would impact our ability to provide service at the levels expected by taxpayers."
Thus, Durham County Fire-Rescue sits at a sort of crossroads. While their district may shrink in coming years, the department still needs to grow. They need new fire stations in better locations, which means new station construction, and that's going to cost money. They also have equipment needs, including an aging fleet that needs upgrades.
"To improve our facilities and apparatus could cost over $20 million in capital projects alone, over the next seven to ten years," notes Groves.
But the City of Durham and its fire department are also growing. They're planning new stations. They'll be equipping with new apparatus and new crews.
"It will soon cost more for the county and the city to operate separate fire protection organizations, than a single serving both," notes Groves.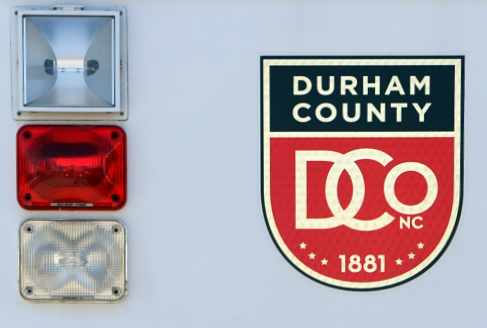 Enter Chief Curia
Groves was hired on October 1, 2015, and two years after a county fire district feasibility study (see sidebar below).
That fall, he began talking with Durham (City) Fire Chief Dan Curia about opportunities for their organizations. And as their conversations continued into early 2016, they quickly realized they had a common need for both their departments and the citizens they serve.
"Honestly, we started examining changes in service delivery because it was the right thing to do," says Curia.
"As public servants, people should expect us to put the good of the community first, which I feel we are doing. It's always difficult to do something different than the way 'it has always been done'; but DCFR and DFD are good partners and are willing to work through any issues that arise."
The City of Durham was planning three future fire stations in locations very close to three DCFR station locations. And if they could join forces with their facilities—instead of each building their own new stations—that alone could save taxpayers millions of dollars.
And the more that Curia and Groves talked about it, the more they recognized the benefits.
"The solution we've been working toward really represents a win-win for all parties involved. It cuts cost, improves service, and provides long term stability," says Curia.
For the DCFR District, service levels would increase, including likely ISO rating improvements which would reduce insurance rates for property owners. The latter would be a particular benefit and economic incentive for property owners, including the many businesses in the Research Triangle Park.
For DFD, the merger would get them "closer to the bulls eye" for proposed station locations, and opened much earlier until permanent facilities were built.
Both departments would benefit from operational and organizational alignment, from suppression to training to logistics.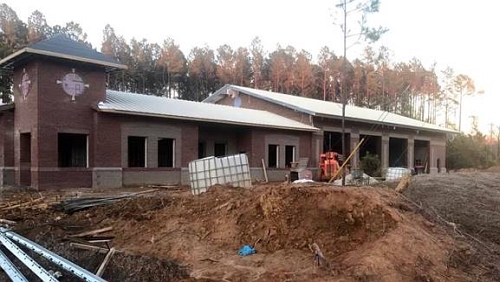 Durham Station 17 on Leesville Road, under construction
Benefits for County Personnel
For Groves, one more benefit was immediately apparent: DCFR firefighters would have jobs in the long term, and with an opportunity to remain in the local government retirement system until they retired.
He notes, "DCFR employees would have the opportunity to finish their careers with another very progressive and supportive organization versus worrying about a shrinking DCFR tax base that could necessitate a reduction in staffing levels at some point in the future."
"While no one wants to reduce staff, the projected growth of the City of Durham in the DCFR Service District suggests that it could be a real possibility that should not be overlooked," adds Groves.
"Chief Curia and I chose to be proactive and plan for this occurrence now instead of being reactive to it in the future."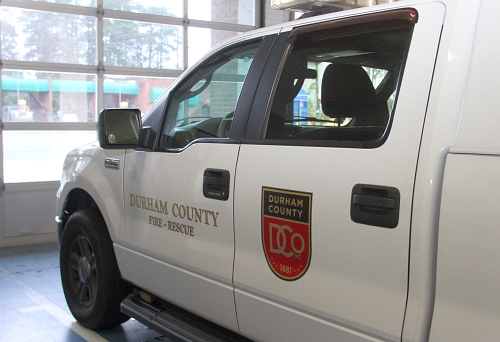 Battalion 81 at Station 82
Sidebar – Fire District Feasibility Study
In November 2013, the county released a Fire District Consolidation Feasibility Study. Among the recommendations was merging the Bethesda and Parkwood districts, and later looking to the city to take over fire protection. It also recommended that the city take over fire protection in western Durham County, currently served by a pair of Orange County fire departments.
In 2014, the city and county held some informal discussions on these ideas, but no actions were taken. Read the study.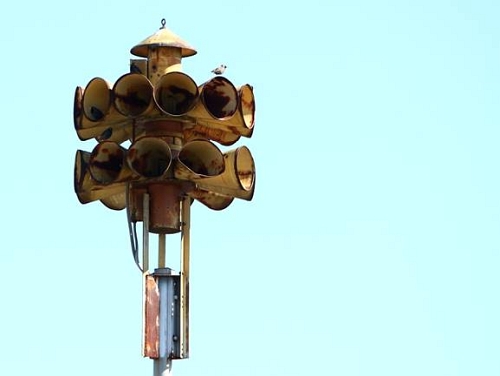 Bethesda's old siren, still standing on South  Miami Boulevard
Sidebar – EMS Coverage
Bethesda and Parkwood fire departments were also long-time EMS providers. When Durham County Fire-Rescue was created to assumed fire protection for the Bethesda fire district, Durham County EMS took over the role of EMS provider. Two years later, DCEMS took over EMS for the Parkwood fire district, as well.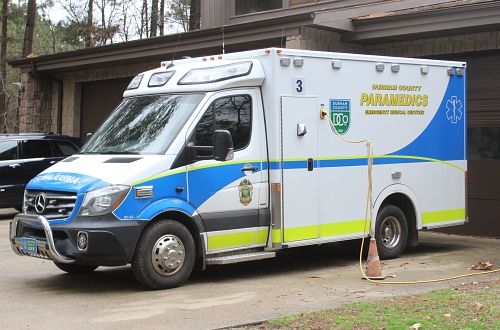 Durham County EMS unit at Station 85.
The Proposed Merger
In the spring of 2016, Curia and Groves briefed city and county leaders on their idea: merge Durham County Fire-Rescue into the Durham Fire Department.
The proposal was accepted as an action item, and both city and county staff were requested to develop a conceptual plan that could be reviewed.
In June 2017, a white paper was published with the findings of seven workgroups, which examined the issues related to Operations, Fleet, HR, Finance, Facilities/Infrastructure, and Legal. The paper concluded that the proposed merger should proceed.
In October 2017, Curia and Groves presented this information to a joint city and county board meeting. Their leaders approved the continued planning, including revised and final cost estimates, phase-in plans, and inter-local agreements. But, with the request to withhold a final decision until all final plans and information were available.
In March, the final plans for the proposal will be presented to a joint city/county board for approval. The goal date for the merger is July 1, 2018.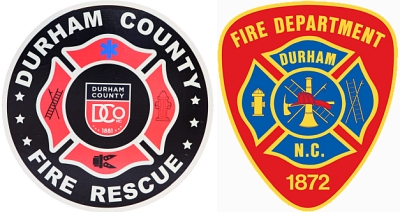 Sidebar – Already Working Together
Parallel to the planning process, the city and county fire departments began working together on some things that have produced immediate benefits.
County firefighters now attend monthly fire and EMS training conducted by DFD. Both city and county crews also jointly participate in after-action review meetings, after major incidents.
The two departments routinely share staffing plans, to ensure that any company shortages can be handled. Both departments are also jointly discussing equipment purchases and apparatus design plans. And they've both started working on common operating plans for incidents, including adapting a number of long-standing practices.
Both DFD and DCFR have also adopted a close ladder response policy, for structure fires and vehicle extrication calls. DCFR Ladder 81 is included on the city run card.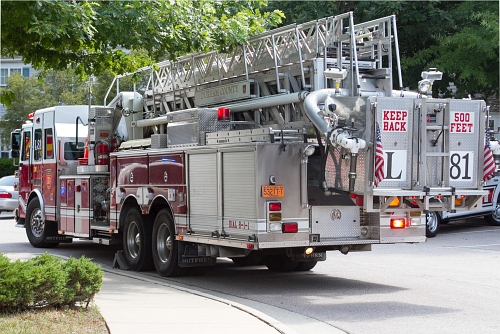 Ladder 81 on scene
The Merger
If approved, the proposed merger would move all DCFR personnel positions and several pieces of apparatus to DFD. This would add a pair of ladder trucks to the city fleet, as well as tankers with the capability for shuttling water.
The county firefighters would become city firefighters. Plans for this process include the evaluation of DCFR supervisors (Driver and higher) by a joint-city county panel, to determine if they'll transfer into their current rank/role, or a similar rank/role in DFD.
Personnel from Durham County will likely be assigned to stations near existing DCFR districts. Crews will likely be split and integrated with DFD personnel and vice-versa over the long term.
"We will attempt to place personnel at or near county districts," says Curia. "The high number of personnel we're working with may prohibit solely placing personnel close to DCFR stations."
The five county fire stations would remain county-owned, but occupied by city fire crews. Two would remain operational, and three would no longer be used for fire protection:
Sta
Address
Plans
Notes

81

4716 Old Page

Becomes temporary DFD 19

To house engine, ladder, and tanker.

Will be replaced with new facility ~2023 in area of Davis Drive and Guardian Drive or Chin Page Road.

82

1724 S. Miami

Repurposed[1]

Covered by DFD 8, DFD 3, etc.

83

1409 Seaton

Becomes temporary DFD 18

To house engine, ladder, and tanker.

Will be replaced with new facility ~2020 on Herndon Road at Stinhurst Drive.

84

7305 Leesville

Repurposed

Covered by new DFD 17, opening this spring, also located on Leesville Road, about 1.5 miles west. The new station will house engine and ladder.

85

4200 Farrington

Repurposed

Covered by DFD 16, DFD 6, DFD 11, etc.
Plus co-located Durham County EMS units, which are planned to continue post-merger.
Plans for the repurposed buildings are TBD.
[1] The North Carolina Department of Transportation is planning to convert some five miles of Highway 70 east–including the South Miami Boulevard intersection–to a freeway. Looks like this will impact the Station 82 site, as well as the many other surrounding structures. Property acquisition slated to start in April 2022. See project site.
Click to enlarge: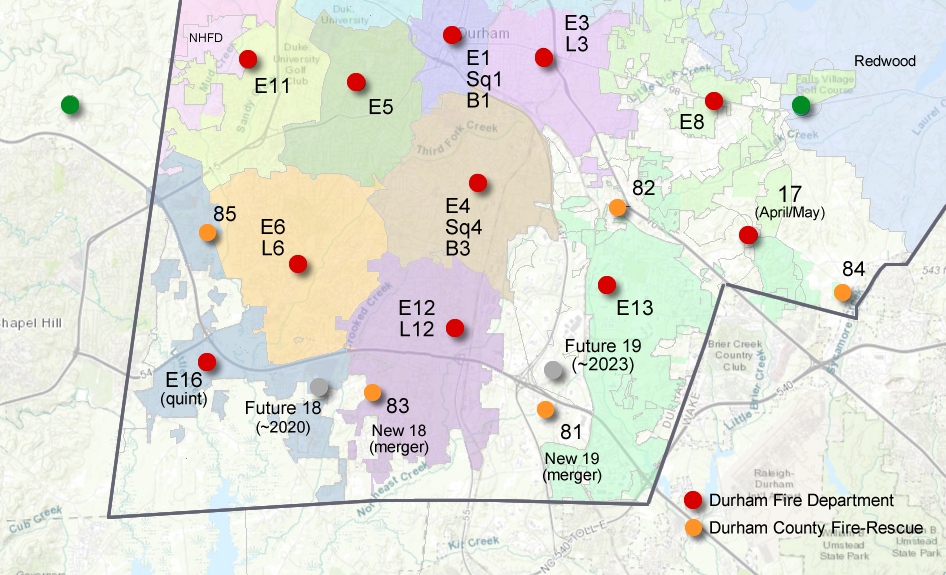 Sidebar – The Two Departments
| | | |
| --- | --- | --- |
|   | City | County |
| Engine Co. | 16 | 3 |
| Ladder Co. | 4 | 1 |
| Squad Co. | 3 | n/a |
| Battalion Chiefs | 3 | 1 |
| Stations[1] | 17 | 5 |
| Personnel | 300+ | 53 |
| Apparatus[2] | 32+ | 18+ |
| Population[3] | 263,016 | 306,212 |
| Land Area | 107.4 sq. mi. | 286 sq. mi. |
[1] Durham will have 17 stations in April/May.
[2] Not counting cars and light trucks.
[3] 2016 demographics
Next Step – Approvals
In March, Groves and Curia will present the proposed merger plan to city and county officials for their consideration. The goal date for the merger is July 1, 2018.
Watch this space for updates, as we will update this posting with links to media coverage and other news.
Stories so far:
Appendix – DCFR Fleet Information
Click to enlarge: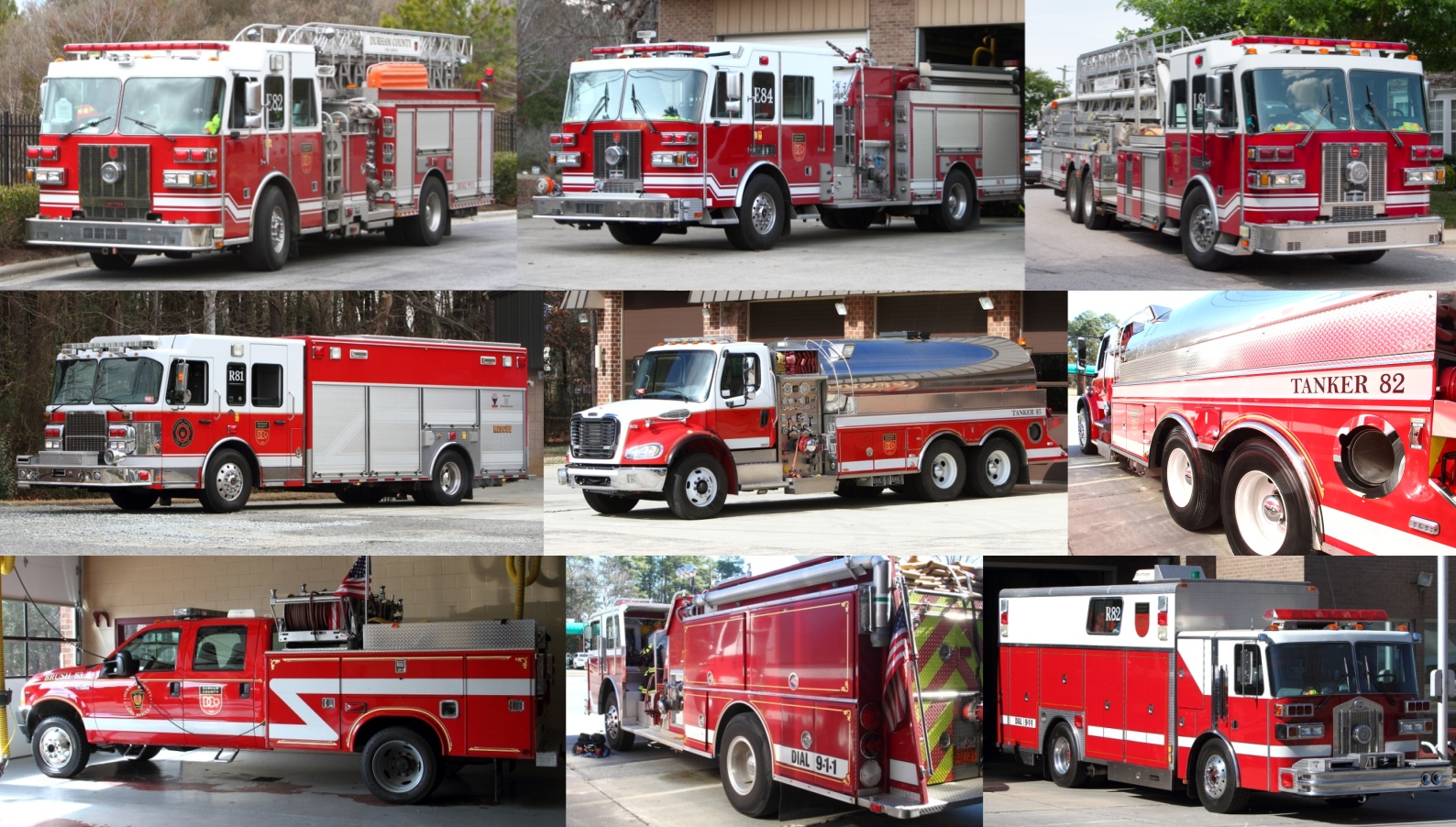 | | | |
| --- | --- | --- |
| Unit | Year/Make/Model | Station |
| Air 83 | 2001 Freightliner FL70/Pierce | 83 |
| Battalion 81 | 2007 Ford F-150 with camper shell | 82 |
| Brush 82 | 1988 Chevrolet/E-One 500/300 | 82 |
| Brush 83 | 2004 Ford F-450/______, 50/300 | 83 |
| Engine 81 | 2002 E-One Cyclone, 1750/1000 | 81 |
| Engine 82 | 2008 Sutphen ladder 1500/500/75-foot | 82 |
| Engine 83 | 2002 E-One Cyclone, 1750/1000 | 83 |
| Engine 84 | 2003 Sutphen, 1500/1000. Alt. year 2004 | 84 |
| Engine 85 | 1983 Chevy C-70/E-One, 1000/750 | 85 |
| Ladder 81 | 2003 Sutphen platform, 1500/300/110-foot | 81 |
| Rescue 81 | 2006 Spartan Diamond/EVI walk-around | 81 |
| Rescue 82 | 1991 Sutphen/Saulsbury walk-in. Alt. year 1990 | 82 |
| Squad 82 | 2000 Ford F-250 crew-cab utility truck | 83 |
| Tanker 82 | 2005 Freightliner/US Tanker, 1000/3000. Alt. year 2006 | 82 |
| Tanker 85 | 2005 Freightliner/US Tanker, 1000/3000 | 85 |
| Reserve E1 | 1993 E-One ladder, 1500/500/75-foot | 83 |
| Reserve E2 | 1992 Sutphen, 1500?/1000? | 82 |
| Reserve E3 | 1987 Sutphen, 1500/1000. Alt. year 1992 | 84 |
Additionally, DCFR has ordered a pair of Sutphen pumpers and a Sutphen tanker. They were spec'ed by a joint DCFR/DFD committee, and designed with the same specs and equipment as DFD apparatus.
Appendix – County Fire Facilities
Station 81
4716 Old Page Road
Former Parkwood Station 3
Built 1986
Part of building leased to sheriff's department as substation until 2004.
One-story, three bays, 2,989 square-feet, 0.656 acres.
Station 82
1724 S. Miami Boulevard
Former Bethesda Station 1
Built 1983
Expanded at least once, with two-story addition.
One-story, four bays, 10,800 square-feet, 0.648 acres.
 
Station 83
1409 Seaton Road
Former Parkwood Station 1
Built 1976
Expanded two/three times in 1980s, with additional bays, training space, garage space, etc.
One-story, seven bays (in main building), 9,829 square-feet, 1.54 acres.
Station 84
7305 Leesville Road
Former Bethesda Station 2
Built 1988
One-story, three bays, 1,017 square-feet, 0.91 acres
Station 85
4200 Farrington Road
Former Parkwood Station 2
Built 1984
One-story, three bays, 2,467 square-feet, 0.77 acres
Appendix – Historical Perspective #1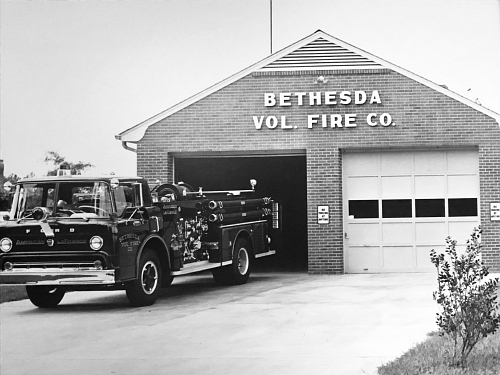 Bethesda Fire Department, original station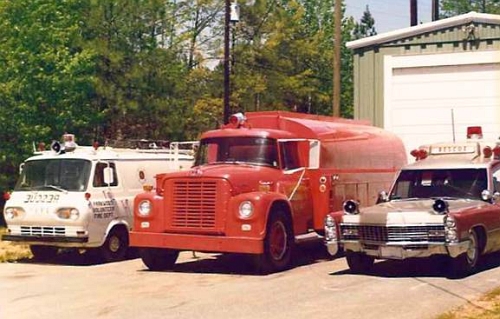 Parkwood Fire Department, circa 1976
Here's a look back at fire protection in southeastern Durham County, as well as related milestones:
| | |
| --- | --- |
| 1948 | County purchases fire truck for calls outside the city. 1948 Mack pumper, delivered August 1948, purchased in fall of 1947, cost $13,945, and equipped with a "high pressure pump" capable of creating 600 pounds of pressure, and a 600 gallon tank. With a pair of 250 foot high-pressure hose lines and special nozzles. First housed at Station 3, with new company of ten men, with four "members of the truck's crew" who were "on hand at all times." Placed in service on August 16, 1948. "Cooperation of residents in area[s] outside the city limits" was encouraged, notably for maintaining roads and bridges. Also, for "forest and grass fires in outlying areas," requests should be "relayed through the county fire warden." Both city and county contributed to its operation, each allocating $5000 in their budgets that year for operation and maintenance. Early staffing included a Captain, driver, and two men assigned to the truck. Later moved to Station 1. Some runs were as far as 25 miles (!) from Station 1. |
| 1957, circa | County purchases Civil Defense rescue truck for city/county response. Operated by Durham FD, housed at Station 1. 1957 GMC panel van. Read rescue history. |
| 1957, Dec 22 | County fire truck totaled in collision with a car. The driver of the car is killed and his three family members are injured. Its replacement is delivered by rail car on October 22, 1958, an American LaFrance 900 Series [?] pumper, 750/____. Costs $23,423.  |
| 1963, Dec 19 | Bethesda FD chartered. First fire station on South Miami Boulevard. |
| 1966, circa [?] | County tanker added at Durham Station , a 1966 International with a body by _____, and a 1500 gallon tank. Equipped with a gasoline powered pump in rear. Later painted yellow. |
| 1968, Dec 8 | Parkwood FD chartered. First fire station on Seaton Drive. |
| 1972, March | Parkwood adds ambulance service. |
| 1975, Apr 29 | County fire truck totaled in collision with station wagon. Driver of the car is killed. Its replacement is a 1975 Ward LaFrance Ambassador, specs TBD and painted yellow. Placed in service on December 22, 1975. By this time, there's a dedicated drive for the county truck on each of the three shifts. |
| 1976, Sep 15 | Parkwood opens new Sta 1 across street from current station. |
| 1981-82 | Bethesda opens new Sta 1 on S. Miami Boulevard, beside current station. |
| 1983, Aug | By this time, the county is paying the salaries of 21 city firemen, three of whom work as "rescue specialists." They also own the county fire truck and county tanker, and are half-owner of the department's rescue truck, Rescue 11. The two county trucks respond to fires in parts of the county not protected by Parkwood, Bethesda, Bahama, Redwood, and Lebanon. They also responded to all "serious" fires fought by those departments, except in the Bethesda district. And nearly always, are "ordered back to the station" before it arrived, because the trucks weren't needed. |
| 1984, Jul 16 | Parkwood opens Sta 2 on Farrington Road. |
| 1985, January | County announces that they are "going out of the fire and rescue business" in April. The county is still financing an engine and tanker, and half the expenses of Rescue 11. Financing to end April 1. The 21 county employees working on the three trucks to get "city police or fire jobs." The county fire truck is designated Engine 13 and will be retired, and Tanker 16 will be replaced by the city. Both trucks are disposed (donated?) to Bahama Fire Department. |
| 1987, Feb 4 | Parkwood opens Sta 3 on Old Page Road. |
| 1988 | Bethesda opens Sta 2 on Leesville Road. |
| 1998 | Durham opens Sta 13 on S. Miami Boulevard. |
| 2012, Dec 31 | Bethesda ceases EMS operations, along with Bahama FD and Redwood FD. Operations transferred to Durham County EMS. |
| 2013, July 1 | Bethesda ceases operations. DCFR created, assumes operations and assets of BFD. |
| 2015, July 1 | PFD ceases operations. DCFR assumes operations and assets of PFD. |
| 2015, April | DCFR adopts new numbering for their stations and apparatus, replacing 40s (Bethesda) and 60s (Parkwood) with 80s (DCFR). |
Top: Phone photo of oversized film negative by photographer Jim Thornton. Source: 1-01-09-028 in the Durham Herald Company Newspaper Photograph Collection #P0105, North Carolina Collection Photographic Archives, The Wilson Library, University of North Carolina at Chapel Hill. Bottom: Photos of the Bahama trucks by Lee Wilson.
Appendix – Historical Perspective #2
Is this the first county-run FD > city-run FD merger in state history?
Could be.
There are hundreds of county-serving departments in the state, but just a handful of county-operated. Believe this is first merger of county into municipal.
Notable private FD mergers into "big city" departments have included:
Asheville
Haw Creek > AFD in 2009
West Asheville > AFD in 1917
Fayetteville
Lafayette Village > FFD in 2004
Lake Rim > FFD in 2004
Note: The merger of the airport FD doesn't county, as the airport has always been municipally-owned. Versus a private entity.
Greensboro
District 14 > GFD in 2005
Guilford College > GFD in 2001
 High Point
Deep River > HPFD in 2005
Readers can chime in.