With the South Atlantic Fire Rescue Expo starting next week in Raleigh, here's a visual history of the prior conference locations. In the style of a heat map. 
Needs a little work. Starting with a better base map. Also, Winston (2) and Winston-Salem (9) are merged into one, with Winston-Salem (11). Also, also, tournaments were conducted for the first few decades. Could be fun to add those, in some fashion. 
Another idea, create a second map–or interactive map, with layers–showing the locations and counts of the "colored" firefighters association, which also held annual conventions for decades. 
Source data included below.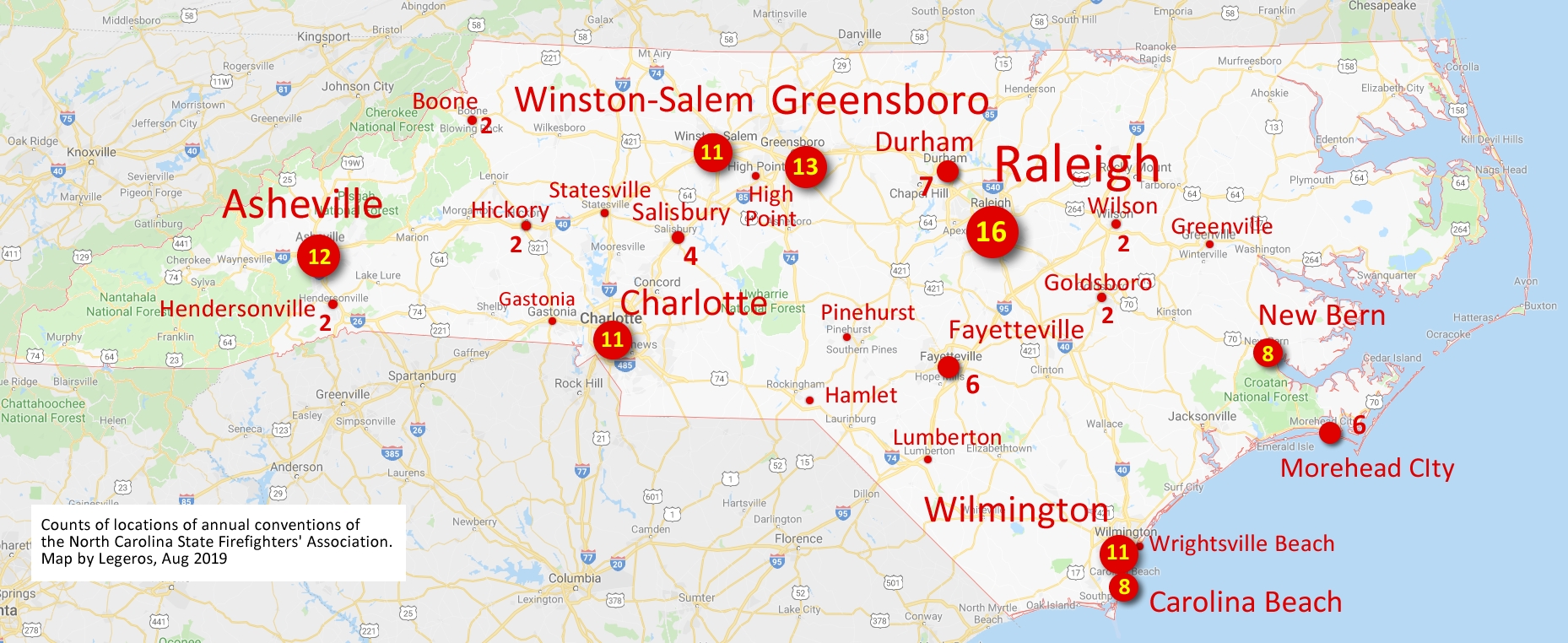 North Carolina State Firefighter's Association
Counts of conference locations. Note that the event was cancelled three times during World War II.
15 – Raleigh
13 – Greensboro
12 – Asheville
11 – Charlotte
11 – Wilmington
9 – Winston-Salem + 2 – Winston
8 – Carolina Beach
8 – New Bern
7 – Durham
6 – Fayetteville
6 – Morehead City
4 – Salisbury
2 – Boone
2 – Goldsboro
2 – Hendersonville
2 – Hickory
1 – Gastonia
1 – Greenville
1 – Hamlet
1 – High Point
1 – Lumberton
1 – Pinehurst
1 – Statesville
1 – Wrightsville Beach
North Carolina Volunteer Firemen's Association
Counts for conference locations. From 1890 to 1978, though the source data is incomplete. Need locations for a number of years. Also, this convention was cancelled a number of times during World War II:
9 – Wilson
7 – Warrenton
6 – Tarboro
5 – Greenville
5 – Oxford
3 – Concord
3 – East Spencer
3 – Elizabeth City
3 – Farmville
3 – Wake Forest
3 – Washington
3 – Winston
2 – Charlotte
2 – Durham
2 – Enfield
2 – Greensboro
2 – Monroe
2 – Raleigh
1 – Fayettville
1 – Henderson
1 – Louisburg
1 – New Bern
1 – Rocky Mount
1 – Salisbury
1 – Wilmington