Would you believe a cab-mounted hose basket? Here's the coolest vintage truck pic that we've seen in a while. Was a 1936 Chevy truck conversions in Huntersville, NC, in Mecklenburg County. Below is a timeline of the department's history and a few more photos. They're from Brent Irvin, son of former Fire Chief Larry Irvin, and grandson of former Fire Chief Allen Irvin, via this Facebook thread.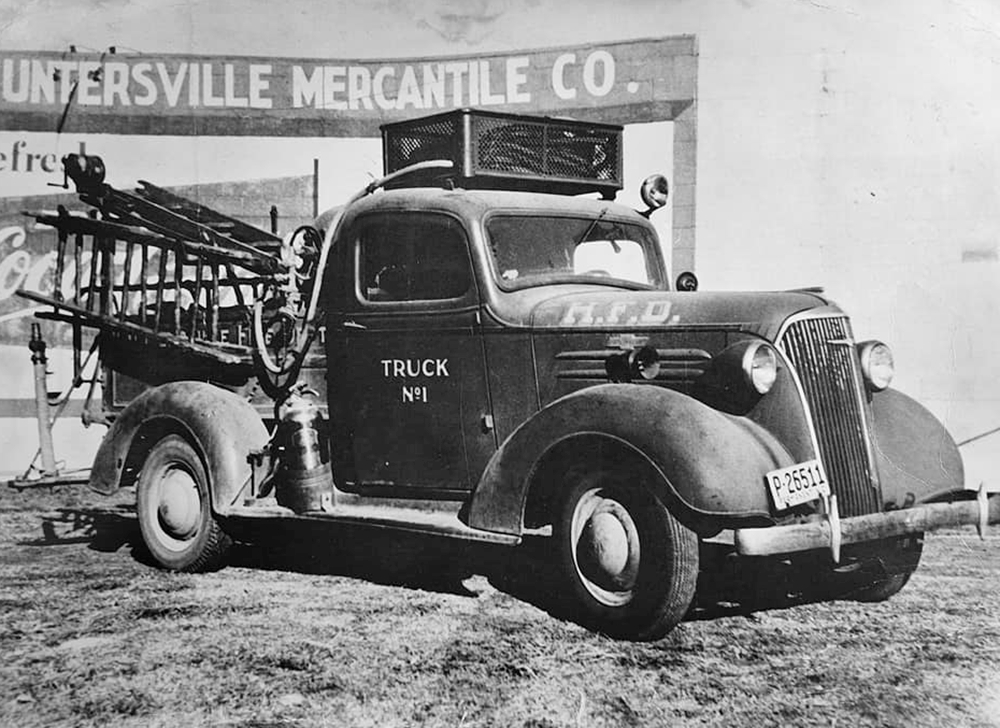 Historical Timeline
1923 – Department organized after town installed municipal water system. Hose cabinets and hydrants were located along Main Street.
1927 – Town buys American LaFrance combination hose and chemical truck. Source: Charlotte Observer, Jan 13, 1929.
1927 – Advertisement promoting the town to businesses and industry on May 31, 1927, in Charlotte Observer, notes "Huntersville offers fire protection, in connection with the establishment of their water system. Reduced insurance rates will result from this in the near future, as well as protection to the mill villages, in connection with the mills."
1929 – Suit filed in county court, that town hadn't yet paid the outstanding balance of the fire truck, $1,310, and proceedings were started to repossess the truck. [Then what happened? TBD] Source: Charlotte Observer, Jan 13, 1929.
1936 – Town acquires first fire truck, a 1936 Chevrolet with an "air-pressurized water tank," and, thus, wasn't classified as a Class A pumper. [Bought new that year? Or created in 1942, see below.]
1942 – Department re-organized, with a fire truck built by the "boys in Agriculture" using the chassis "of the town truck" and adding a fire truck body that had been in storage for a number of years. [ Was this the origin of the 1936 Chevy? ] Source: Charlotte Observer, Jan 25, 1942. 
1942 – Joined the North Carolina State Firemen's Association, by summer of that year. Source: Secretary report in 1942 proceedings.
1953 – Town buys its first Class A pumper, a Chevrolet/Howe. By that time, the department was housed in the Town Hall building, which included a two-bay fire station.
1955 – Department refrains from signing contract with county, to receive $100 monthly "standby fee." Mayor informed by Attorney General that the contract requires the department to answer calls anywhere in county. And if the HFD truck should go more than 11 miles from the town limits, and a fire started in town, then the town could be sued. Mayor says town will conduct fundraising campaign to raise money for the volunteer fire department. Source: Charlotte Observer: Feb 10, 1955. 
1956 – First pumper-tanker added, 1953 Ford F-800/Wilson Irons Work/Irvin's Body Shop pumper-tanker, 500/1500. Enables HVFD to respond outside of city limits, as well as serve existing town residents. At least half of the town's residents were not served by existing fire hydrants, notes news story. Addition of second truck will meet and exceed the requirements for membership in the Mecklenburg County Firemen's Association. One truck to remain in town at all times. Both trucks equipped with two-way radios. New cab and chassis received by January 25. Installation of pump and tank to be completed within next 45 days, said Mayor. Overall cost of truck was approximately $5,000. Source: Charlotte Observer, January 25, 1956.
1956 – Rural service started. Operational by June 1956. 
1963 – New rural engine added, 1963 Ford F-700/Wilson Irons Work/Irvin's Body Shop, 500/500.  
1967 – Second station opens, which later becomes the separate Gilead VFD.
1970 – Department incorporated. Source: NC corporate records.
1971 – New rural engine added, Ford 1972 F-700/Wilson Irons Work/Irvin's Body Shop, 750/1000. Bought by HVFD.
Note: From the 1950s through the 1970s, all HVFD and GVFD Ford F-700 trucks and brush truck conversions were built by Wilson Iron Works and Irvin's Body Shop.
1981 – First ladder truck, 1949 American LaFrance mid-mount, former Charlotte Ladder 4. Bought by HVFD.  
1983 – New "town truck" added, 1982 Ford F-800/American, 1000/1000, with front-mounted pump. This was the last town-purchased piece of apparatus. Going forward, department bought all apparatus and equipment.
1983 – The 1963 Ford F-700 pumper is converted to a tanker by Irvin's Body Shop, renamed Tanker 5 and expanded to carry 1250 gallons of water. 
1988 – Ladder truck refurbished. 
1989 – Town Hall and water department relocates from shared building, and fire department takes over the entire building. Third apparatus bay added. 
1993? – First custom-cab apparatus added, 1993 Spartan/Quality, 2000/1000. 
1994 – New fire station opens. 
1998 – First custom-built ladder truck, 1998 Spartan Gladiator/Marion/AI, 1500/300/30A/75-feet.
2010 – Gilead VFD merges in May with Huntersville VFD to create Huntersville FD.
2010 – HFD Station 3 opens in October, and placed in service with donated equipment from Mallard Creek VFD, which ceased operations in 2011.
2018 – Station 4 opens in April. 
Sources
Irving Family oral histories
Micah Bodford research
Mike Legeros research
More Photos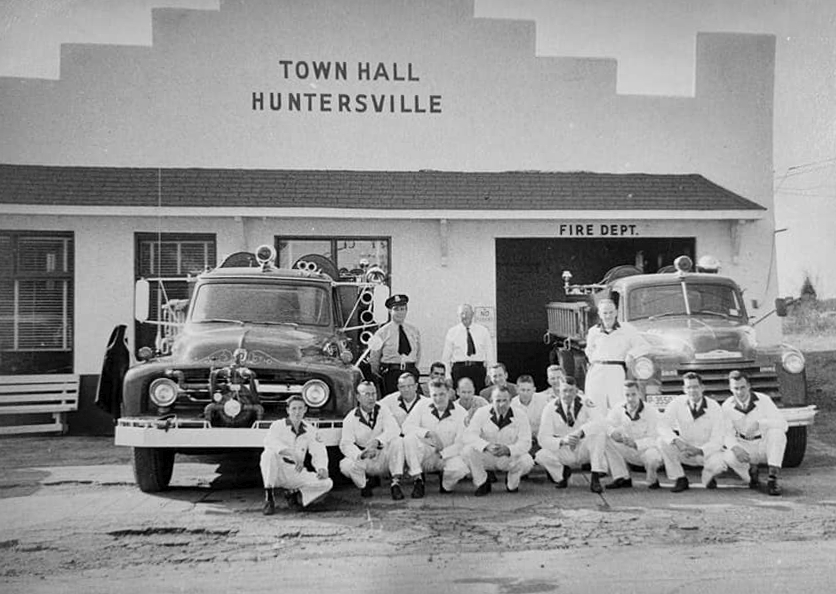 Huntersville Fire Department circa mid-1950s. Courtesy Brent Irvin.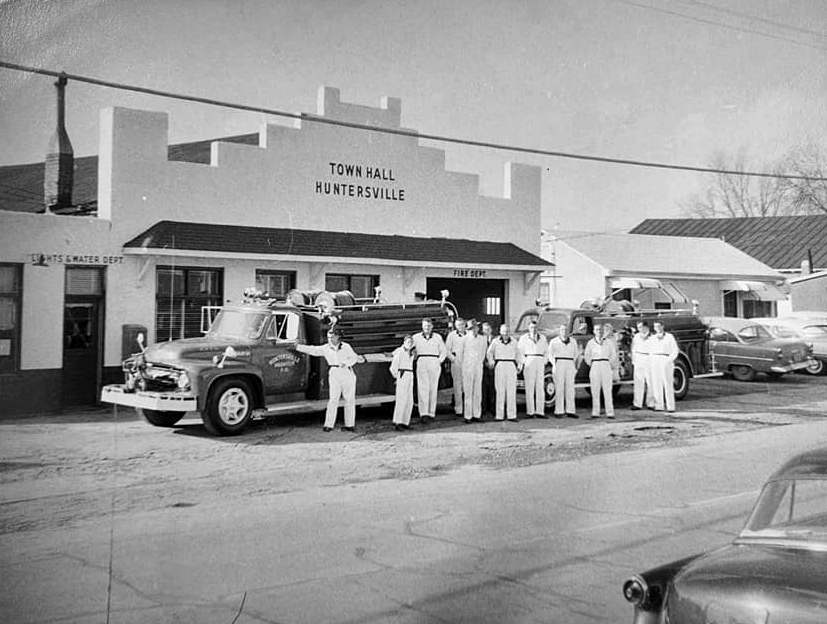 Huntersville Fire Department circa mid-1950s. Courtesy Brent Irvin.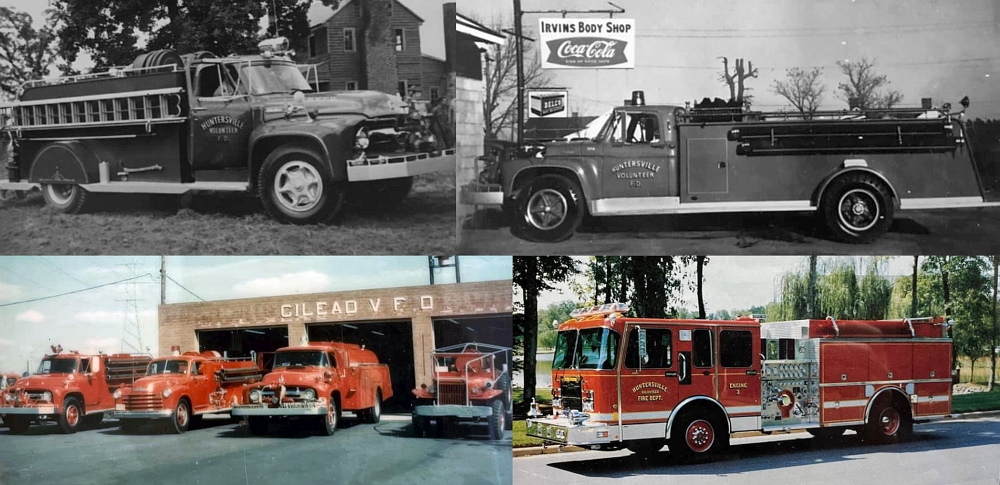 Top to bottom, left to right: 1953 Ford F-800/Wilson Irons Work/Irvin's Body Shop; 1963  Ford F-700/Wilson Irons Work/Irvin's Body Shop; Gilead VFD in early 1970s; 1993 Spartan/Quality. Courtesy Brent Irvin.