This is a re-posting of a Blog Archives post that is no longer available. It was originally posted on May 23, 2014.
Photographs From 2014
See Flickr album.
Posting From 2014
Need an excuse for a Memorial Day Weekend road trip? Tool down to Goldsboro to behold this 1990 Oshkosh P-15 military crash truck. It's located at 325 Stoney Creek Church Road, about a mile east of Highway 117. That's the intersection with the Belfast Fire department, so it's an easy road to find. The truck's for sale and is parked at Cardinal Mini-Storage. Drop a line for contact information. 
The truck served at Nellis Air Force Base in Nevada and then at Seymour Johnson Air Force Base outside of Goldsboro. After retirement, it was sold to a private owner, who purportedly drove the thing to the storage space. (Bet that convoy was something to see!) The truck's been there for some years, and has since changed hands, and is now for sale. Owner says the truck runs and the tires are good. (Was raised on jacks for a number of years.)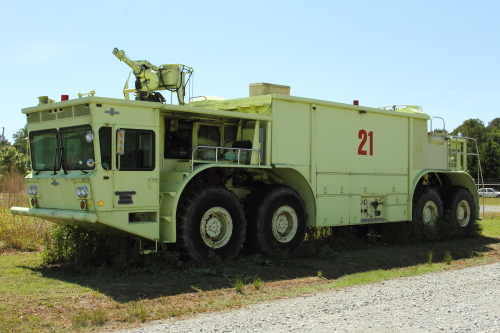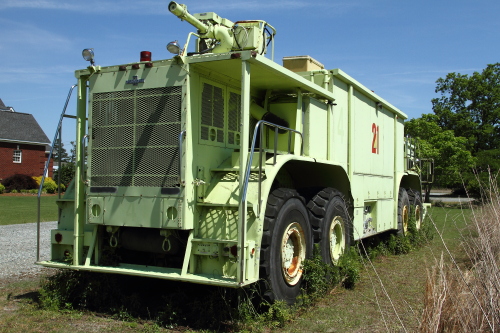 Placard says shipping weight was 41.25 tons. Add 25 more for the 6,100 gallons of water it carried, plus 515 gallons of foam. Powered by twin Detriot Diesel V8 engines. Five-speed transmission. Twin 1,250 GPM pumps, and twin 1,200 GPM turrets. First introduced in 1977. Approximately 150 built for the military, which must be both US and other countries. Sources: http://tinyurl.com/l82d28c and other sites found via Google. Was listed in the Guinness Book of World's Records for some years as the most powerful fire engine in the world.
Adds military historian Pete Brock, the P-15 was assigned to air bases that had large frame aircraft assigned such as the C5, C141, B52, and KC135. Bases nearby with them were Seymour Johnson, Pope (for a short time only), Charleston, Langley, and Knoxville. Total of 64 units were built for the Air Force (three in 1977, twenty-five in 1979, twenty-five in 1980, and eleven in 1990). The Navy had four units with the closest one at Norfolk Naval Air Station. None were used by other branches of the United States military.
There was no civilian model constructed, through the Oshkosh M4000 was a close cousin. Lower profile and only front mounted monitors that were (if memory serves, says Legeros, remote instead of manual monitors). The 1990 model of the P-15 cost $660,000 each. And if you want to buy this baby, don't plan to drive the thing in North Carolina. The DMV won't issue road permits. You'll have to transport via lowboy and even then probably remove the tires! (That detail from reader Tim Henshaw, who knows a thing or two about transporting old rigs.)
See full series of walkaround photos. And whlie you're there, scroll through this collection of photos for tours of an American LaFrance Type O-11A crash truck and a 1958 Walter crash truck from Minneapolis.
Original Reader Comments
DJ – I would just like to have one of the turrets, preferably the front one since that is the one I got to flow water with) and set it up in my front yard, as a sort of memorial. Of course, if I did that, I would have to keep the whole truck and turn it into an apartment or something to live in…
Robert – I served in the Air Force from 87 to 91 and i never got to operate one of these but i did get to drive the P-2. That thing was awesome to drive and chase aircraft!! I guess it would be the next biggest truck under the P-15, it carried 2000 gals of water and would give pumpers a run for their money with its dual Detroit's!!
Randy – Tom Bender fire marshal of Chatham county would be your local expert.  He worked at Seymour and drove the rig.  We did a tour and it is very impressive. It could sit still and pump 2400 GPM or pump and roll 1200GPM. They could not take it off the runway because it would tear down the power lines because it we so tall.
Cody – Luckily, I have a Hot Wheels Airport Rescue, which is modeled after it. Luckily at about four inches long, I don't have to worry about finding a place to put it. Good luck to whoever buys it. It's going to need a little work, and a huge building to put it in. I just hope whoever buys it doesn't do something stupid with it–as in turn it into an RV. I hate it when people "repurpose" old fire apparatus.
Chuck – I worked at National and Dulles airports from 1981 to 2009.  We had a P-15 at each airport, what an awesome rig to drive and operate.  Oshkosh also made a civilian version, M-4000, sometimes called an M-15.  National and Dulles were federally owned and operated before 1987, I guess that's why we had military versions.
Yeager – Oshkosh made 4 civilian models similar to this rig. M23 had 6000 gallons of water & 500 foam. Memphis FD had one but it has been scrapped. The others were at Ft Hood, TX and not sure on the others.
No Name – How much do they want for it?