Northern Wake Tanker Overturns
On Monday night, October 19, 2020, at about 9:20 p.m., Northern Wake Tanker 38 overturned in 6100 block of Ebenezer Church Road, while responding to a house fire on Dewees Court, about two miles south. Two firefighters were aboard, and were transported to the hospital with minor injuries. The 2013 International/KME, 750/2000, was responding from Station 3 on Norwood Road, as auto-aid to the working fire located in Western Wake's first-due territory.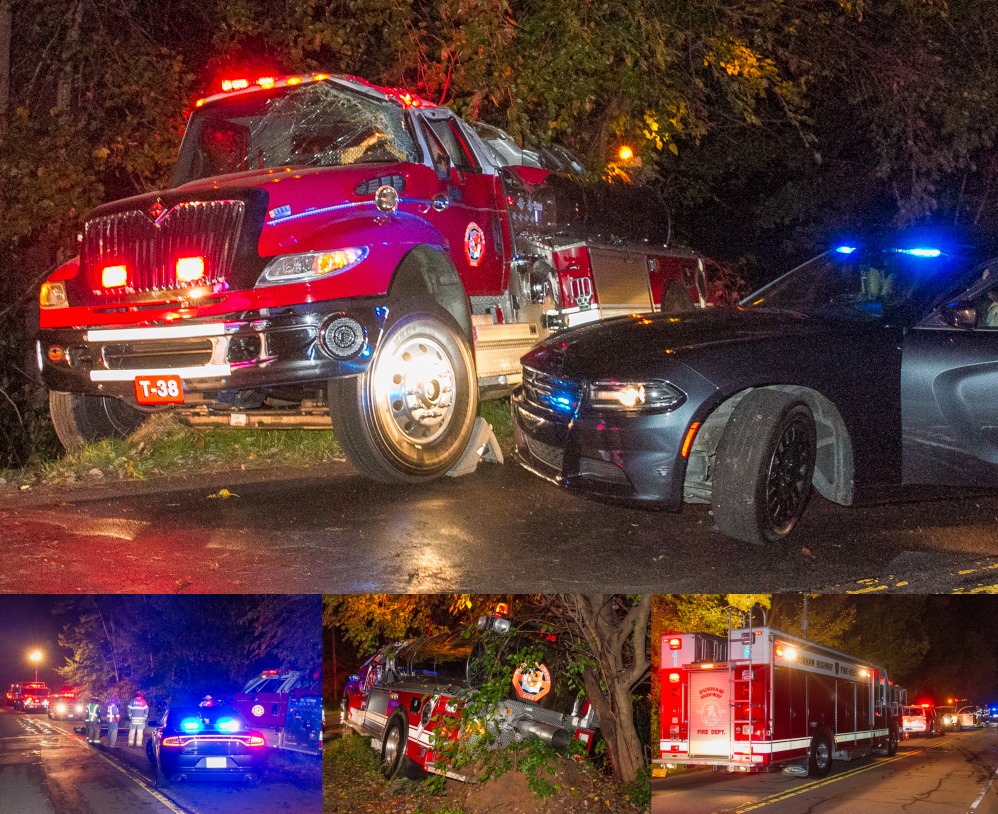 The fire was reported at about 9:02 p.m., dispatched as an automatic fire alarm. Units from Western Wake, Raleigh, Cary, Durham Highway, and Swift Creek responded, along with Wake County EMS and Cary EMS. Upon the emergency radio traffic from Tanker 38, Durham Highway units immediately responded, along with additional EMS units, Northern Wake Rescue 35, and Raleigh Rescue 1, which self-dispatched from Station 16 (they were cleared while en route).
See more pics by Legeros from the aftermath, about an hour later, plus daylight pics of the roadway.
Listen to audio of the house fire and apparatus accident response.
Historical Perspective
What's the historical perspective of overturned fire apparatus in Wake County? Incidents have included: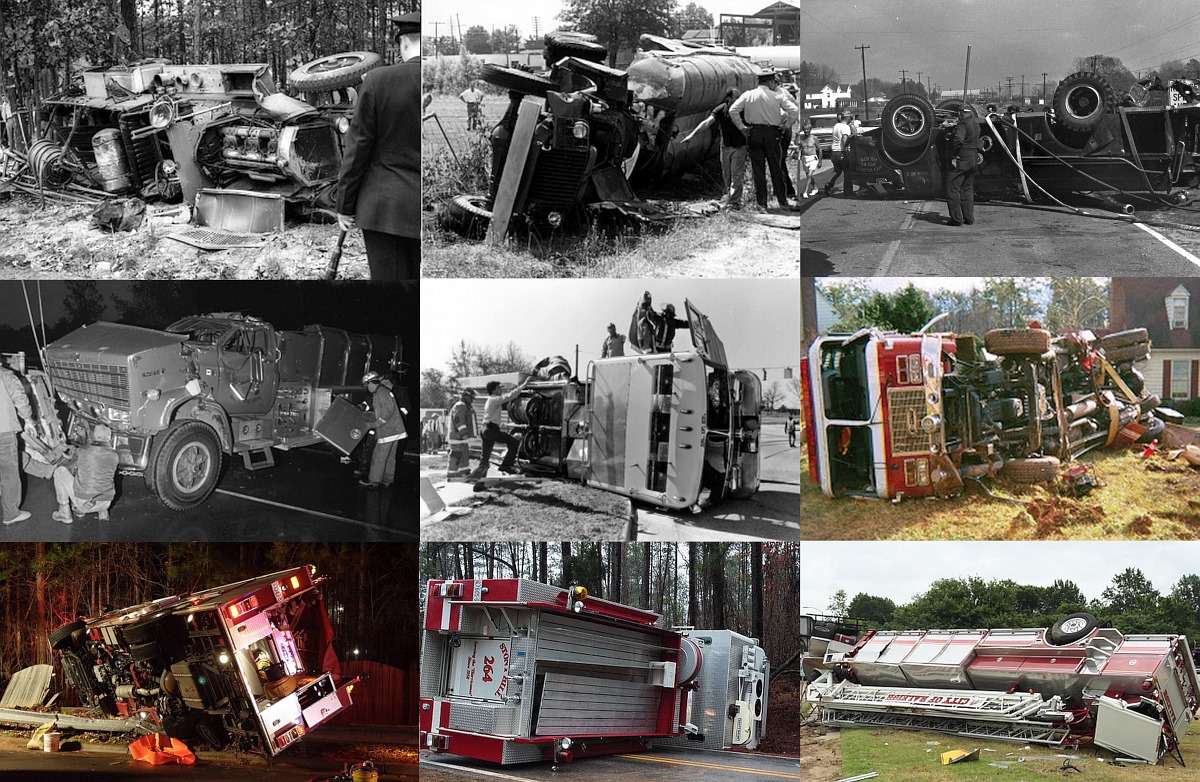 Nov 14, 1952 – Raleigh Engine 6, operating reserve engine (1926 ALF) overturned at Brooks Avenue and Lewis Farm Road, while returning from call. Driver Vernon J. Smith was seriously injured, lost part of a leg, underwent dozens of operations over next four years, and died from injuries in 1956. Four others aboard also injured, with various degrees of injuries.
Jul 13, 1960 – Cary tractor-drawn tanker (1940s International/1954 CFD) overturned near Meredith College while responding to trash fire. Vernon Lee Thompson, 28, was killed, trapped under the cab that caught fire. Firefighter Billy Henderson was injured.
Apr 01, 1978 – Apex Engine (1963 Ford/ALF) overturned on Old Highway 1 while returning to town for more water from a fire, after swerving to avoid a car that pulled into incoming lane. Firefighter driving was ejected and nearly killed.
Nov 11, 1985 – Fairgrounds Tanker 197 (1982 Chevy/Atlas) overturned on Blue Ridge Road near the Art Museum, after swerving to avoid a car that made a u-turn. Driver was treated at Rex Hospital and released.
___ __, 1987 – Six Forks Unit 128 (1980 Ford/Atlas) tanker overturned in the parking lot of West Millbrook Middle School, during driver training. Was rebuilt and returned to service with reduced tank capacity, from 1500 to 1000 gallons.
Late 1980s/Early 1990s – New Hope Tanker 2 (1969 Chevy/198_ shop) – Overturned on Louisburg Road near Mitchell Mill Road, while responding to a woods fire along the railroad tracks on Millbrook Road.
Feb 25, 1990 – Raleigh Engine 5 (1986 EEI/Pemfab) overturned at Wilmington and Smithfield, after striking a car that ran red light. Apparatus turned onto its side. With secondary collision of second car struck by first car. Driver of apparatus–only firefighter aboard, as it was headed to the shop–and one civilian with minor injuries.
Dec 22, 2002 – Wake Forest Engine 63 (1996 E-One) overturned on Ligon Mill Road while responding to a fire alarm activation. It rolled over two and a half times. Three FFs were injured, with Thomas Howell sustaining the most serious injured, with broken left leg, left arm, and right wrist.
Dec 17, 2008 – Raleigh Engine 9 (2008 Pierce) overturned on St. Albans Drive just west of Hardimont Road, while responding to reported structure fire. The engine overturned on its side. None of the four firefighters aboard were injured.
Feb 28, 2009 – Stony Hill Pumper 264 (2005 Pierce) overturned on Purnell Road about a half-mile east of Camp Kanata Road while responding to a reported house fire. The engine overturned on its side. The three FFs were transported with minor injuries.
Jul 10, 2009 – Raleigh Ladder 4 (2004 Pierce tiller) overturned at Dawson and South streets, while responding to a reported house fire. Three of four FFs aboard were transported with minor injuries. The incident prompted the development of EVO program for all personnel and new safety mandates.
Photo credits include News & Observer, WRAL, and Legeros.