July 28, 2018
Summer update on Raleigh Fire Department facility plans. Station 12 is almost ready. Station 14 has started site preparation. Station 6 has resumed work. More renovations are coming. Station 30 is now Station 13. And more. 

Click to enlarge: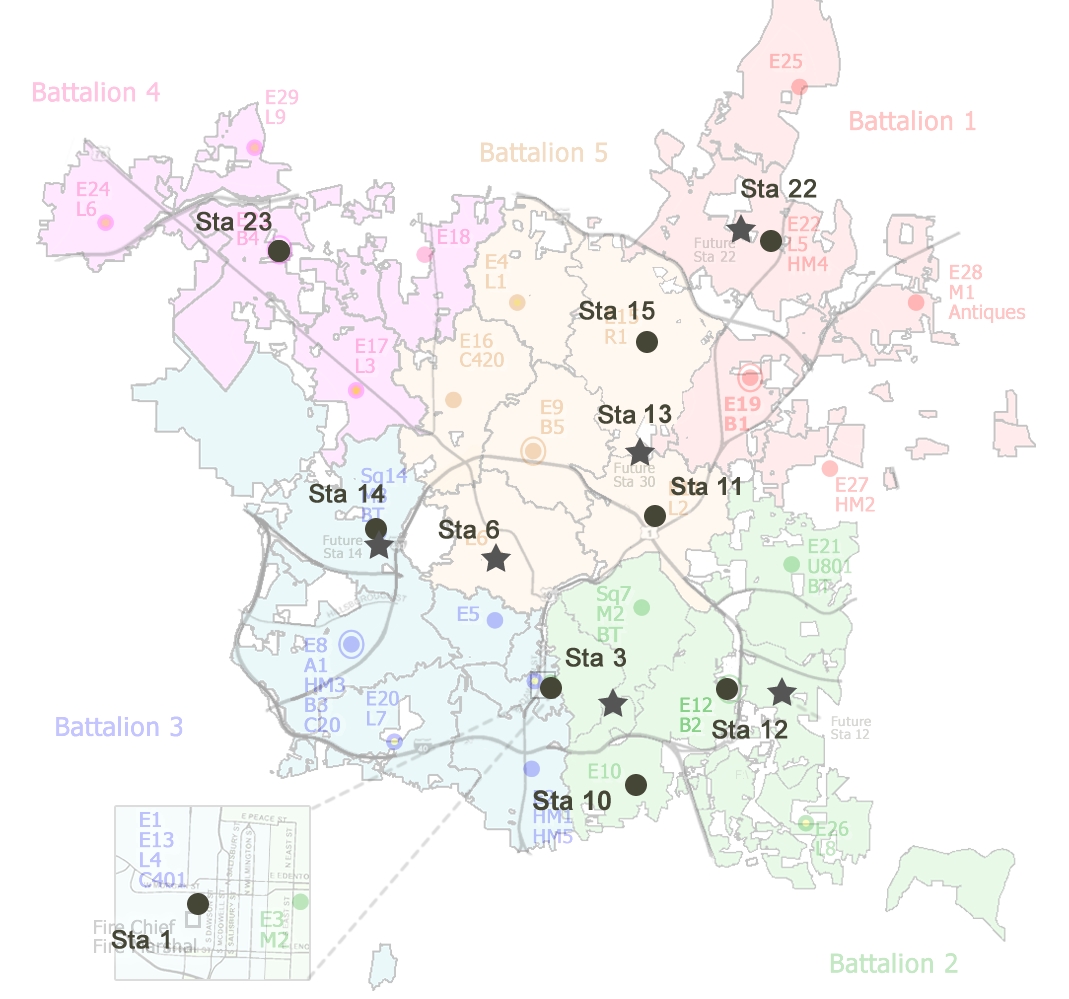 Facility
Project Type
Project Location
Project Notes
Sta 1
Replace
TBD
Programming complete. Site selection still underway, in area of Convention Center. Funding for multi-year project started in FY18. Renovation or rebuild on current site feasibility study.   
Sta 3
Replace
900 block Rock Quarry Road
Land acquired, former state property, department of corrections. Funding to be requested in FY20.   
Sta 6
Rebuild
2601 Fairview Road
Site preparation completed. Structural work started in mid-July. Footers being poured. Expected completion spring 2019. See photos.
Sta 10
Renovate
2711 Sanderford Road
RFQ (request for qualifications) to be released for design services in August 2018.
Sta 11
Renovate/
Expand
2925 Glenridge Road
Design complete. Ladder 2 relocates to Sta 15 in Aug/Sep, upon receiving new apparatus. Engine 11 to relocate to Sta 7 and construction to begin in fall 2018. 
Sta 12
Relocate
807 Bus Way
Construction complete. Expected to start operation in second week of August. See photos.
Sta 13
New
1514 Ronald Drive
Land acquired. Construction funds to be requested in FY20.   
Sta 14
Relocate
3510 Harden Road
Site work started in July. Expected completion in summer/fall 2019. See photos.
Sta 15
Renovate
1815 Spring Forest Road
Sprinkler system added in 2017. Design ongoing and bid to correspond with completion of Station 11 renovation/expansion project.
Sta 22
Relocate
10050 Durant Road
Relocating Engine 22 to temp facility at Falls of Neuse water plant by November 2018. Ladder 5 to relocate to Sta 25. Design process underway for new station.
Sta 23
Relocate
Pinecrest & Westgate area
Land acquisition funding to be requested in future budget year. Lease renewed for five additional years with Durham Highway FD. 
August 15, 2017
Let's start a new, recurring feature. Raleigh Fire Department facility updates. The city is upgrading and expanding numerous fire facilities, and it's long overdue. Fire stations are being replaced with much larger and more modern facilities, either on the same site (Station 6) or near their current stations (Station 12, 14, 22). Others are being renovated with "down to the walls" projects. There's also the first "infill" station on the books, Station 30 off Wake Forest Road on Ronald Drive. Here are the assorted statuses. Will update again in three/four/five/six months.
Click to enlarge: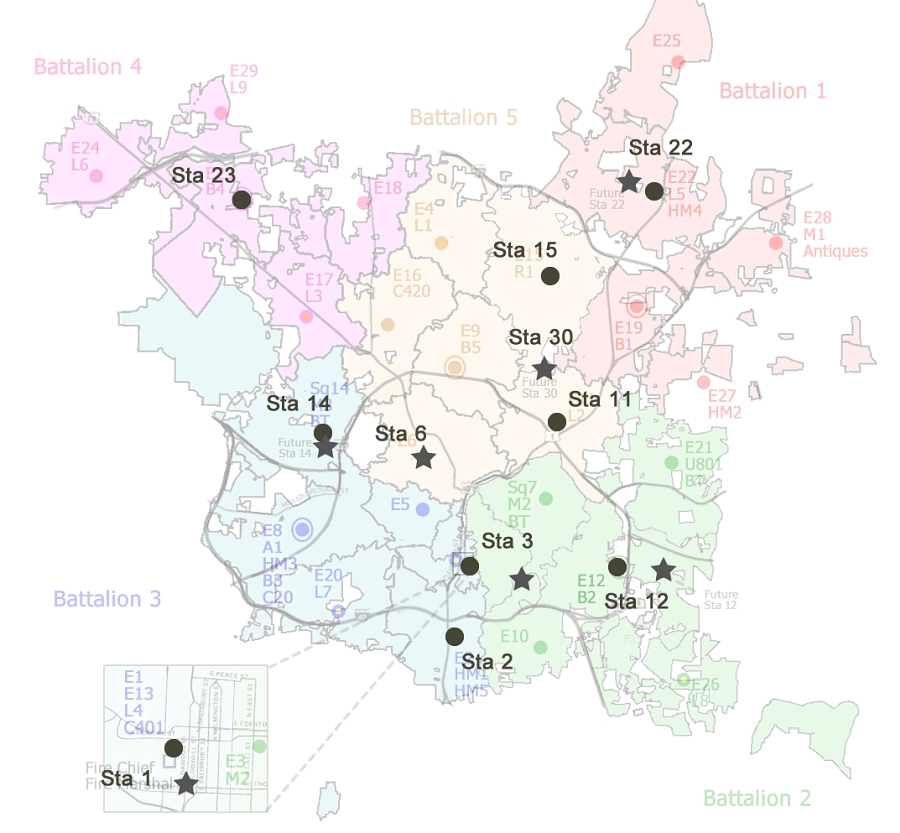 | | | | |
| --- | --- | --- | --- |
| Facility | Project Type | Project Location | Project Notes |
| Sta 1 | Replace | Convention Center area | Programming complete. Site selection still underway, in area of Convention Center. Funding for multi-year project started in FY18. Combination Station 1 and relocated Headquarters. |
| Sta 2 | Renovate | 263 Pecan Road | Construction underway. Completion expected in fall. Included renovation of adjoining former shop building. See photos. Read blog. |
| Sta 3 | Replace | Martin Luther King Jr. Blvd. & Rock Quarry Rd. area | Land acquisition underway, on state property near corrections center. Construction funds to be requested in FY19.  |
| Sta 6 | Rebuild | 2601 Fairview Road | Demolition completed. Site preparation starting. 14 month construction time. See photos. Read blog. |
| Sta 11 | Renovate | 2925 Glenridge Road | Project re-started, after reduction in scope. Primary focus is expansion of apparatus bay, to accommodate 100-foot ladder truck. Plus complete renovation. Design work starts in August. |
| Sta 12 | Relocate | 807 Bus Way | Construction underway. Completion expected in late winter. See photos. Read blog. |
| Sta 14 | Relocate | Harden Road & Nancy Ann Drive | Existing structures to be abated/demolished in August. Building plan permitting in September. Bid estimate in October. Read blog. |
| Sta 15 | Renovate | 1815 Spring Forest Road | Sprinkler system recently added. Complete renovation starts in 2018, with FY18 funding.[1] See photos. |
| Sta 22 | Relocate | 10050 Durant Road | New project, on fast-track. Replacement site chosen, city property. Design work starting this month. Construction starting in fall 2018. Read blog. |
| Sta 23 | Relocate | Pinecrest Road & Westgate Road area | Land acquisition funding to be requested in FY19. Will house E23, L9, at Battalion Chief.[2] |
| Sta 30 | New | 1514 Ronald Drive | Land acquired. Construction funds to be requested in FY19. This will be an "infill" station. |
| Services | Renovate | 4120 New Bern Avenue | Mechanical system enhancements to garage bays and supply store started this month. |
[1] Station 15  is the third in a series of planned renovations, which completely renovate the structures. First was Station 5 (see photos, read blog), which completed in the fall of 2016. Though programmed as two per year, it's playing out as one per fiscal year, due to cost. (Excludes Station 11, which will also be a full renovation, plus bay expansion.)
[2] Station 23 is a new-ish project. It's part of the RFD five-year strategic plan, published in 2015: http://raleighfirenews.org/pdf/strategic-plan-2015.pdf