This is a blog version of a Facebook posting from February 2021.
On Thursday, April 23, 1959, Raleigh Emergency Rescue Squad volunteer member and Wake County Sheriff's Deputy Robert L. Battle, 45, drowned in the Cape Fear River in Chatham County. He was serving as a squad member and assisting with a search for a missing boater, after Isaac Barker, 33, of Fuquay Springs, disappeared after his fishing boat overturned the day before, about two miles above Buckhorn Dam. 
A Wildlife Commission plane spotted the overturned boat about five miles below the dam. From the shore, searchers spotted a lifejacket in the back of the boat. Battle swam out to investigate and with a rope around his waist. The rope wasn't long enough to allow to reach the boat, so he instructed those on shore to let the rope go. As noted in the next day's News & Observer, Battle "became exhausted" on the swim back to shore and "tied himself to a willow tree in the river." He was "apparently was too tired to hold his head out of the water" and subsequently drowned.
Deputy Battle had been a "night jailer" for about four years, noted the newspaper. He had previously served as a Raleigh police officer. He was buried at Oakwood Cemetery on April 25, 1959, and was survived by two brothers.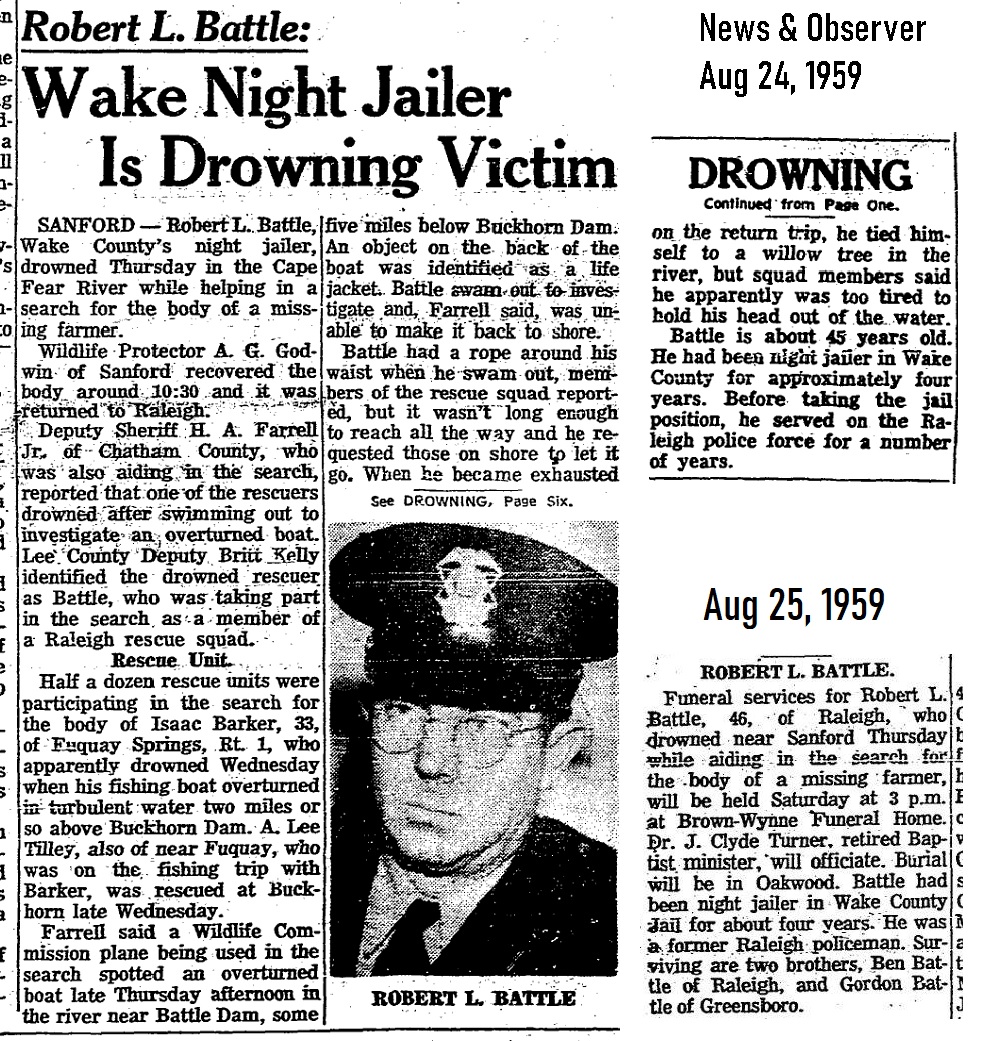 Later Lawsuit
In August 1960, a Wake County Superior Court judge ordered that a $5,000 life insurance benefit for Battle be paid. The payment had been withheld by the insurance company for over a year, because the beneficiary couldn't be found in the files of the rescue squad.
Raleigh Fire Chief Jack Keeter testified that "sometime after the squad was formed a few years ago," the organization took out a blanket policy with Glen Falls Insurance Company. All squad members were issued certificates that included instructions to list their beneficiaries. 
Said Keeter, he couldn't determine if Battle had "turned the certificate back in" or it was lost due to the "'poor bookkeeping system'."
Judge Henry A. McKinnon ruled that Battle's brother Lee, whom with Robert "had made his home," was the beneficiary of the policy. His brother was also the sole beneficiary of Battle's estate. See below story.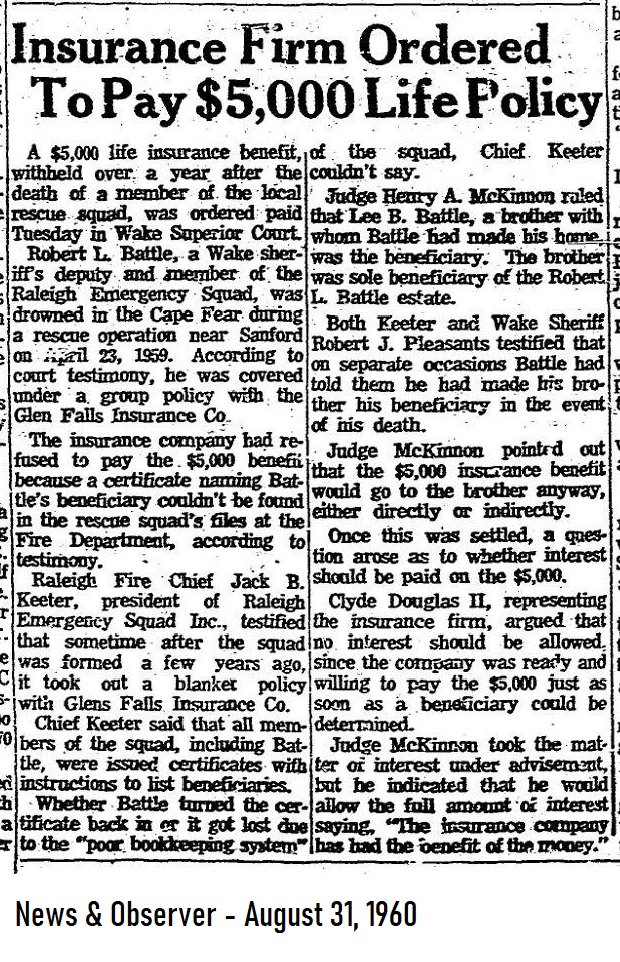 About Raleigh Rescue
The Raleigh Emergency Rescue Squad was created in 1953 as a private organization that operated in partnership with the Raleigh Fire Department. The charter members included Fire Chief Jack Keeter. 
It was based out Central Fire Station and operated two vehicles: a smaller panel van and boat trailer, and a larger Civil Defense rescue truck. The squad was comprised of volunteer members, including Raleigh firemen. In 1954, they were assigned a full-time fire department driver. 
Their early calls included these call types, summarized for a News & Observer story on January 31, 1956. In 1955, the squad answered:
52 – Stand by for fire, "at places where crowds congregate", include 20 false calls
14 – School visits, for demonstrations
14 – "Give aid to sick and helpless"
9 – Body recoveries from water. (Three of whom survived.)
6 – Heart attack "cases"
2 – Rescue demonstration requests
The volunteer members waned in later years and by the late 1960s/early 1970s, the rescue unit was later exclusively operated by the fire department. Read more history in this earlier blog post.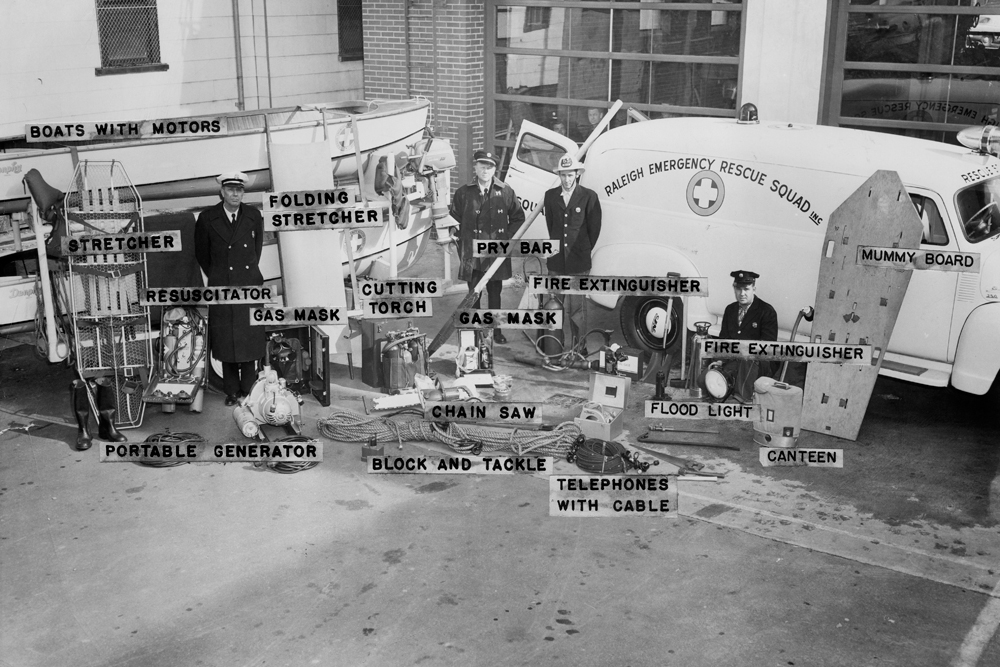 Raleigh Emergency Rescue Squad in October 1955. Courtesy Raleigh Fire Museum