See photos from Sunday and Monday at legeros.smugmug.com/Fire-Photos/2019/2019-10-umstead-crash
Here's a run card for Sunday night's aircraft incident, after radar contact was lost with a small plane on approach to Runway 32 at Raleigh-Durham International Airport. That's the smallest of the airport's three runways, and perpendicular to the main runway. The tower notified crash-fire-rescue and airport operations at 7:25 p.m. of a possible plane down in Umstead State Park. 
City and county fire and EMS units were dispatched about 7:35 p.m., to the location of Ebenezer Church Road and Graylyn Drive. The command post and staging areas were established at that location, with search crews entering the park in vehicles and later on foot. Units were on scene until about 3:00 a.m. Two souls were reported aboard the missing Piper PA32. 
Operations resumed after daybreak, with command and staging relocated to the park's visitor's center on Glenwood Avenue. Search teams, comprised of fire and law enforcement personnel, resumed after 9:00 a.m. The aircraft was located about 10:04 a.m. on Monday morning, by Raleigh Fire Department members. There were no survivors. The fire department remained on scene for a number of hours, to assist investigators.  
News coverage included: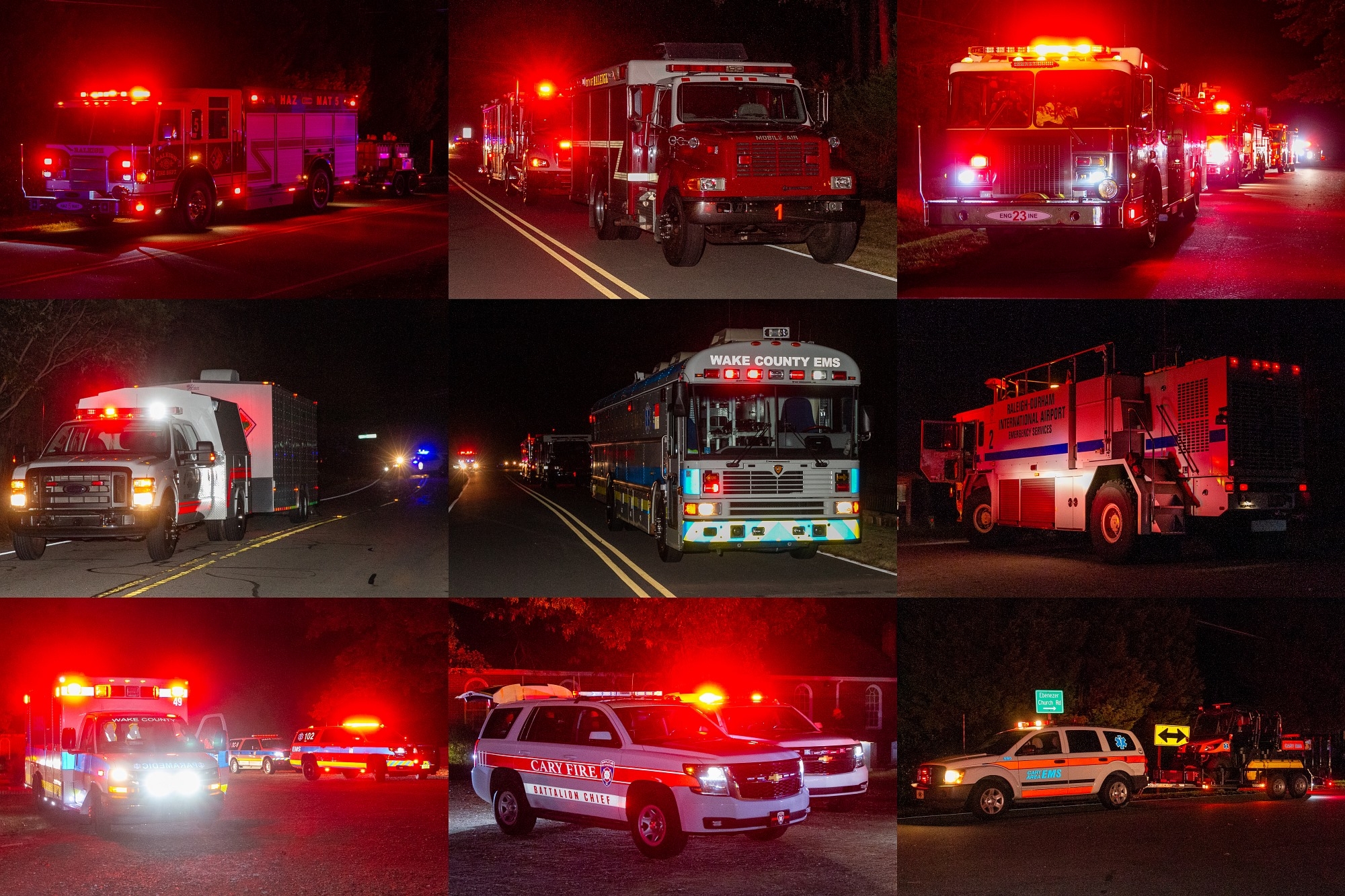 Photos
See Legeros photos from Sunday and Monday at legeros.smugmug.com/Fire-Photos/2019/2019-10-umstead-crash
Run Card
Here's the run card for Sunday night, with ongoing occasional edits:
Raleigh-Durham Airport Fire
CFR 1 [mini-pumper], CFR 2 [ARFF], CFR 10 [Deputy Chief, SUV], Car 1 
The airport was briefly closed, during the initial response of CFR units. The airport EOC was also activated, with CFR members present. 
Raleigh Fire
Engine 23, 24, 17, Ladder 9 [on reserve], Squad 14, Battalion 3, 4, Car 20 [Division Chief], Car 2 [Ops Chief]
Haz-mat assignment: HM1 [cancelled], HM2, HM3 + UTV trailer, HM5 + foam trailer
Added: Mini 3 + UTV trailer [picked up by HM3 en route], A1, Battalion 5
Rescue assets, special-called: Rescue 1, Squad 7
Battalion 4 was Fire Operations Command
Cary Fire
Engine 1, Engine 4, Ladder 1, Rescue 2, Brush 4 + UTV trailer, Battalion 1, 3, Car 2, Car 1
Units responded to the Harrison Avenue park entrance, with Car 1 and Bat 1 later responding to the command post on Ebenezer Church Road.
Durham Highway Fire
Brush 166, Car 16, Utility truck + UTV [special called?]
Wake New Hope Fire
ATV31 (pulled by new utility truck, not yet in service) [special called]
Wake County EMS
EMS 40, 42, 43, 49, District 5, 9 Medic 92, 94, Chief 200 [Shift Commander], Chief 102 [Ops Chief], Evac 1 [ambulance bus]
Durham EMS
[ TBD ]
Cary EMS
District 5,
Unit 580 [SUV] + Cart 5 [UTV] [special called?]
Other Fire/EMS
TBD
Additional Agencies
Wake County Fire Services – WC1 [on-duty fire marshal]
Wake County Emergency Management
RDU Airport Operations
RDU Police
Raleigh Police
Wake County Sheriff
State Highway Patrol
NC State Parks
NC Emergency Management