Edit history: Updated text references and file name of handout in the linked materials. They were provided by a concerned citizen, and not by the Fairview FD as originally noted. (July 21)
July 20, 2018
Audio recording (by Legeros) plus presentation slides (Wake County, Garner FD) and handouts (Wake County, concerned citizen) are available here.
Last night's fire commission meeting consisted largely of presentations, public comments, and discussion about a single agenda item: a proposed concept of closing Fairview Station 2 and realigning their insurance district for a new Garner fire station. 
There were some 75 people attending, an unusually large crowd. Plus three television cameras. Google for news stories.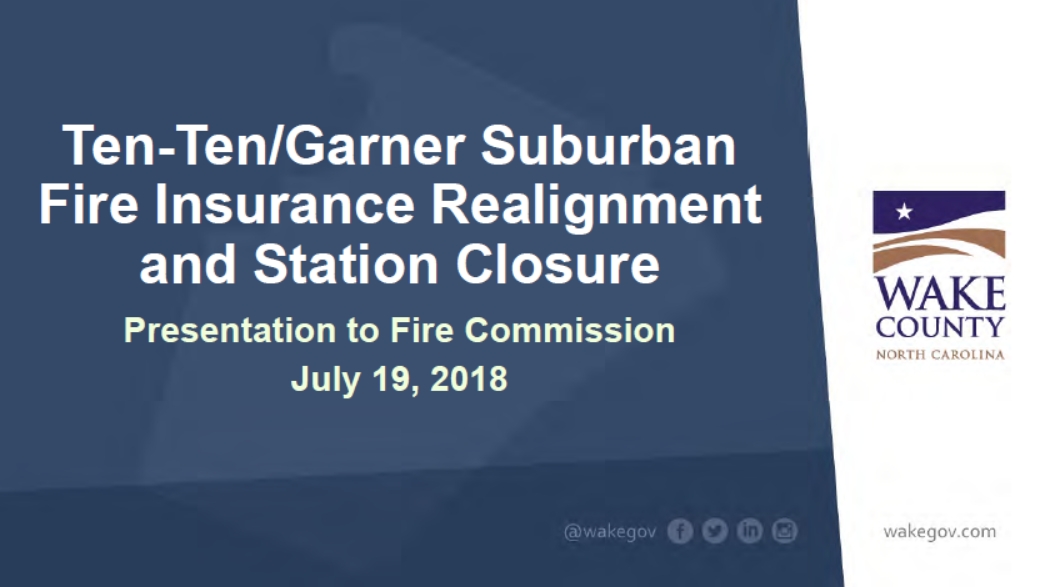 The (Somewhat) Short Version
Here's a summary of that proposal:
The Garner town limits on the west/southwest side of town extend to the intersection of Ten Ten Road and Highway 401. Though it's a small area, the town's extra-territorial jurisdiction (ETJ) is much larger, and covers a larger area north of Ten Ren Road, and east of Lake Wheeler Road. Here's a map, from 2017. 
The town and the Garner Fire Department (currently a private entity) have been planning for / projecting the need for a fire station in that area since 2010. The town expanded their ETJ, as noted above, into that area in 2016/2017.
Last year, GFD along with Fuquay-Varina Fire Department, approached the county, asking about their interest in a cost-shared fire station (county pays part) in that area, co-operated by both departments. 
Side Notes: FVFD has since withdrawn as a project partner. They need their next station to be located elsewhere, but are still interested in someday co-locating an FVFD at the station. Also, GFD is planning to merge with the town in/after 2022, the year that GFD expects to complete their accredit ion process. 
The town of Garner plans to add a fire station in that area, regardless of county participation. They expect likely annexation of areas in their ETH, at voluntary request by developers, as development ramps up with the approach of Interstate 540.  The resulting station would be very close to Fairview Station 2. Within two miles or less. Once opened, the county would contribute a cost-share to the station's operation, because of their cost-share agree with GFD, which is a contracted provider of fire protection outside the town limits.[1]
Thus Wake County Fire Services has proposed closing Fairview Station 2 after the new station is completed, and realigning the district so its covered primarily by the new Garner station. This would result in less cost to the county, than if both stations are open and operating. The resulting level of service (as calculated by the county) would be the same or better.
Side Note: With such obvious allowances as… person X who lives closer to FFD 2, will then have a longer response time from the new station; person Y who lives closer to GFD 5, will have a shorter response time from the new station.
The county requested feedback from Fairview FD, as well as the Fairview community. FFD delivered a prepared statement at meeting, from retired Fairview Fire Chief Ed Brinson. He's a 37-year veteran of the fire service, including two decades in Wake County. He's a former Swift Creek Fire Chief and the current Deputy Director of the North Carolina State Firefighter's Association. 
His prepared remarks contained numerous and specific criticisms of the county's concept, and their planning/processes in recent months. He also recommended an alternate course of action. Open the new Garner station, collect data for a few years, and then review the data to determine if closing Fairview Station 2 and realigning the response district will indeed produce the desired equal or higher-value level of service. 
Public comments from Fairview residents echoed both these criticisms and concerns, as well as praise and appreciation for Fairview FD. One concerned citizen also provided a handout, with specific concerns. It's included among the materials available here.
The Wake County Fire Commission has been asked to vote on two things. Approve or reject the Fairview closure/realignment concept. And approve the cost-share participation with the Garner station construction. The commission has tabled their vote until at least August, when a special-called meeting will be conducted.
And that's what Legeros gleaned from the meeting and the meeting materials. Will update with slight edits, as clarity or corrections require. 
[1] Even if the county declines to cost-share for the building of the station, they'll cost-share the operation of same, as long as GFD is a contracted county fire protection provider. 
The Long Version
Listen to the audio recording files, by Legeros, using his phone, of the following:
Presentation by Wake County Fire Services Director Nick Campasano
Prepared remarks by retired Fairview Fire Chief Ed Brinson
Public questions
Public comments
Presentation by Garner Fire Chief Matt Poole
Remarks by Garner Town Manager Rodney Dickerson
More remarks by Director Campasano
Questions, comments, and discussion by Wake County Fire Commission members. 
See the meeting materials which include audio, presentation slides (including some annotations by Legeros), and handouts.
July 13, 2018
The Wake County Fire Commission meets on Thursday, July 19, 2018, at the Wake County Emergency Services Training Center,  220 S. Rogers Lane, Suite 160. Meeting starts at 7:00 p.m.
Agenda is below, and includes the "Insurance District Realignment and Station Closure" presentation  about a proposed concept with impacts to Fairview and Garner fire departments. The concept's core points are (a.) realigning the Ten Ten and Garner Suburban fire districts, (b.) adding a new Garner station, and (c.) closing Fairview Station 2.
See slides in the supporting documents in the agenda packet.
Agenda
Meeting Called to Order: Chairman Chief McGee

Invocation
Pledge of allegiance
Roll of Members Present

 Items of Business

Approval of Agenda
Approval of Minutes March 15, 2018 Meeting
Approval of Minutes April 26, 2018 Special Called Meeting

 Public Comments:
 Comments from the public will be taken at this time. Members of the public are invited to make  comment to the Commission, with a maximum of 3 minutes per person. A signup sheet for those who wish to speak during the public comments section of the meeting is located at the entrance of  the meeting room.
 Regular Agenda

Insurance District Realignment and Station Closure Presentation
Swift Creek Fire Request
Administrative Committee Scope
Administrative Committee Membership

 Information Agenda

Sub Committee Reports as needed
Fire Services Report

 Other Business
 Adjournment – Special Called Meeting TBD