This is a blog archives posting from October 2010. The page is corrupted on the old site, so we're re-posting here.
From a reader, here's what looks like a delivery photo (or at least a polished posed photo) of one of two 1986 EEI/Pemfab pumpers that served the city of Raleigh. Equipped with 1500 GPM pumps and 500 gallon tanks, they were delivered in late 1986, and assigned to Engine 3 and Engine 5. Read more about the engines.
More interesting, both were built in Raleigh. Did you known that a fire truck company was once located here? They were named Emergency Equipment Inc. (EEI), and we've blogged about them before, in this posting from 2009. Here's also an old advertisement we found.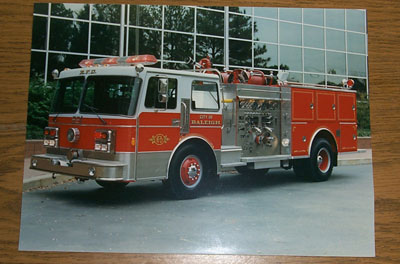 Emergency Equipment Inc.
Walt McCall's Illustrated Encyclopedia of American Fire Engine Manufacturers, published in 2007, contains information about EEI and its predecessor Atlas.  
EEI operated from 1983 to 1999. They built both custom and commercial fire apparatus, including "first-responder type mini pumpers," engines, tankers, pumper-tankers, rescue pumpers, and rescue trucks. Most of their custom rigs were built on chassis from Spartan Motors. Commercial chassis were specified by the purchaser. Pumps were built by Hale."
Their plant was located at 512 Pershing Road, and here's a Google Street View of same: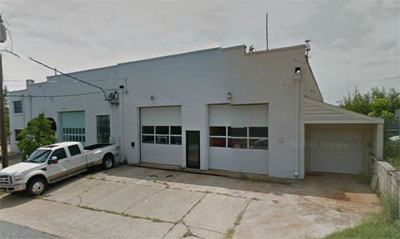 Before, They Were Atlas
Atlas Steel Products operated from 1959 to 1983. They built pumpers, tankers, and mini-pumpers on commercial chassis. They were acquired by Amfire in 1982 and renamed Emergency Equipment Inc. (EEI) in 1983. Looking at the Secretary of State's Corporation records for Atlas, their registered agent was D. O. Alexander. Was Atlas a successor or off-shoot of Alexander Welding in Raleigh, which also built some fire apparatus? 
The News & Observer published a story about the end of the company on June 8, 1999. The company's office was addressed 518 Pershing Road. They closed their doors on May 18, and noted on a notice that they had been "forced to cease doing business."
From biographical information about president Louis B. Alexander from 1989, the company had about a dozen employees. They "added hoses and other fire equipment to truck beds that were manufactured elsewhere." There were a number of fire departments with pending orders, and the story covered some of that pricklier ground. They were the state's only manufacturer of fire apparatus (at the time). Still true?
Reader Comments
Rescue Ranger – The ad lists the address as 1818 New Hope Church Rd. Google maps shows the location as the south side of New Hope Church,  across the street from the entrance to Walmart. However, looking at the 1988 aerial photo on iMAPS shows New Hope Church not built yet at that location. Any idea as to where the manufacturing facility was located?
R Delius – Some photos have a sticker EEI and the office and plant location as 518 Pershing Road (1988). Older Atlas photos were taken with the street sign visible Tarheel Drive and New Hope Church Road, now St. Albans Drive. Hub Cap Annie is across from the plant. Some photos without Atlas or EEI seem to be taken there.
Jason Lane – I rode this engine when it was Engine 7 in 1996, as a probie! Also when I was assigned to Engine 6, we stopped at an abandoned building that was their plant over near east Whitaker Mill Road, close to rail road tracks.
Rob Mitchell – Worked at the place in late 1981 early 1982. I believe New Hope Church took a turn then. It was called ATLAS Steel. They were just starting to make some tankers then. Their main business was making steel tanks for industry.
T. Brown – Swift Creek Fire Department purchased the first fire truck that Atlas Steel built. It was a 1500 gallon tanker mounted on a 1970 Chervolet.
Legeros – The old Atlas ad says 1818 New Hope Church Road as the address. That road is presently St. Albans Drive, no? And 1818 St. Albans Drive is a series of warehouse looking buildings at the corner of St. Albans and Tarheel Drive. Is that the old Atlas plant? Wake County tax records show the buildings at that address built in 1985, so perhaps the building used by Atlas is no longer standing?
Rob Mitchell – Yes, I believe they converted the plant into the buildings and changed the road.