+ 1 - 0 | § ¶
This Afternoon's Swift Water Rescue
Raleigh and Falls fire units on the Neuse River, responding in the vicinity of 3320 Canoe Brook Parkway. Dispatched as a drowning for Engine 22, EMS 15, Medic 93, and District 3. Kayak overturned in water several hundred feed upstream from behind that location. Boater found clinging to tree in midstream. Rescue 1 and boat trailer, USAR 801 (swift water rescue unit), and Battalion 1 added to call. Falls units also responded, along with additional EMS resources including EMS 66. Rescue 1 and USAR 801 responded to Falls Lake canon launch area, below dam. Boater reached by Falls firefighter in second craft. Two recovery points established downstream, behind Canoe Brook Parkway and at Capital Boulevard. Boater and firefighter brought to waiting units at first recovery point. Dispatched about 3:30 p.m. Pics soon. Click to enlarge:


+ 0 - 1 | § ¶
Budget Notes, 1949-1961
For your Sunday reading pleasure, here's a collecition of notes, information, and excerpts
for City of Raleigh fiscal years ending June 30 for their respective years. Some annotations are included, to provide context or explanation, and even ask a couple questions. Notable findings from the documents:
Apparatus. New and replacement rigs were often requested, and subsequently cut. The need to replace the 1939/1916 aerial ladder was recognized years before it's replacement arrived in 1958. Same for a second aerial ladder, for Station 5. Plus either expanding or rebuilding Station 5 to accommodate two companies. Second service trucks and squad trucks were requested, but never approved.
Assistant Chief, Second. That position was approved in the 1952-53 budget. The fire department previously had a second Assistant Chief from the 1920s through the mid-1940s.
Black firefighters. They are mentioned by the City Manager in the 1952-53 budget, and in the context of adding a company of black firefighters. This likely followed the lead of Winston-Salem, which added such a company in 1951. Another ten years passed before Raleigh hired its first black firefighters in 1963. Other cities adding black firefighters at that time included Durham in 1958, and Greensboro in 1961.
Bunker suits. They were approved in the 1949-50 budget year. Don't know if these were the first for the department, as "globe suits" were earlier purchased for personnel.
Fire Prevention Bureau. It was formed in 1949, but wasn't established as a separate city department in the budget until the 1950-51 budget year.
Helmets. They were approved in the 1950-51 budget year, and are likely the first helmets for the modern department. Until that time, personnel wore dress caps on scene.
Junior Captains. That was a rank listed in the 1949-50 budget year. Need to research that rank, and when it ended.
Pick-up truck. It was approved in the 1953-54 budget year. Previously, materials and equipment were hauled using either a chief's car or on apparatus.
Uniforms. They were changed to gray washable wear following purchase approval in the 1951-52 budget year. Personnel previously worse dress blues, which were retained for formal occasion.
Read the entire document
+ 1 - 0 | § ¶
Circus Vehicles
Morning explorations find more circus vehicles around town. Third set of rail cars along Hillsborough Street at the Fairgrounds. The shuttle bus moving between downtown and the circus camp. The transport trailers. Impressive operation! Wonder if they hire from FEMA for such logistical skills? See more photos.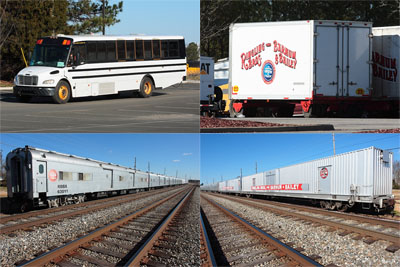 + 2 - 0 | § ¶
Circus Train
The Ringling Bros. and Barnum & Bailey Circus is in town and performing at the RBC Center. They travel by train, and their flatcars are parked on a siding along Hillsborough Street. Their coach cars are parked elsewhere. Can you identify this location? Google finds sundry facts about the train on this site. The trains have an average of 326 personnel, with 33 coach cars for performs and families, four custom animal stock cars, two container flat cars for concession storage, and 17 piggyback flat cars for equipment, props, and vehicles. Total time to unload? Six hours. Click to enlarge:


+ 1 - 0 | § ¶
Blocking on Glenwood Avenue
Engine 23, Battalion 4, EMS 123, and Raleigh Police at a motor-vehicle accident west of Ebenezer Church Road late this morning. Photos posted. Click to enlarge:


+ 0 - 1 | § ¶
Mystery Trestle
Hint, it's located near railroad tracks.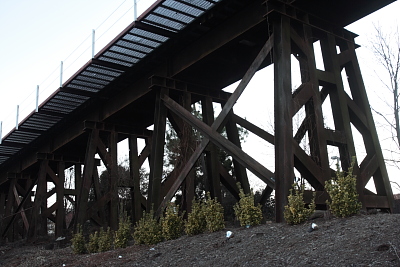 + 0 - 1 | § ¶
Razzing vs. Hazing - The Quiz
We've been having a healthy discussion on hazing, which was started a couple days ago. What's hazing, what's not hazing. What's to be expected, what's out of bounds. Etcetera. And we've reached some consensus on concepts and language. To facilitate further discussion-- or perhaps just some level-setting-- we've created an accompanying survey. Razzing versus hazing. Thirty examples of behaviors, which you can classify as razzing, hazing, not sure, or neither. Survey closes in one week. Results analyzed afterward.
+ 0 - 1 | § ¶
Raleigh-Wake Emergency Communications Annual Report
For your Friday reading pleasure, here's the 2009 annual report

(5.8M) from the Raleigh-Wake County Emergency Communications Center. They've produced a fine end-of-calendar-year document, and that reviews their staff and organization, their stats and accreditation, honors and awards, training and recruiting, and more. Very nice document, and some good stock photography, too! See the official site for earlier annual reports. This document will be added in the future, and after some site updates are made. Click the cover to read the PDF document:


+ 1 - 0 | § ¶
Dam Annoying Idea, Neighbors Say
Today's News & Observer reports on plans for a whitewater park at the bottom of Falls Dam. It's the perfect playground, say proponents, with three-foot waves to thrill kayakers. Just added a couple boulders and some other underwater features, and the thing'll be perfect. Neighbors in the nearby historic condos are less excited. They aren't fans of adding non-native boulders to the river, nor the idea of shifting water out of the north channel and into the south channel. Of course, the river right there's already been messed with, when the dam was built in the late 1970s and early 1980s. We're just happy that the opportunity for a punny headline presented itself. Read the story.
+ 0 - 1 | § ¶
Yesterday's House Fire / South East Street
As this NBC17 story reports, yesterday afternoon's house fire at 527 S. East Street prompted a pre-arrival assist from neighbors and passers-by, who rescued two people from the two-story structure. They grabbed and ladder and helped a woman down who had escaped to a first-floor (?) roof from the smoke-filled second story. Another person rescued a wheelchair-bound man from the porch. He was transported for evaluation. Engines 1, 13, 2, 5, Ladder 4, Rescue 3, Battalion 2 (command), Car 10, Car 20, Air 1, EMS 2, EMS 1, EMS 55, Medic 94, and District 1 (first arriving) responded. It was dispatched about 4:42 p.m. The fire started in a bed in an upstairs room, report investigators. Read a second account on WTVD, which include aerial and ground photos. The 2,944 square-foot, wood-frame structure was built in 1920, say tax records.



WTVD photo
+ 0 - 1 | § ¶
Back in the Day
Speaking of station life, here's a rare photo. This is the apparent combination kitchen and dayroom at old Station 3, which existed at 135 E. Hargett Street from 1913 to 1951. The image dates to the early 1940s. Don't know who's who. Cards and Coke, it appears. There's a floorplan and exterior photos available on this station page. The 1898 structure was demolished in 1952, and replaced with... a parking lot. Click to enlarge:


+ 1 - 0 | § ¶
Upcoming St. Baldrick's Events
February 27 - Hibernian Restaurant & Pub - Raleigh

March 6 - Napper Tandy's Irish Pub - Raleigh

What other teams are participating, and what other events are happening? Shear pleasure that supports a good cause.
+ 0 - 1 | § ¶
Hazing?
Discussion topic for the day. Hazing in the fire service. Which we'll define as tough treatment for newcomers. Presumably not abuse. Perhaps not even accurately labeled as hazing. If that's the wrong word, please advise. Language police, there's your opening.
Hazing of probies is a tradition. "Hey new boy!" However, not all traditions are good. Does hazing add sufficient value to the (modern) fire service to merit the continued practice? Let's weigh some pros and cons.
Pros? Continues a tradition. You were treated that way, and you get to treat that way. Also, tests the stress-handling ability of an incoming personality. (That's the argument, right? If they can take the heat at the station, they'll better take the heat at a fire?) Also, may teach or condition humility (right word?), which helps facilitate knowledge transfer from the old guys to the new guys. (Probies as apprentices, in a concept swiped form a book on fire service sociology that I am probably misremembering.) What else? Any military comparisons to be drawn, from those in or familiar with the services? Ditto for other occupations?
Cons? When things go too far. Ha, but that never happens, right? And that one's certainly a generational sliding scale. Oh, the scary stories the older guys tell. Another is when the outside looks in, when the public or press or officials observe behaviors and see something more harmful or dangerous than those hazing think it is. (Might be an oxymoron alert, there.) Another involves differences. When the new person is "different" than the older ones-- by color, creed, worship, gender, etc.-- there's the potential for misperception. "They're treating me this way because I am ______." That one, that last one, seems like a biggie. If everyone but one is in on the joke, is it still right? Or, more importantly, is it still the preferred means to that end?
Hazing. Good or bad? Useful or harmful? You tell me.
+ 1 - 0 | § ¶
Wake County Apparatus Rosters, 1994
Random artifact, Wake County fire department rosters from 1994. Don't know the purpose of the document. Would have been neat had Cary, Raleigh, and Raleigh-Durham Airport been included. Notice the municipal Zebulon Fire Department is also omitted. Click to read the PDF scan:


+ 0 - 1 | § ¶
Chemical Suicides and First Responder Safety
As comments to the prior posting indicated, Sunday's haz-mat incident in Cary was reportedly a chemical suicide, where arriving units found a vehicle with warning signs indicating the presence of hazardous material. Read WTVD story. So what's a chemical suicide, and what should responders be aware of?
Google finds these PowerPoint slides from the Wrongful Death & Injury Institute Inc., from a presentation given and/or sponsored by the Saline County Sheriff's Department in Marshall, Missouri. The content includes information from the New York State Office of Fire Prevention & Control, Hazardous Materials / Homeland Security Bureau. Below is a summary of salient points found in the excellent presentation. Kudos to the author(s).
Chemical Suicides
Recent trend in Japan.
People mix household chemicals to create deadly hydrogen sulfide gas.
They use small rooms or confined spaces, and affix signs warning responders.
Gas can spread and sicken others in vicinity.
Instructions readily available on Internet.
Warning Signs For Responders
Vehicles, residential bathrooms, and small spaces where gas quickly reaches lethal concentrations
Vehicles with clear and obvious warning signs, or with less-obvious warning signs laid on dashboard.
Open containers, pails, buckets, pots, or other containers where chemicals have been mixed.
Signs that a chemical reaction has been initiated.
READ MORE
+ 1 - 0 | § ¶
Raleigh City Council Fights Over Lightner Public Safety Center
The Independent Weekly has another good article on the city's public safety center project, and a detailed summary of the seven objections raised by a trio of City Council members. As writer Bob Geary notes, the three members first broached the issues softly, but became more vocal at last week's meeting, where they denounced both the project and the process. The council attempts another vote on March 5, which is the fifth time it's been listed on the meeting agenda. Read the article.
+ 1 - 1 | § ¶
How To Receive E-mail Alerts of New Blog Postings
If you didn't know, you can receive e-mail alerts each time a new topic is posted to this blog. You can even receive e-mail each time someone posts a comment in reply. Here's how:
Scroll to the bottom of any blog topic.
Locate the Post Comment and Preview Comment buttons.
Click the link to the right of these buttons labeled (Register your username / Log in).
The Log in as a registered visitor page displays.
Click Register a new username.
Complete the fields.
Click Register.
You'll be sent an e-mail to confirm your registration. Follow the link, and log into the blog to activate your account. Let me know of questions.
+ 2 - 0 | § ¶
Night and Light
Motor-vehicle accident with injuries and extrication on Creedmoor Road and Milbrook Road with Engine 16, Ladder 3, Rescue 3, Battalion 4, EMS 3, EMS 121, Medic 94, and District 4. Dispatched a little while ago. More later.


+ 1 - 1 | § ¶
MDCs and AVLs and Fire Departments
While we continue discussing old-school dispatching in this prior posting, here's an open thread on mobile data consoles (MDCs) or mobile data terminals (MDTs), as well as automatic vehicle locators (AVL) as they are or could be used by fire departments in Raleigh, Wake County, and surrounding areas. Mobile consoles are already here. Cary rides with 'em. Raleigh's installed a couple so far, plus those in Battalion Chief''s vehicles. Morrisville has 'em, and Apex is getting them. Who else? (And how are they used, and how well are they working?)
Next question, AVL. The Wake County EMS System effectively utilizes automatic vehicle location because, among other things, all ambulances are apples to apples. They're all paramedic ambulances, and each with minimum staffing. Enable AVL for fire departments and some service levels or unit criteria would probably be required. You'd want a minimum staffing assurance, so you get the same water + tools + people no matter where a fire unit was automatically located. Uh oh, might have crossed into dying horse territory there! Next obvious question is jurisdictions, and implications therein. Wonder if AVL is better within a single district (or system), than across multiple? e.g., fine for Raleigh or Cary, but maybe more challenging across multiple departments?

+ 2 - 0 | § ¶
Massive Live Burn in Duplin County
That's the accurate headline of the day, from FireNews and about the recent burning of Chinquapin School and Teacherage in Duplin County. The 85 year-old structure on Highway 41 was scheduled for demolition. On Saturday, February 6, ten fire departments and over 120 personnel participated in exterior and interior drills. The day ended with the big burn, and a large crowd of spectators, as the Wallace Enterprise reports. Burning the structure, they note, saved the county some $30,000 in landfill fees. See more photos on FireNews. The Beulaville Fire Department also has a few "before" photos on Facebook. Search "Beulaville Fire" to find their page.


Susan Johnson / FireNews photo

Beulaville Fire Department / Facebook photo
+ 1 - 0 | § ¶
Statesville Fire Chief Dies While Fighting Blaze, 1936
On Sunday, November 16, 1936, Statesville Fire Chief W. L. Neely, 53, died while fighting a fire at the home of G. E. French. Chief Neely was apparently overcome by heat and smoke while in the attic of the house. He was dead by the time he was brought to the yard, with the cause of death declared as a heart attack. Chief Neely had had heart trouble for some time. The funeral was held at his residence on Davie Avenue on Tuesday, November 18, and burial followed in the family plot at Oakwood Cemetary. William Lloyd Neely was born in Rowan County, but had lived in Statevilles since childhood. He had served in the fire department for about 25 years, including a number of years as Assistant Chief and Fire Chief. He was a former city tax collector, and had worked in the retail grocery business for many years. He was survived by a wife and ten children. Source: News & Observer, November 16, 1936.
+ 0 - 1 | § ¶
Helmets Approved in Budget, 1950
This week we're digging through a couple decades of budget documents, notably 1949 to 1961. Quite a few finds have been found. From recommended staffing levels, to expanded command staff, to even a proposed company of black firefighters. We're planning to post excerpts, as well as a full collection comments, at a later time. Today, let's turn to PPE, specifically helmets.
We've written about RFD helmet history before, and included photos. During the first half of the 20th Century, city firefighters wore dress caps at fire scenes. That's what's seen in photos, and what the oldest retirees remember. From the budget docs, helmets were proposed at least as early as 1949. The proposed expenses for the fiscal year ending June 30, 1950, included $1,520 for "firemen's helmets." Not approved.
The budget for the following fiscal year, 1950-51, expanded the description: "73 helmets for men already employed. These helmets are considered essential for the men to give them as much protection as possible when combating fire and being in dangerous places." The $1,205 expenditure was approved, along with "uniforms, shirts, bunker suits, boots, etc. for men already employed."1
So there we have it, helmets approved and presumably purchased after June 30, 1950. That aligns with this historic film footage, for example, which shows helmets in action on November 25, 1950, at a fire at St. Augustine's College. Other old media should also confirm.
1Bunker suits and boots, does that mean that the first PPE was also acquired at that time? Not sure. The News & Observer on January 1, 1944, reported the arrival of a shipment of waterproof "globe suits," which had been ordered that fall. Don't know if all personnel were issued same. Don't know if boots were issued as well. To be determined. Additionally, in days of very old, Raleigh's volunteer firefighters had rubber coats, or some companies did. Don't have specific years or decades at hand for citation, however.
+ 1 - 1 | § ¶
Funny Sign
Seen Sunday in the rear window of a red Toyota on Interstate 540. The driver appeared in full control of their accelerator.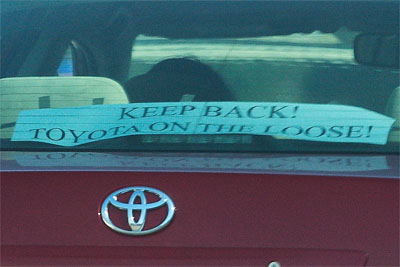 + 2 - 1 | § ¶
Old School Dispatching Starts at Midnight
Remember the days before computer-aided dispatch, when fire and rescue units were dispatched by station? We're talking circa 1982. Before AVL. Before locution. Before alpha pagers. If those old radios could talk, right? Get ready for a blast from the past at midnight, when all CAD functions go offline for a long-awaited hardware and software upgrade. The outage is expected to last until 0900 tomorrow, Tuesday morning. It's old school on the radio. Pull up your easy chair, and enjoy the memories. Then go get on the truck.

+ 2 - 0 | § ¶
Morrisville Fire Department CERT Team Gets Grant
As this Cary News story reports, the town of Morrisville received a $6,378 grant from Homeland Security, which will be used by the fire department for the Community Emergency Response Team (CERT). The money will purchase equipment including portable radios, safety vests, hard hats, and goggles. Morrisville's CERT team was formed in 2006. Members must complete a four-day, 30-hour training program that educates on topics ranging from fire safety, first aid, and search and rescue. They have 40 members. Read the article, or read about the national CERT program.
+ 0 - 1 | § ¶
Yesterday's Haz-Mat Incident / Cary Reserve Drive
FireNews Incident Reports posted some details on yesterday morning's haz-mat incident in Cary. Dispatched 11:00 a.m. at 2000 Cary Reserve Drive. Incident involving hydrogen sulfide. Units on scene included Engine 7, Truck 7, Battalion 1, EMS 54, EMS 52, Medic 95, and District 5. Raleigh responded with a haz-mat team as well. Haven't found any news coverage on web sites, yet.
+ 0 - 1 | § ¶
Durant Road EMS Station
Construction is underway on the Wake County EMS Durant Road Station, located in the 10000 block of Durant Road. Details of the building are available on the architect's web site, which note that the facility will feature two back-in vehicle bays and house up to two EMS crews. The living quarters are a space-saving multipurpose room, that combines kitchen, dining, day room, and office functions. Read more.


+ 1 - 1 | § ¶
The Year in Photos, The Year in Numbers
We're doing a little archiving this morning on the photo site. Moving the December photos of Mike's from the home page to the archive page. Lee's photos already live on a second site, and are easily found via his archives. (Though the oldest-to-newest sorting of Flickr archives is certainly annoying. And does not appear to be changeable.) People occasionally ask "how many photos did you take" or "how big are your archives." Let's take a peek at my files from last year:
309 folders, which represent individual incidents, events, or occasions for picture-taking. Nearly all are local. Travel photos not included.
189 folders feature RFD, and mostly with other agencies, most commonly Wake EMS and Six Forks EMS.
15,019 original photos, Canon RAW format. Not necessarily all posted for a given incident or event.
16,121 posted photos, JPEG format. Travel photos included.
180GB estimated file size of original photos.
4.5GB estimated file size of posted photos.
And how many hard drives are involved in said storage? Two primary, with back-ups for both, plus an off-site copy. Still working on optimum solution there. Preferably I'd have active clones. Need to make that happen some time.
+ 0 - 1 | § ¶
Night in the City
That's EMS 8 arriving in the 500 block of East Lenoir Street, where Engine 3 and District 1 are tending a patient with a puncture wound. That is, a stabbing. Plus a number of police officers, including a four-legged patrolman. Early evening incident, about the same time as the jump and run on Trawick Road. WRAL says they're still looking for that person.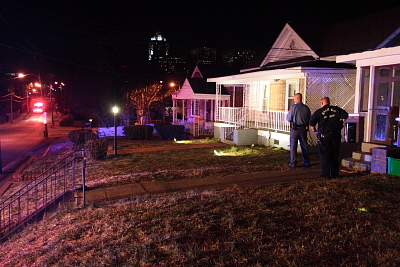 + 1 - 0 | § ¶
Mystery Meal
Whose chicken is awaiting their return from a fire alarm? Hints: the bird was grilled, and served with baked beans and broccoli.


+ 1 - 0 | § ¶
Chief Lloyd's Budget Notes, 1948
Budget documents are great. They're valuable perspectives for the public into the operations and organization of government. They're great aids for historians, who seek to piece together the prior infrastructures. Below is the budget note from Raleigh Fire Chief Alvin Lloyd, for expenditures estimated for Fiscal Year 1948-49. This appears to be a working document, used to submit an approved budget. The final approved figures were added in handwriting. Enjoy.
City of Raleigh
North Carolina
City Operation Fund
Expenditure Estimate for the Fiscal Year Ending June 30, 1949

Department Name - Public Safety
Division Name - Fire

Explanatory comment by department head or city manager

You will note that I have requested that members of the Fire Division be given an increase in salary, which, after careful investigation, I find is comparable with other cities in the state. Due to the increased cost of living and the fact that the firemen average 12 working hours for the year round, I feel that this increase is well deserved. I feel that this increase in salary will be an inducement in obtaining better material and men of height and character for the Fire Division.

I would recommend that the future employees of this division have at least an education of finishing the tenth grade. I have asked that the entrance salary be increased to $180 per month for the first 90 days and at the end of that time to be increased to $190 per month for the following nine months, then they will increase to $200 per month for one year. At the end of two years they will increase to $215 per month, which will be the maximum salary for firemen. Increased responsibility deserve a small increase over the regular firemen's salary.
READ MORE
+ 1 - 1 | § ¶
Fishbowls?
Friday discussion topic.
What are the best/worst stations for the fishbowl effect? With windows and people on all sides? Raleigh, Durham, Wake, anywhere.
And a meta-question. Are high-visibility fire stations better for communities? Is there a sweet spot between "out there" and "tucked back?"
+ 1 - 2 | § ¶
Legeros Blog Facebook Page Created
We've created a Facebook fan page for this blog.
Simply search on Legeros Blog and join as desired.
We'll try some discussion topics there, and see what happens.
+ 1 - 0 | § ¶
Raleigh Fire Department Reorganizes, 1971
In the beginning there was a Fire Chief, Assistant Chief, and two companies of firefighters. That was 1912. Two platoons were created in 1924. A second Assistant Chief was added about that time. Support staff slowly appeared. Secretaries. Telephone operators. Mechanics. Fire alarm system technicians. Inspectors were added after the creation of the Fire Prevention Bureau in 1949. And they kept building stations, and kept adding firefighters. By 1971, the organizational structure was ready for reevaluation. The North Carolina League of Municipalities was contacted, the fire department was surveyed, and a report returned. It recommend a reorganization, which shifted Assistant Chiefs to day duty, added District Chiefs, and resulted in other changes.
For your Friday enjoyment, read the story that reorganization
.


+ 1 - 0 | § ¶
Photos From Clinton / Roof Collapse
WTVD has posted aerial photos from yesterday's roof collapse at a church in Sampson County, with views of the scene from all sides. The Sampson Independent is also reporting on the story. Their photo is ground-level and has the church sign in the foreground, which bears the ironic (?) message "God's speaking, are you listening?" It's all about composition.



WTVD photo
+ 1 - 0 | § ¶
Photos From Austin / Plane Crash
The Austin American-Statesman has a gallery of strong photos from yesterday's plane crash in Austin, TX. They include aerial views, with a good perspective of entire incident area. View the photos. Wonder what the response was, in alarm levels, companies, and special units? Let's ask on the Firehouse forums. Maybe we'll get answer.


Alberto Martinez/Austin American-Statemans Photo
+ 0 - 1 | § ¶
Lakeview Drive, 1997
Here's a new old photo recently found. A neighbor took this picture of a 25,000 square-foot mansion overlooking Carolina Country Club, that burned on December 19, 1997. The three-level structure at 2745 Lakeview Drive was reported ablaze about 5 a.m. that Friday morning. It had been under construction for a year, and was nearly complete. The home was worth at least $3 million, and included a 20-seat movie theater. Two alarms were struck. Units on scene included E9, E11, E16, E4, T16, T1, R6, R7, C51, C53, SR5, C5, C4, C3, C2, C1, C10, C198, and T8 and E14, both special called. Companies remained on scene the entire next day, with new recruits also on scene. Click to enlarge:


+ 0 - 1 | § ¶
Dilworth Fire Station - Back in the Day
We posted this photo in December 2008, but it bears re-posting. It's the Dilworth Fire Station in Charlotte in the 1920s. That's an American LaFrance Service Truck. By 1929, CFD had four of them, and three of which also carried hose. Don't know if they were quads, equipped with pumps, or just combination trucks, equipped with chemical tanks. Can't quite tell in this photo. Based on Sanborn Map descriptions, however, I am guessing they're combination trucks only. No pumps, or they'd be listed on the map descriptions. And they're not listed with any pump capacities included. But I am prepared to be corrected! Click to enlarge:


+ 0 - 1 | § ¶
Sales Tax Suggested to Improve Emergency Services in Cumberland County
From a reader, yesterday's Fayetteville Observer published this article about a proposed sales tax in Cumberland County, to fund a five-year upgrade plan for ambulance service, fire protection, and emergency communications. The plan is part of a report that's been a year in the making. Public safety officials say that, if the sales tax were approved, elected officials should then reduce property taxes. Thus, getting consumers to pay more, and property owners to pay less. They estimate the switch would save business owners and homeowners nearly $30 million a year.
However, approving a sales tax would probably require approval of both state legislators and county voters, says the County Manager. And distribution of the new funds should be approved by a public safety commission, they suggest. The story also reports some of the challenges faced by responders in Cumberland County, including multiple communications centers, and long response times for ambulances.
Read the Fayetteville Observer story.
View the Public Safety Task Force report
and presentation
, downloaded from the county web site.
+ 0 - 1 | § ¶
Historic Landmarks Commission to Fire Station Owner: Name Your Price, Dude
The power of the press. The owner of Charlotte's Dilworth fire station has extended his deadline for the Historic Landmarks Commission to reach a solution, and keep the beloved building from becoming a pile of bricks, reports this morning's Charlotte Observer. He's citing public interest. No duh, given the likely outcry that accompanied Monday's article1. Not mention that FireNews cascaded the story statewide. Wonder how many calls or e-mails both sides received?
There were many pages of comments on the story's web site on Monday, though none are present this morning. Wonder what that's about?2 As this morning's story reports, the owner told the Observer that he feels he's being unfairly portrayed. "I did the right thing. I could have just torn it down if I wanted to," he said. "I don't want this torn down." Fair enough. Today's story also adds more history about the financing of the property. It will be interesting to see what happens next. Crossing our fingers for preservation. Read the latest.
1Observe that Mr. Blogger has abandoned his dryer style of reporting for more colorful prose for these stories. Let's hope he's also being accurate.
2Maybe comments only appear during business hours, when they can be moderated? Maybe readers were a little, um, too passionate, and the whole thread was removed? They certainly represented a range of perspectives and opinions!
+ 1 - 0 | § ¶
Building Around Old Stations
The story of Dilworth fire station dilemma in Charlotte makes me think of Engine 6 in Washington D.C. Their old station, which operated from 1855 to 1974, has survived by being "built around." The historic structure is located on 438 Massachusetts Avenue NW. Learn more about historic DCFD houses, which was Mike's project last summer, while passing through on his way to Baltimore. Click to enlarge:


+ 1 - 0 | § ¶
Apex Offers Rewards For Tips On House Fires
As this WRAL story reports, the Apex Police Department today offered a $10,000 reward for information that helps nab those who have torched homes in the Olive Chapel Road area. Early Saturday morning, a home in the former L'Hermitage at Beaver Creek subdivision was set ablaze. Another home there was destroyed on September 9. (See my photos of that subdivision, which was abandoned by its original builders.) That community is now called Olive Chapel Park. On October 18, a home in the Chapel Ridge subdivision was also destroyed. All three homes were unoccupied, and thus believed suspicious.
+ 0 - 1 | § ¶
Discussing the Public Safety Center
While we digest today's reports of the latest city council discussions on Raleigh's proposed public safety center, some supplementary reading is presented below. These are City Council meeting minutes, as posted on the city's web site. The first heated discussions about the project started in December. Page numbers are indicated, to help with finding.
+ 1 - 0 | § ¶
Capital Hose House
As referenced in recent comments, Raleigh's Capital Hose House is the oldest fire department structure still standing. It's also the only one from Raleigh's vollie days. The building at 117 W. Morgan Street was built in 1887. That's when the city's water system was completed. The Capital Hose Company ran a hand reel out of the building. There was a single bay on the right side, as facing the structure. Upstairs was a fireman's hall. The first floor also housed the office of the water company.
The hose company moved across the street to 112 W. Morgan Street in 1890. That station was razed in 1896, when the Headquarters Fire Station was completed on the site. By that time, the Capital Hose Company was horse-drawn. They operated until the creation of the paid department in 1912. The historic building is presently an office. The adjoining water tower is listed on the National Register of Historic Places. This photograph was taken a few years ago. Read more about Raleigh's historic fire department buildings.


+ 1 - 0 | § ¶
Dramatic Photo
Found on Statter911, published by the New York Daily News, and taken by Maya Tucker, the neighbor of a Bronx apartment that burned Monday. Firefighters rescued the infant, along with the child's cousin-- who dangled her out of the fifth-floor, barred window, so she could breathe-- and eight other relatives in the apartment. Dave Statter also has fireground audio to accompany the photo.


+ 1 - 0 | § ¶
Charlotte's Dilworth Fire Station to be Demolished
The hits keep coming for historic station buildings in Charlotte. First, their fire museum was forced out of Old Station 4 on Fifth Street last year, as we blogged about. The property owners had grander (more profitable?) designs. Now comes news that Old Station 2 on South Boulevard will be giving up the ghost. FireNews found this Charlotte Observer article with the details. (And with ten pages of comments, so far! Will read those later.)
The building is empty, and sits beside a "luxury condos." It's also nearly exactly across the street from the newer Old Station 2, now used by the Arson Task Force. The city and county have offered to buy the property, but the owner said no. They offered $950,000; he thinks it's worth more. Such as the $1.6 million sale price offered in 2007, when the property was previously on the market. It was bought for $828,000, in 2006. So he wants to demolish the thing, and sell the parcel to a developer. Read the story for more.
The Dilworth Fire Station-- named for the city's first suburbs that the station served-- is the only horse-drawn station still standing in Charlotte. It opened in 1909 with three men, two horses, a combination chemical and hose wagon, and a steam engine. Motor apparatus arrived in the city in 1912, and the last horse-drawn rig was retired in 1917. Station 2 relocated across the street in 1948, and again six blocks south in 1982.
Read more about CFD stations, as explored and photographed by Mr. Blogger a couple years ago. (Thus the below image with for sale sign.) Charlotte has eight former fire department structures still standing, as well as three early twentieth-century stations still in operation. Or see a database of historic fire stations around the state.


+ 0 - 1 | § ¶
Fire at the County Home, 1897
Our friends at Olivia Raney Local History library found this article about a fire at the old county home, as reported in the August 8, 1897 edition of the News & Observer. The home and farm was located on what appears to be the present-day site of Brooks Elementary School, on Northbrook Drive just west of Rampart Street. See the map included after the article.
FIRE AT THE COUNTY HOME

Barn, Stables, Horses, Hogs, Tools and Vehicles Destroyed by Fire

Between 10 and 12 o'clock Wednesday night the northern heavens were lurid. It was evident that there was a big fire in that direction, but it was not known until yesterday, when Mr. C. B. Ray, the superintendent of the County Home, reached the city, that it was property of the county that was being consumed.

The large barn and stables, with all their contents, were burned, and but for the prompt and heroic assistance of the people who live nearby, every building on the place would probably have been wiped out. The total loss is between $2,000 and $2,500, with only $300 insurance.

The loss falls upon four different parties--the county of Wake, Supt. Ray, Overseer J. L. Pugh, and Mr. W. S. Ray.

The loss to the county is about $2,000, consisting in three fine mules and one horse, nine hogs, one feed house and stables, one shed for wagons and a shed for buggies, two corn cribs, one cow stables, sixty barrels of corn, seventy-five bushels of Irish potatoes, all the plow and wagon harness, over three thousand pounds of shucks, one hundred shocks of oats, all the plows and harrows, a mower, a corn planter, a seed drill, a top buggy and harness.
READ MORE
+ 0 - 1 | § ¶
Downtown's Southern Streets - 1945 to Present
Random conversation at Station 1 on Sunday. What did downtown's southern streets look like before South Saunders Street was extended to meet McDowell Street? Four maps are provided below, two from the city of Raleigh dated 1945 and 1961. The third is a Segger Map excerpt from 1996, showing the completed South Saunders Street extension. The fourth is a Google Maps satellite view. Click once or twice to enlarge all.


Next step, maybe find some vintage aerial views at the State Archives. Memo to self, do that some time. Notice that quite a few streets have gone to that great highway in the sky:
Battle (Street?)
Boylan Drive
Briggs (Street?)
Carroll (Street?)
Cannister Street
Cannon Avenue
Cannon Street
Center Street
Dodd Street
Cuba Street
Frances Place
Grape (Street?)
Hayti Alley
Hill Street
Jenkins Street
Johnson Alley
Manly Street
McKee Street
Mt. Hope Drive
Pugh Street
Railroad Street
Ross Street
Shaw Court
S. West Street (from W. South to Jamaica)
+ 3 - 1 | § ¶
Yesterday's Mass-Casualty Incident / South Salisbury Street
Saturday morning saw emergency personnel converging on the Raleigh Sheraton. Dozens of students attending a conference were complaining of nausea, vomiting, and diarrhea. Conference rooms were converted to triage and treatment areas. Ambulances lined South Salisbury Street. And by that afternoon, those dozens of students had been evaluated, with many treated on scene.
The first call was reported about 9:30 a.m. as a patient with respiratory distress at 421 S. Salisbury Street. Engine 1, EMS 1, and Medic 94 were dispatched. Upon arrival, they learned of approximately 150 juveniles complaining of stomach and intestinal distress, believed caused by food poisoning. The original call was also determined as a patient with the same symptoms.
Recognizing the scope of the incident, the APP unit requested a third-alarm medical response, which added 13 paramedic ambulances along with three District Chiefs, an additional APP unit, Truck 1, and MD 1 (Medical Director).

The fire department quickly concluded that hazardous materials were not involved, and command was transferred to the first-arriving EMS District Chief, District 1.
Following their Mass Patient Protocol, hotel areas were designated for incident functions, including the command post (first-floor room), triage (second-floor meeting room), and treatment (third-floor ballroom). As the Public Information Officer later explained, EMS made the decision to treat in place, instead of overwhelming area hospitals.
Apparatus and vehicles staged one block north on Salisbury Street, which police had closed. Fayetteville Street, on other side of the hotel, was also utilized as additional staging. The Transportation sector was designated as Salisbury Street, in front of the hotel.

READ MORE
+ 2 - 1 | § ¶
Upcoming History Talks
Short and long versions of a history talk are coming to a venue near you. Dates and times are below. See last year's presentation slides
for a preview. Or read more about North Carolina fire history.
May 11, 2010 Moved to November
6:30 p.m.
Zebulon Fire Station TBD
Wake County Firefighter's Association Quarterly Supper/Meeting
Highlights of North Carolina firefighting history, 30 minutes or abouts.
August 13, 2010
Time TBD
Raleigh Convention Center
Workshop on North Carolina firefighting history, 90 minutes.
+ 0 - 1 | § ¶
Snow Tractor
Morning in Cary. Behind Fire Station 4. Technical rescue truck, to replace the trailers that carry confined space equipment.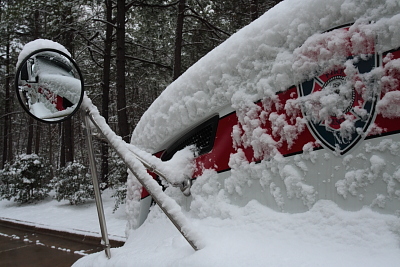 + 1 - 0 | § ¶
Mass-Casualty Incident, 1977
While we await the final details on this morning's mass-casualty incident in downtown Raleigh, let's look back at the summer of 1977. On the afternoon of Thursday, June 30, as many as 200 people became sick from apparent food poisoning at the Royal Villa Hotel on Highway 70, west of Raleigh. They were attending a national garden club convention, and had had lunch a couple hours earlier at Meredith College. A private lounge lounge at the hotel was turned into a makeshift medical facility, as area ambulances and rescue squads were rushed to the scene.
Units from Six Forks, Raleigh FD, Wendell, Cary, Clayton, Butner, Wake EMS, and Medical Transport responded. More than 100 responders and nine ambulances helped shuttle patients back and forth to Rex, Wake, and Durham County General hospitals. The county EM director, J. Russel Capps, said it was "largest requirement for ambulances" in the county that he could remember. As the first units arrived and reported multiple patients, the county's emergency plan called "Plan Eagle" was placed in effect.
Several Raleigh city buses were also used to transport patients, who complained of stomach pain and diarrhea. Rex Hospital treated about 75, Wake medical Center treated 46, and Durham County General Hospital treated 40. Many who were transported were suffering from dehydration due to vomiting and diarrhea. Three were admitted at Rex, and one at Wake. By that evening, health officials had taken cultures from the food served at the college.
The lobby of the hotel was filled with patients and responders into the early evening. Wrote the News & Observer on July 1, "many of the ill who were able to walk carried plastic garbage cans or ice buckets from their room to use in case they had to vomit." At the hotel's front door, chairs were lined up, for patients waiting for transport. Motel employees and responders also conducted a room-to-room search, to be sure all patients were found. About 500 people were attending the convention, and most were staying at that hotel.
+ 0 - 1 | § ¶
More Firsts?
For our Friday enjoyment, and continue our discussion of "first" apparatus in Raleigh and Wake County, what other milestones might we cite?
First American LaFrance
1912 American LaFrance Type 5 combination chemical and hose truck (2), Raleigh
1914 American LaFrance Type 12 triple combination
etc.

First American LaFrance (in county)
1923? Ford Model T/American LaFrance chemical car, Cary
1927? American LaFrance Type 10 combination, Apex

First Mack
1945 Mack Type 45, Fuquay-Varina
1945 Mack Type 4, Zebulon
1950 Mack Model B, Raleigh

First Seagrave
1930s Seagrave pumper, ex-Virginia Beach, purchased 1941, Wendell
1953 Seagrave pumper, Cary
READ MORE
+ 1 - 0 | § ¶
Fire Station 9, 1990
Here's the third of the city's 1989 Pierce Arrow engines, the first pumpers from Pierce placed in service in Raleigh. Engine 1, Engine 13, and Engine 9 as shown below, again from slides from October 1990. Mr. Blogger fought his first fire on this truck, while detailed to the North Hills station for a couple cycles. Cough, cough, dust in those memories! Back then, the station housed an engine and District Chief. Today, they're an engine company along with the arson investigation unit. And remember to take them treats on Valentine's Day, as that's their birthday. Station 9 was placed in service on February 14, 1963.


+ 1 - 0 | § ¶
Heavy Duty Hose Wagon / Statter911
Second blizzard photo posted by Statter911 of a Maryland National Guard five-ton truck being utilized as a hose wagon. It's equipped with 1000-feet of three-inch hose, a gated wye, and a 24-foot ladder. They're on scene at a two-alarm fire. Reports blogger and WUSA9 journalist Dave Statter, the Guard has been deployed at many mid-Atlantic region fire stations to help firefighters respond to calls. This photo was provided by the 1229th Transportation Company of the Maryland National Guard.
Dave Statter has been providing exceptionally good coverage of the impact of the snow on fire departments, including a number of fire station roof collapses. This morning, he found footage of a Delaware firehouse collapse, shot inside the station and after the apparatus were moved. There was also a destructive fire at Baltimore County Station 6, reported yesterday. We read the site daily, and it's a model of good reporting and good blogging.



Maryland National Guard / Statter911 photo
+ 1 - 0 | § ¶
Snowy Bottom at Foggy Bottom / DCFD
Random blizzard image found by the Fire Critic and posted on DCFD.com. That site's the unofficial department site, and there are many more snow and snowy incident photos. Elliot J. Goodman took the below picture. Good shot!


Elliot J. Goodman / DCFD.com photo
+ 1 - 0 | § ¶
Central Fire Station, 1990
Here's a 20 year-old picture of Raleigh's Big House, from a 35mm color slide, from a set of station and apparatus photos recently found in fire department storage. Watch for the full set soon. Parked on the apron are three of the city's first four Pierce fire engines, two of three 1989 Pierce Arrow pumpers, and a 1988 Pierce Arrow 85-foot articulating platform. Back when they called them Trucks. The third engine was located at Station 9. The slide is dated October 1990. Photographer unknown. Click to enlarge:


+ 1 - 1 | § ¶
The Big Blow
How's that for a salaciously titled posting? Winds were high and temps were low on this otherwise briskly appealing Wednesday. (With gloves and a good coat it was entirely nice outside!) The big breezes should be dying down, though a high wind warning remains in effect until 9 p.m. The mercury is still slightly above freezing, though drops to 26 tonight. Watch for ice, especially if you end up flowing water. See your favorite news station for coverage of the day's tree topplings and power outages. Below is eastbound Interstate 40, which had a lane blocked by a downed tree around done. Morrisville was on scene with an engine and a chainsaw, though they'd just cleared at the time of this photo. Mr. Blogger did a little wandering at lunch.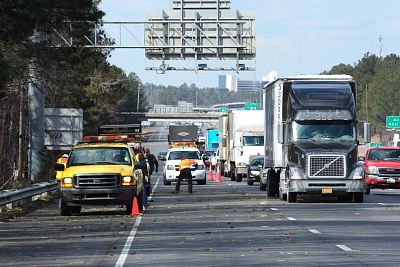 + 1 - 0 | § ¶
Mystery Chevrons
Who drives these stripes? The vehicle is registered in North Carolina, and was recently photographed out of doors. How's that for clues?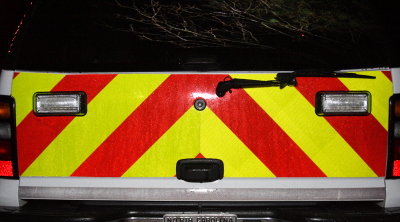 + 0 - 1 | § ¶
Mattydale Lay
Let's talk about hose. The first leather (fire) hose appeared in Holland in 1672 or 1673. The first metal-riveted (leather?) fire hose appeared in Philadelphia in 1807, and the first rubber fire house was developed around 1839. Then cotton-covered rubber hose appeared in 1870. Two- and four-wheel reels carried this hose, which couldn't be carried in any other effective fashion.
About 1878, seamless cotton hose was developed. This was capable of being packed flat, and hose wagons were developed as alternatives to reels. Then motorized hose wagons supplanted horse and hand wagons, and which led to pumping engines. As different sizes of hose were utilized on the same apparatus, rear hose beds were partitioned accordingly.
In 1947, Fire Chief Burton L. Eno of the Mattydale Fire Department in New York designed a new method of packing hose. Instead of parallel placement in the rear of the truck, he devised a platform above the pump for perpendicular storage. This was designed for rapid deployment of attack lines, and was first installed on the department's 1939 Buffalo engine. The Mattydale lay, as it was known in the north, was the original cross lay / speed lay / transverse lay.
Reader Barry Furey shares a couple pictures of the original engine, currently on display at the New York State Firemen's Home in Hudson. Click to enlarge:

+ 1 - 0 | § ¶
Japanese Erasers
Everyone's seen little fire engine erasers, designed for school kids but also easily appropriated for adult events, such as decorating retirement cakes. Here's their equivalent in Japan, found on eBay. Why the motorcycle? They're used there, too. Earthquake reponse, we've been told. They can get around rubble quickly. Probably also used for special events. Here are a couple pics from Toyko.


+ 0 - 1 | § ¶
Very Old Photo
Found on eBay, here's a tintype photo of a Civil War-era firefighter. This is about a rare as you get! Says the seller, the print was purchased in Charlotte, and the helmet reads CFD. Perhaps a Charlotte firefighter? Or is that a uniform from a fire department in New York? The seller has also been told that. The image is reversed, and his helmet, belt bucklet, and shirt/vest all have the number "2". See the auction listing for more photos. Below is a copy after some PhotoShop improvements. Click to slightly enlarge. Starting price only $99.99!


+ 0 - 1 | § ¶
Bryan Building, 1993
Two major fires have beset Cameron Village. Both have involved the Bryan Building. December 2, 1964. Reported at 5:25 a.m. as a verbal alarm, presumably to nearby Station 5. Fire damaged a third of the block-long, two-story building on the west side of Daniels Street. Started in the kitchen of Hofbrau Restaurant. Extinguished with the assistance of a foam generator trailer, towered by a salesman passing through Raleigh. Cameron Village owner Willie York was so impressed, he bought one for the city. Foam 5 was housed at Station 5. One year later, the city added a second foam truck, stored at Station 1.
May 24, 1993. Summer not winter, but about the same time. Dispatched 5:46 a.m. Engine 5, Engine 6, Truck 1, Rescue 6, and Car 52 on the first alarm. Fire started in a doctor's office, and destroyed or damaged 25 businesses and offices. Crews battled the blaze for two and a half hours, before bring the fire under control. Three alarms were struck, and a rookie class also attended. Fire walls prevented the flames from spreading the entire length of the structure. Police closed the surrounding streets, and kept onlookers far away. The doctor whose office burned also suffered a fire at his home, which was reported 90 minutes into the Cameron Village incident. The blaze was believed intentional. Raleigh Fire Department photo unit member Jeff Harkey took this pic. Click to enlarge:


+ 2 - 0 | § ¶
Retired Asheville Engineer Wins Powerball
As assorted news agencies are reporting, retired Asheville Fire Department Engineer Frank Griffin has claimed Saturday's $141 million Powerball jackpot. He's taking his winnings in one, big, fat, honkin', lump sum, which totals about $47 million after Uncle Sam gets his due. He purchase five tickets last week while buying gas. What will the 66-year-old Griffin do with the dough? He wants to take care of the kids-- three children, three grandchildren-- and take Mrs. Griffin to Hawaii. We wish him safe travels, and encourage the purchase of many Hawaiian shirts. He also wants to play more golf. Griffin also owns a janitorial services company. Read the press release
.



Scott Sharpe/News & Observer photo
+ 1 - 0 | § ¶
Wake County Fire Academy Accepting Applications
Wake County Fire/Rescue is now accepting applications for its third county-wide fire academy, which begins July 1, 2010 and graduates in December 2010. Applications must be received no later than May 21, 2010. Successful candidates get certified as Firefighter II, Haz-Mat Operations Plus, EMT Basic, ICS, Firefighter Rescue, Firefighter Survival, Rescue Technician, and Fit Testing. See this PDF flyer

for application requirements, such as you must be affiliated with a fire department organization. The flyer also has contact information. Good luck everyone!


+ 0 - 1 | § ¶
Durham's New Mobile Support Unit
The Durham Fire Department took delivery of a new mobile support unit in late December. The 2009 International/EVI is a 22-foot rescue unit equipped with storage for air bottles and a cascade system, a light tower and 40KW generator, numerous equipment trays, and other features. View more photos, specs, and drawings at the manufacturer's web site. The truck replaces a 1998 E-One apparatus that's slightly shorter in size. It's housed at Station 1.


+ 2 - 0 | § ¶
Camera Advice
Every so often, someone asks about buying cameras. What's the best camera to buy, is the common query. Something bigger, badder, fancier, or powerful-- the asker asks-- than the point-and-shoot that they (or their wife) already has. My answer is always the same: a qualified "don't know." I have used only a couple brands of digital cameras in my day. First were Fuji FinePix, which worked well during my early digital years. Then switched to a Canon Digital Rebel XT1. Then bought a second, so I wouldn't have to keep changing between close-up and far-away lens.
The Rebel XT is a digital SLR camera, which means single-lens reflex. Basically, when you press the shutter button, the picture is taken. Just like that, and with no shutter delay (except in lower light, or with special settings). My reason for upgrading to SLR was speed. There was too much motion on the fireground for my point-and-shoot camera to adequately capture. And as evident by the photos thus taken, the results have been positive.
Have point-and-shoot cameras advance in the years, to be comparable to digital SLR cameras? Don't know. What about Nikon or other brands of digital SLR? Don't know. Lee Wilson has taken photos with Nikon digital SLR cameras for years, and the quality of his photos speak for themselves. What camera bodies does he use? He shoots with a Nikon D60, and has used both a Nikon D50 and a Nikon D70 in his past.
Will buying and using those Canon and Nikon cameras result in pictures as good as ours? Perhaps. But there's a second piece of the equipment puzzle, and that's the lens. Er, lenses, plural. Better camera bodies call for better lenses. Yours Truly upgraded from his "kit" lens-- the one that came with the camera package-- to a higher-quality one, from the Canon "L" series. The results were better pictures, notably richer colors and "faster" photography. Meaning, light travelled through them faster than the older lenses, which helped improve low-light and night photos. (Talk about a nutshell of a explanation there!)
READ MORE
+ 0 - 1 | § ¶
Wake County Firefighter's Association Meeting Agenda, Tuesday, Feb. 9
Below is the agenda for this week's Wake County Firefighter's Association quarterly meeting and supper, held at 6:30 p.m. on Tuesday, February 9, at Bay Leaf Station 1 at 11713 Six Forks Road. See you there!
February 9, 2010 - Quarterly Meeting Agenda
Return Thanks
Meal
Call Meeting to Order
Roll Call
Attendance Award
Financial Report.
Minutes of Last Meeting
Old Business

Conference Report
T- Shirts
Benevolent Fund

New Business
Agency Reports

Wake County Department of Fire and Emergency Management
Forestry Service
Wake Technical Community College
NCFFA
Other

Committee Reports

Training
Web-Site
Scholarship

Committee Volunteers

Publicity/Promotions (Conference)
Scholarship
Training
Other

Door Prizes
Guest Speakers (pending)
+ 0 - 1 | § ¶
RAPS Race, Friday, March 19, 3:00 p.m.
The next Raleigh Area Public Safety Racing League (RAPS) endurance kart race is scheduled for Friday, March 19, 2010. The event begins at 3:00 p.m. with practice and team qualifying. The 90-minute endurance race begins at 6:00 p.m. RAPS races bring together members of the public safety community for fellowship in a fun setting. Start putting together that team of four drivers from your agency. And there's no limit on the number of teams from any one agency. The entry fee is $150 per team, payable the day of the race. The location is the same as before, Rush Hour Karting in Garner, at 5335 Raynor Road. Varoom.

+ 1 - 0 | § ¶
Not All Alarms Are Created Equal
Mr. Blogger continues compiling as many major fires in Raleigh's history as he can find. Here's his current list of three, four, and five fires with known or easily inferred alarm levels. Ergo, notably 1970s and forward. Observe the differences in engine and ladder companies on scene, and how they've grown over the decades. The counts include special-called and relief companies. Ladders equal both aerial and service trucks. The data is subject to change, as research confirms or changes same.
Five Alarms
6/24/1970 - 122 E. Hargett Street - Peebles Hotel - 6 engines, 4 ladders
2/22/2007 - 3535 Oneonta Avenue - Pine Knoll Townes – 21+ engines, 7 ladders
Four Alarms
3/4/1959 - 2516 Hillsboro Street - Manmur Bowling Center - 4 engines, 2 ladders
7/7/1981 - 120 Fayetteville Street Mall - Mangel Building - 14+ engines, 4 ladders
3/18/1990 - 316 Fayetteville Street Mall - Wake County Courthouse - 8 engines, 4 ladders
1/23/1991 - 118 E. South Street - Meserve Hall, Shaw University - 12 engines, 4 ladders
4/4/1993 - 2654 S. Saunders Street - Shelton's Furniture Co. - 8 engines, 2 ladders
7/4/1993 - 3114-3118 Avent Ferry Road - Gorman Crossings Apartments - 9 engines, 3 ladders
READ MORE
+ 1 - 0 | § ¶
Nott Fire Equipment Information Wanted
Ed Arata in Sutter Creek, CA, is seeking information about Nott fire apparatus, specifically contacts for people or organizations that may have leads on three pieces of equipment:
Nott chemical fire extinguisher, 60 gallon, circa 1910
Nott metal host cart
Nott hand-drawn hook and ladder and bucket wagon.
Below is a photo of a 1927 fire engine that the town used. They mounted the Nott extinguisher on a 1920 or 1921 Dodge pick-up, and added a homemade hose reel with float cotton hose. The town still has the reel and basket, which survived in the attic at a place called Cap's Garage. Notice the nozzle stored behind the tool box on the running board, which has survived well. Any leads appreciated.
Mail me
and I'll pass along. Click to enlarge:
+ 0 - 1 | § ¶
Tomica Tokyu Crash Truck
Now for some collector's minutia. Many folks have one of these toys in their collection. Made by Tomy/Tomica in 1975, it's a 1:130 scale, die-cast crash truck. Though it's tempting to think that it replicas an American Lafrance USAF O-11A apparatus (bottom photo), it really replicas a truck made by a company called Tokyu (middle photo). Perhaps the latter was based on the former? Below are a pair of photos that demonstrate the differences. The second picture was scanned from a Japanese-language fire apparatus book.


+ 2 - 0 | § ¶
List of EMS Units
By popular demand, here's a list of the locations of EMS units in Wake County

. We'll call it version 1.1. And it includes the numbering scheme, and a second list of special units. Post or mail with corrections. The PDF document permanently lives at www.legeros.com/scanner. Thanks for everyone's help both getting this created, and future iterations. Click to read:


+ 1 - 0 | § ¶
Durham Promotes First Female Batallion Chief
Found on FireNews, WTVD has a profile of Tamala Wilson, the first female Battalion Chief of the Durham Fire Department. Read the story, or click to watch the video:


+ 0 - 1 | § ¶
ConAgra Blast Could Lead to New Safety Laws
Today's News & Observer has a recap of yesterday's meeting of the U.S. Chemical Safety Board in Raleigh, which voted to recommend to changes to national fire codes to prevent the type of explosion that occurred at the ConAgra plant in Garner on June 9, 2009. The blast killed four people, and injured 67 others. The unsafe practice cited by the board is purging natural gas inside a structure. They cited other similar explosions that have killed or injured others. Read the article. There's also more detailed information in this CSB press release, issued late yesterday.
Garner and Raleigh fire departments responded that day, along with numerous units from Wake, Garner, Eastern Wake, and Cary EMS. NC USAR Task Force 8 was also deployed. The incident extended over a couple days. We blogged about the units on scene, which numbered five engines, four ladders, four rescues (RFD, GFD, GEMS), five USAR units, four haz-mat units, two command posts (RFD, WCEM), air truck, fuel truck, fifteen-plus ambulances, additional paramedic units, and an EMS special ops unit. Photos were posted by Mike (below) and by Lee.

+ 2 - 0 | § ¶
Book Recommendation - Badges of the Bravest
By Gary R. Urbanowicz. Hardcover. 272 pages. Turner Publishing, 2002. Splendid, full-color history of the New York City Fire Department, as seen through the context of its badges. And as the nation's largest and thus perhaps most history-filled department, the badges and their histories represent every seeming facet of the American fire service: Volunteers. Paid personnel. Early associations and organizations. The New York Fire Patrol. Firefighters.Officers. Marine Division. Appointed positions. Special details, such as Housewatch, Theater Detail, and Photographer. Civilian and uniformed support position, such as Inspector, Communications, Repairs & Transportation, Accounts & Procurement. Band and glee clubs. Auxiliary corps. Salvage corps. Honorary members. Buffs. Associations, societies, and clubs. Special event badges. Presentation badges. EMS badges. Private fire brigades and departments. Federal fire departments. Related city agencies. State fire services. You get the picture. Bought my copy on Amazon.


+ 1 - 0 | § ¶
Reader Mail
The gasbag opens the mailbag. Sundry messages and comments from readers, and smarmy answers therein:

Q: How much censoring have you had to do regarding the Fire Commission Meeting thread?
A: Very little. A couple anonymous pot shots were leveled at named entities. As was a signed one, which I deleted, after reflecting on libel law. The poster understood.

Q: I want to get a scanner that will receive anything fire-related in Wake County. Can you give me an idea of what type of scanner? I do fire training at Wake Tech, and would like to be able to monitor training and to maybe use it for classes.
A: This blog thread should answer your question.

Q: Can you start a blog [thread] about the firefighters being fired in Georgia? I am sure you have heard about it.
A: The story of the DeKalb County incident has been well-covered on other fire sites and blog. There is a surprisingly level-headed discussion on same, however, on the firehouse.com forums. Tool on over there and pay a visit.

Q: Hey Mike, it looks like you captured a ghost in this picture. Look in the bottom right-hand corner of the photo, in the top of the smoke, about even with the head of the firefighter on the ground.
A: Wow!
READ MORE
+ 1 - 0 | § ¶
Longest Lays?
For pre-weekend discussion, what are some of the longest supply lines that you've laid in your day? When, where, and how far? Did you use booster pumpers? Share your stories. For extra credit, can you identify this line laid in more recent times?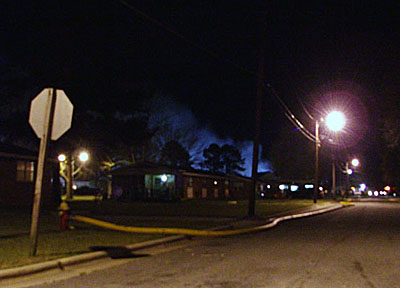 + 2 - 0 | § ¶
Greensboro Salvage Truck, 1955
Salvage trucks are a common historical fixture in fire departments "up north" and in other major metropolitan cities around the country. Some departments operated dedicated salvage companies, or even separate salvage corps, the most famous being the New York Fire Patrol. Their 203-year history started with a group of volunteers who worked to protect the contents of buildings from fire and water damage.
Were salvage trucks, or even salvage companies used in North Carolina? Below is the first salvage truck that Mr. Blogger has happened across. Pictured in front of Greensboro's Central Station in 1955 is their "new salvage truck, built to the specifications" of the department. It carried "all normal and many specialized tools for salvage work." It appeared in the June 1955 issue of Hose & Nozzle. Don't any other details, such as how it responded, or how long it operated. Perhaps our readers can advise.


Hose & Nozzle photo
+ 0 - 1 | § ¶
East Wake Volunteer Fire Department, 1987
That was the name of a new fire district that county commissioners tentatively approved in the fall of 1987, as part of a plan to provide closer service to 6,300 people in the "no man's land" between Knightdale and Rolesville. The commissioners recommended creation of the new district after the existing departments failed during the summer to agree on a coverage plan. Said departments quickly came back to the table after the above proposal, and agreed to divide coverage of the area between Knightdale, Rolesville, Wendell-Holmes, and Wake-New Hope. Additionally, two substations would be built by Wendell and New Hope. What happened next? Don't know specifically, but those districts was expanded, and the substations were built and remain operational today. Bit o' trivia. Source: News & Observer, October 5, 1987, which we happened upon the other day.
+ 1 - 0 | § ¶
RJR Fire Protection Patroller
Here's something interesting found for sale on eBay, a patch for an Fire Patroller, presumably a person who was a wandering fire watcher at an R.J. Reynolds tobacco plant in North Carolina. No other information known. Don't even have a good historical context in this case, on fire watching at industrial plants and other facilities. Memo to self: learn about that some time.


+ 2 - 1 | § ¶
Walt Disney Study Prints
Another reader passes along photos of a set of Walt Disney Study Prints on the subject of fire prevention. Looks like they date to the late 1960s, based on other study print sets for sale on eBay. Google finds that Walt Disney first lent his characters for fire prevention ads in 1942, after the US Forest Service began educating Americans about the dangers of forest fires during World War II. Read more on that, including the 9,000-some fire balloons launched into the jet stream by Japanese hoping to start wildfires. Can't as easily find a history about Disney's study prints, though their purpose seems self-evident. Perhaps readers can add or enlighten. Click to enlarge:


+ 2 - 0 | § ¶
Second Annual Rekindle Society Muster and Parade, Mar. 27, 2010
The Rekindle Society, the Carolinas chapter of SPAAMFAA, passes along this announcement of their second annual muster and parade in Cheraw, SC, on Saturday, March 27, 2010. They're looking looking for apparatus and or equipment to be displayed, paraded, or pumped. They also seek fire safety displays, firefighter challenge participants, and vendors for a flea market area. There are no requirements for apparatus or equipment, other than it has to be insured. In service/out of service, new/old, it's all good to them. Here's their interest form
, if you're interested. And click below to read their flyer
.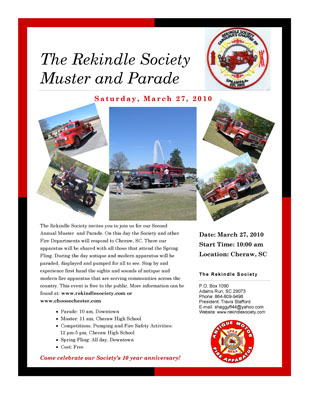 + 0 - 1 | § ¶
Zebulon Ladder at Southeastern Fire & Rescue Expo, 1987
From a reader, here's a photo of Zebulon's ladder at the Southeastern Fire & Rescue Expo at the Fairgrounds on May 1, 1987. As you recall, we recently were asking on the blog about that event and the dates therein. This help solve that mystery! Jay Thomson took the picture, which is posted on his Flickr site.


+ 1 - 0 | § ¶
Vance County Fire Train, 1970
In early 1970, a series of brush fires challenged crews along a seven-mile stretch of railroad tracks, from the Henderson town limits to the Granville county line. Eight to ten fires were apparently started by a passing train. Firefighters loaded apparatus on flatcars to reach the fires, which burned areas some 100 to 500 feet from the tracks. Crews came from Henderson, Bear Pond, Kittrell, and Vance County fire departments. They were assisted by Forestry Service and railroad personnel. Vance County Fire Chief Ranger Wilkerson took this photo that appeared on the cover of the March-April 1970 issue of Hose & Nozzle. What other train-based suppression has been done around the state, in days of past? Click to enlarge:


+ 0 - 1 | § ¶
Fayetteville Street Directories
Weather's warming. Businesses are opening. Everyone's getting back to normal. For your reading pleasure, here are three excerpts from Raleigh city directories from 1923-24, 1933, and 1944. Each is a page from the street directory section, listing the occupants in buildings on Fayetteville Street. At least one familiar name leaps from the page, C. E. Ligthner & Bro., Embalmers and Funeral Directors. That is likely Calvin Lightner, father of Clarence Lightner, who the proposed public safety center is named after. He succeeded his father as owner of the business, and ran same for 45 years. He was also a one-time Raleigh mayor. Other prominent advertisements on the 1923-24 page included "clothiers and furnishers," James E. Thiem who sells "everything for the office," Powell & Powell (ice, coal, building material), Bagwell & Bagwell (insurance), a druggist, and a "sanitary laundry." Click once or twice to greatly enlarge: