+ 13 - 6 | § ¶
Car 198 > Car 20
The Raleigh Fire Department fire investigation unit has a new number. Car 198 became Car 20 yesterday. The second investigation vehicle, also at Station 9, is numbered Car 21. So where did the number Car 198 come from? As the story goes, Fire Prevention units were once numbered in the 90s. Car 91, Car 92, etc. Fire Prevention also performed investigations. When Fire Prevention added another unit after Car 99, the numbers were simply repeated but with a "1" in front. Thus the now-familiar Car 195 (fire education) and Car 198 (fire investigation). Or so the story goes.
+ 12 - 13 | § ¶
Vintage Chevrons
These appeared on the crash truck of the Clayton Rescue Squad in the 1970s. See more classic photos, as scanned by Clayton Area EMS Asst. Chief Jason Thompson. Love that old Dodge van.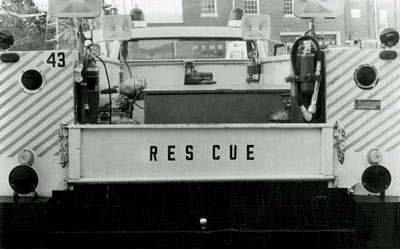 + 20 - 10 | § ¶
Making a Picture
For fires at night in very low light, you just point the camera and shoot. Highest possible ISO. Steady as you can with the camera. Meter toward a light source. Looks good on the LCD panel, but not as good on the computer. Crop unwanted elements and find the "core picture." Then do some more work. For last night's outbuilding that burned on Stanhope Avenue, this picture was finished with the following steps. After cropping closer, rotate right 1 degree. Crop again, even closer. Adjust brightness and contrast, to conceal the graininess. Presto! That last step isn't something that I usually perform. Takes too long in the work flow. For a short series, though, extra tweaks can be worth it. Click to enlarge:


+ 10 - 8 | § ¶
Chevrons on Front!
From a reader, here are some wild-looking Pierce platforms recently delivered to Montgomery County, MD. Click to enlarge:


+ 9 - 12 | § ¶
Canon EF 18-55m Lens + Sledgehammer
After 18 months of faithful service, my Canon Digital Rebel XT kit lens was failing. Error 99 messages were appearing with increasing frequency, and requiring a camera restart. This was not helpful when shooting spit-second happenings. Like, say, fireground action. Ordered another on eBay. The replacement has been error-free since Friday, and passed Saturday's event with flying colors. What to do with the old lens? Smash it, of course. The glass from the lens has yet to be found, but everything flew only a few feet. No humans were harmed in the making of this blog post. That is, not counting lost brain cells.


+ 10 - 16 | § ¶
Engine 221
Raleigh recently renumbered some of its reserve fleet. Engines are now numbered 120+ and 220+. Ladders are now numbered 110+ and 210+. The 100 units are for short-term assignments, such as a day or two. These units include equipment. The 200 units are for long-term assignments, and do not include equipment. Engine 9 is presently operating Engine 221, a 1995 Pierce Dash pumper. Ladder 210 is a 1988 Pierce Arrow articulating platform. The city presently has six engines and three ladders in reserve status.


+ 12 - 18 | § ¶
Juniper Level Baptist Church History
The site of yesterday's moving funeral service for Lt. Herman S. Jones, Juniper Level Baptist Church at 9104 Sauls Road was organized in 1871. They also founded a school and a lodge. In 1927, construction was completed of a new church, lodge, and school. The structure was renovated and expanded around 1960. This is the older building beside the cemetery, and across the street from the present sanctuary. Read more church history.


+ 12 - 14 | § ¶
New Old Photo
This vintage image recently surfaced. It shows personnel in dress uniforms, perhaps being photographed for a promotional ceremony. The image dates from between 1975 and 1979. Click to see faces and scary hairstyles enlarged. Depending upon your browser settings, you may have to click a second time to enlarge even more.


+ 14 - 8 | § ¶
Web Site for Task Force 8
North Carolina Urban Search and Rescue (USAR) Task Force #8 has a web site, if you haven't heard. The site is located at http://www.nctf8.org/ and includes a short history of the team, and links to both weather information and other USAR sites.
+ 13 - 12 | § ¶
New Services Truck
This truck was recently seen at the Raleigh Fire Department Support Services Center. The Ford F-250 cargo truck replaces a prior cargo van, and will be used to transport station supplies. The chassis looks suspiciously like old Car 48, a 1990 Ford/Omaha utility truck that the shop used.


+ 14 - 15 | § ¶
Public Safety DepartmentParticipation in Lt. Herman Jones Funeral
News release. The Raleigh Fire Department would like to express our gratitude at the outpouring of sympathy that our department has received following the death of Lt. Herman Jones.

Processional Escort for Hearse

We invite the participate of any apparatus from Wake County public safety agencies. Personnel who wish to place apparatus in the processional are requested to stage at Keeter Training Center at 105 Keeter Center Drive, Raleigh, on Saturday, January 26 at 10 a.m.

For questions about the processional escort, please contact Assistant Chief Larry Stanford at 919-796-7011.

. READ MORE
+ 18 - 13 | § ¶
EMS goes AVL at RWECC
News release. On Wednesday at 0800 hours, dispatch of Wake County EMS System units shifted from "station-based" dispatching to "nearest-unit dispatching" based on real-time automatic vehicle location (AVL) data. This marks another step in Wake County's efforts to further improve the delivery of emergency medical services across the county. And it works! On Wednesday, EMS 10 was dispatched to a call on Sunnybrook Drive after having just cleared WakeMed, and EMS 17 was sent to cover Six Forks EMS Station 1 after having just cleared Rex. EMS 17 was then dispatched to a call on Creedmoor Road. One day earlier, those calls would have had longer response times, because further away units would have been dispatched while the others returned to their stations. The project took over two years, to develop the infrastructure (the computers, the AVL units, the wireless cards), the software (the new Premier MDC client and the CAD interfaces), and the procedures. The next step in this project will be the addition of the MARVLIS in-vehicle navigation system, to further speed Wake County medics on their way.
+ 16 - 13 | § ¶
RAPS Race Remembers Herman
Tonight's Raleigh Area Public Safety (RAPS) kart race was dedicated to Raleigh Fire Department Lt. Herman Jones, who died on Tuesday after suffering an apparent heart attack Friday night at Station 10. His photo was posted at the door, and each kart was labeled "Engine 10." A moment of silence was observed, and then the pipes band played "Amazing Grace."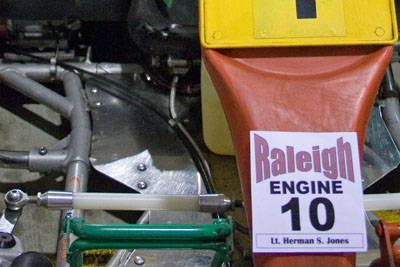 + 14 - 11 | § ¶
Southern Pines Ladder
Lee found this on a fire photographer's Flickr site. Southern Pines Pierce ladder. Look familiar? Click to enlarge:


+ 12 - 14 | § ¶
State College Student Discovers Raleigh's Old Fire Bell
Here's a great story that appeared in the North Carolina State University newspaper Technician, about Matt Robbins and his discovery of the city's old fire alarm bell atop Withers Hall. See aerial view of building and cupola. The bell was cast in 1870 and was originally housed in a clock tower at Metropolitan Hall. It served as a clock bell, and also an alarm to summon the city's volunteer firefighters. It was moved to Station 1 in 1914, and removed from there in 1938. A decade later, it ended up atop a building at the college. Great story, and even includes an appearance by Yours Truly. More information on the early fire alarm system.


+ 13 - 10 | § ¶
27-Year Fire Department Veteran Herman Jones Dies At the Age Of 58
News release. The City of Raleigh Fire Department lost one of its own on Tuesday, January 22. Lt. Herman S. Jones, a 27-year veteran of the Raleigh Fire Department, died after suffering an apparent heart attack. Lt. Jones was on duty Friday, January 18 at Fire Station 10 when he began to experience chest pains. He was transported to Wake Medical Center and then to UNC Hospital.

Lt. Jones began his service with the Raleigh Fire Department on May 5, 1980 and was promoted to the rank of Lieutenant on June 16, 2001.

Funeral arrangements will be handled by Haywood Funeral Home, 2415 South Wilmington Street. A memorial service will be held on Saturday, January 26 at Juniper Level Baptist Church, 9104 Sauls Road in Raleigh. A visitation will begin at 1 p.m. on Saturday and the service will be at 2 p.m. The burial will follow in the church cemetery.

Lt. Jones is the third firefighter to die while on duty. On April 20, 1965, Lt. Paul Mimms, 41, died of an apparent heart attack while operating a pumper at a structure fire. On March 10, 1956, Lt. Vernon Smith, 44, died from injuries suffered after his pumper overturned on November 14, 1952.

For more information contact Asst. Chief Tommie Styons, 919-831-6392.


+ 11 - 15 | § ¶
Extended Extrication on Six Forks Road
WRAL has aerial footage of yesterday evening's MVA on Six Forks Road. Sky 5 was in the area at the time of accident. One victim required extended extrication. The incident occurred near Norwood Road just about 5:00 p.m. Six Forks EMS, Bay Leaf, and Durham Highway's rescue, if memory serves. The WakeMed air ambulance we also en route, but returned to service. Click to enlarge photo:


+ 15 - 10 | § ¶
Fires at Watson's Flea Market
How many fires at occurred at the location of Watson's Flea Market? Mike's history pages have two. On April 30, 1982, a feather processing plant caught fire about 5 p.m. The thick smoke was seen as far as 30 miles away. The one-story brick building burned for about an hour, but the adjacent Watson's Poultry plant was not damaged. On February 12, 1994, the Watson's Flea Market restaurant burned. Two alarms for two-story structure, with Truck 1 operating.

But were there others? Readers recently asked about this. Today, scanning a newspaper from March 1987 found another. On March 28, a warehouse building at Watson's Marketplace Place was destroyed. Two businesses were lost, and third were damaged. Five fire units took more than three hours to control the 11:30 a.m. fire. Some 2,000 people were present at the time of the fire, most at the outdoor flea market. The Raleigh Times ran this photo:


+ 12 - 11 | § ¶
New Livery For Garner EMS
Garner EMS has adopted a new vehicle design, the first example of which was photographed at tonight's Fire Commission Meeting. That's at 1600 ISO, with camera held very steady.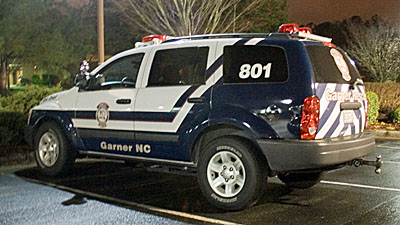 + 9 - 12 | § ¶
Full Airport Response in London
Found on the Firehouse forums, this was the full response of the London Fire Brigade to today's incident at Heathrow Airport. Kind of interesting: 6 Pumps, 3 Rescue Co's (2 for USAR), 3 Bulk Foam Units, 1 Hose Layer, 2 Command Units, 3 USAR modules, 1 DAC Monitoring officer, 1 Borough Commander (DC) as Incident Commander, 2 Stn Commanders (BC's) Ops, 1 Stn Comm for Hazmat, 1 Stn Comm for USAR, 1 Stn Comm for Press, and 1 Stn Comm for Control Tower Liaison. 1 Asst Commissioner informed for remote monitoring.


+ 10 - 14 | § ¶
Battle of the Badges Pictures
Pictures from the Battle of the Badges 2008 charity hockey game, from a couple photographers, have been posted to this Flickr site.


+ 12 - 12 | § ¶
Yearbook Ordering Deadline Extended
The deadline has been extended for ordering copies of a new Raleigh Fire Department yearbook. You now have until February 1 to place an order. The cost is $50.00. The hardcover book with all-color pages will be published in the late spring. To order online, visit the publisher's web site. To order by mail, view this PDF-format flyer
.


+ 15 - 5 | § ¶
Chief Haraway's Coming Book
Apex Fire Chief Mark Haraway's coming book, Large Scale Incident Management, is available for pre-ordering on Amazon.com. From the description: "The book places readers in the Incident Commander seat for the EQ chemical fires that occurred in Apex, North Carolina, in October 2006: an event that lasted three days, shut down an entire city, and displaced 17,000 citizens. Using this large-scale incident as a running example of how critical components of successful incident management are actually applied in real life, it provides detailed insight into important topics in the field." The publisher is Delmar Cengage Learning. The release date for the 288-page softcover volume is April 30, 2008. No cover image yet.
+ 11 - 11 | § ¶
Old Youngsville Engine
As noted in this thread about an old Darley ad, here's that old Youngsville engine that "ewfd200" found and photographed. Click to enlarge. Learn more about the history of the Youngsville Fire Department on their web site, and specifically their history page.


+ 17 - 12 | § ¶
Tones, Glorious Tones
Cary dispatches a second structure fire, Swift Creek is paged as mutual aid for the first fire, and Raleigh Engine 8 is sent to a shooting. Three scanners-- yes, only three-- with three sets of tones, plus a pager beeping too. Truly a heavenly noise. Can't imagine why they annoy the wife.
+ 21 - 9 | § ¶
Wake County Fire Commission Meeting, Thursday, 1/17
The next Wake County Fire Commission meeting is scheduled for this Thursday, November 17, at 7:00 PM, at the Wake EMS Training Facility, located in the lower level of the Wake County Commons Building at 4011 Carya Drive. That's off Poole Road, off I-440. Drive around to the rear. Look for a large number of sport-utility vehicles with warning lights.
+ 14 - 10 | § ¶
Great Web Sites and Doing
Forwarded from a colleague, here's an excellent perspective by Gerry McGovern on doing versus saying in the context of web sites. Simply, never tell what you web site will do, just let it do it.
+ 10 - 11 | § ¶
CompactFlash Recovery Software
Here's a tip for digital cameras with CompactFlash (CF) memory cards. Recovery software, such as CardRecovery, can recover deleted photos. It can also read a seemingly corrupted card. This has happened twice to Yours Truly with high-capacity (8GB, 16GB) memory cards. For regular deleted images, the software's great if you are a fast reviewer. Myself, prior to moving files from the camera to the computer, I review the images as stored on the card. It's a fast way to cycle through them. I delete as I go, and some times delete a keeper. Enter the software. It requires a bit of time to run, but it retrieves the picture that was seemingly deleted. In the second scenario, with a corrupted card, the software will recover many but not necessarily all photos. But when shooting with a high-capacity card, with dozens or hundreds of pictures taken, recovering some is certainly better than recovering none!
+ 13 - 10 | § ¶
Raleigh Fire Department Promotion Ceremony
Honored today at the City Council Chambers were six recently promoted members of the Raleigh Fire Department. Timothy N. Pearce, James E. Reeves, and Brian L. Sherrill were promoted to the rank of Captain. Frankie L. Beasley, Brian V. Pearce, and Jayson T. Ramsey were promoted to the rank of Lieutenant. Congratulations, all!


+ 11 - 12 | § ¶
Old Engine 3
Here's a beautiful sight. This 1951 American LaFrance 700 Series pumper was saved from the scrap yard last year by a member of the Raleigh Fire Department. It originally served as Engine 3, then as Engine 8 (1963), Engine 14 (1974), and Reserve C (1975). The 750 GPM, 150 gallon pumper cost $19,048.94 including equipment. It was delivered with high-pressure nozzles, which were the rage then. Changed from gasoline to diesel in the 1980s, the apparatus was sold in 1986. Its present condition resulted from open-air storage in Granville County over a couple decades. The owner's plans are to be determined. Few more photos coming. Learn more about Raleigh's old engines.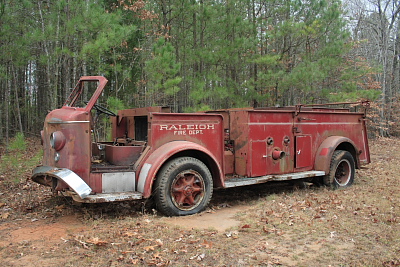 + 9 - 10 | § ¶
Dave Statter on Cameras and First Responders
Journalist and blogger Dave Statter has been offering some interesting perspectives of late on the subject of responders and cameras and the Internet. His latest column includes compelling commentary from an Assistant Content Editor at firehouse.com. How will departments deal with Internet-enabled photography? The guest columnist imagines divergent paths. Some departments "recognize their strengths, weaknesses, shortcomings and will take advantage of every opportunity a photograph or video presents in order to continually train its officers and members and build on their relation with the public." Others will "become immediate media censors, clamping down on images captured even by their own members, and decrying the invasion of the fireground by a documenting outsider." And he sees greater value in the former, than the latter. Good reading.
+ 13 - 11 | § ¶
Raleigh Fire Department Conducts Natural Gas Haz-Mat Training
Training news. During the week of December 17, members of the Raleigh Fire Departmentís hazardous materials team trained on containment and control techniques of natural gas. Morning classroom instruction was followed by a practical exercise using new clamping equipment. The new clamps can be used on gas service lines up to two-inches in diameter. The exercise was followed by an intense obstacle course, with firefighters practicing using dry-chemical extinguishers on natural gas-fed fires. Three gas-fed props were used. The quickest team to extinguish all three props with only one extinguisher was Jeff Silver (L20) and Corey McGee (E2), who finished in 13 seconds. They were closely followed by Special Operations Battalion Chief Brad Harvey and Mark Mitro (E2), who finished in 17 seconds. The classes were conducted at the PSNC training facility at 901 East Chatham Street in Cary. Photos by Jeff Silver. Click to enlarge:


+ 12 - 8 | § ¶
Old Darley Ad on eBay
From a reader, here's an old magazine ad for Darley for sale on eBay. It shows pics of pumpers for Knightdale, Youngsville, and Archer Lodge, among others. Click to slightly enlarge:


+ 11 - 15 | § ¶
DOT IMAP DOA
As this WRAL story reports, one of the Department of Transportation's Interstate Motorist Assistant Patrol vehicles burned on I-40 in Durham County today.


+ 8 - 12 | § ¶
Hoaah!
...and the newest recruits reported for duty at the Keeter Training Center on Monday. Lee Wilson shot some of their first day. 129 days remaining.
+ 12 - 9 | § ¶
Matchitecture
For the fire hobbyist who has everything, a "New York Fire Truck" that you make out of wee wooden sticks. Just don't display it too close to the fireplace! Sold by Burbank's House of Hobbies.


+ 17 - 12 | § ¶
Raleigh Mini Pumper Histories
The first mini pumper, then called an "auxiliary truck" or a "squad truck" or simply a "squad," was a Dodge half-ton truck most likely of 1944 model year. Its equipment included a booster pumper, booster reel, water tank, and overhead ladder and suction hose rack. It operated from around the summer of 1944 until being destroyed in an accident with a Greyhound bus on September 12, 1947. The two firefighters operating the unit were both injured.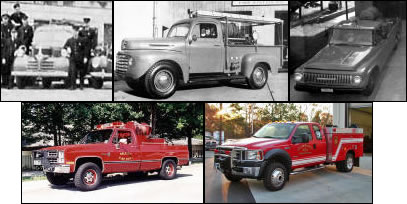 The second squad was a 1948 Ford F3. Purchased in FY48, it also was equipped with a booster pump, booster reel, and water tank. It also had an overhead ladder wrack. The truck was assigned two firefighters, and responded solo to small fires, and was also dispatched to all structure fires.
READ MORE
+ 10 - 12 | § ¶
Recruit Academy Starts Monday
Raleigh Fire Department Recruit Academy #34 starts on Monday with 24 future firefighters. They'll train for six months, and graduate on July 7, 2008. During their 26-week academy, the recruits will receive certification as EMT, Firefighter I and II, and Rescue Technician VMR. They will also receive training on haz-mat operations and awareness, fireground procedures, high-rise operations, rapid intervention teams (RIT), accountability systems, safety companies, engine and ladder company operations, and firefighter safety and survival. Hiring started in the summer, and applicants underwent a process that included an agility test, a written exam, background checks, an oral interview, and a physical. Congratulations and good luck. See you on the drill pad. Photo below by Lee Wilson.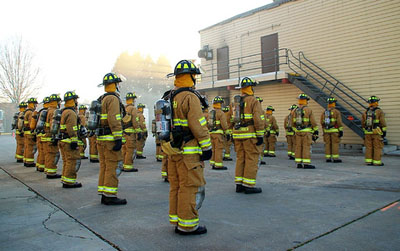 + 13 - 11 | § ¶
This Afternoon's Haz-Mat
Ethanol leaking from railroad car at 1500 Carson Street. Alarm time about 1:05 p.m. Leak stopped about 2:30 p.m. Units included Engine 6, Engine 8, Ladder 20, Ladder 22 operating Haz-Mat 22, Rescue 7, Battalion 1, Battalion 2, Haz-Mat 2, Haz-Mat 15, Air 8, Car 5, EMS 3, EMS District 1, EMS Truck 1. Pictures from Lee and Mike coming.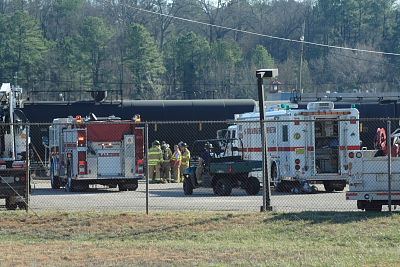 + 13 - 12 | § ¶
This Morning's Fire
Commercial structure at 3008 Highway 70 west near the county line. Adult entertainment establishment, not occupied. Single-story, 3,859 square-feet, built 1975. Heavy smoke on arrival of Garner Fire Department. Eastern Wake also initially dispatched. Defensive operations after about 20 minutes. Garner Ladder 1 operating. Clayton, Wilson Mills, Archer's Lodge, and maybe one other as mutual aid, for water shuttle from hydrant about a quarter-mile east on Highway 70. Garner EMS and Wake EMS on scene. Alarm time 6:28 p.m. Controlled within two hours. One injury to firefighter, slight burn on foot. Latter reported by WRAL. Pictures and photography notes forthcoming.


+ 18 - 15 | § ¶
Old Shift Calenders Wanted
Looking for old shift calenders, such as the pocket-sized versions shown here. Have a couple years, 2007, 2005, 2003, 2001, 1996. Seeking other years, going as far back as anyone can find. All will be scanned and archived on the history pages. Mail Mike if you can help.


+ 13 - 11 | § ¶
Kitchen Improvements at Station 3
The kitchen at Raleigh Fire Station 3 has been upgraded. The cabinets were painted, and received new hardware. A new sink, counter, and floor has been installed. Station "A" provided the labor, and the city provided the materials. Captain Robbie Braxton functioned as project supervisor. Work started late last year, and is nearly finished. Some cosmetic touches remain, such as trim work. Station 3 is the second oldest fire station in the city, and one of only three equipped with fire poles.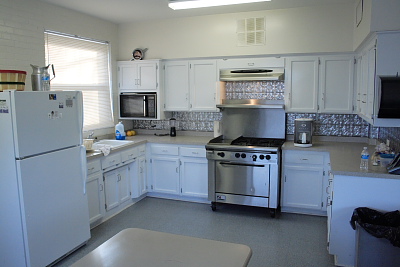 + 7 - 14 | § ¶
FireNews Hot Shot from Concord
The latest FireNews update features some strong photos, including this image of a gutted church in Concord. Jennifer Simpson, CFD PIO, submitted same. Click to see original size. The Independent Tribune has this story and a morning-after photo.


+ 13 - 10 | § ¶
Battle of the Badges Charity Hockey Game, January 13, 5:00 p.m.
News release. The Second Annual "Battle of the Badges" charity hockey game between Leatherheads (fire) and Blueliner (police) hockey clubs takes place on January 13, 2008, from 5:00 to 7:00 p.m., at the RBC Center. The event is free to the public, though donations will be accepted. Last year, nearly 1,100 people attended and almost $8,600 was raised for charity. This year's proceeds will be donated to the UNC Burn Center for Children and the 200 Club of Wake County. Read this PDF flyer for more information
.


+ 20 - 12 | § ¶
Artifact - Wake County Fire Station & Equipment Identification System
Here's an interesting artifact, the original county-wide numbering system
that was apparently implemented by the Wake County Firemen's Association. The document is dated April 30, 197_. Methinks the year is 1979, but others can verify. To view a longer and modern list of Wake County fire station numbers, see this list on Carolinas Fire Page. Wonder which fire stations were #1, #2, #3, #10, and #35? They're absent from the old list as well. Gone by that time was Western Boulevard Fire Department. Same for Wake Forest Fire Department #2. That's two possible candidates. Maybe Forestry was one? Maybe Raleigh Central was another??


+ 10 - 18 | § ¶
Rockingham County Line of Duty Death
The new year has started tragically as this NBC 17 story reports. Oregon Hill Volunteer Fire Department member Paul Lewis Ellington, 36, died this morning while answering a call for a trailer fire, when his personal vehicle ran off the road. Funeral arrangements are incomplete. WFMY-TV also has details. The accident occurred on Crutchfield Road near Business 29 northeast of Reidsville.


+ 17 - 13 | § ¶
New Raleigh Investigation Unit
The Raleigh Fire Department has a new investigation vehicle. This 2007 Ford F-350 was placed in service today at Station 9. It will service as the primary vehicle for Car 198. The new unit is equipped with a four-person cab, a camper shell, and a slide-out equipment/compartment tray. It was photographed at this morning's house fire on The Circle.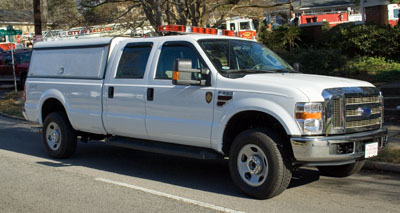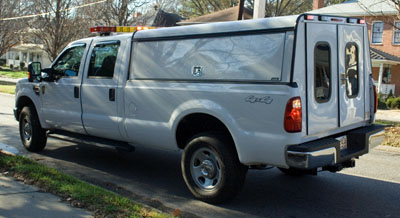 + 14 - 14 | § ¶
This Evening's Fire in Fuquay
Eight-unit apartment building at 500 Ashewyck Commons Court, off Cardinal Drive, off Stewart Street. Two-story, brick/frame structure with 7,262 square-feet. Built 1996. Fuquay-Varina, Holly Springs, Fairview, and Northwest Harnett County, for starters. FV and HS aerials operating, notes the FireNews incident log. Alarm time around 7:30 p.m. The WRAL story has a slideshow with several photos. Click to enlarge the top photo below by Keith Caudill. There's also aerial footage on the WTVD site.