+ 13 - 8 | § ¶
Moving the Mail
Here's another newspaper item, also from 1940. This amusing advertisement for Kellogg's All-Bran Cereal appeared in the News & Observer. Click to enlarge and remember to eat enough fiber.


+ 14 - 7 | § ¶
Room Blazes as Man Calmly Reads in Bed
The March 6, 1940 edition of the News & Observer reported on a fire in the room of Phillip Brockwell at 322 S. McDowell Street. Embers from an overheated fireplace started the fire, as Brockwell read in bed. The brother of Sherwood Brockwell, a senior fire enginer for the DOI and Raleigh's first full-time Fire Chief, didn't know the room was ablaze until he "smelled clothes burning." Damage estimated at $200.
+ 8 - 11 | § ¶
Jewelry Store Scatters Gift Boxes Around Raleigh
Okay gang, while you're out and about in the Capital City, watch for wee black-and-white striped boxes with red ribbons. These are freebies from Bailey's Fine Jewelry, as this News & Observer article reports. Find one and give something to Sweetie.
+ 10 - 9 | § ¶
Bahama Fire Truck Overturns Monday Night
The News & Observer reports that a Bahama fire truck overturned in Durham last night. The rig rolled on a curve at East Club Boulevard and Glenn Road (see map) just before 10 p.m. Four firefighters were aboard and all were transported for evaluation. The driver suffered broken bones in his hand, the most serious injury. They were each wearing seat belts. WRAL also covered the story, and their photo is below.

WRAL photo
+ 8 - 14 | § ¶
Questions From Visiting Fireman
A firefighter from Cleveland, NY, is visiting this week and would like to be pointed in the direction of any sharp rural fire departments. His interests are rural water supply, tankers, LDH, etc. What are everyone's top picks in Wake, Johnston, Harnett, etc. counties? Thanks for your help.
+ 11 - 13 | § ¶
Stony Hill Open House Today
Visit Stony Hill Station 1 (see map) from 2:00 p.m. to 5:00 p.m. today for their open house.
+ 12 - 12 | § ¶
Recruit Academy Starts Monday
Raleigh Fire Department Recruit Academy #35 starts on Monday with 29 future firefighters. Twenty-nine on the twenty-ninth! They firefighter recruits will fill both retired positions and a new ladder company. They'll graduate with certifications in EMT, Firefighter I and II, and Rescue Technician VMR. Recruits will also receive training on haz-mat operations and awareness, fireground procedures, high-rise operations, rapid intervention teams (RIT), accountability systems, safety companies, engine and ladder company operations, and firefighter safety and survival. Congrats, good luck, Godspeed. See you on the drill pad.


+ 11 - 6 | § ¶
RFD & RPD Job Applicants, 1944
Random history bit. On January 29, 1944, written civil service examinations were given at Memorial Auditorium for jobs in the Raleigh fire department and police departments. Two positions were open in each department. The applicants totalled 62. By way of contrast, 24 positions were open in the fire department last year and the number of test-takers totalled about 380. With some simple math, that's 31 per position then and 16 per position now. Though not quite apples to apples. Annual starting salaries for firefighters were $1,500 (or slightly higher) then and $31,117 now.


News & Observer photo
+ 9 - 7 | § ¶
RFD & RPD Apparatus Bids
The city of Raleigh recently awarded fire apparatus bids to Triad Fire, a Pierce dealer. The bids were for two engines, and two 100-foot platforms. The latter ladders are rear-mounts. Timeframe for delivery is probably 12 months. The Raleigh Fire Department presently has three platforms on the roster, a 1999 American LaFrance (L20), a 1995 Simon-Duplex (reserve), and a 1988 Pierce (reserve). Also awarded earlier this summer to C. W. Williams was the bid for a police special operations support vehicle. Something similiar to EMS Truck 1, perhaps? For many years, RPD has utilized retired RFD rescue units for special ops support, as shown below. Read all about recent apparatus and equipment bids.


+ 10 - 7 | § ¶
National Restaurant Association Recognizes Barry's Café with Award
Barry's Café in Raleigh, N.C. has been named this year's Restaurant Neighbor Award winner in the small business category, the National Restaurant Association announced this week. Owner Barry Doyle was presented the award and a $5,000 donation to the restaurant's cause during the Association's annual Public Affairs Conference in Washington, D.C. on September 23. Now in its 10th year, the award celebrates the philanthropic spirit of the restaurant industry and serves to inspire others to actively get involved in their communities. Read entire press release. Congrats to Barry! There's also a nice video about Barry and his efforts on this page, or viewed below:


+ 10 - 10 | § ¶
Nashville's First Fire Engine
For your Friday enjoyment, here's a photo courtesy of the North Carolina State Archives (N.80.3.61) showing the first fire engine in Nashville, N.C. It's a combination hose and chemical car built on a Corbitt chassis. Read more about Corbitt. The Nashville Fire Department was formed in 1787 (!) says their web site. In 1917 the town had two hose reels. In 1923, they had the above truck which was equipped with a 35 gallon chemical tank and equipped with 700 feet of cotton, rubber-lined hose. The volunteer fire department had 22 men, alerted by an air whistle at the Court House, a steam whistle at the power plant, and a bell at the fire staton. That information is from Sanborn Fire Insurance Maps. The town had a population of 1,200 that year. Click to enlarge:


North Carolina State Archives photo
+ 12 - 6 | § ¶
North Carolina Paramedics Have Trouble Finding Gas
From WSOC-TV by way of Firehouse.com, here's a Gaston County perspective on the fuel shortages that are happening around the state. Read the article.
+ 4 - 11 | § ¶
Police Camera Captures Plane Crash
From the Carolinas Fire Page mailing list, here's dashboard camera footage from the September 19 plane crash in West Columbia, S.C. Okay resolution, but good sound. Listen to the roar of that arriving crash truck. The footage is hosted by The State. Here's the related article. Four people were killed and two were injured when the Learjet crashed about quarter-mile from Columbia Metropolitan Airport. Here's that story. From a quick search of the web, it looks the nearest fire departments to the crash site were South Congaree FD and the airport fire station.


The State / Tracy Glantz Photo
+ 13 - 9 | § ¶
Charleston Fire Chief Hopefuls
The Charleston Post and Courier reviews the seven finalists for Fire Chief in this article today. One is a familiar face from Wake County, our former Public Safety Director. The seven spent Monday meeting with city council members, community leaders, and firefighters. The finalists were announced last week, and are being discussed and dissected on Venting The Roof. That's a new web site covering the Carolinas, and from the Firefighter Hourly guy. No punches are being pulled on VTR. And that's not a surprise, given the passions and interest surrounding the Charleston Fire Department. Welcome to the Web 2.0 age, where every Internet reader can add their two cents and then some.


Post & Courier / Brad Nettle Photos
+ 6 - 9 | § ¶
Fallen Firefighter's Memorial Softball Tournament, September 27 - 28
The First Annual North Carolina Fallen Firefighter's Memorial Softball Tournament is scheduled for Saturday, September 27 and Sunday, September 28 at the Walnut Creek Softball Complex on Sunnybrook Road in Raleigh. The event is open to fire and police personnel only. There's a three-game guarantee, with prizes for the top four teams. Come one, come all. Swing a bat, and support a great cause. See www.ncusssa.com/firetourn.htm for more information.
+ 8 - 14 | § ¶
Strange Bedfellows
From the candid camera of Lee Wilson comes this curious sight captured Saturday at Durham Highway's Public Safety Day. That's a Bethesda firefighter on the left, Mr. Wool E. Bull in the center, and some guy on the right disguised in a ball-cap and t-shirt. Keep back indeed.


Lee Wilson photo and possible broken lens
+ 13 - 7 | § ¶
This Evening's Major Fire / Hammell Drive
Updated 9/23. Three alarms at 1022 Hammell Drive. Engine 1 first on scene with heavy smoke from two-story, block/metal warehouse building with 31,634 square-feet. Major working fire declared by Engine 1 on arrival. Heavy fire conditions encountered inside. Defensive attack initiated within minutes. Engine 1 and Ladder 1 flowing deluge as fire started vented through roof. Ladder 20 positioned behind building, also flowing. Fire spread to rear of building. Ladder 11 later set up and flowing. Ground deluge guns and two-inch hand lines also utilized. Four+ hydrants supplying water. Long lays required, due to distance from hydrants. One supply laid laid through two residential yards, over a fence, and down an embankment. Water plant also boosted pressure. Car 2 in command, assisted by Bat 3, Bat 2, Car 5, and Car 1. Alarm time 5:34 p.m., arrival at 5:39 p.m., third alarm at 6:26 p.m., and under control at 9:35 p.m. No injuries reported.



Lee Wilson photo
Building built in 1950 and housed several businesses and at least one residence. No alarm system or sprinklers. Cause under investigation. First alarm: E1, E13, E2, E10, L1, R7, B3, C5, C20, A8. Second alarm: E8, E5, E6, E20, L20, R14, B2, C2, C1. Additional ladder (L11) special called. Additional rescue (R19) dispatched, due to possibility of two subjects inside structure. Third alarm: E22, E4, L16, B4. Plus EMS 1, EMS 11, EMS 13, EMS 20, EMS 31, EMS D1, EMS D2, EMS T1. Numerous move-ups as well as county coverage at city stations during first hours of incident. Crews remained on scene through the night. "B" shift working, with "A" shift companies on scene on Monday. Incident details from Legeros, Wilson, FireNews, and media reports.



Mike Legeros photo
+ 13 - 8 | § ¶
Legeros Photo Wins IAFF Media Award
The below photo by Mike Legeros has won honorable mention in the 2008 IAFF Media Awards, in the category Fire Service Photo Published on a Web Site. See all the winners. The panoramic image of an airport mass-casualty drill in March 2007, appeared on FireNews.net. It was submitted by Raleigh, NC Local 548. This is the second IAFF media award for Legeros, who won Honorable Mention last year in Best Story on Web-Based News Site. Here's the honorably mentioned photo, click to enlarge:


FireNews / Mike Legeros photo

+ 7 - 12 | § ¶
Open Houses / Public Safety Days / Fire Prevention Week
What's happening where? Here's the latest list, updated 10/02:

Sunday, September 28
Stony Hill Fire Department open house, SHFD Station 1 (see map), 2:00 p.m. to 5:00 p.m.
Friday, October 3
Raleigh Fire Department display, Crabtree Valley Mall.
Saturday, October 4
Sunday, October 5
Bay Leaf Open House, BLFD Station 1, 11713 Six Forks Rd. (see map), 1:00 p.m. - 5:00 p.m.
Raleigh Fire Department display, Crabtree Valley Mall.
Raleigh Fire Department open house, at all fire stations.
Monday, October 6
Raleigh Fire Department display, Crabtree Valley Mall.
Tuesday, October 7
Raleigh Fire Department history presentation, Cameron Village Public Library, 1930 Clark Ave. (see map), 7:00 p.m.
Sunday, October 12
+ 11 - 10 | § ¶
Fire Commission Meeting Highlights
Here is some of what happened at Thursday's Fire Commission meeting. Here is a PDF scan of the agenda
. First, some disclaimers. Yours Truly departed before the end of the meeting. The below summary is very brief and probably biased. Comments, corrections, and clarifications are welcome. The audio recording is available as always from the Fire Marshal's office. There were also a host of paper handouts. I'll look into getting these posted somehow. READ MORE
+ 12 - 9 | § ¶
It Ain't Over...
...till the fat lady sings. Common expression, meaning something ain't over until it's over. Wikipedia cites the origin as "the impression by many of Wagner's Der Ring des Nibelungen (aka the Ring cycle) as a lengthy opera finally concluding in an aria sung by a heavy-set woman dressed like a valkyrie." (Said cycle is a quartet of operas lasting about 15 hours!) Why are opera singers fat, you ask? This online article offers a couple theories, (a.) that a large amount of fatty tissue surrounding the voice box makes a better voice, (b.) that singers need a bigger, badder diaphragm to project their voices in grand opera halls, and (c.) that opera singing induces appetite and metabolic changes. Fascinating. Happy Friday.


+ 10 - 12 | § ¶
Nash County Disaster Drill Photos
FireNews has posted photos of a Nash County Emergency Services disaster drill at Rocky Mount-Wilson Airport on September 11. The scenario simulated a midair collision of two planes and approximately 45 souls, with crash sites some 300 yards apart on the airport property. Participating agencies in the evening included the airport fire department, West Mount Fire Department, Coopers Fire Rescue, Sharpsburg Fire Department, Nash County EMS, Nash Health Care, Nash County Fire Marshal's Office, Nash County, Emergency Management, Nash County Health Department, Wilson Memorial Hospital, and the SBI bomb squad. Read the FireNews article, or view slideshows from Jay Gardner and Jeff Harkey.


Jeff Harkey photo
+ 9 - 8 | § ¶
This Evening's Major Fire / Tall Pines Court
Two alarms at 5063 Tall Pines Court. Engine 9 first on scene at a two-story, wood-frame condominium building with 1,546 square-feet (in one unit). Working fire with interior attack. Second alarm requested by Battalion 4, approximately 10 minutes into incident. Kitchen fire that extended into attic and through the roof. Ladder 16 set up, and utilized for roof access. Alarm time 6:12 p.m. Fire under controlled at 7:17 p.m. Three units damaged. No injuries. Cause determined as unattended cooking. Red Cross assisted several displaced residents. First alarm units: E9, E15, E16, L16, R9, B4, C5, C20, A8. Second alarm units: E19, E11, E17, L11, R7, B1. Also EMS 3, EMS 5, EMS 15, EMS 33, EMS D3, EMS D1, EMS T1. See photos by Lee Wilson.

+ 10 - 10 | § ¶
Third Annual Tartan Ball, Friday, November 7
The Third Annual Tartan Ball and Bagpipe & Drum Concert is Friday, November 7, from 7:00 p.m. to midnight, at the Downtown Raleigh Sheraton. The sponsors and headliners are the Wake & District Public Safety Pipes & Drum. The guest band is the Chicago Police Emerald Society Pipe Band. There will be dancing, raffles, door prizes, and other fun. Appetizers will be served and a cash bar will be available. Tickets are $10.00 and can be purchased online at www.forourfallen.org, at Tir Na Nog, or from any band member. Highland or business casual attire is requested. See the band web site for more information.
+ 11 - 9 | § ¶
Public Safety Day, Leesville High School, Saturday, September 20
It's that time of year again! One of the season's first Public Safety Days is scheduled on Saturday, September 20, from 10:00 a.m. to 3:00 p.m. at Leesville High School, 8409 Leesville Road. Planned participants included fire departments from Wake and Durham Counties, EMS providers, RPD, SHP, and the Red Cross. Fun for the whole family!
+ 12 - 7 | § ¶
New Zebulon Fire Department Patch
ZFD has a new patch. Click to enlarge:


+ 9 - 14 | § ¶
Big Honkin' List of Fire Departments
What does a flat list of the state's fire departments look like? The answer is below, adapted from a list on the NCDOI site. Stand by for fun facts, after we crunch some numbers. READ MORE
+ 12 - 8 | § ¶
Mayor Honors Heroic RPD Officer
Mayor Charles Meeker presented a commendation to Raleigh Police Officer K.A. Thompson during today's City Council meeting. Officer Thompson was honored for his recent life-saving actions when he pulled a driver from a vehicle that had overturned into water. Read entire press release.


+ 10 - 11 | § ¶
The Watch Desk Has a New Look
Or at least it has new colors. Still more banners than postings on the Raleigh-Durham forum. Don't know why the discussion board hasn't sustained interest. There have been 214 threads started since the first posting in May 2004.


+ 12 - 10 | § ¶
John H. Baker Jr. Public Safety Center
A renamed Wake County Public Safety center was dedicated on Monday, reports today's News & Observer. The complex that houses the Sheriff's department, the Fire Marshal's office, Wake County EMS, and the hoosegow is now the John H. Baker Jr. Public Safety Center. The $56 million facility opened in 1991. Baker, who died in 2007, served as the state's first African American sheriff. He served in that office for 24 years. Read more about John Baker.


WRAL photo
+ 12 - 12 | § ¶
E.R. Patients Often Left Confused After Visits
While we're citing studies, here's an interesting New York Times article about the communication gap that is being increasingly recognized in hospitals. Patients are discharged without fully understanding what happened, or what's happens next, researchers found. Doctors are harried, patients are anxious, etc. Not an environment necessarily conducive to clear communication.
+ 13 - 9 | § ¶
Study Finds That 35 Percent Of BlackBerry And PDA Users Would Choose Their Device Over Their Spouse
Found on Drudge, here's something that won't surprise Blackberry users. From a WCBS story, a "study of 6,500 traveling executives says 35 percent of them would choose their PDA over their spouse." 'That's a tough call,' one said. 'Oh you don't want to go there,' another added." There's a reason they call 'em "crackberries." Are there nicknames for Nextels, that other highly popular (still?) mobile device?
+ 10 - 10 | § ¶
Dear Adobe
Here's a compelling concept in consumer feedback. DearAdobe.com. Type a gripe or some praise, and, bang, it's right there. The entire purpose of the site is for compiling quick and unfiltered feedback on Adobe software products. This blog posting explains the concept. The site was created by a couple people unaffiliated with Adobe. Now imagine extending that concept to other types of products or services. Say, public services? Don't know if it would work on a local level, but perhaps regional or higher. And there's no telling if those delivering public services would pay attention. That is, if change would be effected using such a tool. Stakeholders in school systems would certainly love it. Such animals probably exist. Public safety? Probably two types of comments would happen, outsider praise (citizens) and insider criticism (responders). Cool concept, for sure.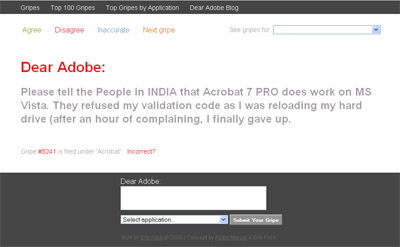 + 13 - 11 | § ¶
Engine 13 and Engine 13
Here are Durham E13 and Raleigh E13 at a shopping center at Brier Creek, for the occasion of the Pink Ribbon Tour. Durham's Station 13 opened in 1998, though Engine 13 was placed in service elsewhere at an earlier date (correct?). Raleigh has no station numbered as such and Engine 13 was placed in service at Station 1 by November 26, 1974. The second engine at Station 1 was previously numbered Engine 15, Engine 10, and Engine 9. The two trucks are a 1994 E-One and a 2004 American LaFrance, left to right. Triskaidekaphobia, by the way, is the fear of the number 13. Origins of the superstition range from Christian theology to Mesopotamian numerology. Read more on that.


Mike Legeros photo

+ 7 - 14 | § ¶
The Power and Problems of Those Anonymous Posts
Whatever your opinion of the reported comments of a high-profile law enforcement officer in last week's News & Observer, reader responses caused quite a problem for those moderating comments on the web site. Friday's paper offered this perspective. Anonymous comments can indeed be a bear. Fingers fly, readers return fire, and a big honkin' stew of negativity can result. We're better at e-mail, having learned over the years to curb instinctive emotional responses when necessary. Maybe we'll eventually get better with postings, even when they're anonymous.
+ 11 - 13 | § ¶
Downtown Raleigh Developments
Saw this poster posted downtown. It's a nifty map from the Planning Department. Super overview of the big stuff that's coming downtown. Wonder how much those high-rise condos cost? And where the heck do people park? See more Planning Department maps here. Click to view the PDF original:

+ 8 - 10 | § ¶
Planning Raleigh 2030 - Community Inventory - Fire Services
From the Planning Raleigh 2030 site, from the Community Inventory application, here's an inventory of fire facilities as well as a map. The inventory notes number of staff, number of vehicles, and floor area. Plus street addresses.
+ 14 - 5 | § ¶
French Ladder Truck
Found this while Googling for something else. It's at a good angle and a large enough image to depict the many differences between Euro and American ladder trucks. What's the yellow box in the back, you suppose? Breathing air? Generator? Click to enlarge:

+ 11 - 9 | § ¶
Keypads For Fire Apparatus
From a reader, who snapped this picture at a fire show up north. Keypads for fire apparatus doors. What will they think of next?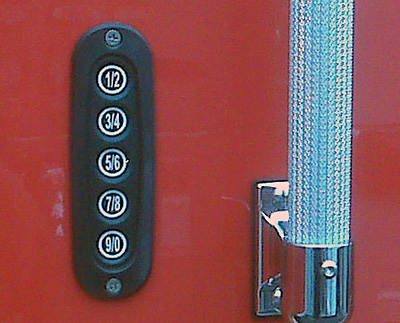 + 8 - 8 | § ¶
Diamond Plate Decor
From a reader, here are some interesting links: DiamondPlateStore.com, Elite Xpressions, JNK Products, and Texas Garages. Go nuts.

+ 10 - 8 | § ¶
What a Gas
Crazy prices all around, at least for a few hours on Friday. WRAL has this story, for starters. The below sign was seen in Fayetteville. The N&O also covers. The Governor declared a state of abnormal market disruption, allowed under North Carolina Law1. And prices normalized by the end of the day.

WRAL photo
1
Price controls as
explained on this Wiki
, including some interesting links with opposing perspectives. Disclaimer: This blogger is not an economist, nor plays one on television.
+ 9 - 9 | § ¶
Cumberland County Proposes Fire Station Funding Overhaul
The Fayetteville Observer reported Friday on a proposal to overhaul fire stations funding. The county fire chiefs agreed Thursday to pursue a special public safety sales tax. This would fund all city and county fire stations, and would replace fire district property taxes. The goal is a more equitable distribution of tax dollars, e.g. departments in poorer areas receive the same share as those in richer regions. The plan is expected to go before county commissioners in about two months.
+ 9 - 11 | § ¶
Images From Ike
Here's a Houston Chronicle slideshow, which includes the below image. Those are waves breaking over the memorial to the Galveston hurricane of 1900, the deadliest natural disaster in the country's history. Landed as a Category 4 storm on September 8, 1900. Killed between 6,000 and 12,000 people, and rendered 30,000 homeless.


Johnny Hanson, Houston Chronicle Photo

+ 7 - 8 | § ¶
Images From LA
Head-on collision of commuter train and freight train, yesterday evening. At least 15 killed, and at least 135 injured. Derailment with fire. Strong AP images on this site, though viewer discretion advised. Strong work from the LA Times, as well. That's their slideshow. Don't know when or what LAFD will surface on their Flickr site.


Spencer Weiner / Los Angeles Times Photo
+ 9 - 16 | § ¶
Komatsu Demining Machine
For your Friday curiosity, here's an interesting marriage of heavy equipment and humanitarian purpose. This is the Komatsu D85MS-15 Demining machine, a bulldozer-based device capable of clearing some 500 square meters an hour. That's many times the speed of manual anti-personnel land mine removal. The remote-controlled machine uses a base bulldozer chassis weighing some 27 tons. It's been field-tested in Cambodia and Afghanistan. Read all about it. And how did this mega-machine catch this blogger's attention? A wee-sized version is being added to the regular range of Tomica die-cast cars.

Komatsu Photo
+ 7 - 9 | § ¶
32 Gig CF Card
Crazy. Read all about it.
+ 9 - 6 | § ¶
Original Raleigh Rescue Boats
These beauties were recently returned to the Raleigh Fire Department, after being found at a city water facility. They're the original boats of the Raleigh Emergency Rescue Squad, Inc., the volunteer-organized rescue service that started in 1953. The boats were placed in service that year, stored at Station 1, and pulled by Rescue 1. See an old photo. The trailer was designed and built by squad members; the city provided the funds for the boats and motors. The boats were used for many recovery operations in and around Raleigh, such as the family of five that drowned after their plane ditched in Crabtree Lake on February 25, 1965. The boats were still on the roster in 1977, listed as "old rescue boats." Their registration sticker is dated 1982. They'll be stored at Station 28 for the time being, along with the department's others antiques. See more photos from Lee Wilson.


Lee Wilson photo
+ 8 - 7 | § ¶
Wake County Fire Commission Meeting, Thursday, September 18
The next Wake County Fire Commission meeting is scheduled for Thursday, September 18, at 7:00 PM, at the Wake EMS Training Facility, located in the lower level of the Wake County Commons Building at 4011 Carya Drive. I'll post an agenda ahead of the meeting, if one is made available. Come one, come all. Welcome the newest members. Soak up information. Offer comment. Learn.
+ 9 - 7 | § ¶
Orange Rescue Squad Answers Complaints
WRAL has the latest in the story of Orange County Rescue Squad and their June 27 service suspension. On Tuesday, the OCES Director presented a report to county commissioners that cited several instances of the squad's inappropriate responses. The squad president has responded to those charges, and his six page response has been made available by WRAL. Read their side of the story
.
+ 14 - 8 | § ¶
Durham Firefighter in Critical Condition After Jordan Lake Training Accident
Durham Fire Department Fire Technician Eric Rozier was critically injured on Tuesday, suffering a serious head injury at Jordan Lake during a boat training exercise. He was listed in critical condition at UNC Hospitals on Wednesday evening, reports today's Durham Herald-Sun. Rozier, a member of the department for over nine years, was participating in a USAR drill when the accident occured. FireNews.net is also covering the story.
+ 9 - 8 | § ¶
September 11, 2001
Moment of silence, please.
+ 9 - 8 | § ¶
September 11, 2001
Moment of silence, please.
+ 7 - 12 | § ¶
State Trooper Dies After Accident
North Carolina State Highway Patrol Trooper Andrew Stocks, 43, died after an accident at 9200 Ten-Ten Road. Shortly after 1:30 p.m., his cruiser collided with a garbage truck. Fairview Fire Department responded, along with other units. Stocks was extricated and transported to WakeMed, where he passed away at approximately 4:30 p.m. The driver of the truck was treated at the scene. The road was closed until about 6:10 p.m. WRAL has more information. Stocks death is the 60th duty death for the Patrol. Learn more about that history.

NCSHP / WRAL photos
+ 10 - 11 | § ¶
Pink Ribbon Tour Stop, Sunday, September 14, 1:00-4:00 p.m.
The Pink Ribbon Tour rolls into town this weekend. The Raleigh and Durham fire departments, along with Susan G. Komen for the Cure and Mix 101.5, will celebrate the tour's stop on Sunday, September 14, from 1:00 to 4:00 p.m. in the parking lot of Dick's Sporting Goods, 8021 Brier Creek Parkway. The tour, initiated by firefighters in Arizona, seeks to raise the level of breast cancer awareness through their coast-to-coast tour. They're also blogging as they go. Plan to visit, and wear something pink. Such as, say, a hot pink tropical print.

+ 14 - 7 | § ¶
Police Demos, Particularly Canine?
Posting for a friend, with a young son with a growing interest in the police department, and particularly canine units. Are any demos scheduled by RPD, Wake SO, or other LEO agencies in the coming weeks? Thanks for your help. Woof.
+ 15 - 9 | § ¶
Mystery Booms
READ MORE
+ 6 - 7 | § ¶
Tokyo Fire Museum
This might be the cream of the crop for fire museums around the world. Found via Google, here's the Tokyo Fire Museum as photographed by "phillipma." Supurb artifact displays. Love the diorama of firefighting in the 1960s! Here's the official site.


Tokyo Fire Department Photo
+ 12 - 9 | § ¶
Former Fire Departments, Final Report
After a couple weeks of research, and with tremendous help from readers, here's what's found for former fire departments around the state. See this page for the same list, and more details. Apologies for what I missed or recorded incorrectly. And there's undoubtedly still more to be found!
READ MORE
+ 8 - 10 | § ¶
Housing Ceremony for Stony Hill Rescue 26
On Monday, September 1 at 7:00 p.m., the Stony Hill Fire Department held a housing ceremony for their new Rescue 26. The Spartan/Hackney apparatus, delivered on July 24, was both wet down and hand-pushed (really!) into the bay. Durham Highway and Falls fire departments also participated. Here's a prior posting about the origins of housing ceremonies. Stony Hill recently celebrated their 50th anniversary. Click to enlarge:

Stony Hill Fire Department photo
+ 7 - 8 | § ¶
Brave New World of Digital Intimacy
Here's an excellent article on social media from today's New York Times. It's a long piece, from their magazine. Examines the effects of being connected online, notably in the lives and relationships of those who are constantly connected. e.g., through Facebook or Twitter. Numerous interesting points here. The ability to outsource your entire life, using social contacts to solve problems. The "dynamics of small town life, where everyone knows your business." Attitudes toward privacy, which become "simultaneously vigilant and laissez-faire." Self-awareness, and a "culture of people who know much more about themselves." And so on. Good stuff, and a great perspective into the world of constant online connections. Especially for us old farts, who watch the young 'un's work their keyboards and keypads day and night.
+ 9 - 10 | § ¶
Indy Interview with Thomas Crowder
Part of their coverage of the new Convention Center, the Independent Weekly has an interesting interview with Raleigh Councilman Thomas Crowder. The architect and owner of an architectural firm tells what he likes and doesn't like about the Capital City's building designs. Read the interview.
+ 6 - 11 | § ¶
Holding Our Breath
As we hold our breath for Hanna, here's a fun photo from 2006. The remnants of tropical storm Alberto caused Raleigh's worst flooding in ten years. Crews conducted numerous water rescues, including these people from an office building across the street from Crabtree Valley Mall. That was a "C" shift day, with Ladder 16 and Rescue 19 among others at Crabtree. Weather was fine by that afternoon. Photo by Legeros, who had dried by that time. One large umbrella, however, was gone with the wind. See a few more here.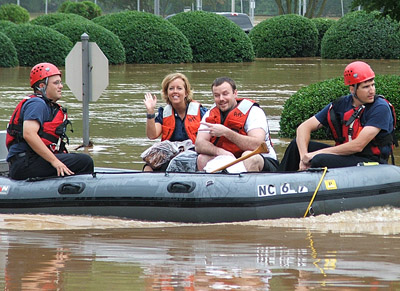 + 13 - 8 | § ¶
Large Scale Incident Management by Mark Haraway
Apex Fire Chief Mark Haraway's book, Large Scale Incident Management, has been published. The 288-page softcover volume is available from Amazon. From the description: "The book places readers in the Incident Commander seat for the EQ chemical fires that occurred in Apex, North Carolina, in October 2006: an event that lasted three days, shut down an entire city, and displaced 17,000 citizens. Using this large-scale incident as a running example of how critical components of successful incident management are actually applied in real life, it provides detailed insight into important topics in the field." The publisher is Delmar Cengage Learning.

+ 9 - 8 | § ¶
Purchase Approved of Building For Temporary RPD HQ
The Raleigh City Council has approved the purchase of an office building at 6716 Six Forks Road for $6.23 million to serve as a temporary location for the Raleigh Police Department headquarters during construction of the Clarence E. Lightner Public Safety Center. The building will be the temporary headquarters for several divisions of the Raleigh Police Department that are currently located at 100 S. McDowell Street including the Chief's Office, Detective Division, Field Operations, and Administrative Services. Read entire press release.
+ 9 - 7 | § ¶
Groundbreaking in Apex
Apex officials held a groundbreaking ceremony today for both Public Safety Station 4 and the police station renovation. The ceremony was held at the police location, though a bucket of dirt from the Station 4 site on Highway 55 was included. Here's a prior posting about Station 4. Thanks to AFD for providing the photo below. Watch their web site for more. Click to enlarge: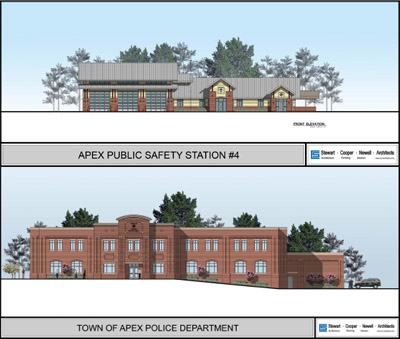 + 10 - 6 | § ¶
Rain, Rain, Go Away
Lots happening this coming weekend. Raleigh Wide Open, including the grand opening of the Convention Center. Brooks & Dunn and ZZ Top at the Creek. The aforeposted emergency drill. Hurricane Hanna seems poised to put a damper on everyone's fun. Here's the latest forecast map:

+ 7 - 8 | § ¶
**Postponed** Wake County Emergency Training Exercise, Saturday, Sept. 6
Speaking of railroad accidents, an emergency training exercise will be held near the New Hope Valley Railway in New Hill on Saturday, September 6, 2008, from 10 a.m. to 4 p.m. During the full-scale training exercise, emergency response personnel will be tasked with treating and removing injured passengers from a train and determining the cause of the incident. Read the entire press release.