+ 17 - 11 | § ¶
Digital Photo Post-Processing
This is an example of digital photo post-processing, from this morning's house fire on Atkins Drive. Image 1 is right out of the camera, using a Canon Digital Rebel XT and a Canon 17-40mm F4 L lens. Priority shutter mode, ISO speed 1600. Shutter speed 1/60 sec., focal length 20.0 mm. With flash. Saved in Canon RAW format. Image 2, using Canon Digital Photo Professional software, adds sharpness. Image 3 changes white balance setting to Flash. Image 4 crops closely and changes to portrait orientation. Image 5 increases the exposure. Image 6 increases the contrast. Image 7 changes the picture style to Portrait. Click to view: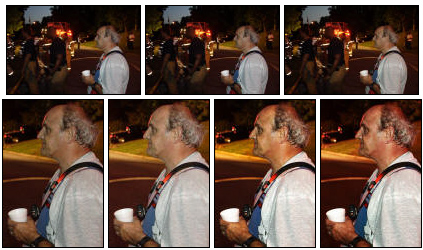 + 15 - 12 | § ¶
Hong Kong Airport Fire Contingent
And while we're exploring the Far East, here's an English-language video introducing the fire department at Hong Kong International Airport. Though their wheeled apparatus is interesting, its the two gargantuan rescue boats that stop the show.
+ 14 - 14 | § ¶
Tokyo Fire Department New Year's Fire Review
Here's a treat via YouTube, footage from the Tokyo Fire Department's annual New Year's Fire Review. Fire trucks, fire boats, fire helicopters. Synchronized streams, synchronized rappelling, synchronized aerials. Bet it's a blast in person. Music by Richard Wagner, "Ride of the Valkyries" without vocals.
+ 12 - 18 | § ¶
Your Brain Lies to You
Don't believe everything you read, or everything you remember. This nifty New York Times article is about the science of memory and its relationship to what we remember as truths versus falsehoods. The brain does not store information as a computer hard drive does, it begins, but instead keeps rewriting and reshaping the information as it is recalled. And during that process, its context is lost. They call it source amnesia. Fascinating.
+ 13 - 12 | § ¶
Code 3 for a Cure Visits Raleigh on Sunday
The Code 3 for a Cure tour stops in Raleigh on Sunday, June 29. The firefighters and their Sutphen pumper are expected at Station 1 on S. Dawson Street from 10:00 a.m. to 1:00 p.m. They are collecting the names of personnel both active and retired who have lost their lives to cancer. The Code 3 crew started their trek in southern California on June 13, and are stopping at various departments along the way to Times Square, where they will read the names and ring the bell on their truck. Read their intinerary. They will repeat the process on the return trip, and read additional names in Los Angeles upon concluding their 8,800-mile journey. Good luck.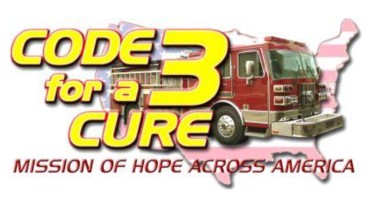 + 12 - 11 | § ¶
Municipal Notes
Morrisville passed their FY09 budget, reports NBC17. The replacement for Fire Station 1 was retained ($3 mil), but a new piece of apparatus didn't make the cut. The station structure began its life in 1960 as a two-bay building facing Morrisville-Carpenter Road. Planned widing of the road, and the impact on egress and response times, are cited as a reason for the relocation. See their budget docs.
Knightdale has approved a fire service agreement with Eastern Wake, to provide fire protection to the Poplar Creek Village, Cheswick, and Riverview Commons subdivisions. This from their eViews Weekly Update. The town had planned to build a second fire station near those areas, but that project was postponed.
Wake Forest budget information is here, including a message from the Town Manager about fire protection, funding, and the future. They appear to be adopting a "wait and see" approach with regard to the funding increase requested by the prior fire chief. Learn about Wake Forest FD.
Apex doesn't appear to post their budget information on the web, or at least this blogger can't find the documents. See what you can find. Ditto for Holly Springs, which also doesn't appear to post their budget information. This year at least. Look for yourself. In both cases it is worth noting that public records requirements does not equate to a requirement for Internet posting. The latter is simply a service provided by many municipalities.
+ 9 - 15 | § ¶
Custom Chassis Ambulance
From a reader, here's something new and exciting, a Spartan/Braun custom chassis ambulance. It's their Furion chassis. Read the JEMS product preview. More about Spartan. More about Braun. Click to enlarge:


+ 12 - 12 | § ¶
Summer Movies
Speaking of minor amusements, there's a pretty good laugh to be had when watching The Incredible Hulk. One scene features a 6x6 military communications-type unit in downtown New York City, except the vehicle is... an Oshkosh Striker crash truck. No one else laughed that day in the theater. Go figure.
+ 14 - 13 | § ¶
Dalmatians
Humor from the current issue of the New Yorker. Scroll down to Dalmatians.
+ 14 - 12 | § ¶
Stony Hill's Rescue
Stony Hill Rescue 26 is expected in early July, the third of three 2008 Spartan/Hackney heavy rescues. Hopkins and Wendell have already received theirs. The picture below was taken June 19.


+ 12 - 11 | § ¶
Raleigh Passes Budget
City leaders approved the FY09 budget last night. Included is a mess of public safety funding, including construction of Station 29, an additional ladder company, and increased starting salaries and academy completion increases for fire and police. The Clarence Lightner Public Safety Center was also funded, part of the Capital Improvements Program. Read the entire press release.
+ 12 - 13 | § ¶
Retired Raleigh Firefighter Passings
Four retired Raleigh firefighters have passed away in recent days. Retired Lt. Roma L. Wilder, 88, died on June 16. Retired Lt. A. Ray Bradford, 65, died on June 17. Retired Lt. Michael S. Johnson, 53, died June 19. Retired Captain Edsell S. Thorton, 86, died June 23. There passes 109 years of collective service. They will be missed.
+ 11 - 11 | § ¶
Pine Level Fire Chief/Raleigh Firefighter George E. Crocker Dies
FireNews has preliminary details on the passing of George E. Crocker, 32, who died Sunday morning. He was chief of the Pine Level Fire Department in Johnston County, and a Senior Firefighter in Raleigh. Assigned to Engine 12 on "A" shift, he joined the Raleigh Fire Department in October 2002. His body was transported on Sunday afternoon to Chapel Hill for an autopsy, escorted by Raleigh Engine 12, Raleigh Battalion 2, a Pine Level engine, and a Pine Level chief's vehicle. Other local fire units stood by along Interstate 40, while Durham and Chapel Hill engines joined the procession in Durham and Orange counties. Funeral arrangements are pending. Chief Crocker's body will be transported today from Chapel Hill to a funeral home in Johnston County. An escort is again planned and departure is expected around lunch time.


+ 10 - 14 | § ¶
News & Observer Cuts
Here's another Indy piece on the News & Observer job cuts. Today's paper also provides information on the coming changes. Readers can expect less local coverage, less business news, less late stuff (sports, breaking news), and a page less of opinion each week. All told, it says, 14 fewer pages each week. What role has the Internet and social media had here? Speaking, er, writing ancedotally, it's been some years since the paper was one's sole source for news of incidents or developments related to fire departments. There are now niche news sites, such as FireNews. There are niche bloggers, such as Yours Truly, who provide a sort of journalistic service. Official press releases are increasingly common, and easy to find online. Same with public documents, which can be browsed or search for noteworthy news. Etcetera, etcetera. Whole new world.
+ 13 - 10 | § ¶
Indy Article on Raleigh Budget
This week's Independent Weekly has a detailed article on the city's proposed budget, and in particular talks about income sources (impact fees, capacity fees, taxes) and capital projects (public safety center, remote operations center, etc.).
+ 14 - 8 | § ¶
Woman is Fired Up About Firefighting Mural
News & Observer story about a person not pleased with a firefighting mural at Firehouse Subs in Chapel Hill. Seems some school rivalry is reflected in the piece. The offending artwork:


+ 16 - 8 | § ¶
Haz-Mat 8
Delivered yesterday to Station 8, this haz-mat recon vehicle will be utilized by members of NC Regional Response Team 4 and NC Task Force 8. The 2008 Ford F-350 Super Duty truck will be equipped with monitoring equipment. It's also equipped with a tow hitch.


+ 17 - 10 | § ¶
Could a Defibrillator Have Saved Tim Russert?
Heart disease is still in the spotlight one week after the passing of television newsman Tim Russert. This New York Times blog and accompanying comments discuss the role that AEDs could have played. Said blogger's prior post concerns the consequences of wearing flip-flops. However, it doesn't advise if wearing Hawaiian shirts aggrevates foot and leg problems.

+ 11 - 10 | § ¶
Charlotte House Explosion
The Charlotte Observer has dramatic images of last night's fatal house explosion. One toddler was killed and two adults were seriously injured. Gary O'Brien took this shot, one of several in the article. The details of the story paint a scary picture. Crews were called to the neighborhood 90 minutes earlier, for a strong smell of gas five houses down. Nothing found.


+ 12 - 10 | § ¶
News Articles / Wake Forest Crews Return From Wildfire / New Fuquay Firefighter
Wake Weekly article on Wake Forest Fire Department members who returned from eastern N.C.
Fuquay-Varina Independent feature on the town's newest firefighter.
+ 13 - 14 | § ¶
Remembering Charleston
Today is the anniversary of the Super Sofa Fire that killed nine Charleston firefighters on June 18, 2007 . The Post & Courier reports on today's memorial service, one image from which is pictured below. They also have video footage of the service. There are also a number of features at Firehouse.com. Reflections and commentary are present on a number of sites, including Firefighter Hourly and Statter911.


+ 11 - 11 | § ¶
Cary's New Rescue/Service Ladder
This 2008 Pierce Velocity heavy rescue/service ladder truck was delivered this afternoon. Equipped with a light tower, cascade system, retractable awning, and full complement of ground ladders, it replaces Truck 7. In related news, Truck 6 was placed in service yesterday, June 17, at 2:00 p.m. The 2008 Pierce Velocity aerial ladder was delivered in April. Click to enlarge:


+ 11 - 8 | § ¶
New Apron for Station 5
Picture says it all. One side at a time. Station was built in 1961, and replaced a 1926 structure at same location. Also housed truck company from 1961 to 1987, foam unit from 1965 to 1990, and air unit from 1991 to 2007.


+ 13 - 13 | § ¶
Knightdale's New Pumper
Lee has photographed Knightdale's new pumper, which was placed in service yesterday. Engine 132 is a 2008 Pierce Saber 1500/750 rescue pumper. It replaces a 1986 GMC/E-One midi-pumper/rescue unit, ex-Ravena, OH. Learn more about Knightdale Public Safety Fire-Rescue.
+ 14 - 7 | § ¶
County Commissioners Approve Recommendation to Close Western Wake Station 2
NBC 17 reports that today the Wake County Board of Commissioners voted to accept the recommendation of the Wake County Fire Commission to close Western Wake Fire Department Station 2 starting July 1, and with the Cary Fire Department commencing contracted service of the newly created Cary Suburban Fire Insurance District at that time. Guess what we thought was a done deal took some time for final approval.
+ 12 - 13 | § ¶
Iowa Flood Photos
There's strong photography coming out of Iowa and that terrible flooding. The Des Moines Register has numerous galleries, including a Best of collection. A story titled Tempers Flair as Residents Wait features the below AP photo by Seth Wenig, showing officers with gun and baton drawn, as a resident attempts to circumvent a roadblock. Not a good idea.


+ 15 - 10 | § ¶
Something in the Water
Fatal shooting near Blount and Lee streets Tuesday night. Fatal shooting at Walnut Terrace Friday night. Fatal shooting on Peyton Street Saturday morning. Body found on Glenwood Avenue this morning. Must be the heat.
+ 17 - 10 | § ¶
Cary, Apex EMS Units Could Consolidate
Yesterday's News & Observer featured a Cary News story about a possible merger of Cary EMS and Apex EMS. The two have been talking about a consolidation for over a year, the article notes. The last such merger in these parts was when Eastern Wake EMS was created from agencies in Knightdale, Wendell, Zebulon, and, as of July 1, Rolesville. Learn about Cary EMS. Learn about Apex EMS.


+ 13 - 8 | § ¶
Wake County Fire Academy Now Accepting Applications
Wake County Fire/Rescue is now accepting applications for its first county-wide fire academy. Applications must be received no later than August 1, 2008. The academy is scheduled for September 2008 through January 2009. Successful candidates will receive: Firefighter II, HazMat Operations Plus, EMT Basic, ICS, Firefighter Rescue, Firefighter Survival, Rescue Technician, and Fit Testing. See this PDF flyer
for application requirements and contact information. Good luck!
+ 15 - 10 | § ¶
Onlsow Firefighter, Deputy Killed While Directing Traffiic
Details from the Jacksonville Daily News. Both were directing traffic on US 17 south of Verona at 5:30 a.m., when struck by a tractor-trailer rig. Another deputy was severely injured. Deputies and firefighters were directing traffic due to low visibility conditions, due to fog and smoke from a controlled burn. Vernona Fire Department Asst. Chief Gene Thomas and Onslow County Sheriff's Deputy Steve Boehm died in the crash.
+ 10 - 10 | § ¶
Code Purple
As this WRAL story details, state officials have declared the most extreme air-pollution warning possible for folks in the northeastern part of the state. Code Purple, from the smoke from the wildfire. Guess it'll be smoking or smoldering until the next tropical storm.
+ 14 - 9 | § ¶
Yesterday's Fire / Harps Mill Road
Two alarms at 7721 Harps Mill Road. House fire with multiple calls received. Engine 15 first on scene at a two-story, frame residence with 2,828 square feet. Built in 1978. Engine 15 reporting major working fire with flames through roof. Alarm time about 5:20 p.m. Controlled about 5:36 p.m. "C" shift companies on scene included E15, E4, E22, E19, E25, E11, E9, L22, L16, R19, R7, B1, B2, B4, C5, C20, A8. EMS units includes EMS 122, EMS 33, D3, MD20, T1. More details and photos from Lee Wilson.


+ 14 - 10 | § ¶
Tee in Flight
Today's National Fallen Firefighters Golf Tournament at Eagle Ridge Country Club in Raleigh produced one particularly cool photo. Canon Digital Rebel XT and 18-55mm kit lens, and highest-possible shutter speed, 1/4000 second. Shutter priority mode, I believe. Couldn't capture a crisp golf ball smack, alas. One day I'll get better with my camera settings. Click to enlarge:


+ 13 - 12 | § ¶
Kenly Structure Fire
For those monitoring, that's the Kenly structure fire on PS Event 4. FireNews has incident details. Multiple alarms at the Kenly Tire Company at the intersection of Highways 301 and 222. Single-story metal building, 80x150. Aerial operations. Departments from Johnston, Wilson, and Wayne counties. Selma's foam unit just arrived, for a fuel tank that's part of the incident.


+ 13 - 9 | § ¶
Fire From Space
The News & Observer has a nifty AP photo of the Hyde County wildfire as seen from space. The article reports that the fire is presently the largest such fire in the United States. What resources around here have been sent there? FireNews also posted some aerial photos, if you haven't seen them yet.


+ 11 - 9 | § ¶
This Evening's Fire
Two alarms at 2311 Byrd Street. Reported grill fire that spread to deck. Engine 6 first on scene at a two-story, brick residence with 2,569 square feet. Built in 1940. Engine 6 reporting working fire both on deck and in rear room. Second alarm requested by Car 5 to relieve personnel due to heat. Fire units on scene included E6, E5, E9, E13, E16, E3, L1, L16, R14, B2, B4, C5, C20, A8. EMS provided rehab with a number of units and Truck 1.


+ 13 - 11 | § ¶
Tarzan Hot
"Man it's hot. It's like Africa hot. Tarzan couldn't take this kind of hot." Matthew Broderick as Eugene Morris Jerome in Biloxi Blues, script by Neil Simon, from his play.


+ 10 - 13 | § ¶
Universal Studios Fire
They say it's the longest operating commercial structure fire in Los Angeles County history. Realty meets unreality. LAFD has an official Flickr site, with several dozen suburb shots from the scene, including this one of a scorched pumper by Scott LaRue. Below is the aftermath, shot by Allen J. Schaben for the Los Angeles Times. Notice the LAFD dozer in action. Click to view more:


+ 14 - 7 | § ¶
What if Firefighters Ran the World?
This one's making the rounds. Nextel commercial. Hilarious.


+ 8 - 10 | § ¶
Bo Burns
There was a working fire at the Bojangle's on Western Boulevard yesterday afternoon. Alarm time around 2:30 p.m. Engine 8 first on scene. Ladder 1 also attending, as Ladder 20 was participating in high-rise training nearby at State. Single-story brick structure with 5,206 square-feet and an attic space. Fire in a storage room, with WRAL reporting same starting in the kitchen. Really burned their biscuits, so to speak. Two of three lanes of westbound Western Boulevard were closed, also says the news. That's a funny driveway and incline over there. 'Tis a fine breakfast destination. Hope they're back in business soon.
+ 17 - 14 | § ¶
Old Photo of Station 12
Engine 12 as a 1975 Mack CF pumper and Truck 12 as a 1980 Ford service truck. Taken in the Eighties. Click to enlarge:


+ 14 - 13 | § ¶
New Version of FireNews
The new version of FireNews has been pushed to production. The interface has been improved with a nicer, neater design. The architecture has also been improved to facilitate easier and more frequent updates. New stuff? There's an Editor's Blog, for starters. And a page of information about Contributors. Motley crew there! What happened to the old stuff? This page of Legacy information has that information.


+ 12 - 11 | § ¶
Secrets of Night Photography
When shooting at night, light is almost always a problem. But light towers and halogens help tremendously, especially with a camera capable of 1600 ISO (or higher). Motion is the next problem, both camera and subject. Lock your arms, and press the camera hard against your face. Tripods or monopods work as well, but they can encumber a person in a situation where ease of movement is essential. But still subjects? Crews stay in motion at a fire, even when they're idle. They're conditioned to be conscious of "standing around." Chief officers are considerably more stationary, and they conveniently wear brighter apparel. Non-animated objects are also easy to shoot, such as apparatus, equipment, or, say, a big fat supply line. Thus the reason night fires by Legeros have fewer personnel pictures than you may expect. Even after hundreds of shot, so many are blurry and get deleted. But what about using a flash, you ask? No thanks. Ambient light is preferred. Too many reflective surfaces, too much contrast with a flash. Memo to self: investigate effective flash use.