+ 17 - 14 | § ¶
Route No. 10 Fire Department, 1955
Anyone heard of Route No. 10 Fire Department in Charlotte, from the mid-1950s? They first appear in the membership roster of the North Carolina State Fireman's Association for the year ending June 30, 1955. The chief is listed as R. A. Breyare. For the years ending June 30, 1956, and June 30, 1957, they're listed as inactive. The department disappears from the membership roster in 1958. Other member departments in Charlotte in 1955 were Oakhurst FD, Pinoca FD, Wilkerson Boulevard FD, and Woodlawn FD. More about former FDs.
+ 14 - 12 | § ¶
Baldricks Before & After
It was firefighters versus clippers at Hibernian Restaurant & Pub this afternoon, with Raleigh Fire Department members raising money for the St. Baldrick's Foundation. The shorn squad included "C" shift personnel from Engine 1, Engine 13, and Ladder 1. See the team page. The hair flew, the deejay riffed, and everyone had a good time for a good cause. And the glare was incredible. Who else is gearing up for cutting down next month? Post details hair. Click to enlarge:


+ 14 - 15 | § ¶
One Man, One Engine
For your Friday morning, as found on the Firehouse.com forums, here's an interesting video that may already be making the rounds. If the on-screen date is correct, the footage was shot in 1993. Location, department, and details unknown. One man, one engine. Plus bystanders, then additional personnel. The clip is just over six minutes in length.


+ 15 - 19 | § ¶
New Photos From Denver Airport Plane Crash
We blogged about the radio traffic from the Denver airport crash on December 21. New photos have surfaced as taken by a passenger and showing crash trucks attacking the burning jet. Not something you see every day. Watch the slideshow.


V. Alves/KMGH-TV Photo
+ 16 - 16 | § ¶
Few More Former Fire Departments
For your hysterical, er, historical amusement, here are a few more former NC fire departments, found today in some records searching. They've been added to my master list.
Ames FD, formed by 1970. Union County.
Benton Heights FD, formed by 1940, in Monroe, Union County.
Dare Beaches FD, formed by 1960, Dare County.
District #3 FD, formed by 1970, Guilford County.
Elm City FD, formed by 1970. Wilson County.
Gold Hill FD, formed by 1965. Rowan County.
Rutherford College FD, formed by 1960. Burke County.
+ 12 - 10 | § ¶
Improperly Discarded Smoking Materials
Yet another major fire caused by humans, by way of smoking material igniting outdoor areas. What's a community, resident, or property owner to do? Prevention. Well, we could legislate. Ban behaviors under certain circumstances. We know how that goes. Education might be better. Every property owner, or community property resident, is made aware of the risks of improperly discarded smoking materials on wooden decks. Heck, if I owned an apartment complex, I might just erect signs in the parking lot. Be careful with fire! Please extinguish cigarettes! Of course, that might drive away business, suggesting that your property is having a problem with fires. Wonder what the insurance companies would think? Maybe signage in the outdoor areas? Every wooden deck, say, equipped with a reflective sign advising "please do not leave cigarettes burning." You could throw in any reminders about cooking and open flames as well. How about fire pails, like the old days? Install on everyone's deck a bright red pail containing sand. Lettered for Smoking Materials Go Here. Would it work? Could it work? Then there's detection? Are improvements possible, say outdoor heat or fire detectors? Maybe those exist, and are used in structures. This blogger is not a [fire protection|fire prevention specialist], nor plays one on television. Finally, there are the burning materials themselves. Would/will fire-safe cigarettes better prevent these fires, if/when they're required in North Carolina? Here's an interesting site with information from the North Carolina Coalition for Fire-Safe Cigarettes. What about more resistant building materials, for deck construction? And so it goes, etcetera, etcetera. We're certainly just scratching the surface here, with yet another (uneducated?) blog rant. People and fire, an age-old problem.
+ 19 - 14 | § ¶
Yesterday's Major Fire / Evergreen Forest Way
Two alarms at 5321 Evergreen Forest Way. Engine 22 arriving at a two-story, wood-frame apartment building with 12,870 square-feet, and heavy fire in the rear of the structure. Alarm time 5:55 a.m. Controlled 6:44 a.m. Approximately 40 firefighters on scene. Five apartment units rendered uninhabitable and 30 people displaced. No injuries. Cause determined as improperly discarded smoking material. Read the WRAL story, which has quite a few reader comments. Read the News & Observer story.


WRAL Photo
+ 20 - 17 | § ¶
Really Big Wrecker
There are big trucks, and there are big trucks. Check out this monster from Massachusetts, a Kenworth/Jerr-Dan 85-ton wrecker operated by Big Wheel Recovery Team in East Freetown, MA. See more wreckerdriver.com photos. Or read more information from Jerr-Dan.


+ 14 - 21 | § ¶
Mobile Phone Photo Challenge
Based on a recent suggestion for a featured photo thread, let's let our readers create some photos for a change. The rules. Photo must be taken using a mobile phone. The image must include these three things: a helmet, a vehicle, and the color blue or red. Composition is your call. Indoors or outdoors. Artsy, fartsy, or super-simple. Can include people, plants, kids, barnyard animals, whatever. On scene, at station, or anywhere in-between. Deadline for submissions is Tuesday, March 9, at 5:00 p.m. EST. Send photos to mikey "at" legeros "dot" com. Please indicate photo credit. Can be full name, first name, or even anonymous. Got it? Go forth and shoot.
+ 17 - 17 | § ¶
Military Plane Crash at Raleigh-Durham Airport, 1953
Just before midnight on January 2, 1953, an Army C-47 transport plane crashed in Crabtree Park while attempting an emergency landing at Raleigh-Durham Airport. The weather was raining with dense fog. Three of the four crew members were killed. The fourth member survived, T-Sgt. Edward Matus, who walked to the airport, arriving at the Eastern Airlines office at 1:00 a.m. He followed the "sounds of airplanes taking off." He was rushed to Duke Hospital. The crash was the first fatal airplane accident "since the airport came under civilian operation in 1946."

The plane was flying a "routine training flight" from Stewart Air Force Base, in Newburg, NY, to Donaldson Air Force Base, in Greenville, S.C, with a stop at Pope Air Force Base in Fayetteville. They attempted a landing a Pope, but "visibility there was zero." They diverted to Raleigh-Durham, where visibility "was about a one-quarter of a mile." Their last radio contact with Pope was at 10:41 p.m., when the crew reported "icing at 9,000 feet."

Matus remembered being struck and falling to the floor in the plane, then waking up in the wreckage. He followed the sounds of airplanes to the airport. "Bleeding profusely despite a crude tourniquet," the survivor stumbled into the nearly empty office. He was "pale with shock and dazed." He couldn't tell from which direction he had come. He was treated at the hospital for "shock and multiple cuts."

Wikipedia Photo

The 100-person search party included "police, Civil Air Patrol officials, and Air Force investigators." After hours of searching, Highway Patrol officers were sent to the hospital, to retrieve one of the survivor's shoes. The lawmen also procured bloodhounds from the "Cary prison farm." They attempted, though unsuccessfully, to retrace the survivor's steps. None of the residents of the area reported hearing a plane crash.

Six hours after they started, a 25-member search party located the wreckage and the bodies of the pilot, co-pilot, and navigator. The plane had crashed in thick woods, some 1,000 yards from the park's picnic area. The wings were sheared by the trees, and the tail section separated. The area "reeked of high-octane gasoline" but there was no fire, as the pilot had cut power. The plane's gear was down. The wreckage was "less than two miles from the airport's control tower."

The dead airmen were Capt. Louis R. Gossman, pilot, First Lt. Norman W. Joyce, co-pilot, both of Donaldson Air Force Base, and First Lt. Robert W. Shaw, of Pope Air Force Base. The area was subsequently secured, though "crowds of curious persons" had converged on the wreckage earlier, "picking up souveniers from the broken parts of the plane." Cars also jammed the gate at the park entrance, and caused traffic problems on the highway. The process of moving the wreckage started on January 4.
Sources: Raleigh Times, January 3, 1953; News & Observer, January 4, 5, 1953.
+ 12 - 14 | § ¶
The Big Fire, Two Years Ago
A reader reminds that today is the two-year anniversary of the Pine Knoll Townes fire, one of the biggest in the city's history. Five alarms, 12 structures, 38 homes damaged or destroyed, 29 families and 72 people displaced, $4 million damage, four engines pumping, four aerial streams flowing, hundreds of firefighters, 13 outside units at Raleigh stations. Read the blog postings from then: Big Fire summary, Big Fire, Big Fire Resources, Big Views. See photos from that day by Lee Wilson and Mike Legeros. There are also some aftermath photos and panoramic photos from Legeros.


+ 21 - 20 | § ¶
Hose Wagon Racing
Random historical image, found during some file cleaning. It's a New Bern Atlantic Fire Company hose wagon participating in a race circa 1900. That year, the state fireman's convention was held in Wilmington. Read newspaper coverage of the 1900 tournament, and other conventions from that decade. Click to enlarge:


+ 17 - 11 | § ¶
North Carolina Forest Fire Lookout Towers
Who hasn't wondered where all the lookout towers are in our state? The North Carolina Chapter of the Forest Fire Lookout Association has an inventory on their web site. Same is split into three sections. The Mountain Inventory lists 43 standing, and 43 removed. The Piedmont Inventory lists 26 standing, and 21 removed. The Coastal Inventory lists 54 standing, 23 removed, and 15 unknown. All told, there are 121 lookout towers reamining in North Carolina. Chapter director Peter Barr has also written a book on the subject, Hking North Carolina Lookout Towers. How cool is that? Credit to Mrs. Blogger, for finding that.
What about Wake County's towers, past and present? We've had three towers at five sites, one of which is still standing. The Bay Leaf tower was erected in 1937 on Six Forks Road, north of "Six Forks." In 1968, the tower was moved to the present Howard Road site. The Knightdale tower was erected in 1938 on Southside Place, and removed in 1972. It was relocated to Pasquotank County. In 1940, the Apex tower was erected at Oak Grove Primitive Baptist Church Crossroads. In 1951, it was moved to Swift Creek Church-Apex Road. In 1986, the site was sold and the tower removed thereafter. Read more about Wake County fire towers.
+ 19 - 17 | § ¶
Long View Church Fire
FireNews has posted this strong photo from Catawba County of the Penelope Baptist Church in Long View, taken by LVFD Fire Investigator B. W. Sigmon. Flames consumed the sanctuary of the historic structure last Sunday. The church is 120 years old. Read about the fire and see other photos. Here's a related article from the Hickory Record.


B. W. Sigmon / FireNews photo
+ 15 - 15 | § ¶
Videography From Chicago
Dave Statter surfaces this strong video from Steve Redick of a 2-111 fire in Chicago on Saturday. The audio includes radio traffic from the fire. It's a well-shot and well-produced clip, maybe a model for such things? See others on his YouTube channel. Mr. Redick, a CFD fire alarm operator, also has a photo site that we've blogged about. It includes superb fire and apparatus photographs from him and his CFD father, and dating back to the 1950s. Lots of vintage rigs featured, and nearly all in color! Visit his photo site, and scroll down to see the galleries.


1From this 5-11 club response guide, a 2-11 alarm is an extra alarm level, that adds additional units to still or box assignment. What are still and box alarms in Chicago? Read the guide for full details.
+ 10 - 23 | § ¶
Map of Rhamkatte, 1944
This interesting map appeared in the March 5, 1944, edition of the News & Observer. It highlights the Rhamkatte community southwest of Raleigh, and may be a proposed addition to a North Carolina Highway Map. Other features on the map including the Village of Caraleigh, the State Hospital, and Yates Pond. Rhamkatte was a farming community located in the Swift Creek Township. It's said to be named after a military road, purportedly built by militia serving under Governor William Tryon (1765-1771). The road's name was a corrupted version of Ramsgate. The earliest recorded name for the road is Ramcat in the 1860s, which became Rhamkatte or Rham Katte by the 1870s.1 Click once or twice to enlarge:


1See the notes on Page 53 of Wake: Captial County of North Carolina, Volume I by Elizabeth Reid Murray, and pages 692 and 693 of Wake: Captial County of North Carolina, Volume II by K. Todd Johnson and Elizabeth Reid Murray for more information.
+ 18 - 12 | § ¶
Ambulance Service, 1944
Vintage ad, from the March 3, 1944, edition of the News & Observer. The city directory of the prior year lists the business as Martin-Yelverton Co, H. Paul Yelverton, Owner., 104 S. Dawson, Dial 7743. Their full-page add includes a sketch of the building and the slogan "The home of courteous, dignified service." How many ambulance services were serving Raleigh that year? The 1943 directory lists Brown Funeral Home (Hillsboro Street), Lightner's Funeral Parlor (Smithfield Street), Martin-Yelverton Co. (S. Dawson Street), and Mitchell Funeral Home (W. Hargett Street).



+ 14 - 11 | § ¶
Cold Remedies
Rounding the bend on a head cold, here's an evaluation of assorted remedies and their seeming effectiveness. Cold-Eeze lozenges, consumed even before the first symptoms, when Mrs. Blogger had her cold. Indeed, it appeared to reduce the duration of what I had. Sinus Buster, pepper nasal spray. This stuff's quite a rush and its natural Capsaicin helped a couple times with congestion. Guess I could've just eaten some peppers, but what fun is that? Generic Ibuprofen, which helped with the headaches. Chicken soup from Panera Bread at the mall, which just tasted good. Helped a bit with congested as well. Order with whole wheat bread, instead of the regular roll. General comfort food, heavy on the carbs, which helped keep me sluggish and thus rested. At least, that was the justification. And late in the game, a neti pot with pre-measured packets of saline solution. Hot water goes into the pot. Saline powder goes into the water. Lean over sink, with head to side. Salt water goes in one nostril, flushes through sinus cavity, and exits the other nostril. Kinda like getting water up your nose at the beach. Has helped with lingering confestion. Google "neti pot" to see how it works.
+ 12 - 18 | § ¶
Raleigh-Wake ECC Offering Online Traffic Information
Raleigh residents can now track local accidents in near real time thanks to an on-line traffic information system provided by the Raleigh-Wake Emergency Communications Center (ECC). Citizens and the local media can access the free service by visiting http://incidents.rwecc.com. Accidents are tracked on the site based on incidents reported to 9-1-1. Read the entire press release. There's also a link on the traffic information site to the ECC's Twitter site, where accidents are also being reported.
+ 11 - 15 | § ¶
Dead Drive in Freezer and Other Low-Tech Tips
Yesteday's New York Times featured a nifty article on low-tech fixes for high-tech problems. Cellphone losing charge. Remote car key range expanding, which I'd heard about on Car Talk. Dry ink cartridge. Cellphone in the toilet (accidentally). Longer wi-fi reach. Dirty DVD or CD discs, surface not content. Too much flash for cellphone cameras. And the best of the tips, putting a crashed hard drive1 in the freezer overnight. After it returns to room temperature, the contracting-then-expanding innards may help free bound parts, and let the drive work just long enough to recovery what you needed. Neat-o. Google for additional information.
1All hard drives eventually fail. Are you prepared? Got back-ups? Here at Blog Central, our PC content is spread across across six hard drives. Some serve as back-up. One off-site copy of everything is made maybe once or twice a year. In case the house the burns down.
+ 10 - 13 | § ¶
Ferrara For El-Roy Times Two
Found on FireNews, the El-Roy Fire Department in Wayne County has received a pair of Ferrara Intruder 2 pumper-tankers. They're equipped with 1,500 GPM Waterous pumps, 1,000-gallon poly tanks, and a rear 5-inch dump. Read more about them. Who else in North Carolina has Ferrara apparatus? Archer Lodge. Bahama. Belfast. Bethleham. Burnt Swamp. Carthage. Chapel Hill. Creedmoor. Efland. E.M. Holt. Fayetteville. Haw River. Mt. Olive. New River. North Raeford. Patetown. Queheel. Reems Creek. Sumter. Tobermory. Valmead. White Cross. Windsor. Yanceyville. At least as found on the Ferrara web site.



FireNews Photo
+ 16 - 15 | § ¶
It Ain't Over 'Till the Fat Boy Sings
Now for some fun stuff. So you want to sing opera? Er, make that light opera. Specifically, the late 19th century operettas of W. S. Gilbert and Arthur Sullivan, and the many memorable songs therein. You've heard them before, here, there, and everywhere. "Modern Major-General" from The Pirates of Penzance. "A Wandering Minstrel I" from The Mikado. "A Policeman's Lot" from The Pirates of Penzance. Etcetera. Great stuff for singing along, no matter if you're in the car, in the shower, or on stage with a glee club. (Just don't combine all three, as that's likely illegal in one or more states.) Now for the fun part. The Gilbert & Sullivan Archive, billed as the "The Premier Internet Light Opera Website," has a score (ha!) of "web operas." Such as for H.M.S. Pinafore. Click on the song number, and a page displays both lyrics and MIDI karoke files. That's right, musical accompaniment courtesy of the Internet. Go ahead, belt a tune. Costumes and curtain not included. Just duck if the fruits and vegetables start flying.


+ 14 - 18 | § ¶
Twenty Years Ago
On Feb. 15, 1989, nineteen future firefighters reported to the Keeter Training Center for their first day of the 14-week fire academy. City boys and country boys, from in-state and out-of-state. Many with firefighting experience. Some with none. Gattis and Dunn were the instructors, and PT was the first order of the day. 'Twas a smaller training center then, with only a single classroom and a two-story apparatus bay. No USAR area, no mobile classrooms. And some very old apparatus parked outside. We were taught EMT to start, then wet stuff on red stuff. And running. Lots of running. Everyone graduated. Twenty years later, the remaining 14 members consist of two Battalion Chiefs, two Lieutenants, and a mess of Captains. A total of 280 years of service, so far. Some of the gang met for breakfast on Monday, to laugh, tell stories, and take a group photo. Then and now are pictured below. Still a handsome bunch! Click to enlarge, or see more then and now photos. Or browse all fire academy group photos.


+ 18 - 9 | § ¶
Faces and Names
Raleigh Fire Department training photos from 1976. First photo, Norfleet Jones jumping from the second story of the old drill tower. Holding the net, clockwise from top: Oris Baker, A. L. Perry, R. J. Bullock, W. P. Raynor, Joe Ware, Willie Walter, Tommy Best, Danny Thorton. Normally ten men hold the net. Second photo, Willie Walter sprays water, at 500 gallons-per-minute and 100 pounds of nozzle pressure. See more photos. Third photo, Halbert Howard after wading through foam inside the smokehouse. Fourth photo, T. C. Finch inside the smokehouse. See still more photos. Information from Raleigh Towne Today, May 1976. Article titled "Thrills and Drills Pay Firemen's Bills." Photos courtesy Raleigh Public Affairs. Click to enlarge photos:


Additional text: "All firemen are required to go to the fire tower every fourth day for a 3-hour practice drill. They lay lines (hoses) and practice mock-up fires as if they were in the actual situation. [About the life net,] the men holding the net learn to absorb the impact in their arms, rather than in their back. The body must be in the right position to land comfortably on the canvas net. Scott air packs, or breathing apparatus, protects firemens' lungs when smoke and dangerous chemicals are present during a fire. The foam generator shoots a detergent concentrate into the smokehouse at 55,000 gallons perminute. This detergent, which cost $7 a gallon makes 37,000 gallons of foam when mixed with air. The foam becomes dryer when more air is added to the mixture. It is used on oil fires, or in buildings where the fire is hard to reach. This semi-wet liquid causes little damage to its surroundings."
+ 15 - 14 | § ¶
Youngsville Engine 43 (Updated)
Seen this afternoon at a towing company on Three Sisters Road outside Knightdale in Wendell. Youngsville Engine 43, a 1963 Chevy/Darley pumper of unknown model year. A reader has since provided the model year and other information: "It's a 1963 Chevy. 327 cubic-inch engine with electric fuel pump. 750 gallons-per-minute WS Darley pump. 500 gallon tank. The truck passed the annual service test every year it was tested. It was purchased in 1963 and cost the city of Youngsville just a little over $13,000 including all the equipment. This was one of WS Darley's best pieces of apparatus. About 1998, the truck was sold and with only about 5,000 miles on it. It was used exclusively as a city pumper and had very few hours on it. It was the first "new" engine for Youngsville. Before this truck, all the city ever owned was used and almost worn out equipment. Mr. Jimmy Allen was fire chief in the 1960's and he took very good care of this truck. Nearly every day he went by the fire station, to see that the tires were pumped up and ready to roll in case the city had a call. This truck stood by during his graveside funeral service. His white helmet sat on the hood, just behind the old siren. Chief Allen and this truck (his truck) were both hard to replace." Learn more about the Youngsville Fire Department. Click to enlarge:


+ 10 - 17 | § ¶
Firefighter Excursions, Conventions, Contents, 1868-1912
Time to get moving on some long-simmering projects. First out of the gate is a load of information about North Carolina Firefighter excursions, conventions, and contests from 1868 to 1912. This new site includes 650 images of newspaper announcements and articles, nearly all published in Raleigh newspapers. From 1868 to 1888, the articles recount the excursions of Raleigh firefighters to other cities, as well as some early fireman's tournaments. From 1888 to 1912, the clippings chronicle the annual conventions and tournaments of the white and black state fireman's associations. The meetings and contests took place throughout North Carolina, and the participating fire companies hailed from many different cities.

In addition to the clippings is a summary document, which watches the events through the eyes of Raleigh's volunteer fire companies. The narrative is a draft document. Beta version, if you will. This is something new, posting a not-quite-finished version. But even a published draft is more useful than an unseen version sitting on a hard drive. The summary document has been in a work-in-progress for a while. The newspaper clippings were compiled during a prior year's research, documenting Raleigh Fire Department history for those years. See these e-books for more. The clippings are large-enough for reading and total about a half-gig in size. Took forever to upload. Enjoy, and advise if you have questions, comments, or problems.

Read about firefighter excursions, conventions, and contests.
+ 18 - 22 | § ¶
Granville County Engine, Siren
Seen at the Bullock Fire Department in northern Granville county, here's a vintage Ford fire engine in yellow and a curious-looking roof siren. Never seen that type before. Click to enlarge both:


+ 15 - 13 | § ¶
Careful with Fire
Driving to and from Charlottesville, we saw quite a few road signs from the Virginia Department of Forestry. Their messages included Careful with Fire, Report Fire Setters, and Smokey Says Thanks.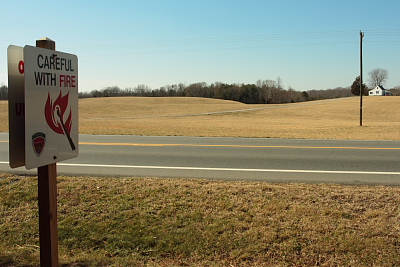 + 15 - 15 | § ¶
Hybrid Chevrons
Here's an atypical fire car, a Toyota Prius seen parked at the Charlottesville Central Station on Friday. Learn more about CFD, including their recently delivered Pierce PUC pumper in new black-over-red colors. There's also CFD information on the city's web site, including an interesting study released in 2007, on consolidating city and county fire and EMS services. Read about that.

+ 15 - 14 | § ¶
Last Night's Major Fire / Tall Timber Drive
Two alarms at 4951 Tall Timber Drive. Engine 16 first on scene with heavy fire and smoke showing from the roof of a three-story, wood-frame, apartment building with 10,952 square feet. Built 1986. Alarm time 2:26 a.m. Controlled 4:32 a.m. Ladder 4 and Ladder 17 deployed and flowed. Approximately 55 firefighters on scene. Twelve apartments rendered uninhabitable, and 19 people displaced. No injuries. Cause determined as improperly discarded smoking materials. Watch the WTVD story. Or read the WRAL story, or the News & Observer story.


Lee Wilson Photo
+ 10 - 18 | § ¶
Monday's High-Rise Incident
Lee has posted photos of the reported high-rise fire at the Wake County Office Building at 337 S. Salisbury Street on Monday. Originally reported as black smoke seen from unknown building location, seen from McDowell Street and Martin Luther King Jr. Boulevard. Alarm time 12:02 p.m. Engine 1 reported smoke showing from the WCOB, which added a high-rise assignment to the structure fire response. Source of smoke was boiler activity for annual testing. See more details on Lee's photos. Fire units on scene: E1, E13, E3, E5, E2, L1, L20, R7, A8, B3, B2, B1, C2, C5, C71, and C72. EMS units on scene: EMS1, EMS2, EMS15, M94, T1, D1. Some of the radio traffic is archived at Scan America, on the Wake County scanner archives site. Take a listen! There's also a donation area, which links to Scan America's operational costs. Dig those specs, and the $1,300+ monthly bill! (Though linked from our photo site, we're not affiliated with them.) On a related note to the above incident, we're closing on the 19th anniversary of the courthouse fire. March 18, 1990. Four alarms, several fires deliberately set, and 191 prisoners evacuated from the jail. Yours Truly was working at Station 15 and rode the old Mack Aerialscope to the scene. That was a long ride from northside.


Lee Wilson photo
+ 16 - 20 | § ¶
Alert! Alert! Link Behavior Changes!
Attention users. All hyperlinks on this blog have been changed and now display results within the same browser window. This change aligns link behavior with the rest of legeros.com. It's also darned good usability. I should've done it ages ago. Read more about good usability. You may resume normal programming.
+ 12 - 15 | § ¶
1958 Fire Protection Study
Though a text version has long been available on my Raleigh Fire Department history site (inside the Virtual Museum), I've added a full scan of the 1958 Fire Protection Study. Users can choose between text only, maps only (large PDF), or entire document (very large PDF). The document remains interesting reading 51 years later. Names on the credits page include one Jesse Helms. Station 3 is listed as housing a 200 gal. pumper, likely the 1946 Ford Auxiliary truck with a 200 GPM pump. Station 5 was planned for an addition, to house an "old" ladder truck. That was probably the prior Truck 1, a 1939/1916 American LaFrance. Not only did the city purchase a new, second aerial ladder, but they rebuilt the building! Station 6, presently the oldest in the city, was 10 years young at the time of the report, and listed as "in need of rather extensive recondition." The report also cited the need for a "small building for classroom training use" to be built near the drill tower. Once Station 2 relocated in 1969, its day room served that purpose until the Keeter Training Center opened in 1982. Read the rest of the 1958 study.


+ 12 - 14 | § ¶
The Greatest Show on Earth
Attended the circus on Saturday night. First time in thirty-some years. Tickets were relatively cheap. Parking, food, and circus crap were the wallet eaters. Doors opened early and kids, parents, and childless adults were invited ringside. Meet the performers. We mingled among the masses, then sampled the bill of fare upstairs. The show opened with the national anthem, accompanied by a scantly-clad woman astride an elephant and carrying an American flag. Unsubtle symbolism there! The circus itself was loud (but never too loud), vibrant, colorful, corny, and enormously entertaining. Live musicians played the score and accompanied a couple songs sung (or lip-synched) by the Ringmaster. Highlights? The motorcycle cage was pretty darn remarkable. Trained tigers are always a hit, and who doesn't like elephants? They even had a RPIT team ready, for what Dumbo left behind. (Rapid Poop Intervention Team.) Two hours, including intermission. Fun all around. No camera was carried, however. Yours Truly experienced the event live, instead through a viewfinder. Well, except for a handful of images snapped with my mobile device, such as shown below. Here's the circus web site.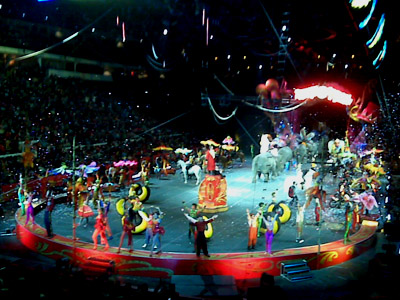 + 19 - 15 | § ¶
Rocky Mount's Classic Mack
As photographed by Lee Wilson, below is Rocky Mount's restored 1970 Mack. It served as a caisson at Jim Long's memorial service on Thursday. The Mack CF pumper was purchased on February 5, 1970. It replaced Engine 4, an open-cab American LaFrance delivered in 1959. Engine 4 was totaled on January 6, 1970, while responding to a stove fire. The engine collided with a truck at the intersection of Cokey Road and Marigold Street. Driver Spencer Vann Griffin was killed. He was the third Rocky Mount firefighter to die in the line of duty. Other members of Engine 4 received minor injuries. The 1970 Mack was dedicated in honor of Griffin. The classic rig was replaced in 1993 with a 1992 Emergency One pumper. Moved to reserve service, it was subsequently restored. Source: RMFD yearbook. See more photos from Lee. Or read about other RMFD history. What other Mack CF pumpers have served around the state? Raleigh (x15), Six Forks, New Hope, Chapel Hill, Charlotte E17 (with telesquirt), Fayetteville E1, E7, Lexington, Dunn, Bailey (ex-NHFD), Four Oaks (ex-RFD), Knightdale (ex-RFD)...


Lee Wilson Photos
+ 12 - 12 | § ¶
State Fair Fire Engine Contests, 1870 & 1874
We've mentioned 19th Century fire engine contests at the State Fair before. Here's a formal compilation
of newspaper notices and accounts from 1870 and 1874. The North Carolina State Fair was ten years old in 1870. The fairgrounds was located east of downtown Raleigh, at the present-day intersection of New Bern Avenue and Tarboro Road. In 1870, contests were held for hand engines and steam engines. Cities with hand engines that year likely included Charlotte, Greensboro, Raleigh, Salem, Salisbury, Wilmington, and Winston. Cities with steam engines in 1870 were Charlotte, New Bern, Raleigh, and Wilmington. By 1874, Elizabeth City also had a steam engine. What about other years, you ask? Unknown. None were encountered when I was reading Raleigh newspapers daily from this period, but that doesn't mean they didn't happen.
+ 15 - 9 | § ¶
Strange Stats, 1944
Announced January 15, 1944, and reported by newspapers, the leading cause of death in Carteret County1 in 1943 was plane crashes (!). They totalled 23, followed by second and third leading causes: cerebral hemmorhage and myocarditis. No numbers for those. The county had 580 births that year, and 186 deaths.
1This blogger has an affinity for the coastal county, as he attended high school and spent a college summer in Morehead City.
+ 16 - 14 | § ¶
This Week's Fires
Bunch of working fires in Raleigh this week. Tuesday. Apartment fire at 1315 N. Raleigh Boulevard. Alarm time 2:43 p.m. Engine 7 arriving with smoke showing from second-story window. Controlled 3:02 p.m. Wednesday. House fire at 907 E. Hargett Street. Alarm time 4:22 a.m. Engine 3 with heavy smoke and fire from side of one-story structure. Controlled 4:45 p.m. House fire at 3038 Coxindale Drive. Alarm time 6:08 a.m. Engine 22 arriving with heavy smoke and fire showing from rear of two-story structure. Controlled 6:32 a.m. Apartment fire at 2813 Kidd Road. Alarm time 1:42 p.m. Engine 12 arriving with light smoke showing from one-story structure. Controlled 1:55 p.m. House fire at 3217 Merriman Avenue. Alarm time 2:48 p.m. Engine 5 arriving with smoke showing from one-story duplex. Controlled 3:16 p.m. Thursday. House fire at 407 Camden Street. Alarm time 8:45 a.m. Engine 3 arriving with smoke showing from rear corner of one-story structure. Controlled 8:58 a.m. House fire at 501 Solar Drive. Alarm time 2:55 p.m. Dispatched as kitchen fire. Engine 12 first on scene. Friday. House fire at 3624 Sue Ellen Drive. Alarm time 10:02 a.m. Engine 19 arriving with smoke showing. Saturday. Structure fire at 801 Dixie Trail. Alarm time 1:40 a.m. Engine 6 arriving with a laundry room fire on the first floor of two-story assisted living facility. Quickly controlled. Second-alarm EMS dispatch, with EMS 8, EMS 3, EMS 2, EMS 11, EMS 1, EMS 2, District 1, Medic 91, Truck 1, Car 200, Car 100, and Wake EM.
+ 11 - 18 | § ¶
Opening the Nozzle
Captured on camera at the Keeter Training Center, here's what it looks like a moment after the nozzle's opened. Canon Rebel XT in Program Shift mode, ISO 400. The camera calculated everything: 1/125 sec., at F7.1. Focal length, 40 mm. Click to enlarge:


+ 19 - 16 | § ¶
Tornado Staging, November 28, 1988
For your Friday enjoyment, here's an aerial view of the command post and staging area at Townridge Shopping Center on Highway 70, the morning after a tornado plowed through northwest Raleigh on November 28, 1988. The 1:00 a.m. storm struck with virtually no warning, killing two and injuring 102 others. The shopping center was also the site of a K-Mart store that was flattened by the storm. One employee was trapped in the debris for over two hours. Here's the wider view of the below picture, taken by CCBI photographer Gary Knight. Raise your hand if you're pictured below. Staged fire apparatus and EMS vehicles are easy to spot. Same with fuel trucks. The command post is toward the top, a CAT bus, the RFD command vehicle, and what's probably the Wake SO command bus. News vehicles on the right of the frame. More about the tornado, and still more about it. Click to enlarge:


+ 14 - 21 | § ¶
Former Rockefeller Family Estate Building Burns at Fort Bragg
Cumberland and Harnett county fire departments fought a difficult house fire at a Fort Bragg training facility this morning. Reported at 12:19 a.m., the blaze destroyed a 10,649 square-foot vacant dwelling on the former Rockefeller estate at Overhills. The Bird Song house, reports this the WRAL story, was built around 1962. It had more than 20 rooms and included an indoor swimming pool. The Army purchased over 10,500 acres of the estate in 1997. The burned building had been previously released from historical protection. FBFD was assisted by Anderson Creek, Spout Springs, Benhaven, Spring Lake, and Pope AFB. Crews were hampered by difficult access down narrow dirt roads and no water supply on scene, reports a Carolinas Fire Page report. Tankers had a four-mile round trip. Learn more about the Overhills estate. Additional incident details from the Fayetteville Observer. Learn about the Fort Bragg Fire Department.


Dawn Pandoliano / WRAL photo
+ 13 - 16 | § ¶
First Aid Treatment For Burns, 1943
Here's another great old ad, this time for Vaseline. The context is first aid and civilian defense. It appeared in the News & Observer in late 1943. Next stop for newspaper reading, the first months of 1944! Click once or twice to enlarge:


+ 14 - 10 | § ¶
Jim Long Funeral Arrangements
FireNews has posted funeral arrangements for former Insurance Commissioner Jim Long, who died Monday after suffering a stroke on January 21. Long had retired two weeks earlier, having served as the state insurance commissioner since 1985. There will be a visitation at Brown-Wynn Funeral Home at 300 St. Marys Street in Raleigh on Wednesday. There will be two visitations, one from 2-4 and another from 6-8. There will be a memorial service on Thursday at 2:00 at the Hayes Barton Baptist Church at 1800 Glenwood Avenue in Raleigh. The burial will be on Friday at the Church of the Holy Comforter Episcopal Church at 320 E. Davis Street in Burlington. There will be a visitation from 10-12 there, and service at 2. Read the entire article.
+ 17 - 21 | § ¶
Fayetteville Area Fire Protection, 1943
The origins of rural fire protection in Cumberland County. November 13, 1943. City and county officials and citizens have been working on a plan to provide fire protection for areas outside Fayetteville. A fund of $5,000 will be raised by property and business owners in the county, to purchase a fire truck designed to fight fires "where no city water lines are available." The truck will be operated and maintained jointly by the city and county. Source: News & Observer, November 14, 1943.
+ 6 - 21 | § ¶
Beaufort Hangar Fire, 1943
Interesting fire from down east. November 10, 1943. New $20,000 Civil Air Patrol hangar destroyed at the Beaufort-Morehead City Airport. Three departments responded, BFD, MHFD, and the 'Navy section base." Wonder how long the Navy had a fire department in Morehead City? No water is available to fight the fire. The state-built hangar had been occupied for about 6 months. It contained a control tower, six offices, storage space, and room for 16 to 20 planes. Four planes were inside at the time of the fire, and a fifth was burned outside the building. Source: News & Observer, November 11, 1943.
+ 18 - 15 | § ¶
Guy Walks Into a Television Studio
The February episode of FireWatch has been posted to the Raleigh Television Network site. The cable television series, which is produced by the Raleigh Fire Department, is also playing this month on the RTN cable TV channel. Hosed by Fire Educator Ronald Campbell, the segments include Raleigh Fire Department Historian Mike Legeros telling about Raleigh's biggest fires, and Wake County EMS District Chief Jeffrey Hammerstein introducing the Advance Placement Paramedic (APP) Program. That's the IGA Grocery in the image below, which burned in 1992. Then RFD photo unit member Jeff Harkey took that picture. Watch the FireWatch episode, or view the broadcast schedule
.


+ 11 - 14 | § ¶
Wilkes County Line of Duty Death (Updated)
FireNews has more details on the death of Millers Creek Fire Department Firefighter Gray Parsons, who died Sunday morning after responding to a house fire at 172 Amela Drive late Saturday evening. Responding as an apparatus operator, he experienced chest pains and was transported to the hospital by EMS. He was subsequently airlifted to North Carolina Baptist Medical Center in Winston-Salem, where he later died. Parsons was 58 years old, and was a member of the North Carolina Forestry Service. Visit the Millers Creek Fire Department site.
+ 15 - 15 | § ¶
The History of North Carolina Firefighter Associations
I have created a page of information on the history of North Carolina Firefighter Associations, with some early information on the North Carolina State Firemen's Association and the North Carolina Colored Firemen's Association. Plus some images and off-site links. The page is needed to consolidate some of the historical stuff that I've been unearthing. More content to be added, as time permits. More polish as well. It's a crude thing at the moment.