+ 9 - 10 | § ¶
Solar Panels at Station 15
Here's what the solar panels look like at Station 15 on Spring Forest Road. As we blogged about earlier, they're powering a thermal hot water heating system that supplements the station's natural gas unit. Click to enlarge:


+ 12 - 14 | § ¶
Maxton Military Aircraft Accident, 1943
What might have be the state's deadliest military aircraft accident happened the morning of Sept. 20, 1943, at Laurinburg-Maxton Army Air Base, two miles from Maxton. On a run to shuttle passengers, cargo, and official mail daily between "Pope Field" and Stout Field in Indianapolis, reported the News & Observer (9/20, 9/23), an Army transport crashed after take off. The plane burst into flames in woods near the end of the runway, and all 25 aboard were killed. It was also the first fatality at the base, which had been operating for more than a year. LMAAB was an installation of the First Troop Carrier Command, and was used for training air units including airborne infantry, glider pilots, and paratroopers. Other military aircraft accidents with 20+ fatalities include Camp Lejeune in 1967 (21 killed) and Pope Air Force Base in 1994 (23 killed). Learn more about deadly plane crashes in our state.
+ 10 - 13 | § ¶
Building Prison Buildings
Here's a rear view of the Central Prison construction site. They're building a mental health center, as we blogged about earlier. The historic Montford Avenue bridge is closed, and the rest of the dead-end street has been removed. Read more about the east side of Central Prison on my outdated Hidden Raleigh site. This picture was taken Friday afternoon, shot straight into the sun. Lens flare prevented with a raised hand that was digitally removed. Look closely and you can see one of the original 1884 walls in the background. Read more about the Big House. Click to enlarge:


+ 11 - 8 | § ¶
Back in Time
Sitting in the sun at Station 16 today are two trucks that take us back in time. Engine 123 is a 1990 Pierce Lance, one of two delivered that year. They were the first closed-cab apparatus in the city. Sweet rides that sounded like heavy trucks when they got going. Placed in service as Engine 3 on October 3, 1990, it also served as Engine 8, Engine 17, and Engine 23. Read more. Its twin served as Engine 5, Engine 19, and Engine 26. Each cost $218,000. The mini-pumper is a 1986 Chevy Silverado, one of three Chevys placed in service in 1986 and 1987. This one was placed in service as Mini 3 on August 18, 1986. It's also served as Mini 9, and Mini 4. The second Silverado was placed in service on April 24, 1987 as Mini 17, and also served as Mini 9, Mini 4, Mini 24, and Mini 23. The third was a Chevy Cheyenne, placed in service as Mini 9 on May 13, 1986, and removed from service after an accident on March 14, 1997. Read more.


+ 9 - 11 | § ¶
Apex Station 4
Speaking of Apex, construction photos of the town's fourth fire station are being peroidically posted on the AFD site. The combination fire, police, and EMS facility is being built at 1615 E. Williams Street. That's Highway 55, just south of US. 1.


+ 11 - 9 | § ¶
Apex, Fayetteville Awarded SAFER Grants
The latest round of SAFER grants were announced today on Firehouse.com. Two awards are close to home. The Apex Fire Department has been awarded $1,300,560, for hiring 12 positions. The Fayetteville Fire Department has been awarded $2,156,208, for hiring 24 (!) positions. Read the article, or see the list of recipients. Or visit the Apex FD web site, orthe Fayetteville FD web site.
+ 10 - 9 | § ¶
Raleigh Fire Department, Circa 1913
For your Friday enjoyment, here's an enlarged view of the Raleigh Fire Department from around 1913. The familiar image, from the Barden Collection (N.97.9.127) at the North Carolina State Archives, shows the entire department and apparatus posed in front of Station 1 on West Morgan Street. The photo's been cropped on the top and bottom, producing a panoramic effect. There are 22 firefighters, 4 horses, and 7 vehicles pictured. Far left and far right are the 1912 American LaFrance Type 5 combination chemical and hose wagons that were delivered in February 1913. Two horse-drawn hose wagons are also shown. They're four-wheel wagons, one of which is equipped with a "turret pipe."1
In the middle is an automobile, used by Fire Chief Sherwood Brockwell and Asst. Chief Charles Farmer. The 1905 American LaFrance Metropolitan steamer is being towed behind the chemical/hose car on the right. Its used for out-of-city calls, or to supplement hydrant pressure at major fires. The 1890 service ladder truck is in the background. Its longest ladder is 30 feet, and is also towed as needed. At the time of this photo, RFD had three hose companies on West Morgan Street, Fayetteville Street, and East Hargett Street. Hose 3 was horse-drawn. The second hose wagon and horse team is a reserve. RFD becomes fully-motorized the next year, with the delivery of the first pumping engine. The horses are retired in 1915. Click once or twice to enlarge:


1
From the Sanborn Fire Insurance Map description in 1914: "24 full paid men. Four horses. One Metropolitan 3rd class steam fire engine. Two American LaFrance automobile combination chemical and hose wagons and tractors for drawing steamers, each carrying 1200' 2 1/2" hose, 300' chemical hose, one 40 gallon chemical tank, two 25' ladders, two 12' roof ladders, and two scaling ladders. Two hose wagons drawn by horses each carrying 1000' 2 1/2" hose, two 18' scaling ladders, one 20' ladder and one roof ladder (one wagon equipped with a turret pipe). One city service truck, longest ladder 30'. 7100' 2 1/2" hose in all. One American LaFrance gasoline pumping engine, 800 gallons capacity, has been ordered and will soon be in service. Gamewell fire alarm system. 52 boxes. 29 miles of water pipes, 4" to 16" diameter. 231 double hydrants, 2 single hydrants. City population 26,000."
+ 11 - 8 | § ¶
Bell Revealed!
We've seen the first photo before, a 1930 view of the Revenue Building with old Station 1 in the left side of the frame. The version we saw before was small. Details were easy to miss. Having obtained a full-sized version of the picture, enlarged views of Station 1 and the fire station tower are shown below. The images reveal the fire bell, atop the tower and entirely exposed. Did it sit without shelter since 1914, the year it was moved there from Metropolitan Hall. TBD. Or maybe never known. For now, we may need to change our language. The bell was not necessarily "in" the tower, but atop it! Another neat detail is the false front opposite the tower, on the fire station. No third story there. Photo courtesy North Carolina State Archives, from Carolina Power and Light (CP&L) Photograph Collection (Ph.C.68). Read more about the history of the bell
. Click to enlarge:


+ 15 - 10 | § ¶
Caption This Photo
Seen this evening on Westinghouse Boulevard, right after the Big Blow. I'll go first. Oh crap.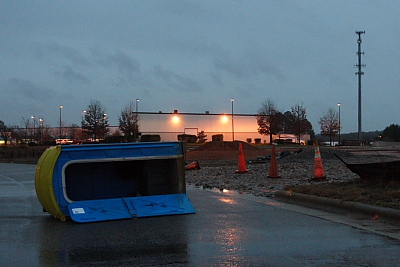 + 13 - 11 | § ¶
Vintage EMS Photos Posted
A few dozen vintage EMS photos have been posted to the photo site. They're scans of 35mm slides from the late 1970s and early 1980s. Benson, Chatham, Durham, Four Oaks, Garner, Goldston, Knightdale, Parkwood, Six Forks, Wake, and Wendell. Plus a dozen unidentified images. Some look like stock shots, others appear "real." Readers, please recollect on the people, places, and events pictured therein. Enjoy!

+ 15 - 10 | § ¶
Last Year's Photos By The Numbers
Speaking of counting photos, the answer to that question for last year is 15,567. That's the total number of "keepers" taken in 2008. Divided by months and days, that averages 1297 per month, and 42.6 per day. Since I shoot in Canon RAW format, a search of all .CR2 files produced said totals. A cool tool called SysExporter allowed cutting and pasting from those results. How much disk space does that translate to? Try 126,135,546 KB, or 126 GB.
What were the total number of pictures taken, period? Double, triple, or quadruple that figure. I'm trigger-happy, and plenty were deleted as I went along. What was the average number of "keepers" per incident? Unknown, or maybe TBD. Might try computing if I have extra-extra extra time.
Notable photo projects in 2008 included stock shots for the RFD yearbook, several special events for occasions both happy and sad, and a handful of ride-alongs (WEMS, GEMS, SFEMS, RDU CFR). Day trips around the state, and NCSFA conference are included in the above numbers. Big trips outside the state are excluded.
Navel-gazing concluded.
+ 10 - 11 | § ¶
Today's Haz-Mat Incident / Battle Bridge Road
Fuel spill at the Neuse River Wastewater Treatment Plant at 8500 Battle Bridge Road. Fire and EMS personnel on scene since this morning. Extended operations into evening. Fire units have included E2, E8, E25, E26, L20, L22, R14, R19, HM2, HM15, SR2, Decon 1, C74, C4. Medical units have included EMS 2, 7, 13, 64, T1, MD20. Barry's Cafe feeding the firefighters and responders. Read the WRAL story. Read the News & Observer story. Ready the city press release.


+ 11 - 10 | § ¶
City, County Combat Economic Challenges
Raleigh Mayor Charles Meeker delivered a state-of-the-city address Monday, identifying four areas that the city should aggressively address in 2009: implementing the first steps of the updated Comprehensive Plan, provide an in-depth plan for public transportation, renew focus on water and energy, and keep Dix Hill Park in the forefront of workplans. Read the entire press release. The News & Observer also covered the address. Wake County Manager David Cooker addressed revenue shortfall's Monday, as this News & Observer article reported. There's already a hiring freeze in place, but he would ask County Commissioners for a budget amendment, cutting spending in county departments by about 4 percent through June. Read the entire article.
+ 9 - 8 | § ¶
This Evening's MVA / Interstate 40
Motor-vehicle accident involving five vehicles, subject(s) pinned, truck fire, and woods fire. Reported about 6:40 p.m. Two patients in a passenger vehicle on westbound Interstate 40 at Wade Avenue. Third patient pulled by bystanders from the burning cab of overturned transfer truck on eastbound side. Truck driver transported to UNC Burn Center. Burning fuel spilled from cab and ignited woods fire. Truck was carrying garbage. Westbound lanes entirely closed. Fire units included Western Wake E191, E196, R295, Tanker 198, B299, C190 (with 100 as IC), Cary E1, E2, R2, L1 (riding T6), B2, Swift Creek E3, Morrisville E1. Water shuttled utilized. Medical units included EMS 4, 51, 52, 54, M94, D2, MD 20. Who else was there? The night was dark, the sky was red, and this photographer took 858 pictures. Lots of blur, lots rejects. Maybe 160 or fewer keepers. Preliminary photos posted.

+ 8 - 14 | § ¶
Dangerous Driving
Road rage, or maybe just rage, led to a shooting on Wade Avenue Thursday night, reports this WRAL article. One driver shot at another, while driving near Blue Ridge Road. No one was injured. The shooter was arrested. Then this morning, reports another WRAL article, someone saw a single-car accident on the shoulder of the Beltline, between Wake Forest Road and Capital Boulevard. The Outer Loop, those lanes that go that way. Responders found two people in the car, both shot in the back. Both were expected to live. E9, E11, L11, EMS2, EMS3, M92, D2 dispatched to that one. Image courtesy of this road sign generator.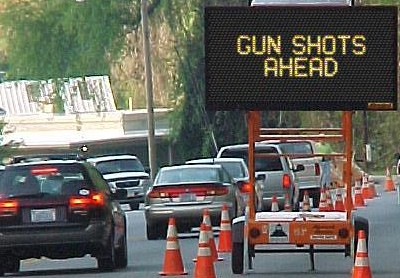 + 8 - 11 | § ¶
Anatomy of a House Fire
Here's a panoramic photo of this morning's house fire on Kennington Road. As an educational experiment, let's narrate the thing. Readers, please correct and append as needed. Click once or more to enlarge:


READ MORE
+ 11 - 10 | § ¶
After the Fire, 1943
On May 19, 1943, the Big Star Store at 111 W. Morgan Street suffered an early morning fire that destroyed thousands of dollars of food. On July 1 of that year, the following advertisment appeared in the New & Observer, announcing the store's reopening. The image was scanned in four parts using a microfilm reader at Olivia Raney Local History Library. To quickly merge the images, the Photomerge feature of PhotoShop Elements 5 was used. Click to see a very large version, and click a second time if your browser resizes the image to fit your window:


+ 12 - 16 | § ¶
More Vintage EMS (Updated)
For your Friday enjoyment, here's some more vintage EMS action. These are circa 1980, give or take a year or two or three on either side. Left to right is Benson, Durham, Garner times two. What's the history of area EMS, outside Wake County? I leave that to readers to recall as desired. Click to enlarge:


+ 13 - 9 | § ¶
Tractors and Trailers
Noticed a new tractor for the State Medical Assitance Team trailer today at the WakeMed Special Operations facility on Sunnybrook Road. Click to enlarge:


+ 10 - 14 | § ¶
State Highway Patrol Training Academy
Speaking of the Highway Patrol, the SBI/SHP campus at 3318 Garner Road is a former state school for blind and deaf black students. The roadside marker notes the school was established in 1869. Sanborn Maps from 1914 show it located on the block bordered by South, Bloodworth, Lenoir and East Streets. In 1929, the Garner Road campus was established. Sanborn Maps from 1950 show an Administration Building, a Dining Hall, boys and girls dormitories (two each, one for blind, one for deaf), and some support buildings. The school was integrated with the Ashe Avenue campus in 1964, notes this document, and the school's name was changed to the Governor Morehead School.


+ 12 - 10 | § ¶
Fire Apparatus For State Highway Patrol Training Division
The Winter 2009 issue of Carolina Fire Rescue EMS Journal lists a new apparatus delivery for the North Carolina State Highway Patrol Training Division. They've received a 1995 F-350/21st Century Foam quick response crash truck/brush unit. The refurbished vehicle has a disel engine, 150 GPM Darley pump, 225-gallon water tank, and a 12-gallon foam cell. The unit was delivered by 21st Century Foam. You can download a PDF version of the entire issue from the journal's web site.


CFRE Journal Photo
+ 11 - 11 | § ¶
Photographing Fire Apparatus by FAJ
Fire Apparatus Journal has an excellent online article about photographing fire apparatus. The article by Dennis Maag presents pointers on photographing apparatus in a style similar to what's shown in FAJ. Some of the key points: use a 3/4 front/side view, shoot in full-sun, and utilize a fixed 50mm lens, or digital SLR equivalent. We've also blogged about a FireNews feature on photographing fire apparatus, posted a couple years. Great examples in that article's Do's and Don'ts page. Both are excellent resources. Now get out and shoot.
+ 7 - 13 | § ¶
1982 Tomica Catalog
For toy collectors out there, here's a Tomica catalog from 1982, found during some Christmas break cleaning. It's also a nice survey of Japanese vehicles from that era. The small-scale range, comparable to Matchbox, was available in the US in the late 1970s. Or least in stores around Minneapolis, MN, such as a five-and-ten store in the nearby town of Wayzata. Tomica Dandy was the range of larger-scale models. The Hino aerial ladder on page 13 is a gem, with "working" ladder, outriggers that auto-extend, and a booster reel hose that auto-retracts. High play value, there! Click to see the entire catalog:

+ 13 - 10 | § ¶
No Snickering: That Road Sign Means Something Else
The New York Times profiles some funny road names in Europe, such as the "butt" in the South Yorkshire sign, that "probably refers to a container for collecting water." Crapstone. Pratts Bottom. Etcetera. Yes, we are easily amused. But just imagine Locution announcing some of those names...


+ 9 - 13 | § ¶
Linking to Postings
Here's a fast way to link to blog postings. Click the funny character in the upper-right corner, which displays a permanent link to the postings. For extra credit, what's that funny character called? No cheating please.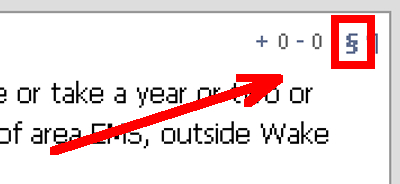 + 11 - 12 | § ¶
History of Firefighting in North Carolina
The Winter 2009 issue of Carolina Fire Rescue EMS Journal features a feature on the history of firefighting in North Carolina by Mike Legeros. It's a four-page piece starting on page 42, and includes a half-dozen images. You can download a PDF version of the entire issue from the journal's web site. Be aware, the file is rather large! The article is really just a sketch, a minor overview of early efforts. There's so much more to tell. Give me a few more years to research, record, and retell. Then we'll really have something.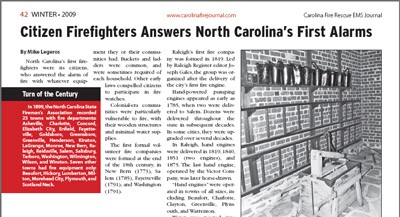 + 13 - 8 | § ¶
Illinois Fire Service Institute
From the Missus, who saw this on a library resources mailing list, the Illinois Fire Service Institute has a nifty online database of firefighter line-of-duty deaths. The resource provides both historical background information and related digitzed images about almost 800 firefighter deaths over the last 150 years. There's even an online tutorial to get users started. Search by name, agency, gender, rank, age, and death year. How many of those are Chicago Fire Department fataliities, you ask? They total 569, beginning in 1898.


+ 9 - 9 | § ¶
Numbers For Last Year
Between January 1 and December 31, 2008, this blog received 120,264 visits from 27,992 unique visitors. Folks spent an average 1 minute and 47 seconds on the site. Just over three-quarters of those visitors were returning visitors. Guess they liked what they saw. Total entries posted last year numbered 645, with readers adding another 1,751 comments.
What entries received the most comments? The top five:
What were the most popular blog entries, by number of visitors? The top five:
Yup, everbody loves The Slammer.
+ 9 - 9 | § ¶
2009 Cadillac Presidential Limo
Speaking of the inauguration, below is the big man's new ride, a tough-looking 2009 Cadillac. The press release is mum on security features, but the Caddy in Chief includes LED spotlights to illuminate the front-fender flags at night. Read and see more. On the subject of Capitol rides, Popular Mechanics has a nifty article on the top presidential limos of all time. Read that article. Or consult Wikipedia on the subject of presidential state cars.


+ 8 - 10 | § ¶
New Archives of Older Photos
By popular demand, the Raleigh/Wake incident/event photo site has been updated with an expanded archives page. An entire year's worth of earlier photos by Legeros are now available, as well as some things from 2007. More may be added, from the year before last. Earlier photos from Wilson are still found on his Flickr Site, on the Archives page. Browse by date, or use the search box in the upper-right corner. Enjoy!
+ 13 - 10 | § ¶
Snow Day
The white stuff's still falling. The Governor's declared a state of emergency. The President's been inaugrated. What else has happened today? Numerous units responded to an MVC involving a bus on Maywood Avenue at Morning Street about 7:25 a.m. Raleigh Engine 2, EMS 1, 11, 13, 8, 81, Truck 1, District 1, and Chief 100. Seven patients from the bus, 5 immobilzed. No serious injuries. Driver of second vehicle not hurt. About 8:07 a.m., a vehicle was found upside down in a creek beside Blue Ridge Road south of Crabtree Valley Avenue. Vehicle empty, driver found at nearby fast-food restaurant. Engine 14, Rescue 14 (shown below), Engine 16, and Ladder 17 were on scene, and helped block traffic. See some pictures by Legeros. Other weather stuff? RDU cancelled a mess of flights, and delayed three-dozen more, as of 11 a.m., as WRAL reports. The DOT is busy plowing and salting. The Celine Dion concert has not been cancelled. Remain calm on that last item.


+ 8 - 11 | § ¶
Barry Doyle Featured in People Magazine
The January 26, 2009, issue of People Magazine features Barry Doyle as a Heroes Among Us. The full-page photograph on page 100 shows Barry Doyle, along with wife Denise and daughter Catherine, serving food to firefighters from their Feed the Firefighters Foundation rehab unit. A short article accompanies the photo. Read more about Barry and the foundation.


+ 14 - 9 | § ¶
New Ambulances, New Striping
Wake County EMS is placing a set of new ambulances in service. Each has yellow striping on the bottom side and back, and the now-familiar chevron pattern on the front bumper. Click to enlarge this picture of EMS 4, taken this morning:


+ 10 - 10 | § ¶
Rocky Mount Firefighter Injured on the Job
WRAL reports that Rocky Mount Firefighter Kerry Dennis was transported to the UNC Burn Center today, and is recovering from serious burns to his foot and ankle resulting from fighting a mobile home fire off Highway 43 this morning. His condition is reportedly stable. Read the entire story. The Rocky Mount Telegram has more details. RMFD responded as mutual aid with West Edgecombe Fire Department. Dennis was injured during overhaul operations, when his leg fell through a floor and something burning entered his boot. Read the entire article.
+ 9 - 10 | § ¶
Fire and Water
The coldest night of the year saw a spat of water pipe problems today, and notably in Cary. Did I hear dispatch correctly around 7:00 p.m., informing all stations that CFD ran 51 fire calls today? Not counting first responder? There were also a number of reported fires around the area. Were any working? Tell your stories, and stay warm.
+ 10 - 10 | § ¶
Garner Rescue, Then & Now
Some Saturday photo fun compares a pair of similiar shots of Garner Rescue & EMS. Top shot should be late 1970s is circa 1981 or 1982. Bottom shot is early last year. White 'n' orange versus blue 'n' white. Bread truck versus heavy rescue. Etcetera. Times they have changed. Click to enlarge either:


+ 10 - 13 | § ¶
Panoramas
Here's a pair of panoramic images of the controlled collapse exercise conducted this week with NC Task Force 8. Read the prior posting. They are almost before and after photos, taken Wednesday and Thursday mornings. The photographer (Legeros, actually wearing long sleeves) shifted his positions, however. They were created using the Photomerge feature of Photoshop Elements 5.0. Click to enlarge either, or click twice if your browser resizes them to fit your screen:


+ 12 - 13 | § ¶
Wake County Honors Recruits of Inaugural Fire Academy
Wake County held its first Fire Academy Graduation Ceremony last night at the Wake Technical Community College Student Services Conference Center, 9101 Fayetteville Road, Raleigh. Twelve recruits received their certifications after completing 19 weeks of training. The county Fire/Rescue division partnered with Wake Technical Community College and the county's 20 contracting fire departments to train the recruits. This first Fire Academy will add more professional firefighters to handle the county's fire protection services ranks. Currently, there are 601 volunteer, and 422 paid full- and part-time, firefighters serving Wake County. Read the entire press release. Watch for photos from Lee Wilson.


+ 11 - 11 | § ¶
There's a Plane in the Hudson
Another great photo from yesterday, water spots notwithstanding, was this well-composed image from a ferry passenger named Janis Krums, who posted his image to Twitter with the one-line caption "There's a plane in the Hudson. I'm on the ferry going to pick up the people. Crazy." Citizen journalism, just like that. One photo, one sentence. The picture has been picked by the AP, and appeared on the front page of today's News & Observer. And probably many other print outlets. At least, those that haven't closed shop. Firegeezer talks about this photo and this subject today. The New York Times also discusses.


+ 10 - 8 | § ¶
Controlled Collapse Exercise Concludes in Raleigh
The gang was all there this week at the corner of Jones and West streets in downtown Raleigh, for a controlled collapse exercise with North Carolina Urban Search and Rescue (USAR) Task Force 8. The 210-member team, one of 11 regionally located, all-hazard search-and-rescue teams in the team, is comprised of members from the Raleigh Fire Department, Cary Fire Department, Chapel Hill Fire Department, Durham Fire Department Wake County EMS, and Atlas Engineering. The three-day, 72-hour exercise was conducted at a structure scheduled for demolition. Read the entire press release. Or visit the official site for NCTF8. Photos are coming from Lee and Mike. Good work, all. Now go inside and get warm.

+ 9 - 9 | § ¶
City Installs Solar Thermal Hot Water Heating System At Fire Station
A City of Raleigh fire station is relying on the sun for its hot water. A solar thermal hot water heating system has been installed at Fire Station No. 15, located at 1815 Spring Forest Road in front of Millbrook Exchange Park. It supplements a natural gas unit that had been the fire station's only source of hot water. Read the entire press release.

+ 9 - 12 | § ¶
US Airways Incident
Here's a pretty good picture of the US Airways jet (headed to Charlotte) that ditched in the Hudson River this afternoon, surfaced in this New York Times article and shot by Brendan McDermid for Reuters. All passengers reported safe. Current temperature 20 degrees in the Big Apple. If memory serves, it was reported just a couple days ago that the nation's commercial carriers had flown a second year without any fatal accidents. (Read UPI story.) What would happened if the plane had submerged, sunk to the bottom, and necessitated a dramatic underwater rescue? That was the plot of Airport '77, no? Jack Lemmon, Lee Grant, Brenda Vaccaro, and others. Remember those great, awful disaster movies of that era? George Kennedy leaping onto an airport crash truck at the end of Airport 1975 comes to mind as my ten year-old self's favorite scene from that period. When all else fails, call Charleton Heston.


+ 12 - 14 | § ¶
Kernersville Backdraft Caught on Camera
+ 11 - 12 | § ¶
Durham Fire Captain Injured at Fire
Speaking of the Durham Fire Department, Capt. Sean Boone was injured Monday night at a house fire on West Piedmont Street. This News & Observer article reports he was struck by a stream of water and suffered injuries to his left eye and face. He was treated and released from Duke, and is scheduled for further medical evaluation today. Get well soon, Sean!
+ 8 - 10 | § ¶
Durham to Discuss City/County Merger
The News & Observer reports that members of the Durham City Council and Durham County Board of Commissioners have agreed to start talks about merging the city and county governments. A merging of the two has been formally proposed several times, the article notes, since the mid-1920s. It was defeated in public referenda, in particular, in 1960 and 1974. No mention of fire services in the article. How big would a Durham City/County Fire Department be, do you suppose, with no reductions? Presently the combined stations would equal 25, from Durham (14), Bahama (2), Bethesda (2), Lebanon (1), Parkwood (3), and Redwood (3). See a list of Durham fire stations on the CFP site NC fire station list.


+ 10 - 11 | § ¶
Raleigh Fleet Increased to Seven, 1922
Found on eBay, Vol. VII, Issue 12 of the American LaFrance, dated December 1922, featured this single-page story on apparatus delivered to the Raleigh Fire Department, a 1922 Type 75 pumper and a Type 14 city service truck. The eight-page periodical was "published mohthly in the interests of users of better fire apparatus by the American-LaFrance Fire Engine Co., Inc., Elmira, N.Y." Click to enlarge the article, as well as a version of the photo from the North Carolina State Archives (N.2005.7.14).


+ 13 - 9 | § ¶
Big Black Column of Smoke
County units were going to a woods fire on Tarheel Club Road. City units were going to a house fire on Haig Point Way. Which side of the Neuse River was that big black column of smoke coming from, which could be seen from the airport and probably farther out? New Hope 100 found it first, an abandoned house at 3124 Tarheel Clubhouse Road. Fully aflame and down to the ground. Tax records don't show a "before" photo, but describe the structure as one-story, wood-frame residence with a full basement and 2,706 square-feet. Built 1969. That is, if I'm reading the correct record. The "after" photo is below. Engine 27 pumped, New Hope Engine 2 Engine 8 supplied Engine 27, and tankers supplied Engine 2 Engine 8. Other units on scene included New Hope Brush 7, Engine 2, Tanker 9, Tanker 10, Tanker 11, EMS 16, EMS 5, and EMS D3. Incident time about 3:51 p.m.


+ 10 - 8 | § ¶
Supply Line + No Parking
Dave Statter surfaces a photo that will certainly be making the rounds. Ron Trout took this photo at a Gloucester City, NJ, fire on Thursday. See more at Philly Fire News. What are your supply line stories involving obstructions between your hose and the hydrant? Click to enlarge:


+ 10 - 8 | § ¶
Fire Commission Meeting Agenda & Documents, January 15 (Updated)
Below is the agenda for the Wake County Fire Commission Meeting on Thursday, January 15 at 7:00 p.m., at the Wake EMS Training Facility, located in the lower level of the Wake County Commons Building at 4011 Carya Drive. Also available are several documents related to the agenda released today, including a report from the Staffing Ad Hoc Allocation Committee on discussion on the proposed allocation of 12 new positions for Wake County fire services.
READ MORE
+ 7 - 10 | § ¶
Lees-McCrae College Building Burns, 1943
Before Banner Elk had a fire department, Boone, Newland, and Elk Park responded to the town on March 22, 1943, when the Tennessee Dormitory at Lees-McCrae College burned. The four-story, stone building-- built in 1925-- was reduced to ruins within three hours after starting about 1:15 p.m. The occupants numbered 60 and escaped without injuries. The fire departments took about 30 minutes to arrive. Source: News & Observer, March 23, 1942. The Banner Elk Fire Department in Avery County was chartered in 1965.
+ 11 - 9 | § ¶
Fire Boats to Patrol Wilmington Area, 1943
Interesting item from the March 14, 1943 edition of the News & Observer: Wilmington Fire Chief J. Ludie Croom announced on March 13 that the USCG has assigned "three large fire boats to the Wilmington area," to aid "against any waterfront conflagrations that may occur." The boats, manned by USCG personnel, will operate in conjunction with WFD and, in event of a blaze, be under the command of the Fire Chief. The largest boat was 65 feet long, with a 3000 GPM pumping capacity. The others were smaller, with 2000 GPM capacity each.
+ 7 - 9 | § ¶
Henderson's New Engine
As photographed by Lee Wilson, here's Henderson's new engine, a 2008 Pierce Arrow XT pumper with a 1500 GPM Waterous pump and a 500 gallon tank. Read more delivery details. Or see more photos by Lee. Or learn about HFD, home of the oldest operating fire station in the state! Henderson Fire Station 2, built 1908. Read about it and others. Click to enlarge:


+ 8 - 12 | § ¶
Department of Correction
Speaking of specialized vehicles for law enforcement agencies, the DOC parks this Special Operations Response Team unit off W. Hargett Street, near the old entrance to Central Prison. It'll turn a head as you're driving by, if you're looking that way. Learn more about the Department of Correction, including a neat section on their site on closed prisons. What other special LEO vehicles are utilized around the area?


+ 11 - 10 | § ¶
State Bureau of Investigation
The SBI had a pair of interesting vehicles parked at the Convention Center today for tonight's inaugural ball. Left is a hazardous device unit and trailer, e.g. bomb squad. Right is a mobile command center. Learn more about the State Bureau of Investigation. Click to enlarge photos:


+ 9 - 9 | § ¶
Mystery Machine
For your Friday amusement, we present a mystery machine. What is it, and how does it work? Fire suppression tool? Rescue device? Something else altogether? Winner receives a free subscription to this blog. Happy Friday. Click to enlarge:


+ 8 - 7 | § ¶
Wake County Fire Commission Meeting, Thursday, January 15
The Wake County Fire Commission meets again on Thursday, January 15, at 7:00 p.m., at the Wake EMS Training Facility, located in the lower level of the Wake County Commons Building at 4011 Carya Drive. We or maybe I will post an agenda, if one is made available ahead of the meeting. Maybe even handouts, if they're made available.
+ 10 - 9 | § ¶
High Winds, Indeed!
+ 9 - 9 | § ¶
Sorry About Spam Not Appreciated
For those of you occasionally unable to post comments, because you receive a "Spam is not appreciate message," just mail me your comments directly. I will post them myself using administrative magic. The reason your comment won't post is probably due to a keyword that the system equates as "this message must be spam." This can also happen if you try posting a comment with multiple web addresses. Just mail me.


+ 10 - 9 | § ¶
Bottom's Up!
Here's the embarassing rescue to beat all embarassing rescues. Ski lift + inversion - pants = poor guy. The cheeky story from Vail hit national news. Happened last Thursday. Firegeezer's also got the skinny. The Smoking Gun's exposed pictures. Click either for the bare facts. Other skiers snapped pictures, for posteriority's sake. Quite an image in hindsight... I know, just end it, Mike.

+ 9 - 9 | § ¶
Tanker 14
+ 9 - 9 | § ¶
Lighting, Part 2
EMS Truck 1, posed in October for stock shots. Same time, same space. Legeros vs. Wilson, Canon vs. Nikon. They look pretty close to same. Some color and contrast difference. His angle is much better. Tech specs: 100 ISO, 22mm, 1/200, F10 for Legeros; 100 ISO, 31mm, 1/320, F9.0 for Wilson. Click to enlarge:


+ 8 - 9 | § ¶
Yesterday's Fire / Holly Springs
FireNews has posted some strong photos from Thomas Babb of yesterday's structure fire at 508 Morton Farm Road in Holly Springs. HSFD, FVFD, and Fairview responded to 2:02 p.m. incident. Heavy flames were coming from the structure when units arrived, reports the article. Read and see more photos. Units on scene at two-story, 2400 square-foot single-family dewlling included Holly Springs E1, E2, E3, L1, R1, C1, C2, C3; Fuquay-Varina E1, R1, B1; Fairview E1, C1, C2; EMS 17, 32, D5.


+ 11 - 12 | § ¶
Lighting
What a difference when then the sun shines. Truck 24 at Station 24 on Saturday, left in the morning by Mike Legeros, right in the afternoon by Lee Wilson. Click to enlarge:


+ 13 - 14 | § ¶
Wake County EMS to Roll Out Advanced Practice Paramedic Program
FireNews has the first pictures of the Dodge Chargers to be used the Wake County Advanced Practice Paramedic (APP) program, as well a detailed summay of the new service that starts January 6. The APPs will operate as single providers and focus their activities in three areas: co-response with EMS ambulances to high-acuity calls, prevent and public health visits, and alternate destinations. Read the article and see more photos. The APP program will be the subject of a media meeting this morning at Wake County EMS Station 1, so watch for more coverage.

+ 16 - 11 | § ¶
This Afternoon's MVA / Glenwood Avenue
Another major motor-vehicle accident on Glenwood Avenue, this time west of T.W. Alexander Drive. Several vehicles on scene, many stuck in mud on shoulder. Not sure how many involed. One vehicle in woods, overturned on nose, with patient trapped. Four patients total. Eastbound Glenwood Avenue closed with apparatus blocking both lanes. Westbound also closed for a short period. Units on scene included Raleigh E24, T24, R14; Bethesda E421, E411, EMS _, 100; Durham EMS 10; Six Forks EMS 123, EMS 121; Wake EMS D2. Dispatched about 4:50 p.m. Photographer was leaving Frankie's Fun Park, two blocks east, and heard the sirens. His high score on Robotron was promptly forgotten. Click to enlarge:

+ 11 - 11 | § ¶
History of Wake County EMS
Found some notes on my desk this morning, apparently recording the early history of Wake County EMS. Don't remember when the notes were taken, or for what reason. Recording here, for general interest or group discussion. I also added some incorporate dates, and some pre-1970s information. Add or correct as many details as desired!
1953 - Raleigh Emergency Rescue Squad incorporated. Operated/hosted by Raleigh FD. (8/27/53)
1962 - Wendell Rescue Squad incorporated. (7/23/62
1965 - Wake Forest Rescue incorporated. (1/19/65)
1970 - Funeral homes getting out of patient transport business. (Out of emergency transport, or all patient transport?)
1971 - Cary Area Rescue Squad incorporated. (10/29/71)
1971 - Apex Rescue Squad incorporated. (9/8/71)
1972 or 1973 - Beacon Ambulance forms, answers Raleigh and much of the county.
1974 - Zebulon Area Rescue Squad incorporated. (2/28/74)
1975 - Beacon seeks increasing county subsidy. Other issues related to Beacon also happening.
1976 - Wake County EMS forms. Four ambulances. EMS 1 and EMS 4 are downtown. EMS 2 outside Mayview Convalescent. EMS 3 at current Station 3 location.
1976 - Beacon remains in service a bit longer, doing convalescent transport.
1976 - Six Forks Rescue incorporated. (12/30/76)
1977 - Former Beacon owner starts Medical Transport Services, which operates until 1978 or so.
1977 - Knightdale Area Rescue Squad incorporated. (3/30/77)
1979 - Garner Rescue Squad incorporated (4/13/79)
+ 11 - 8 | § ¶
Institutional and Industrial Fire Departments
What schools, prisons, hospitals, factories, and other institutions in the state have formed fire departments? Based on my ever-expanding former FD database, here are some recent findings. There are probably many others.

Schools:
Guilford College (Greensboro) / 1946 to 2001
St. Augustine's School (Raleigh) / circa 1900s
Western Carolina University (Cullowehee) / by 1972 until ?

Prisons:
Caladonia Prison Farm (Tillery) / By 1982 until ?
McCain Prison Hospital (Aberdeen) / By 1982 until ?
READ MORE
+ 10 - 10 | § ¶
FEMA Grants Buy New Fire Trucks for Towns
WRAL reports on the FEMA Assistance fo Firefighter Grants recently awarded to the towns of Knightdale and Wade. The former received $430,355, which will be used to buy a new 100-foot ladder truck. The Knightdale Fire Department's present ladder truck is a 1973 Ford/Pierce 50-foot telesquirt, shown below in an older photo. The Cumberland County town of Wade received $66,500, which will likely be used to purchase a new piece of apparatus. Read the entire story. The latest AFGs were awarded on Friday, as reported by Firehouse.


+ 10 - 11 | § ¶
Moving Day, Then & Now
Top image shows personnel moving into Station 1 on South Salisbury Street on August 12, 1941. Courtesy North Carolina State Archives. Bottom image shows personnel moving into Station 24 on Fossil Creek Court on January 3, 2009. Click to enlarge.


+ 10 - 12 | § ¶
Ladder Company Changes
On January 6, the city's eighth ladder company will be placed in service at Station 4 at 121 Northway Court. Ladder 4 will operate a 2001 Spartan/Quality 75-foot aerial ladder that is presently assigned to Ladder 23. The apparatus is also equipped with a 1,250 GPM pump and a 300 gallon tank. The 2001 Spartan/Quality was placed in service as Truck 23 on March 4, 2006. The truck designation was changed to Ladder on August 21, 2006. The apparatus previously served as Truck 24 (2004-2006) and Engine 23 (2001-2004).
On January 3, Ladder 23 moves to Station 24 at 10440 Fossil Creek Court. It will be placed in service with a 1988 Pierce Snorkel that is presently assigned to Ladder 210, a reserve apparatus. Station 24 previously housed a ladder company from 2004 to 2006. The 1988 Pierce previously served as Truck 26 (2005-2006), Truck 22 (2001-2005), Truck 15 (1999-2001), and Truck 1 (1988-1999). The apparatus was the city's second aerial platform, after the 1977 Mack/Baker aerialscope.



Also on January 3, Battalion 4 relocates from Station 17 to Station 23 at 8312 Pinecrest Road. Part of the dormitory space will be converted to a Battalion Chief office. The chief operates a 2004 Chevy Tahoe. Battalion 4 has been located at Station 17 since the fourth battalion was established on January 10, 2004. Other Battalion Chiefs are housed at Station 8 (Battalion 3), Station 12 (Battalion 2), and Station 15 (Battalion 1).

After Battalion 4 moves from Station 17 at 4601 Pleasant Valley Road, work begins to renovate the dormitory space there to accommodate a ladder company. The bay door height was raised late last year. When finished, Ladder 16 will relocate to Station 17. The ladder company operates a 2007 Pierce Arrow XT aerial ladder equipped with a 105-foot ladder, 1,500 gallon pump, and 300 gallon tank.
READ MORE
+ 11 - 8 | § ¶
VCR Programming Problem Solved
Has the change to 2009 confounded your VCR, such as happened to the Missus this evening? Her vintage video-cassette recorder-- bought in the 1990s-- won't accept a date setting of 2009. The thing translates 09 into 89. And she has shows to tape! The solution? Program the thing to an earlier year that matches this one. After consulting www.timeanddate.com, a great calendar site, a match is found in 1998. Same days, different year. Problem solved, wife is happy, husband is hero. Not a bad outcome for a Friday night.

+ 10 - 11 | § ¶
Social Media Map
From Overdrive Interactive, here's a nifty resource for folks interested in social media. Blogs, Wikis, discussion groups, photo sites, search engines, it's all here. View the map. Next, who wants to design one for fire service social media? Or does such an animal already exist?


+ 11 - 14 | § ¶
Radio Traffic From Denver Airport Plane Crash
Here's an end-of-year leftover, found on the Carolinas Fire Page mailing list. Listen to radio traffic from the Denver airport plane crash on December 21. Learn more about DFD, which manages fire operations at Denver International Airport. From the web site: "A total of 87 fire fighters at DIA are trained in Aircraft Rescue Fire Fighting. Machinery and extinguishments include, 11 support vehicles, 16 pieces of emergency apparatus, and a grand total of 25,690 gal. of water, 3,161gals. of AFFF, 3,400 lbs. of dry chemical, and 1,700 lbs. of Halon dispersed by various Airport Rescue Fire Fighting equipment"
+ 14 - 8 | § ¶
Ladder One CGFD 2
This one's making the rounds, a decorated ladder truck with lights synchronized to the song Wizards in Winter by the Trans-Siberian Orchestra. How did they activate the truck's warning lights to match the music? My guess is manual activation, versus any actual electrical system changes. From the Cedar Grove Fire Department in Jersey.
+ 9 - 11 | § ¶
North Carolina Fire Departments in 1982
Here's another list for your New Year's enjoyment, names of fire departments from 1982 that are no longer around, or have changed names. Errors are surely present, and even if my name isn't Shirley. Comments and corrections always welcome.

Former Fire Departments / Earlier Fire Department Names in 1982

Alamance County
East Alamance FD (Mebane) (Now part of Mebane FD?)
Elon College FD (Now Elon FD)
Fifty-Four East FD (Swepsonville)

Alexander County
East Alexander FD (Stony Point)
Taylorsville FD READ MORE