+ 6 - 18 | § ¶
Outside Chiefs?
With Chiefs John McGrath (Raleigh) and now Jerry Swift (Wake Forest) shaking up the status quo, who are the other "outside" Chiefs around the county, versus the homegrown crew? Bay Leaf's Ron Roof quickly comes to mind, of course. Who else?
+ 18 - 11 | § ¶
Duplicate Unit Numbers in Wake County - Master List
You want it, you got it. Here's a complete list (PDF format) of all duplicate unit numbers in Wake County, as best determined by a helpful file of CAD data. Includes Raleigh and Cary.
+ 14 - 14 | § ¶
County Fire CAD Counts
How many unit types are there around the County? Not counting Raleigh or Cary, here are counts of the CAD unit types... READ MORE
+ 15 - 14 | § ¶
Duplicate Unit Numbers in Wake County
As suggested by a reader, how many duplicate unit numbers are there in Wake County these days? READ MORE
+ 21 - 13 | § ¶
Washington Fire History
Here's a neat site containing oral histories of Washington's fire department in Beaufort County.
+ 9 - 19 | § ¶
Raleigh Fire Department in 1925
Here's another cool clipping, this showing the Raleigh Fire Department in 1925 at old Station 1 on West Morgan Street. Three hose companies-- they may have been called engines by that time-- and two ladder trucks, a tillered aerial and combination service truck. Plus chief's car. Now if only the original print were around...


+ 13 - 14 | § ¶
Saturday Presentation For Download
A version of the PowerPoint presentation that Mike used on Saturday is available for download. The file size is 9.2 megabytes. Here's the History Guy in action in Auditorium IV of the Koury Convention Center: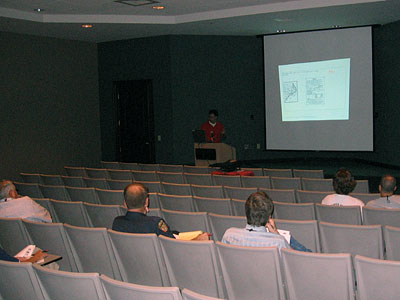 + 14 - 10 | § ¶
The Next Big One?
With news of the Kentucky air disaster playing in the background, here's today's question: what keeps everyone awake at night, or at least occasionally glancing at their multi-agency disaster plans? Air crash? Rail-based haz-mat? Mass-casualty medical? Raleigh and Wake County isn't chock full of fixed hazards, per se, but we have plenty of highways and railroads. Not to mention a certain power plant to the southwest...
+ 20 - 10 | § ¶
Reedy Creek / Radio Patches
The present radio traffic, at the Umstead Park long-walk-to-retrieve-patient incident, appears to aptly demonstrate the challenges of patching between two radio systems. Everything seems to be working out fine, though the comm centers don't sound able to talk to each other.
+ 17 - 13 | § ¶
Winston-Salem / South Fork
While wandering through western Winston-Salem on Saturday, Mike saw this interesting building in the 4400 block of Country Club Road. One phone call and a little Internet browsing later, he confirmed that the structure is a former firehouse, and served the South Fork Fire Department until the late 1980s. It's presently used as a garage for a neighboring church.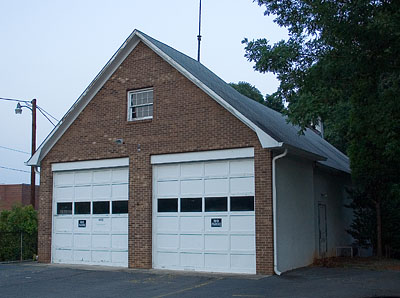 + 14 - 13 | § ¶
Raleigh's Earliest Engines
Raleigh's earliest engines were made by American LaFrance (and exclusively so until 1949). The first motorized rigs were a pair of 1912 Type 5 chemical and hose trucks delivered in 1913 and placed in service as Hose Company 1 and Hose Company 2. They cost $9,800 and were driven by the Chief and Asst. Chief until regular drivers were trained. The were also adapted to tow the old steam engine and old service ladder truck. The first motor pumper was a 1914 Type 12 triple combination that took the place of Hose 1. The horse-drawn rig at Hose 3 received Hose 1's apparatus. The second motor pumper was a 1918 Type 45 triple combination that again replaced Hose 1's rig, which went to Hose 2. The third motor pumper was a 1922 Type 75 triple combination (pictured below). It went to Hose 1, and the 1918 engine went to Hose 3. The truck cost $12,250. In 1923, the motors for the 1914, 1918, and 1922 engines were overhauled. By October 1924, the companies were called Engine companies. By that time, one 1912 unit remained, used solely for towing the steamer, which was a reserve piece. The source for this information includes a National Board of Fire Underwriters report from October 1924 that Mike recently unearthed.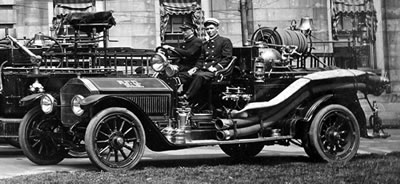 + 13 - 12 | § ¶
North Carolina Steam Fire Engines
Speaking of history, here's a new database of all steam engines known to have served in North Carolina. Nearly a dozen are still around...
+ 14 - 12 | § ¶
North Carolina Firefighting in 1899
Here's a neat chart that Mike found Friday, while scanning some old North Carolina State Fireman's Assocation conference proceedings at the Greensboro City Museum. It lists the towns in the state with organized fire companies. The information was presented at the 1899 conference, which was held in Greensboro that year. Twenty-four towns reported a total of 68 fire companies with 1,516 firefighters.


+ 15 - 10 | § ¶
Old Station 3
Mike found this this weekend, a rare view of old Station 3 at 135 East Hargett Street. Located on the northwest corner of Hargett and Blount streets, the two-story station opened on April 2, 1898. It housed the volunteer Victor Company and replaced a station at Salisbury and Davie streets that burned the night of April 7, 1897. The station was closed on July 26, 1951, when Station 3 relocated to 13 South East Street. The structure-- pictured after the station had been sold-- was demolished the next year and replaced with a used car lot. The building site is still presently vacant.


+ 7 - 13 | § ¶
Apex / Asbestos / Heery
We've heard Apex Station 1 is presently closed, due to asbesto abatement, required after Heery renovations uncovered some of the stuff. What else has been happening on the Heery project / facility upgrade front?
+ 16 - 13 | § ¶
Engine Ops / Truck Ops
Suggested blog topics from a reader:

- Vertical Ventilation
- Vent Enter Search (VES)
- Nozzle Selection (Smooth-bore, fog, combo)
- Penciling the ceiling
- Any other Truck Co./Engine Co. tactics, operations, strategies, or opinions.

. READ MORE
+ 16 - 12 | § ¶
Outline For Saturday's Presentation
Here's the outline for Mike's presentation Saturday morning in Greensboro. Same is PDF format. See you there!
+ 14 - 13 | § ¶
USAR Tractors and Trailers
In response to a reader request, here's a picture of the newest Volvo USAR cab: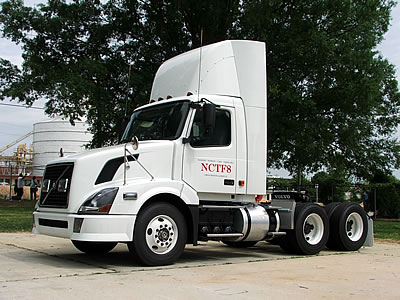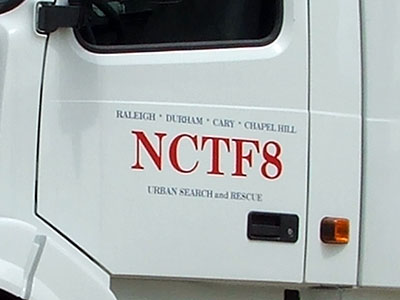 + 16 - 11 | § ¶
Roll Call (continuing)
So who else is reading this blog? Add yourself as a comment using one of the following formats to identify or conceal yourself:

Your name - About yourself - Where you live, OR
Your initials - About yourself - Where you live, OR
No name - About yourself - Where you live, OR
etc.

You get the picture. Here's the list so far: READ MORE
+ 10 - 11 | § ¶
Mobile Command Post
Raleigh's mobile command post is nearing completion. The 1988 GMC extended step van, originally delivered as a combination command unit and air supply truck and most recently repurposed as a haz-mat support unit, has been undergoing extensive modifications at Station 8. Specs and a detailed photo tour are forthcoming: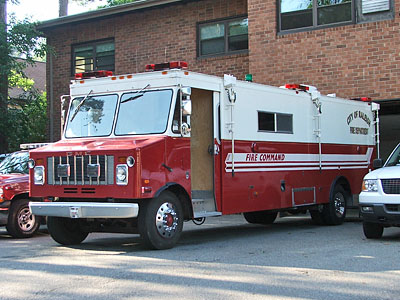 READ MORE
+ 13 - 12 | § ¶
Wake Forest Last Night
Wake Forest (and Stony Hill and Falls and Rolesville and Youngsville and ?) trained hard and hot last night. Pics from Lee and Mike (below) forthcoming: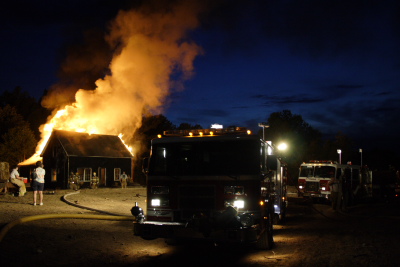 + 12 - 11 | § ¶
New Garner EMS Heavy Rescue Coming
We've heard that a new Garner EMS heavy rescue is coming in October. What's the scoop, Those That Know?
+ 13 - 12 | § ¶
High Drama in North Raleigh
White substance discovered in creek. Firefighters search storm water system for source. Good camera practice, notably revealing the limitations of Mike's 18-55mm kit lens on the long end. Time for a higher-powered walk-around lens. Pics uploading.


+ 10 - 12 | § ¶
Agencies, Associations, and Other Groups?
Out of idle curiosity, how many different agencies, associations, or groups are affiliated with our local fire departments? Such as:

Raleigh Professional Firefighters Association
United Professional Firefighters of Raleigh
Raleigh Fire Explorers
Cary Firefighters Association
Apex Fire Belles
Capital Area Fools
Wake County Firefighters Association
North Carolina State Firemans Association
North Carolina Fallen Firefighters Association
+ 6 - 15 | § ¶
First Box Alarms and Other Milestones
As noted by Mike in another thread, the first box alarms in Raleigh were sounded in 1887. Here are some other early milestones: READ MORE
+ 13 - 8 | § ¶
Coming Recruit Class / Hiring Issues
Placeholder for comments regarding the recent announcement of the coming Raleigh Fire Department recruit class. There was a WRAL story on same yesterday that included a text version. The latter has seemingly disappeared.
+ 12 - 15 | § ¶
Trucks to Ladders
Effective 0800 on Monday, August 21, the nomenclature for all Raleigh aerial apparatus will be changed from Truck to Ladder.

How does that compare with the rest of the county? READ MORE
+ 7 - 16 | § ¶
Cary Station 7
Slowly but surely, construction on the new station is finishing: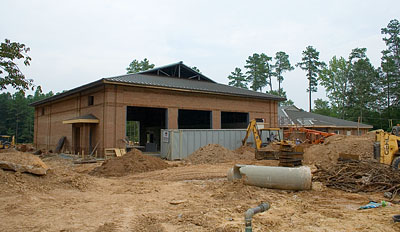 + 12 - 12 | § ¶
Better Than Coffee
The best way to snap fully awake early in the morning? Hearing the words "on scene with a major working fire" from a first-arriving engine. If only Wake Forest weren't quite so far up the road...
+ 17 - 9 | § ¶
Cary's Tankers
And while we're on the subject, Cary ran a pair of tankers. They were military conversions built in 1954 and 1956. The tractor-drawn one carried 4,500 gallons, while the straight truck toted 2,500 gallons. The former was the apparatus that overturned and killed volunteer firefighter Vernon Thompson on June 19, 1960. The accident occurred while responding to a rekindled trash fire near the Camp Polk prison farm. The cab was destroyed and the truck was not replaced. The other tanker was probably retired around the same time. In 1961, a second Cary fire department was formed to respond to rural areas of the town. The later-named Yrac Fire Department operated a third tanker, also an ex-military vehicle.



+ 11 - 15 | § ¶
Raleigh's Tankers
Raleigh operated two tankers from 1960 until 1985 or abouts. They were a pair of 1960 GMC 4000 trucks with 1500-gallon tanks built by Alexander Welding and Manufacturing Company of Raleigh. Each tank body cost $756.45 and was equipped with 2 1/2-inch discharges. They were originally acquired for protection of newly annexed areas and the newly constructed Beltline. Tanker 1 was placed in service on April 3, 1960 (at Station 8, despite being numbered Tanker 1) and became Tanker 8 in 1961, then Tanker 4 in 1968. Tanker 2 was placed in service on the same date at Station 2 and became Tanker 9 in 1963 and Tanker 14 in 1974. They were unmarked. Near the end of their lives, at least one unit was equipped with a quick-dump valve, donated by the New Hope Fire Department. Both vehicles were transferred to Public Works.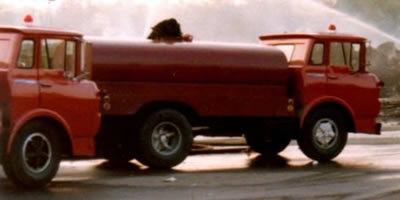 + 13 - 11 | § ¶
Charlotte's Tankers
A reader reports a new concept that Charlotte is trying. It involves the outlying stations that are staffed with a tanker and an engine. The tankers are not staffed and instead are operated by a member of the engine when needed. The current tankers are two-door Internationals. The new concept uses a pumper-tanker as the tanker. The idea is that if the engine needs to be removed from service, the crew can simply operating the pumper-tanker as either an engine or a tanker. They don't have to run a reserve, nor have a company moved to their station while their engine is out of service. The reader also notes that Charlotte mainly runs their five tankers for vehicle fires on the interstates, airport alerts, and outlying areas which might experience a delay in the second-due engine's arrival. The new pumper-tankers look like this, carry 1000 gallons of water, and have three jet dumps. The units are numbered 71 and 72.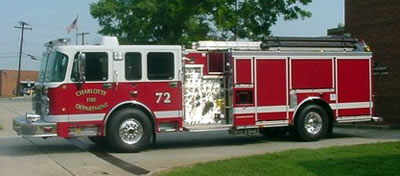 + 9 - 14 | § ¶
Which Chiefs Have Been Chief The Longest?
Which county fire chiefs have been fire chief the longest? George Gupton of Eastern Wake may take the cake, as he's served since 1978, back when EWFD was KFD. He replaced the late Knightdale Chief Bernice Wall that year. Who are the other long-timers? Wendell's Tom Vaughn? Garner's Phil Mitchell? RDU's Jimmy Thompson? Zebulon's Sidney Perry? READ MORE
+ 17 - 11 | § ¶
Old Toy Columns
Mike was recently asked in a private message if he still writes a column for the Code 3 Collectibles site. Those drew to a close late last year, though one or two subsequent columns were added to Mike's toy column archive site. Over the span of a couple years, the columns covered such topics as jokes, books, toy shows, action figures, kit-bashing, scanner monitoring, the measured weights of fire equipment, and the history of lime fire apparatus.
+ 12 - 11 | § ¶
Sweet Sounds
Mike recently moved to a new house, formerly about a mile from the nearest fire station and now but a block. The sounds of sirens leaving and diesels returning have never been sweeter...
+ 13 - 7 | § ¶
Future Blog Topics?
What would readers of this blog care to comment on, were the topic posted on this blog? Nozzle settings and hose sizes was recently suggested. What else?
+ 14 - 11 | § ¶
Discussion Board Needed
Two recent discussion threads appear to indicate that the readers of this blog would benefit from a discussion board that matches this site for ease of operation and ease of finding. Such a thing should probably be moderated, with one or more persons babysitting each posting either as they're submitted or after they're posted. The moderator would, at the very least, edit postings to remove personal attacks. This would keep the forum flame-free. The technology behind the board would probably require user registration to prevent spam, though registration might consist solely of choosing a user name. Or it might require a valid e-mail address as well, at least at the time of registration. Food for thought. For those not familiar with discussion boards, two that Mike frequently reads (though rarely posts to) are firehouse.com and firenews.net. The latter has one misnomer that's worth noting. The forum titled "Suggest a Forum Topic" really means "Open Discussion on Any Topic."



+ 11 - 11 | § ¶
Images of America Firefighting Books
For any fire history book readers, Arcadia Publishing, which published both of Mike's volumes on Raleigh and Wake County Firefighting, continues to release firefighting titles in their Images of America series. The newest releases are particularly eclectic: Ashtabula (Ohio) Firefighting, Burlington (Vermont) Firefighting, Greater Hartford (Connecticut) Firefighting, New London (Connecticut) Firefighting, and The Great Fires of Lynn (Massachusetts). Browse the Arcadia site for more information on the titles. Or browse this page of Mike's.



+ 9 - 15 | § ¶
Convention Seminar / See You in Two Weeks
Mike is nearly finished preparing his presentation for the State Firefighter's Convention in Greensboro, AKA the 2006 South Atlantic Fire Expo. He'll be speaking on Saturday morning, August 26, in Auditorium IV. The seminar is scheduled for 8:30 to 10:00 a.m. and he'll packing a PowerPoint presentation with about 100 slides on the topics "what is an FD history," "how to research an FD history," and "examples of FD histories." Arrive early and watch a pre-seminar slideshow of some 50 old photos from around the state. Stay late and ask questions. See you there.
+ 11 - 12 | § ¶
Please Compose Yourself
Gang, here's a tip to help everyone type or write better. Before posting a blog comment, first open Microsoft Word (if installed on your computer). Compose your comments using Word. Check your typing and look for the red lines showing misspelled words. Correct what you can, then use Edit -> Copy and Edit -> Paste to copy and paste the comments from Word to the blog comment form.
+ 13 - 11 | § ¶
Blogger, Reporter, Candlestick Maker
On the meta-subject of blogging versus anything to do with the fire service, here's an interesting New Yorker article on the subject of Internet journalism.
+ 17 - 10 | § ¶
Closest Station Response?
Exactly what are the issues with enabling closet station response in both Raleigh and Wake County. It appears that CAD can dispatch the closest units with no problem. And Joe/Jane Taxpayer certainly doesn't care whose name is on the unit that arrives the fastest when they call 911. So there must be political, operational, and/or jurisdicational considerations. For starters, are there liability issues? If, say, a county unit is the only-arriving unit at a municipal incident, is the town or city more liable to legal actions from dissatisfied residents or taxpayers? On the reverse side, repeat runs of municipal units outside of their town or city is probably very prickly to some. Especially if the city or town is large, with many different municipal units potentially affected. For county units staying within the county, but between districts, are there ISO issues?
+ 15 - 12 | § ¶
Raleigh Fire Department Promotions
Congratulations to promoted Raleigh Fire Department members Assistant Chief T. A. Styons, Division Chief H. F. Warner, Battalion Chief B. R. Harvey, Battalion Chief E. M. Martin, Battalion Chief P. G. Pickard, Captain P. E. Dean, Captain J. R. Faison, Captain W. L. Mayo, Lieutenant M. F. Kelling, Lieutenant R. L. Ketchie, Lieutenant N. L. Murray, and Lieutenant W. M. Stanfield. Pictures from today's City Council Chambers ceremony forthcoming: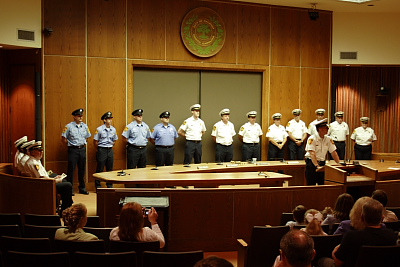 + 16 - 11 | § ¶
New Camera and RAW Processing
Here are some examples of RAW image processing. Think of a JPEG image as a photographic print, and a RAW image as a photographic negative. The RAW processing software is like a digital darkroom. The examples are all JPEG images with variations in exposure, white balance, and picture style.
+ 10 - 11 | § ¶
Map Books
Where to buy the map books that correspond to the grid numbers on CAD dispatches? The Map Shop in Charlotte both produces and sells 'em. They're pricey, but easy to read. Version five is latest, released just a month or so ago. And on the key map, Creedmoor is spelled Creedmore. Go figure.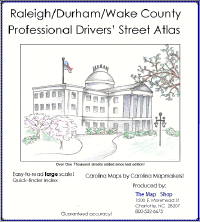 + 17 - 10 | § ¶
RFD Planner
New for this budget year, now hiring: Fire Department Planner. "Assists the Fire Chief in developing a short, mid-term and long-range strategic plan to include: preparing the Department for successfully maintaining or improving the current ISO rating, for developing a facility expansion plan to keep pace with the City's annexation and growth rate, and assessing the Fire Department's needs in order to become accredited." etc. Sounds like a neat job.
+ 16 - 10 | § ¶
Wild Radio Traffic
Wild radio traffic on HQ this evening, first the storm surge with a head-spinning series of unit swaps (many initiated by HQ) between fire alarms, a lightning strike, a structure fire, and a CO2 call. Now, there's some strange business involving Engine 3 and the Archdale Building and an incorrect address in CAD.
+ 13 - 11 | § ¶
Rose Lane
Lee captured this excellent image on Sunday morning:


Comments:
Rose Lane Fire…..what an awesome job laying the 5" to the side allowing for other emergency vehicles (ladder companies) to get into position.
READ MORE
+ 12 - 17 | § ¶
Stony Hill on Sunday Morning
Straight-forward structure fire response in the early a.m., with heavy smoke showing at a distance and a fully-involved outbuilding threatening a mobile home on arrival. Superb radio traffic from all parties involved. Save a copy of that one.
+ 12 - 17 | § ¶
New Camera and Workflow
Mike's been using his Canon Digital Rebel XT for a few weeks now. Here's the workflow he's adapted: pics are saved in the camera in Canon RAW format. The file size is over 8 megs per image. so transferring to the computer takes a little while. READ MORE
+ 13 - 6 | § ¶
Ethics and Fire Photography
And now a word about what we shoot versus what we post. The pictures posted on Lee and Mike's photo site are almost always a subset of what was shot at a particular incident. First and foremost are space considerations, as dozens or even hundreds of pictures might be taken. Multiple or similar shots of the same image are omitted, of course, as are bad ones. READ MORE
+ 10 - 12 | § ¶
State College Fire Vehicles
In its earliest years, fire protection at the North Carolina College of Agriculture and Mechanic Arts consisted of a campus water system with hydrants and hose for use by student fire brigades. The college was outside of the city limits for a few decades, with no nearby fire station until 1926. Today the NCSU Fire Protection Division provides emergency response to fire and medical incidents, as well as other fire and life safety duties. Here's what's parked at the campus PS center: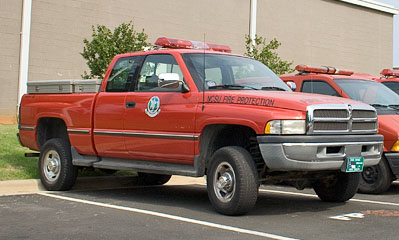 And even a mobile command post...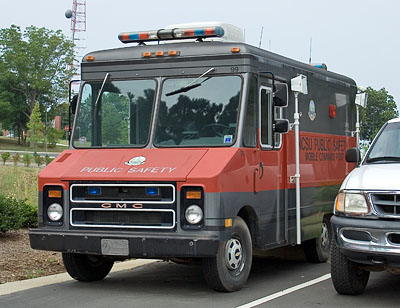 + 13 - 8 | § ¶
Northeast Raleigh Fire Station in 2009
Found this tidbit in the July 11 minutes of that day's Raleigh City Council meeting: "The Existing Buffalo Road Station #27 is 3.8 miles to closest point of the annexation request; Station # 28, planned to be operational Spring/Summer of 2007, is 4.6 miles to the annexation request site access off Buffalo Road. The current CIP has funding for another fire station in the Northeast ETJ area that anticipates construction by summer of 2009."
+ 17 - 12 | § ¶
Tarzan Hot
Three alarms and a few hundred gallons of sweat. Photos forthcoming from Lee and Mike...


+ 11 - 12 | § ¶
Goldsboro Former Firehouses
Also posted to FireNews overnight, along with an article on old High Point houses, is a tour of old Goldsboro fire stations.


+ 9 - 14 | § ¶
Fayetteville Street and the Raleigh Fire Department
Here's a historical piece that was posted overnight on FireNews: http://www.firenews.net/contents/news/07312006a.htm
+ 8 - 13 | § ¶
Gamewell Goodies
Picked up a restored Gamewell gong at the Fire Expo flea market over the weekend. The spring-wound device served Lancaster, Ohio. It's connected via a 12-volt circuit to my Gamewell box, bought last year in Baltimore. When the circuit is powered, activating the box taps three rounds of 3-1-4-4. (One round is sufficient to annoy both the wife and the cat.) Maybe next year I'll find a working punch register and reel. At least it's quieter...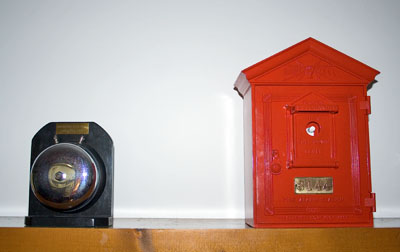 + 11 - 15 | § ¶
Extra Alarm Assignments
For the next few days, or as long as the temperature is above 92 or 93 degrees, all working fires in Raleigh will result in an automatic second-alarm assignment for relief. Units will respond non-emergency traffic unless advised otherwise.
+ 5 - 13 | § ¶
Blogs, Photos, Comments, Criticisms
Is anybody else glad they're not a photographed public servant in the internet age? Imagine that your vocation is not only subject to public scrutiny in the usual fashion, but there are these guys that follow you around and take pictures of you while you're working under the most extreme and often unflattering conditions. Those pictures are then posted on the Internet for anyone to see, from peers to bosses to the boss's bosses. Then there's this blog that allows anonymous comments on those photos, which is all too tempting for folks who want to criticize or just talk trash. The latter is the least desired component of this equation and, moving forward, will be subtracted with greater scrutiny and frequency than before. As Lee and Mike have learned what to show and what not to show with regard to photos, they're learning what to allow and what not to allow with regard to comments.
+ 9 - 11 | § ¶
Radio + Mask
The radio plus mask combination sure sounds good these days. Must be both better mics and a better radio system. The days of muffled shouting must be passing...
+ 9 - 14 | § ¶
Environmental Exposure
Anyone else think haz-mat when Locution says those words? You keep waiting for the haz-mat dispatch...
+ 7 - 16 | § ¶
Digital Trunking Scanner Advice?
A reader requested advice and opinions on upgrading to a digital trunking scanner to monitor PS traffic around Wake County. The person is thinking about purchasing a Radio Shack Pro-96. What is everyone's opinion of that radio, the brand, and any other issues related to purchasing, programming, and equipping digital trunking scanners? (I have a pair of PRO-2096 base radios and use Win96 software to program same.)
+ 14 - 9 | § ¶
Poole Road Last Week
Lee's pictures have been posted from last week's major working fire on Poole Road that Mike didn't go to because of circumstances described in an earlier posting. (Keywords: wife, dinner, date night, dirty look.)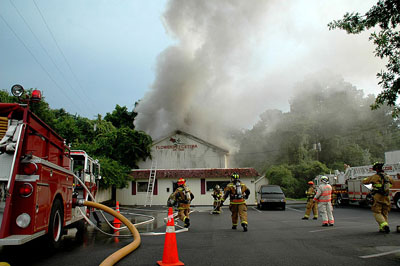 + 14 - 9 | § ¶
Three Things
The words of our old Training Chief come to mind this week. Said as advice to the nearly graduated recruits of the 1989 Raleigh Fire Academy, he told us about "three things: banks, politics, and goats." His explanation went something like "the firehouse is not a lending institution. Don't loan money to firemen. What happens between you and your wife is political. Don't talk about politics in the firehouse. And, finally, don't let firemen get your goat." The last one, as every firefighter later learns, is the most important one.