+ 16 - 13 | § ¶
Mitchell County Plant Fire
FireNews has coverage of the overnight explosion and fire at the Unimin Corporation Quartz/Feldspar Plant in Mitchell County. The 10:50 p.m. fire engulfed the plant located off Highway 226 between Spruce Pine and Ledger. The fire was contained at 5:00 a.m. Mutual aid responded from seven (!) counties, and residents within a four-mile radius north of the plant were asked to evacuate. Read the entire story, which includes details from the Mitchell News Journal, Citizen-Times, and Associated Press. There's also a Google map showing the location.


Mitchell News Journal Photo
+ 7 - 15 | § ¶
Raleigh Comprehensive Plan Draft Rollout and Open House, December 3
Today's News & Observer covers the city's comprehensive plan update that debuts in draft form on Wednesday, December 3, at the Raleigh Convention Center. Registration is at 6:30 and the program starts at 7:00 p.m. Refreshments will be served! View the event flyer
. The web site for Planning Raleigh 2030 is, well, www.planningraleigh2030.com. As the News & Observer reports, the 380-page plan recommends funneling 60 percent of the city's growth over the next 20 years-- some 72,000 residential units-- to the downtown, seven urban centers, and several major road corridors. Read the entire News & Observer article.
+ 13 - 8 | § ¶
Tour, Breakfast to Commemorate Great New Bern Fire
Found via FireNews, two New Bern organizations are working together to host a commemorative tour on the anniversary of the 1922 fire that leveled 40 city blocks and left 3,000 people homeless. The tour will be held on December 1, the 86th anniversary of the fire. The tour begins at the Fireman's Museum at 9 a.m. A continental breakfast will be served, and guests will get a brief history of the fire. The information presented during the tour is the result of a year and a half of research, much done by historian Bill Hand. Tickets are $20 each. Read the entire Sun Journal article, which includes information on reserving tickets.
To learn more about the 1922 fire, read these special program notes
from 1992, from a New Bern/Craven County Public Library event. Also, click to enlarge the below picture, that shows the ruins of St. Peter's A.M.E.Z. Church, at 615 Queen Street. The image, credited to the New Bern-Craven County Photographic Archives, appears in Edward C. Goodman's excellent book Fire! The 100 Most Devstating Fires and the Heroes Who Fought Them.

+ 16 - 13 | § ¶
Rescue Squad to be Reinstated in Orange
The News & Observer reports that the Orange County Rescue Squad will be reinstated. The county emergency services director announced this week that OCRS will return to service for "special events, overflow medical calls, and search-and-rescue operations on land." They will no longer be utilized for extrication. The squad was placed on stand-down this summer, due to safety concerns. Read the entire article. Earlier news links are available here and here. The squad also has a web site, located at www.orangerescue.org.
+ 15 - 11 | § ¶
View From a Far
Here's an interesting incident photo from Japan, found via Google images. The photographer is Phillippe, who appears to be a French person who was vacationing. Notice a variety of differences between Asian and American firefighters. Colored hose wrappers. Big hose couplings. Long, playpipe-style nozzles. Hand cart, for hose 'n' nozzles. Box-frame extension (?) ladder. Silver fire helmets. And chevrons on the traffic cone! See the original image (and click the magnifying glass icon to see full-size).


+ 14 - 13 | § ¶
Black Friday
The morning mission was a GPS replacement, upgrading from a Garmin StreetPilot C330 (bought last year at this time for $128) to a Garmin Nuvi 205W (sale priced everywhere at $149). That is, except for Tiger Direct, where it was $10 cheaper. Below was the line leading into Tiger Direct at 5:40 a.m. Yours Truly diverted to Staples, opening at 6:00 a.m. Why the GPS upgrade? Fewer steps to enter a street address. C330 required entry of every city name. 205W remembers previously entered cities. Two taps to enter "Raleigh." Time savings? Maybe 10 seconds, which feels like 100 seconds when you're in a hurry. e.g., going to a fire. Total haul for the morning? GPS unit, plus 400 blank CDs (never have enough of those), plus a trio of $99.99 (!) eMachine monitors, for multi-monitor expansion trials. (Probably a second video card in my future, too.) And a shredder, which I learned the Missus was intending to buy as a Christmas gift. Guess we think alike. Glad we don't look alike. What were your adventures?


+ 14 - 13 | § ¶
Black Friday
The morning mission was a GPS replacement, upgrading from a Garmin StreetPilot C330 (bought last year at this time for $128) to a Garmin Nuvi 205W (sale priced everywhere at $149). That is, except for Tiger Direct, where it was $10 cheaper. Below was the line leading into Tiger Direct at 5:40 a.m. Yours Truly diverted to Staples, opening at 6:00 a.m. Why the GPS upgrade? Fewer steps to enter a street address. C330 required entry of every city name. 205W remembers previously entered cities. Two taps to enter "Raleigh." Time savings? Maybe 10 seconds, which feels like 100 seconds when you're in a hurry. e.g., going to a fire. Total haul for the morning? GPS unit, plus 400 blank CDs (never have enough of those), plus a trio of $99.99 (!) eMachine monitors, for multi-monitor expansion trials. (Probably a second video card in my future, too.) And a shredder, which I learned the Missus was intending to buy as a Christmas gift. Guess we think alike. Glad we don't look alike. What were your adventures?


+ 14 - 15 | § ¶
Old Station and Apparatus Photos
For your holiday enjoyment, here are some newly uncovered old photos of Raleigh fire stations and fire stations. They date from 1954, circa 1980, and circa 1989. They're also noisy pictures, as they were scanned from printed contact sheets. Negative scans forthcoming. They'll be added to Mike's stations and apparatus pages as time permits. Click to enlarge. You may need to click a second time as well, after the image displays:


The pictures include the first posed photograph of the old tankers that's been found. Pics of the 1922 service truck have been hard to find as well. More notes and details:
READ MORE
+ 11 - 8 | § ¶
Thawing Unit in Operation
Found on another site, here's a YouTube video of an FDNY thawing unit operating after a three-alarm fire in Hackensack, NJ. Always wondered what they looked like in operation. FDNY Fire Zone calls it a "mobile utility van with a portable steam-generating boiler; it's super-heated steam melts the ice off the hoses, ladders and tower ladders." This particular unit is operated by Engine 76. Michael Martinelli has pics of past and present units at that hosue on his excellent FDNY apparatus site.



+ 9 - 10 | § ¶
Firemen Patrol Downtown Area (1941)
From the News & Observer on December 17, 1941, ten days after the attack on Pearl Harbor: the entire Raleigh Fire Department yesterday volunteered to "do their part" to prevent sabotage. Last night, a shift of eight aided police by patrolling the "downtown district." All 56 department members organized into two shifts. Some 17 men will patrol each night in two shifts. The first works 7 p.m. to 1 a.m. The second works 1 a.m. to 6:30 a.m. There's no pay for the extra work; the men volunteered to perform "guard duty" on their own time. Fire Chief W. R. Butts noted that they would "work chiefly to prevent fires" but had also been sworn as police officers and had the "power to make arrests." He also requested public cooperation in "keeping cars and trucks out of alleys and off the streets in the business district late at night." Otherwise, firemen would be "seriously hindered" in case of an emergency.
+ 11 - 9 | § ¶
Magazine Ad
Here's a vintage magazine ad, found on eBay. It's from The American City, April 1945. The Ford fire truck shown served the Durham Fire Department until the 1950s. It became the Garner Fire Department's first fire truck in 1952. Some 20 years later, it was sold to the Harrells Fire Department in Sampson County. They still have same. Click to enlarge:

+ 16 - 9 | § ¶
Pipes + Siren
A member of our favorite pipes and drums band suggested this one. The title says it all. Click to enlarge:


+ 9 - 16 | § ¶
Holly Springs Station 3
While we're speaking of western Wake County, here's a view of Holly Springs Station 3 at 4112 Friendship Road as photographed yesterday. Click to enlarge. Or see Lee's photos, shot a couple months back.


+ 16 - 11 | § ¶
Mutual Aid
That was a diverse dispatch just now for a structure fire on Wake Road, off Alston Avenue and inside Durham County. Fire units were Durham Engine 13, Parkwood engine, Parkwood tanker 616, Raleigh Engine 24, Morrisville Engine 3, Morrisville Engine 1, Morrisville Ladder 2, Apex Engine 3, and Apex Rescue 3. Miss anyone? From Google Maps, looks like Apex Durham Highway has the farthest run. About 10 miles from Station 3. Almost 15 miles as Google routes it.
+ 12 - 9 | § ¶
Photography by the Numbers
How many pictures did you take? The answer at the mass-casualty drill on Saturday was 982 (shown below). That's 7.45 GB of Canon RAW format files, taken with two cameras. The first cull resulted in 274 keepers, the second with 243, and the third and final with 235. Of those, 33 required rotational adjustments. Post-processing-- exposure, contrast, color, cropping-- performed using Canon Digital Photo Professional, plus PhotoShop Elements for rotational adjustments. Total time behind computer, probably 3 hours. They're uploading now.

+ 15 - 10 | § ¶
On The Subject of Psychics
Today's New York Times Magazine reports that the current financial climate is translating into booming business for psychics. The phone is ringing off the hook, reports a Manhattan soothsayer. Obviously emergency services are missing the boat on this one. Imagine, predicting fires or EMS calls before they occur! Okay, at this juncture, some self-disclosure is necessary. Many years ago, I had red palms. This occurred after painting hydrants.
+ 5 - 15 | § ¶
Wide View of Yesterday's Drill
Here's a passable panorama of yesterday's mass-casualty drill at the at the New Hope Valley Railway yard. The scenario was a derailed train with a couple dozen souls aboard. Participating agencies included Apex FD, Fairview FD, Holly Springs FD, Morrisville FD, Wake FR, Apex EMS, Wake EMS, Apex PD, Wake SO, Wake EM, and Barry's Cafe. Command was located at Apex Station #2, located a couple miles up the road. The panorama was created with PhotoShop Elements. Click to enlarge. Depending on your browser settings, you may have to click a second time to fully enlarge after the images displays.

+ 12 - 13 | § ¶
Fire Car
This interesting contraption was seen at the New Hope Valley Railway yard, site of this morning's mass casualty drill. Looks built from the remnants of a brush truck. Google finds a couple interesting images of rail-based fire apparatus. Here's a Swiss fire train photo, via Flickr. Here's the product page of a Windhoff firefighting and rescue train. Here's an old photo of a forestry patrol rail car. And here's an old photo of a trolley fire engine that protected Park Point in Duluth, MN. Ring, ring, ring.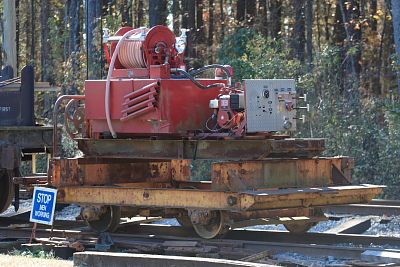 + 12 - 10 | § ¶
Plumbing Van
This apparent ambulance conversion was seen in Apex, fittingly (ha!) parked at the construction site for Station #4. They're still working on the foundation, it looked like. I've heard plumbing can be a drain, but I'd better pipe down before I flush.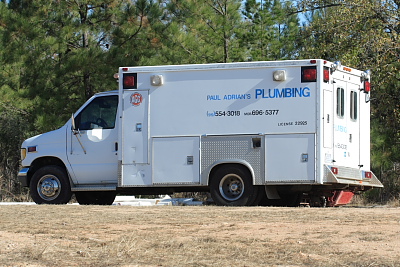 + 10 - 11 | § ¶
History by the Numbers
Merely 138 years have passed since the 1870 fire bell was placed in service at Metropolitan Hall. Below are some fun facts about that time period, between then and now.

Over 2000 people have been members of the Raleigh Fire Department, including:

1450+ full-timers
400+ volunteers before 1912
150+ volunteer auxiliary firefighters during World War II

The above includes:

34+ fire chiefs, volunteer and paid
16 full-time fire chiefs
10 volunteer fire companies

Facilities and apparatus:

45 fire station buildings
3 training towers

9+ hand-drawn rigs
8+ horse-drawn rigs (includes 2 steamers, though the 1870 steamer was also drawn by hand)

75 engines (including 2 rebuilds and 1 used)
17 aerials (including 2 tiller tractor replacements)
5 service ladders (including 1 rebuild)
12 rescues

75+ chief cars
+ 10 - 12 | § ¶
Raleigh Fire Station Hosting Open House To See Historic Fire Bell
The Raleigh Fire Department is hosting an open house on the weekends of November 21-23 and December 5-7 at Station 1 for residents wishing to see the historic fire bell which was recently returned to the City's possession. Residents are invited to visit Station 1 at 220 South Dawson Street over the next two weekends. Firefighters will be available to host visitors. Read entire press release.
+ 8 - 17 | § ¶
Raleigh Firefighters Rescue Lost Hikers
Members of North Carolina Urban Search and Rescue (USAR) Task Force 8 from the City of Raleigh Fire Department, Wake County Emergency Medical Services, Durham Fire Department, and Chapel Hill Fire Department were in Burke County this week participating in a training exercise when they were called on to assist in the search for two lost hikers. At approximately 8:30 p.m. Monday evening, Burke County authorities were alerted that two hikers were lost in the Linville Gorge. Burke County Search and Rescue (SAR) and other local fire departments conducted a search through the night in the rugged terrain as temperatures dipped below 24 degrees with gusty winds. As over two inches of snow covered the ground Burke County and North Carolina Emergency Management asked the members of Task Force 8 to assist in the search and rescue efforts Tuesday morning. Read the entire press release.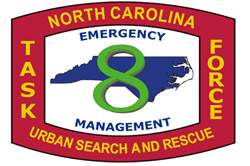 + 16 - 11 | § ¶
Wake County Fire Commission Meeting Agenda and Documents (Updated)
Below is the agenda for the Wake County Fire Commission Meeting on Thursday, November 20 at 7:00 p.m., at the Wake EMS Training Facility, located in the lower level of the Wake County Commons Building at 4011 Carya Drive. Also available are several documents related to the agenda, released this week by the county Fire-Rescue office.
Agenda

Call meeting to order

Invocation
Roll of members present
Announcement of new Fire Commission members
Approval of agenda

Minutes

Adoption of minutes for September 18, 2008, regular meeting
Adoption of minutes for November 5, 2008, work session

Regular Agenda

Fire Commission chair election
Consider recommendation from Ad Hoc Committee on FY 09 fire tax budget
Fire service compensation plan update
Consider adoption of post-incident review program
Facility committee
Apparatus committee
Fire tax budget update

Information Agenda

Fire Commission committee appointments
Presentation on Wake County Recruit Academy
Chair report
Fire/Rescue Services Director report

Update on fire station closure evaluation process

Other business
Public comments
Adjournment
Related documents
+ 13 - 12 | § ¶
Raleigh's Historic Fire Bell Comes Home
The following press release was released today, about the historic fire bell returned to the city in a ceremony this morning at Station 1. The event celebrated the transfer of the 1870 artifact from North Carolina State University to the Raleigh Fire Department. Mayor Charles Meeker, NCSU Chancellor James L. Oblinger, Fire Chief John McGrath, and Historian Mike Legeros (disguised on right) participated in the ceremony.

NBC17 Photo
READ MORE
+ 12 - 12 | § ¶
No Promise of Safety
A fellow photographer passes along No Promise of Safety, the blogging adventures of a urban explorer slash thrill seeker slash high-angle photographer. The address of the site is equally appropriate, uliveandyouburn (You Live and You Burn). Choose your adjective to describe this guy's actions. The photography is certainly amazing. He uses a Canon Rebel XTi and a tripod. And he has enough sense to at least include a Hate Mail section on his blog. There's probably a technical rescue response in this guy's future, what do you think?


No Promise of Safety photo
+ 8 - 18 | § ¶
Goldsboro Firefighter Dies After Shift
FireNews reprorts that Goldsboro Fire Department firefighter Carol Irene Taylor, 41, died Friday, November 14, at her home following a shift after suffering an apparent heart attack, according to the United States Fire Administration. Taylor had responded to an electrical fire early in the morning and returned to the station at approximately 08:00. Following her shift, she returned home and was found deceased later that night. Read the entire article. Information is also available from the North Carolina Fallen Firefighters Foundation (NCFFF). Eleven North Carolina firefighters have died in the line of duty this year.

NCFFF photo

+ 10 - 16 | § ¶
City, College Transfer Custody of Historic Bell on Wednesday
For the past 60 years, Raleigh's old fire bell has been on the campus of North Carolina State University (NCSU). Mayor Charles Meeker, NCSU Chancellor James L. Oblinger, and Fire Chief John McGrath will participate in a ceremony Wednesday at 10 a.m., to officially return custody of the 138-year-old, 1,000-pound, solid bronze bell to the City of Raleigh. The ceremony will be held at Fire Station 1 at 220 S. Dawson Street. Parking for media vehicles will be provided on Dawson Street, near Nash Square and across the street for the fire station.


+ 10 - 9 | § ¶
Copying Newspaper Articles
Current workflow for copying newspaper articles at Olivia Raney Local History Library. Retrieve microfilm reel from cabinet. Display article using microfilm reader. Scan article using library computer. Copy scanned article to memory stick using file name format yyyy-mm-dd-paper-name. Drive to home. Copy file to home computer. Display article using Microsoft Photo Editor. Crop, brighten, and crop unwanted areas. Re-save file. Open Microsoft Word. Create blank document. Drag and drop article into document. Enlarge article size as needed. Create PDF version of document. Open web browser. Navigate to FedEx-Kinkos site. Upload PDF document. Place print order. Drive to Kinkos two hours later or later. Retrieve printed article. Drive home. Return to computer. View article file name. Write article date on printed version. File printed version. Archive digital version. Rinse and repeat.


+ 8 - 14 | § ¶
Manteo Will Occupy New Firehouse Soon (1941)
From the News & Observer on June 3, 1941, come some details about Manteo's historic former fire station. Same cost $12,000 and was expected to opened within 60 days. After that, a new pumper would be purchased. The department presently had a single 500-gallon pumper. The new station was two-stories high and constructed of concrete blocks finished in white stucco. The first floor apparatus area was large enough for four trucks. The second floor would have an office, a records room, and a recreation room. The station was built under WPA contract, with location contribution about $4,000. MFD was organized in 1933 and had 22 members in 1941. During May 1941, they answered 17 calls. In 1974, Manteo Fire Department merged with Wanchese Fire Depaertment and formed Roanoke Island Fire Department.


+ 8 - 13 | § ¶
39 Shopping Days Remaining
Let's cruise off-topic and commence exploring gift ideas for the holidays. From Archie McPhee, there are stocking stuffers a-plenty. There's your basic Bacon Wallet. Perfect for vegetarians. Or going a little more wacky-- relative concept there-- how about Chum Bucket Mints? Too yucky, you say? Better stick to Nihilist Mints. Completely flavorless! Cruising over to the bookstore, there's a little brown book now appearing in the New Releases section. What's Your Poo Telling You? Co-authored by a gastroenterologist, it's a combination self-help book and giggle generator. Isn't maturity wonderful? Beware the related items for this one! Finally, how about some whimsy for the computer users? Jumpin' Banana makes a host of USB-powered amusements, including a miniature fan and vacuum cleaner, a desktop paper shredder, and a Homer Simpson USB port. Wohoo! Just do a Google search to find the products in stores.
+ 11 - 8 | § ¶
Raleigh Makes Its Own Shop Truck
On the Fire Chief magazine web site, in the In Service section, under Shop News, the Raleigh Fire Department's fleet maintenance vehicle is featured. The 2000 Freightliner/American LaFrance former rescue unit was converted to a shop truck in summer 2007. It's equipped with a generator, air compressor and tank, winch, and front bumper compartment for jumper cables. A vise attaches to the rear hitch receiver, and is stored inside when not in use. Loose equipment includes a Nexiq scan tool, battery charging and testing equipment, and a complete tool box. Read the entire article.



Fire Chief photo

+ 9 - 14 | § ¶
Restore Your Computer's Performance with Windows XP
Snail's pace computing lately? This helpful article from Microsoft details top tips for improving performance. Back up first, then (a.) clear out forgotten programs, (b.) free up wasted space, (c.) defragment your computer, (d.) disconnect unused network drives, and (e.) remove Autostart programs. If using a computer that belongs to your organization, disregard these instructions and instead report your performance problems to the IT person(s). Don't be embarrassed. It happens to all of us.
+ 11 - 10 | § ¶
North Carolina Tornadoes, 1950-2007
From the impressive Tornado History Project site, here are some stats on severe weather in our state. Their database has recorded 1,000 tornadoes in North Carolina between May 12, 1950 and September 14, 2007. The most active to least active months have been May (182), Apr (115), Jun (113), Mar (110), Sep (101), Jul (99), Aug (99), Oct (59), Nov (50), Feb (37), Jan (24), and Dec (11). Eastern counties have had the most activity: Carteret (56), Onslow(39), Dare (34), Robinson (34).
The casualties during this period were 111 fatalities and 2,490 injuries. The fatal storms numbered 35 and occurred between 1955 and 2007. Half of the state's 100 counties have experienced tornado fatalities, with highest number of fatal storms in Cumberland (6), Robeson (5), and Sampson (5) counties. The deadliest year was 1984, with 51 killed (and 1,024 injured) on March 28. There were 14 tornados across 20 counties on that day. The next deadliest years were 2006 (9), 1989 (7), and 1974 (7). The deadliest months were March (57), November (15), and April (13).
One disclaimer worth noting. This blogger is not a statistician, nor plays one on television. I do have vivid memories of before and after the North Raleigh tornado of 1988, however. Read about the 1984 tornado outbreak that struck the Carolinas.
+ 6 - 22 | § ¶
Tornadoes
WRAL has good coverage of the tornado deaths and damage this morning in Johnston and Wilson counties. Two deaths and one person missing. Tornado strikes reported Benson, Dunn, Elm City, Kenly, Lucama, and Smithfield. Power outages affecting 1,000+ customers along the I-95 corridor, primarily in Johnston, Wilson, and Sampson counties. Storm passed through Kenly around 3:30 a.m., and through Wilson about 4:00 a.m. News conference at Kenly Fire Department at 10:30 a.m. Sky 5 aerial footage presently airing on television (8:45 a.m.) At least ten homes destroyed in Kenly. Road closed into town. (8:52 a.m.)


WRAL photos
+ 13 - 9 | § ¶
Book Signing, Saturday, December 6
Raleigh & Wake County Firefighting author Mike Legeros will appear at a book signing at Barnes & Noble bookstore at Crabtree Valley Mall on Saturday, December 6. The event, from 1:00 to 3:00 p.m., will feature several local history authors and their Images of America books from Arcadia Publishing:

Clayton - Pamela Lipscomb Baumgartner and Todd Johnson
Holly Springs - Linda R. Harper for the Town of Holly Springs
Morrisville - Ernest Dollar
North Carolina State University - Lynn Salsi and Burke Salsi Jr.
Railroads of North Carolina - Alan Colemans
Raleigh & Wake County Firefighting - Michael J. Legeros
Raleigh & Wake County Firefighting, Volume II - Michael J. Legeros
Raleigh's Reynolds Coliseum - Craig Chappelow.




+ 9 - 14 | § ¶
Raleigh Fire Department Bus
A used commercial bus was recently obtained by the Raleigh Fire Department Training Division. It seats 47 and was purchased in Maiden, N.C. The bus is designated SR 3 and will serve a number of functions including transporting recruits to training events and during deployments of USAR Task Force #8. Previously, the Training Division utilized a 1981 International school bus, that was designated Car 76. Click to enlarge:


+ 11 - 14 | § ¶
Wake County Fire Commission Meeting, Thursday, November 20
The Wake County Fire Commission meets again on Thursday, November 20, at 7:00 p.m., at the Wake EMS Training Facility, located in the lower level of the Wake County Commons Building at 4011 Carya Drive. I'll post an agenda, if one is made available ahead of the meeting.
+ 12 - 18 | § ¶
New Command Vehicles in Cary
The Cary Fire Department recently placed in service a pair of Ford F-250 Super Duty trucks as Battalion Chief vehicles. They replaced a pair of older Ford Excursions, one of which was wrecked some months ago. Battalion 2 is pictured below, parked around the corner from Fire Administration. Click to enlarge:


+ 12 - 14 | § ¶
Wilmington Structure Fire
Found on FireNews is this strong Star News photo of a commercial structure fire in Wilmington. Valino's Restaurant & Martha's Karaoke Lounge at 2206 Carolina Beach Road burned around 3:30 a.m. this morning. The 3,233 square-foot structure was built in 1948, say tax records. Read the story or view the photo gallery.


Star News Photo
+ 14 - 10 | § ¶
Hot off the Press
Now available for ordering is Raleigh Fire Department 2007, a full-color, hardcover yearbook commemorating 95 years of fire department tradition. Published by M.T. Publishing, the $54.95 volume measures 9 by 12 inches and numbers 160 pages. Portraits are featured of all active personnel, as well as pictures of each shift at each fire station. Over 100 retiree portraits are also included. Dozens of action photos are featured, showing Raleigh's bravest fighting fires, performing rescues, and rendering aid. Many historical and candid images are also included. A history section explores the origins of the fire department as a fully-paid entity placed in service in 1912. The history of each fire station is also recounted, along with vintage photos. Raleigh Fire Department 2007 can be ordered online at M.T. Publishing. Or use this order form
.

+ 12 - 11 | § ¶
Fire at Camp Russell
Speaking of soldiers, this story appeared in the Raleigh News on September 14, 1873: At ten o'clock last night the Metropolitan Hall bell sounded the fire alarm for Eastern Ward. The fire companies, Rescue, Victor, Hook and Ladder, and Bucket were promptly out, and all but the Rescue reached the scene of the fire, Camp Russell, soon after the alarm. The Rescue [engine] halted at the corner of Hargett and Person streets, as it was known by the location of the fire, that water was no in reach and consequently the engine could not be used. READ MORE
+ 12 - 12 | § ¶
Military Firefighting
Thank you for your service, veterans of the United States Armed Forces. The patches, stations, and equipment of military firefighters, among other information, are featured on the excellent web site www.dodfire.com. Use the navigation links along the left side of the page. Historical photos are a-plenty, including many color images of vintage apparatus and facilities. Click the drop-down menus at the top of each photo page. Want to learn about the US military itself? This Wikipedia page is a good place to start. What other military firefighting web sites are favorites of folks?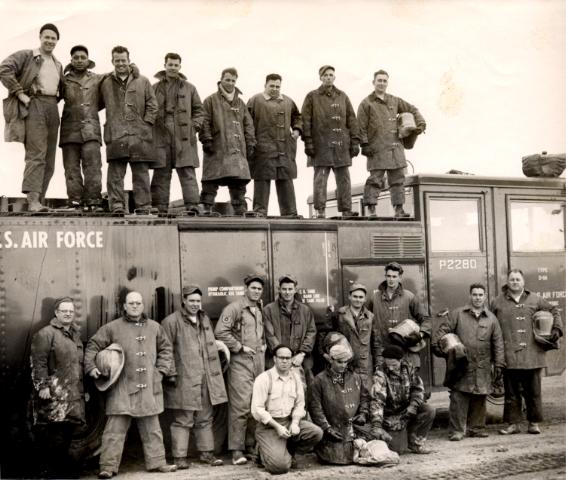 DoDfire.com Photo
+ 14 - 17 | § ¶
Matchbox Pierce Fire Engine
Now available on eBay and perhaps soon at local stores is this wee Pierce pumper lettered for Engine 31 in El Segundo, CA. Matchbox model #75. The scale is 1/123 and the thing measures 2.95 inches long, 0.94 inches wide, and 1.02 inches high. Buy at a store and pay around a dollar. Buy on eBay and pay more and perhaps much more.


For over 50 years, the Matchbox series has accurately reproduced American and British fire apparatus. Specific castings of actual pumpers, ladders, rescues, and airport crash trucks are listed below. Chief's cars, ambulances, fire-themed vehicles, and fantasy vehicles excluded. For pictures of those below, here's an excellent web site.

#8 - Reynolds/Broughton airport crash tender (1992)
#9 - Dennis pump escape (1955)
#9 - Merryweather Marquis Series III pumper (1959)
#13 - GMC snorkel (1977)
#18 - Oshkosh/LTI aerial ladder (1984)
#29 - Maxim pumper (1966)
#35 - Merryweather pumper (1970)
#57 - Land Rover/Carmichael pumper (1966)

#57 - Mack/Salisbury (?) heavy rescue (1991)
#57 - Range Rover/Carmichael Commando pumper (1982)
#61 - Dennis Sabre aerial ladder (2003)
#63 - Alvis Salamander/Foamite airport crash tender (1964)
#68 - Dennis Sabre pumper (1999)
#76 - International/Navistar (?) pumper (1999)
Special - Ford F-350/KME mini-pumper (2000)
Special - Seagrave Meanstick aerial ladder (2002).
+ 12 - 14 | § ¶
Honda Unveils Wearable Robotic Walker
Technology strikes again, this time with an lower-body exoskeleton. Basically, it's a bicycle seat plus a pair of mechanical legs. Does anyone else see high-rise firefighting applications with bigger, badder models? Imagine assisted stair-climbing, and ascending dozens of stories without physical exhaustion. But we're getting ahead of ourselves. Read the CNN story and see what's possible today.


AP / CNN Photo
+ 15 - 13 | § ¶
New Fire Apparatus Books
Three new books about fire apparatus have been released. Fighting Fire: Trucks, Tools and Tactics by Larry Shapiro is a hardcover with 160 pages, published by Motorbooks. Ahrens-Fox Fire Apparatus Photo Archive by Walt McCall is a softcover with 128 pages, published by Iconografix. Includes a supplemental 30-page color gallery. Emergency One Fire Apparatus 1974-2007 by Kent Parris is a softcover with 112 pages, also published by Iconografix. Includes color photos. Haven't seen any of the three in person, but their descriptions on Amazon look interesting.



+ 13 - 13 | § ¶
Fried Chicken
We're two for two for fried chicken, after the KFC at 3928 Western Boulevard caught fire today. Reported at 1:00 p.m., Engine 8 was first on scene at a one-story commercial structure with light smoke showing. Approximately 7,500 square feet. Crews found fire in the walls, which had spread to the roof. The fire was controlled by 1:30 p.m. No injuries were reported and the cause was determined as accidental. Units included E8, E5, E20, E14, L20, A8, B3, C5, C20, EMS 8, EMS 2, DC 1. The Bojangle's on Western Boulevard, just down the road, burned on June 3. West Raleigh residents were biscuit-less for weeks, while the immensely popular restaurant rebuilt. Read the WRAL story. Or see photos by Lee Wilson.


Lee Wilson Photo

+ 10 - 14 | § ¶
East Hargett Street and Station 3
For your Friday enjoyment, here's a vintage view of old Station 3 on East Hargett Street. The view is looking east, toward Blount Street. The picture is dated 1926 and comes from the CP&L Collection at the North Carolina State Archives. The station was built in 1898 for the Victor Fire Company, and became Station 3 in 1913. It was closed in 1951 and demolished the next year. I've only found a handful of photos of the old station to date. Learn more about the history of Station 3. The concept of looking closely at old photos is best exemplified in the book Hidden Images: Discovering Details in the Wright Brothers' Kitty Hawk Photographs, 1900-1911 by Larry E. Tise and published in 2005. Maybe I'll published a similiar volume of historic firefighting photos some day. Click to enlarge:


+ 10 - 11 | § ¶
Wake to Hold Emergency Training Exercise Nov. 22
An emergency training exercise will be held near the New Hope Valley Railway in New Hill on Saturday, November 22, 2008, from 10 a.m. to 4 p.m., to evaluate how local emergency agencies respond to a train accident and determine future training and equipment needs. During the full-scale training activity, emergency response personnel will treat and remove injured passengers from a train and determine the cause of the accident. Read the entire news release. This is the training exercise that was original scheduled for September 6, but was postponed due to possible impact from Hurricane Hanna.
+ 14 - 13 | § ¶
Shazam! A Projector Is Shrunk
Technology strikes again. Today's New York Times tells of a new pocket-sized (!), battery-powered (!!), digital projector called the Optoma Pico Projector. $430 list price and about the size of a cell phone. Shazam1 indeed. Read the article.


New York Times photo
1What's the origin of the word "shazam" you wonder? Says the this etymology site, it's a made-up word from the Captain Marvel comics of 1940. Says another site, it's an invented word used by conjurors to introduce an extraordinary deed, story or transformation, beginning 1930.
+ 16 - 8 | § ¶
This Afternoon's Fire / Fox Ridge Manor
Two alarms at 2208 Fox Ridge Manor. Engine 10 arriving at a two-story, brick apartment building with a working fire in a second-story apartment, fire venting through window. Eight units, 8,596 square-feet, built 1972. Second alarm requested several minutes later, just before control gained of fire. Second alarm units returned to service. Alarm time 12:11 p.m. Controlled 12:22 p.m. Units included E10, E12, E26, L26, R7, B2, C5, C20, A8.
+ 12 - 11 | § ¶
Ready to Roll
Photographed on a sunny Sunday morning, here's Engine 5 about to roll on a motor-vehicle accident. It's a 2002 Spartan/Quality Star pumper, at least the ninth Engine 5 since the station opened in 1926. Prior incarnations included: 1997 Pierce, 1990 Pierce (first closed-cab for RFD), 1970 Mack, 1986 Pemfab/EEI (wrecked 1990), 1973 Mack, 1961 American LaFrance, 1951 American LaFrance, and 1925 American LaFrance. Click to enlarge:


+ 14 - 11 | § ¶
Fire Station Voting Locations
How many fire stations are serving as voting locations today, you wonder? In Wake County, they are Apex 2; Bay Leaf 1, 2; Cary 1, 2, 4, 5; Durham Highway; Eastern Wake 1; Fairview 1, 2; Fuquay-Varina 2; Holly Springs 2; Hopkins; New Hope 1; Raleigh 2, 4, 11, 17, 20, 22, 23, 28; Rolesville; Stony Hill; Western Wake. In Durham County, it's just Bahama's Rougemont Station and Parkwood Station 1. In Johnston County, the fire station voting locations are 50-210 1; Benson; Brogden; Clayton 1, 2; Cleveland; Elevation; Kenly; Micro; Meadow; Pine Level; Wilsons Mills. In Chatham County, it's Bennett, Bonlee, Goldston, and Silk Hope. In Orange County, it's Cedar Grove 1 and Chapel Hill 4. In Harnett County, the fire station voting locations are Boone Trail, Buies Creek, Bunnlevel, Northwest Harnett, and Spout Springs. Information from each county's respective web site.
+ 13 - 13 | § ¶
Flickr Sites, Who Has 'Em?
Roll call for photo sharing. Who has Flickr sites that they want to share? Yours truly is www.flickr.com/photos/legeros. Mr. Wilson is www.flickr.com/photos/leewilson. Who else is out there?

+ 11 - 11 | § ¶
High-Dynamic Range Imaging
Here's a new imaging technique that I've been playing with, that allows a greater dynamic range of exposures than normal digital photography. The intention of HDR imaging is to more accurately represently the range of light and dark intensity that you see in real scenes. Such as this heavily shadowed building below, in the historical Oteen Veterans Hospital district in Asheville. Read about HDR imaging on Wikipedia. Or see this HDR tutorial, which recommends the program Photomatix. The image below was created using Photomatix Pro, converted from a Canon RAW image. Optimum results are created using multiple exposures of the same image, however. Click to enlarge:


+ 15 - 14 | § ¶
Sold Out - Tartan Ball on Friday
Don't forget that the Third Annual Tartan Ball and Bagpipe & Drum Concert is Friday, November 7, from 7:00 p.m. to midnight, at the Downtown Raleigh Sheraton. The sponsors and headliners are the Wake & District Public Safety Pipes & Drum. The guest band is the Chicago Police Emerald Society Pipe Band. There will be dancing, raffles, door prizes, and other fun. Appetizers will be served and a cash bar will be available. Tickets are $10.00 and can be purchased online at www.forourfallen.org, at Tir Na Nog, or from any band member. Highland or business casual attire is requested. See the band web site for more information.
+ 9 - 18 | § ¶
Oteen Fire Department
This scan of a photocopy is from Souvenir Book of U.S. Veterans' Hospital, circa 1922. Part of the North Carolina Collection at Pack Memorial Library in Asheville, it was compiled and edited by Joseph and Mildred Bernstein. The pictured apparatus, perhaps an American LaFrance, is shown on a page titled "Our Fire Department." The page notes "Oteen is well provided for in case of fire. Although the buildings are of temporary structure, every precaution has been taken to minimize fire hazards. The Fire Department is very efficient and well equipped with the latest improved apparatus. Fire drills are frequent and the department has always done such commendable work at these drills that the patients feel that if a fire should break out their firemen would curb it before much damage was done." OFD was active until at least 1955. Read about the Oteen Veterans Hospital historic district today. Click to enlarge: