+ 13 - 11 | § ¶
Real Heat: Race and Gender in the Urban Fire Service
Book review. Carol Chethovich's Real Heat: Race and Gender in the Urban Fire Service is a fascinating ethnography of an urban fire department1 in the early 1990s. The author, who based the book on her dissertation, follows the careers of Oakland Fire Department recruits over the course of their 18 month probations. She recounts their many challenges and not only related to race and gender, but also the physical and social demands that they face. Her comparison of the fire service to other professions provides some intriguing insights. She relates the traditional treatment of "probies," for example, to the apprenticeship process in other jobs. One of her more compelling conclusions is that the experience of a recruit's first station assignment can determine the success of that firefighter's career. Though not light reading, it's not terribly heavy, either. Tons of interesting end notes, too. Definitely recommended reading, and perhaps mandatory for anyone entering the profession. Bought my copy on Amazon.com.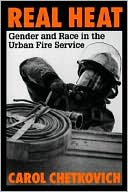 1
How big of an urban fire department? Oakland had 23 stations with 23 engines, 7 ladders, and 466 uniformed members in 1992.
+ 15 - 11 | § ¶
Company Level Accountability
The Raleigh Fire Department is enhancing its company-level accountability with Velcro-mounted reflective markers that are attached to self-contained breathing apparatus. One marker is attached to the rear, and is visible from behind the person. The second marker is attached to a shoulder strap and is visible from the front of the person. Pretty cool.


+ 14 - 11 | § ¶
Raleigh Fire Alarms
The Raleigh Fire Department has changed its response to fire alarms, as you may have heard on your scanner. One engine and one ladder are now dispatched. As before, only the initial engine responds emergency traffic.
+ 14 - 11 | § ¶
Carrboro Apartment Fires
The Carrboro Fire Department has fought seven apartment fires since Sunday, notes this WRAL story. Wednesday's was the largest, damaging 15 units and displacing 26 residences. Units from CFD, Chapel Hill, North Chatham, and New Hope responded, and three firefighters suffered minor injuries.
+ 16 - 13 | § ¶
New EMS Numbering
The new Wake County EMS System unit number took effect today. Below is who's who. READ MORE
+ 15 - 12 | § ¶
New Bern's Great Fire of 1922
Saturday is the 85th anniversary of New Bern's great fire of 1922, this Sun Journal article notes. Burning a quarter of the city, it displaced 3,200 people and rendered $2.5 million damage. The fire is also the topic of a two-hour lecture and slide show tomorrow at the New Bern Fireman's Museum, by historian and author Bill Hand. Information about the fire is also available on the web from the New Bern-Craven County Public Library, in the form of a 54-page PDF document
. Be forewarned, the PDF file takes a little while to load. And here's some historical information about the New Bern Fire Department, notably old engine houses as explored by Yours Truly.


+ 18 - 11 | § ¶
The 7 Bad E-Mail Habits that Make People Want to Kill You
Found in the blog world earlier this month, The 7 Bad E-Mail Habits that Make People Want to Kill You. They are: hanging questions, buried requests, wrong medium, trying to be clever, sending urgent requests through e-mail, bulky paragraphs, and playing e-mail tag. Equally interesting are the reader comments.
+ 15 - 12 | § ¶
Winston-Salem Squad Car Program
As found on FireNews headlines, the Winston-Salem Fire Department has started a pilot program that sends a two-person "squad car" to answer "health calls." The program started two weeks ago, and has responded to 99 medical calls. Read the entire story.
+ 14 - 14 | § ¶
Morrisville Fire Facilities
NBC17 reports that the Morrisville Town Hall Extension is opening, and will house the fire department administrative offices. They are presently located at Station 1. Additional fire facility information is available from the town's long-range financial plan. A replacement Station 1 is listed as starting and completing in 2009. The project is described in the latest town newsletter as an "alternate fire station to house equipment and personnel after relocation from station #1 related to locating away from the railroad and Morrisville Carpenter Road." There's also a northwest fire station planned, to serve the northwest section of town. That's listed as starting and completing in 2017. The long-range financial plan also lists fire apparatus replacements. Tanker and quint in FY2009, engine in FY2011, etc.
+ 10 - 11 | § ¶
Charleston Historic and Former Firehouses
Though it took a couple weeks to complete, here's a tour of historic and former firehouses of Charleston. The research was conducted and all but one photo was taken during a recent visit. Ten engine houses and three watch towers are still standing. Many date from the mid- and early-19th Century. The page may get updated as other info surfaces. Additional CFD history is also available, and that page may also occasionally expand. Big thanks to historian and museum curator Grant Mishoe for ample assistance. The South Carolina Historical Society and the main branch of the Charleston County Public Library were also very helpful. Links to both are part of the above feature. Looking forward to my next visit.


+ 17 - 16 | § ¶
Wake Forest Fire on Front Page
As noted by a reader, this week's Wake Weekly has a heck of an action photo on the front page. That's Wake Forest Fire Department Captain Eric Moen after having kicked in the front door of a burning mobile home on East Pine Street on Monday. Can't quite read the credit to identify the photographer.


+ 9 - 12 | § ¶
Fire Academy Photos
For your holiday weekend enjoyment, some 20+ years of Raleigh Fire Academy group photos have been added to the RFD history site. Most were scanned from plaques at the Keeter Training Center, thus the lower image quality. Mail Mike if you have copies of the original images. Ditto if photos exist for the years that are missing photos. Help is also appreciated identifying locations and photographers. And Yours Truly is pictured in Academy #13, fifth from the left in the back row.


+ 12 - 12 | § ¶
How It's Made, Leather Helmet
This YouTube video is making the rounds, five-minutes from the Discovery Channel on how a leather fire helmet is made (by hand).


+ 15 - 13 | § ¶
Wake Forest Fire Impact Fees
The Wake Weekly this week wrote about the fire impact fees under consideration in Wake Forest. The fire department, they note, has an aggressive $11.5 million plan for the next decade, including four new fire stations and four new pieces of apparatus, including a quint. WRAL also reported on the story.


+ 17 - 14 | § ¶
Raleigh Fire Department Yearbook
Production has started on a new Raleigh Fire Department yearbook. To be published in the spring of 2008, the hardbound volume will measure 9 by 12 inches and feature all color pages. The cost is $50.00 and the publisher is M.T. Publishing. For information on ordering and more details about the book, view this PDF-format flyer
.

Please note that active personnel should NOT place mail or phone orders at this time. Specific instructions on ordering have been distributed to all department members. The deadline for all orders is January 15. The book can be ordered by anyone with an interest in the Raleigh Fire Department.

Photos are also wanted, notably unique, interesting, odd, or funny images to supplement selections from the extensive archives of photographer Lee Wilson and historian Mike Legeros. A book order is not required to submit materials. All submissions will be reviewed and included based on content and space availability. Contact contact Mike Legeros for more information including technical requirements.

This is the third commemorative edition produced by the Raleigh Fire Department. Two prior yearbooks were published in 1984 and 2002. Click below to view the flyer.


+ 16 - 9 | § ¶
Old Engine 5
Here's another treat from the Harkey archives, old Engine 5 prior to its accident. The 1986 Pemfab/EEI pumper, one of two bought by the city, overturned on South Wilmington street on February 25, 1990. The $139,000 apparatus was rebuilt by Pierce and resumed service as Engine 15 on December 14, 1990.


+ 15 - 13 | § ¶
Safety Signs
Saw an interesting sign at a construction site in Charleston. Six-foot thing. Color printing. Glossy. Facing Meeting Street. Listed the top ten safety practices of the construction company. Is such messaging used in the fire service? Should it be used? Everyone's seen those signs at industrial sites. Number of days without an accident. Safety first. Etcetera. Heck, they even appeared on railroad cars at one time, if memory serves. (And, locally, at least on one piece of fire apparatus. You can't quite see it in this picture, but an early engine of the Apex Rural Fire Department bore the reminder "THINK" across the top of the cab.) Imagine, say, a sign inside the doors of apparatus bays. "Remember to buckle up!" Would such communication be effective? Will it become necessary, as the dream beats harder for the profession to embrace a "safety culture?" Or such. Wonder what the customers (the public) would think? Perhaps there'd be a negative effect. Here comes someone to keep you safe, but they themselves have to be reminded to stay safe. Hmmmmm.
+ 46 - 42 | § ¶
Wake County EMS Announces New Numbering Scheme
FireNews reports that a new numbering scheme has been announced for the Wake County Emergency Medical System. It's expected to be operational on November 28, and will be utilized by all EMS agencies in the county. READ MORE
+ 14 - 12 | § ¶
Cranes and Rescues
Today's News & Observer reports on both a small crane (and trench) rescue by the Chapel Hill Fire Department and a big crane rescue exercise with the Raleigh Fire Department. Takaaki Iwabu took the picture below in Raleigh:


+ 14 - 12 | § ¶
Raleigh Fire Department Apparatus Register Updated
Numerous updates have been made to Mike's Raleigh Fire Department apparatus register. Added the new Pierces. Updated some reserve unit statuses. Added some new older photos. Questions, comments, and fact-checking welcome. There are always holes to be filled.
+ 8 - 13 | § ¶
Wake County Fire Commission Meeting, Thursday, 11/15
The next Wake County Fire Commission meeting is scheduled for this Thursday, November 15, at 7:00 PM, at the Wake EMS Training Facility, located in the lower level of the Wake County Commons Building on Carya Drive near I-440 and Poole Road.
+ 10 - 11 | § ¶
Squad 51 Replica on eBay
For the firefighter or paramedic who has everything, a replica of Emergency's Squad 51 for sale on eBay. Location Arizona.


+ 13 - 14 | § ¶
Charleston
Returning to Raleigh after a week in the Low Country. Recreational visit, with a couple day devoted to exploring and researching former and historic Charleston fire stations. Notable stops included the main branch of the Charleston County Public Library and the archives of the South Carolina Historical Society. Notable resources included city directories (1860s forward), city yearbooks (1880s forward), Sanborn Fire Insurance Maps, and a stack of vertical files at the library. The results are being compiled at the above web site, though that may take weeks or longer. READ MORE
+ 15 - 16 | § ¶
RAPS Race, January 24, 2008
The next Raleigh Area Public Safety (RAPS) endurance kart race is scheduled for January 24, 2008. The location is again RushHour Karting in Garner. See the RAPS web site for more information.


+ 8 - 14 | § ¶
Camera + Concrete = Crack!
Canon Digital Rebel XT with 18-55mm kit lens, plus soft foam lens cover, plus gravity, plus concrete, plus approximately five feet of falling from inside a car to outside onto a parking deck. The result? Broken glass, but only the filter. Bought the UV filter the day the camera arrived. It paid for itself last night. Couldn't take a picture of what happened, alas. Only one camera with us.
+ 11 - 16 | § ¶
Scanner Archives Online
The web site http://www.scannorthcarolina.com/ features a half-dozen fire and EMS feeds from around the state, including Davidson County, Guilford County and Greensboro, Mecklenburg County and Charlotte Fire, Onslow, and Wake County and Raleigh Fire and EMS. The feeds also feature over a month's worth of archive. Each day's archives are easy to navigate, divided into 15 minute segments. Very, very cool. The feeds are sponsored by Carolinas Fire Page.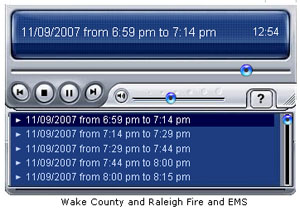 + 8 - 15 | § ¶
Last Night's Fire
From media reports. Two alarms at 1423 South Blount Street beside the Cargill plant. Call received 7:04 p.m. Two mobile homes and a car found on fire at a vehicle storage center. Aerial stream utilized. Extinguished in 75 minutes. Blount Street closed during call. Air monitoring performed, checking for hazardous materials. Animal Control also on scene, for watchdogs reported on site. Click above link to view aerial photograph. WRAL story here, and News & Observer story here. Later-added photo by Lee below.


+ 12 - 13 | § ¶
Pulled By Hand
The classic image of the steam fire engine always includes horses. Two or four ahead of the engine, galloping on cobblestone as a boiler belches smoke. Yet steamers were also hand-pulled in their day, a fact quite curious to this researcher. Were the circumstances of Raleigh's Rescue Company steamer-- primarily hand-pulled for several years starting in 1870-- an anomaly? No, as he's learned over years of subsequent research. Hand-pulled steamers were present in Charleston, for example. On January 1, 1882, a paid city fire department was placed in service with eight steamers (two as reserve), eight or more hose carriages and reels, two ladder trucks, 29 horses, and 101 men. All apparatus was horse-drawn. The year before, the volunteer force was largely "man powered." The 1881 city directory lists 14 steamer companies, only three of which had horses. The three hook and ladder companies were also hand-drawn. The personnel required for these feats totaled 1,094, a number reduced by 90 percent when converted to paid and horse-pulled.
+ 15 - 12 | § ¶
Johnston County School Bus Accident
WRAL's coverage of yesterday's school bus accident included this aerial shot of several ambulances on scene. Ten ambulances transported 27 patients to two hospitals, they reported. Click to enlarge:


+ 15 - 8 | § ¶
Deputy Sheriff Grabs Hose, FireNews.net Gets Heat
That's Dave Statter's great headline, reporting on the FireNews forum responses to a thread on safety issues related to the picture below, and the Sylva firefighter who was on scene and believes the entire story was not reported. The forum requires (free) registration to read (or participate) in the discussion. Post comments over there. Click to see larger version as posted on FireNews:


+ 13 - 11 | § ¶
WCFA Meeting on Tuesday / Guest Speaker Legeros
The Wake County Firefighter's Association meets on Tuesday, November 13, at 6:30 p.m., at Fairview Station 1. The guest speaker is Mike Legeros, who will present a presentation on incident photography.
+ 13 - 12 | § ¶
Charleston Crab House
Strolling South Market Street this morning when a pair of Federal Qs catch the ear. Closer, closer. Then Charleston Engine 3 and Engine 2 turn into Market from Meeting Street. Spectators gather as the rigs roll to a stop at a bar and grill at the corner of Meeting and Church streets. One and two-story brick structure, maybe 70 by 100 feet. Smoke in the building, it seems. Nothing showing, however. Engine 6 soon appears, then Truck 4, then a Bat and Asst Chief. Light smoke inside, but ultimately everything okay. Some are unfazed. As firefighters go in and out of the building, an elderly couple discusses the menu on the outside wall. Inside, there's a guy still sitting at the bar. The smoke must have been very light.
+ 10 - 13 | § ¶
Lightner Public Safety Center Update
The Raleigh City Council voted unanimously today to award a $954,300 contract for design work and other professional services for construction of the Clarence E. Lightner Public Safety Center. Read the entire news release.
+ 13 - 7 | § ¶
Vintage Raleigh Hat Badge on eBay
...except the seller is located in England. Guess badge trading crosses oceans. The person who wore #43 is not known. Still looking for a list of helmet numbers from way back.



+ 5 - 14 | § ¶
Micro Firemen Dedicate New Fire Station
The Micro Fire Department in Johnston County has dedicated their new station, Kenly News.com reports. They've been using the building, located at 321 Highway 301 South, for several months now. Wonder if the old station was left standing, and its disposition? MFD is five decades old, incidentally.
+ 12 - 13 | § ¶
Intentionally Blurred for Reader Safety
FireNews was updated yesterday, and includes a bit of graphic humor about midway through the page. Commence quoting Groundskeeper Willie.
+ 13 - 11 | § ¶
South of the Border
Reporting from the road. Here's part of "Pedro's Fire Department" at South of the Border. Two single-bay building sections on opposite sides of a back street. One truck in each building, a dusty red Ford/Howe of 1960s vintage, and a cleaner orange FMC of 1980s vintage. The red truck is unlettered, the orange truck says "South of the Border Fire Department." Signs in front of each building say "this fire truck to be used only on South of the Border property" and "stay out of drivers seat unless fully approved by the Fire Chief." There is a siren atop a nearby building that summons the presumably volunteer fire brigade. You never sausage a place.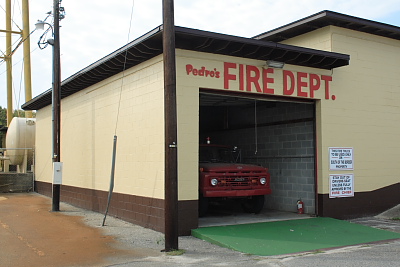 + 10 - 13 | § ¶
New Stony Hill Patch
Stony Hill has a new patch. Their prior, original patch was adopted in 1992. Based on Burlington's emblem, it was identical to Raleigh's, which was also based on BFD. Raleigh adopted the patch in the 1980s. The oops was not discovered until after Stony Hill had placed their first order, and so it was adopted.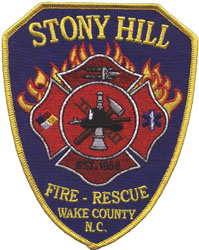 + 9 - 15 | § ¶
Last Night in Asheville
Big fire in Buncombe last night. Ashley Furniture HomeStore on Patton Avenue in Asheville. All but one of the city's apparatus were on scene, reports the Citizen-Times. Bill Sanders shot the below picture. Units listed on the FireNews incident log.


+ 14 - 4 | § ¶
Strangers in Strange Lands
YouTube videos from the Far East. Smaller pumpers parading in circles. Annotated footage of a structure fire. Ambulance leaving the fire station. Following an engine leaving the fire station. Walking in front of a fire station. Curious chains in front of the bays. Tokyo firefighters tackling a trash fire. Check out the hydrant location. Robot fire engine. TFD engines responding at night. Are those spoken instructions also playing, along with the siren? Extended footage of person on bicycle responding to a high-rise fire alarm (?), then filming on foot. Tight turn for that ladder truck. Engine speeding past. Hai!
+ 14 - 14 | § ¶
Blast From Past
From the archives of FireNews editor Jeff Harkey, this is Johnston County's prior foam unit, circa early 1990s. Two monitors, and what looks like a pump in the rear. Click to enlarge:


+ 8 - 15 | § ¶
This Weekend's National Disaster Medical System Drill
On Saturday, Wake County Emergency Medical Services (EMS) coordinated the work of more than 24 local agencies in a National Disaster Medical System (NDMS) drill at the Raleigh-Durham International Airport (RDU) Cargo Operations Area. Fire departments included RDU, Raleigh, Cary, and Morrisville. EMS agencies included Wake County, Six Forks, Eastern Wake, Durham County, WakeMed, and Fort Bragg. Read the advance press release. See photos by Lee Wilson and Mike Legeros.


+ 9 - 10 | § ¶
2007 National Firefighter Life Safety Summit Report
For your Sunday reading, here's a 40-page PDF report
from the 2007 National Firefighter Life Safety Summit held in Novato, California in March. As summarized in this Firehouse.com story, the report seeks a culture change. "The issue of safety culture, which sometimes supports undesirable and unsafe behaviors, is the dominant factor that must be addressed in order to accomplish the desired reduction in firefighter fatalities." The report recommends 16 life safety initiatives, listed below and explained in the above report. It is compelling reading, and a promotes a necessary goal. READ MORE
+ 13 - 8 | § ¶
Siler City Haz-Mat
WRAL has some details on the hazardous materials incident on Highway 64 in Siler City that started yesterday afternoon, involving anhydrous ammonia leaking from a truck involved in a motor-vehicle accident. The Raleigh Fire Department also responded, with Regional Response Team #4. Saw Haz-Mat 22 headed that way about 5:15 p.m.


+ 9 - 15 | § ¶
Mystery Truck
Also appearing at the Keeter Training Center is this Raleigh Fire Department utility vehicle. Pop quiz, easy one. What's the make, model, and origin of this vehicle? It's designated Car 46 and assigned to Services.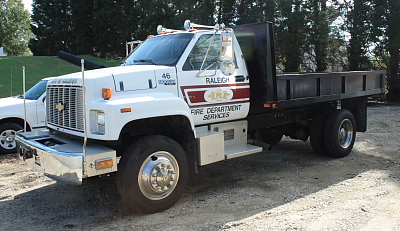 + 11 - 17 | § ¶
Swift Water Rescue Truck
The first of four swift water rescue trucks for North Carolina Urban Search and Rescue (USAR) Task Force 8 has been completed. USAR 801 was delivered to the Keeter Training Center this week. They will be equipped with boat trailers.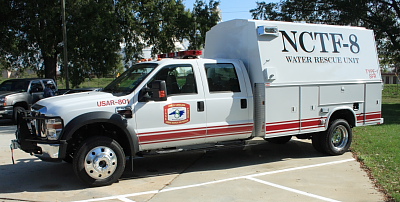 + 10 - 20 | § ¶
New Holly Springs Patch
Holly Springs Public Safety Fire-Rescue, placed in service on April 1, 1995. Merged with Holly Springs Rural Fire Department in 1997. Patch be added to the web site gallery.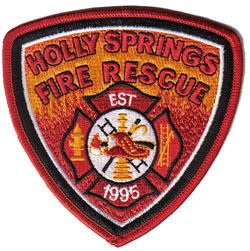 + 11 - 15 | § ¶
Illustrated Encyclopedia of American Fire Engine Manufacturers
The great Walt McCall has a notable new book, the Illustrated Encyclopedia of American Fire Engine Manufacturers. It's big and pricey. Hardbound, 304 pages, 1270 photos, 100 smackers. Click above to read more, and/or order direct from publisher. FSP Books is also stocking same, as are likely other specialty retailers. Will it be released in less-expense softcover, some day/some year? Unknown, but this blogger would bet dollars to donuts on it. McCall is the author of American Fire Engines Since 1900, the "bible of fire apparatus" published in 1976. That one built many a buff.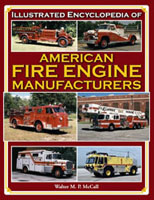 + 9 - 18 | § ¶
California Department Tries Smaller Units for Some Calls
From Firehouse.com, the San Jose Fire Department is expanding their Supplemental Transport Ambulance Resource (STAR) units to include non-emergency fire calls. Interesting concept, though it begs a question: if you reduce the number of engine/truck/rescue runs, are they later seen as less-needed? Read the entire article. Here's the San Jose Fire Department site.